Dim sum is known to have been made and consumed in Guangdong, southeastern China, mainly in the city of Guangzhou since before the common era. Currently, dim sum restaurants are associated with the Cantonese and have spread throughout the world, including Korea, the United States and Europe. Dim sum attracts gourmands with its various charms, from the very famous juicy xiao long bao to har gow with chewy shrimp and siu mai with pork and seafood.

Dim sum is traditionally a breakfast or lunch menu, to be consumed with tea. Why don't you enjoy these morsels in Seoul, as though you were traveling in Hong Kong or Shanghai? Turn to the MICHELIN Guide Seoul which introduces the following five restaurants where you can enjoy delicious dim sum.

Yu Yuan
1 MICHELIN Star, Michelin Guide Seoul 2021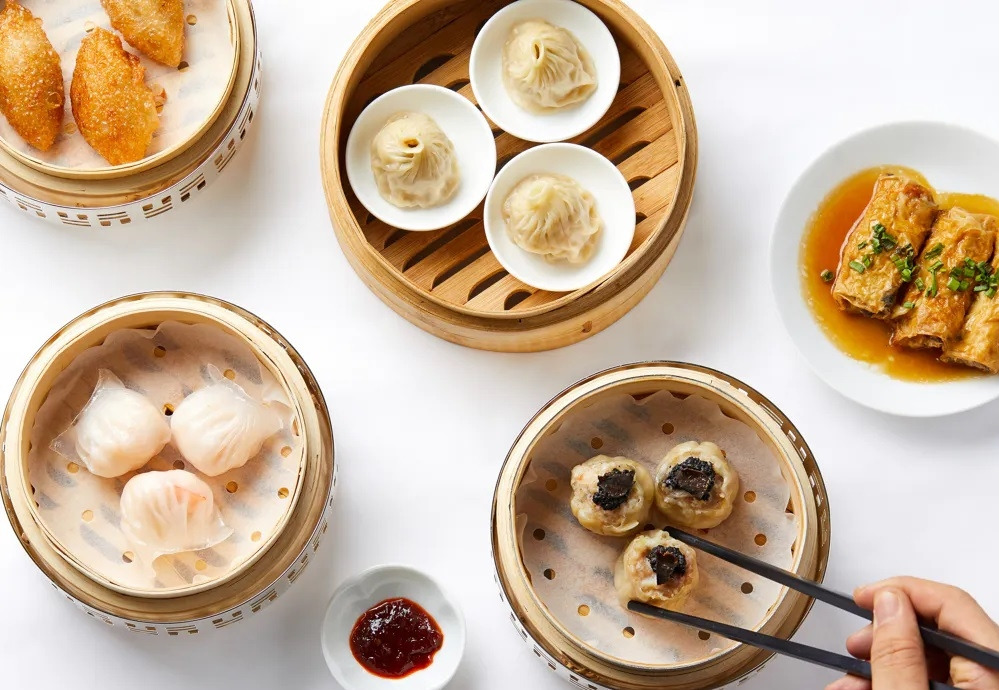 Yu Yuan, which has been listed as 1-Star in the Michelin Guide Seoul for five consecutive years, offers high-quality dim sum menus. You can enjoy the dim sum set menu for weekday lunch and weekend brunch with a beverage pairing. Starting with assorted appetizers such as black fungus in spicy soy sauce, this set offers the classic shrimp har gow and siu mai, as well as more sophisticated black truffle dumplings. Do not miss the authentic wok-fried turnip cake with XO sauce.

What Our Inspectors Say... Inspired by the glitz and glamour of 1920s Shanghai, interior designer André Fu's dining room is drop-dead gorgeous with its alluring jade-colored walls, marbled floors, lavish furniture and refined tableware. The menu features mostly Cantonese dishes, but also offers recipes from other Chinese regions. Highlights include Peking Duck, crispy pork belly and Cantonese-style steamed sea bream. Their weekend dim sum brunch is extremely popular.

Goobok Mandu
Bib Gourmand, Michelin Guide Seoul 2021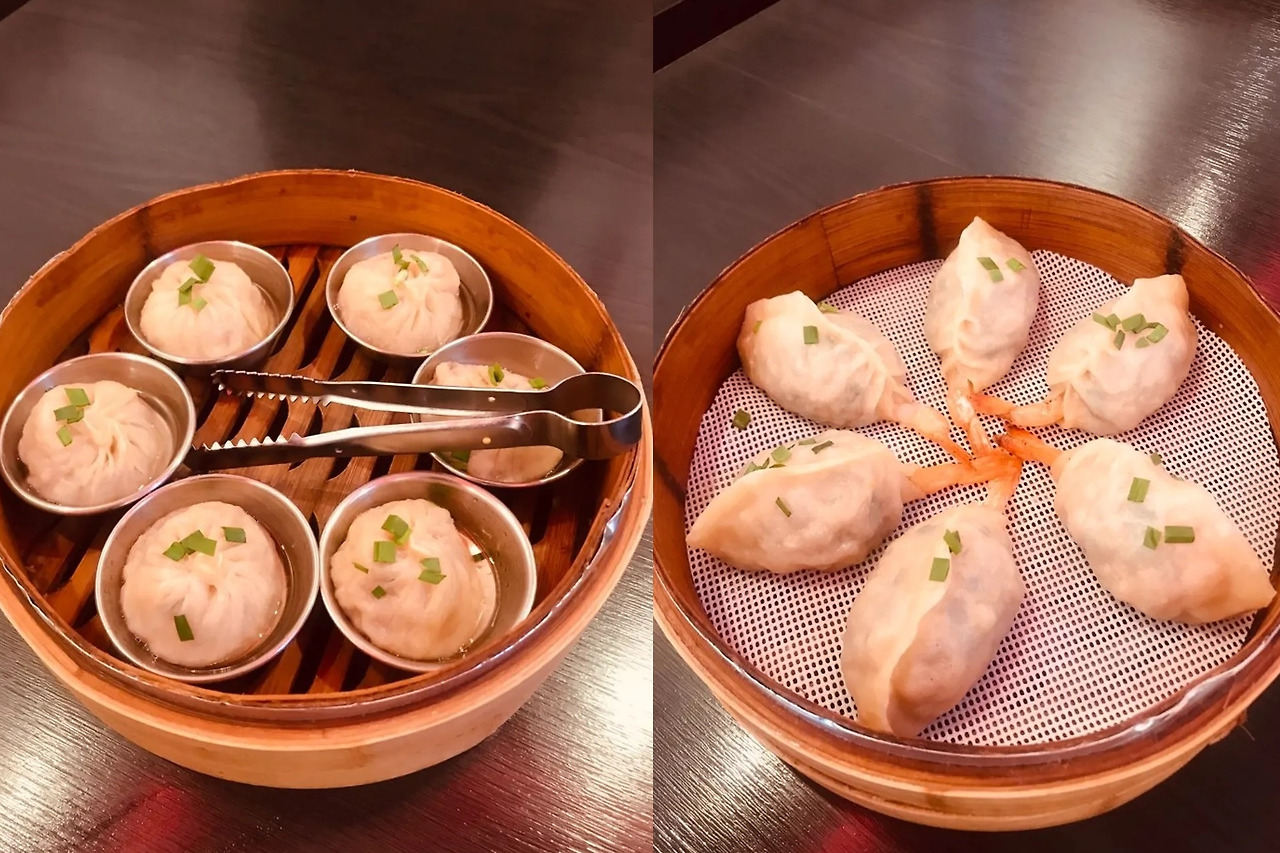 Goobok Mandu (mandu means dumplings) showcases hearty dumplings that are faithful to the original taste and is loved by many people for its reasonable prices. The representative items are xiao long bao with pork and vegetables, and the famous goobok mandu which has a crisp bottom. Also, the chef serves shrimp dumplings that taste savory with egg and fresh shrimp, and kimchi dumplings that suit the Korean palate. There are not many varieties of dumplings, but there are always many visitors.

What Our Inspectors Say... Run by a Korean husband and Chinese wife, Goobok Mandu is a no-frills establishment that specializes in Chinese-style dumplings. The couple prepares the dumplings from scratch based on an old family recipe passed down to them by her grandmother. The dumplings are freshly made to order each time. Try the restaurant's signature pot stickers with their glorious wafer-thin web of crispy golden crust as well as the steamed xiao long bao.

JUE
MICHELIN Plate, Michelin Guide Seoul 2021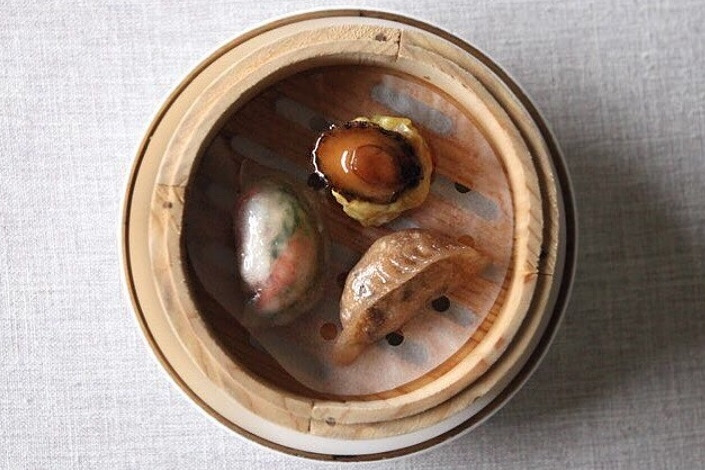 Gourmands will discover high-quality dim sum at JUE. One can enjoy the pleasure of choosing a delicate, flavorful creation among various menus, including steamed abalone siu mai, mushroom dumplings with Oolong tea leaves and even deep-fried spring rolls stuffed with black truffle and lobster. The dim sums are indisputably fine with a subtle and elegant aroma.

What Our Inspectors Say... Resembling the Chinese pronunciation of a word which refers to a title of nobility, Jue is a restaurant that specializes in Cantonese cuisine. The set menu is also named after the different noble titles in China. One of Jue's signature dishes is its barbecued pork which, after being marinated, is roasted in a high-temperature oven to ensure a supremely crispy skin and juicy, flavorful meat. Of the 13 different varieties of dim sum on offer, the cheung fan (rice noodle roll), shumai topped with abalone, and the spring rolls are not to be missed.

Palais de Chine
MICHELIN Plate, Michelin Guide Seoul 2021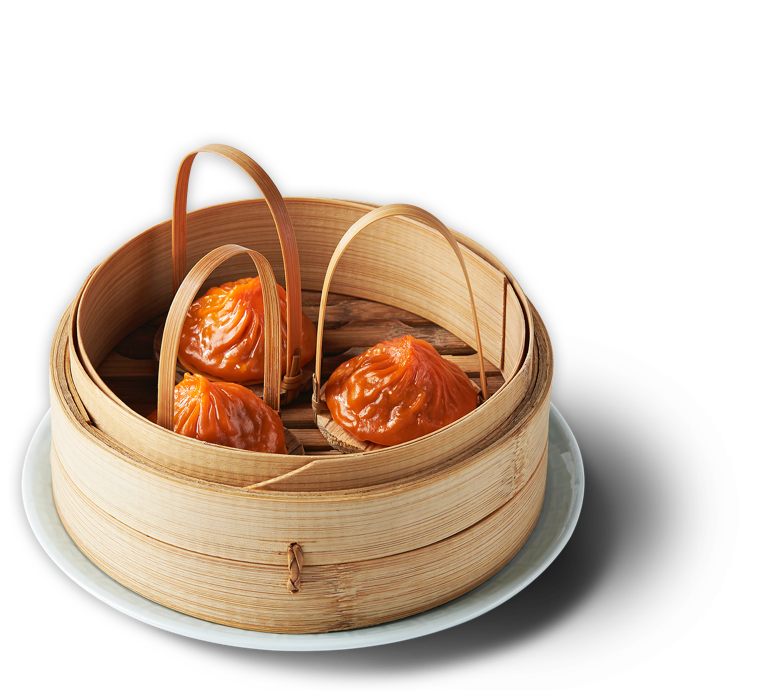 In this luxurious restaurant, diners can feel as if they're eating at a fancy restaurant in Hong Kong. One can enjoy yum cha and dim sum set menus for lunch. 'Yum cha' literally means "drinking tea," which means enjoying tea and dim sum in the morning in Guangdong.

You can enjoy high-quality dim sum made in Palais de Chine's exquisite style such as traditional pork Shanghainese soup dumpling (or xiao long bao) and hot & sour pork xiao long bao. There are also unique dim sum items such as soft quail egg with black truffle siu mai, scallop with caviar & gold leaf Dumpling and bean curd skin roll filled with assorted mushrooms, duck and shrimp.


What Our Inspectors Say... Located inside the Parisian Belle Époque-inspired L'Escape Hotel, Palais de Chine is the only space within the hotel that offers Eastern tastes and sensibilities. Inspired by designs from Shanghai's own belle époque, the modern space offers both authentic and modern interpretations of Chinese cuisine. There is a good range of dishes on the menu that stay true to their regional eccentricities, including the dim sum selection. Palais de Chine prides itself on its Peking duck, another celebrated Chinese dish with regional distinctiveness.

Crystal Jade
MICHELIN Plate, Michelin Guide Seoul 2021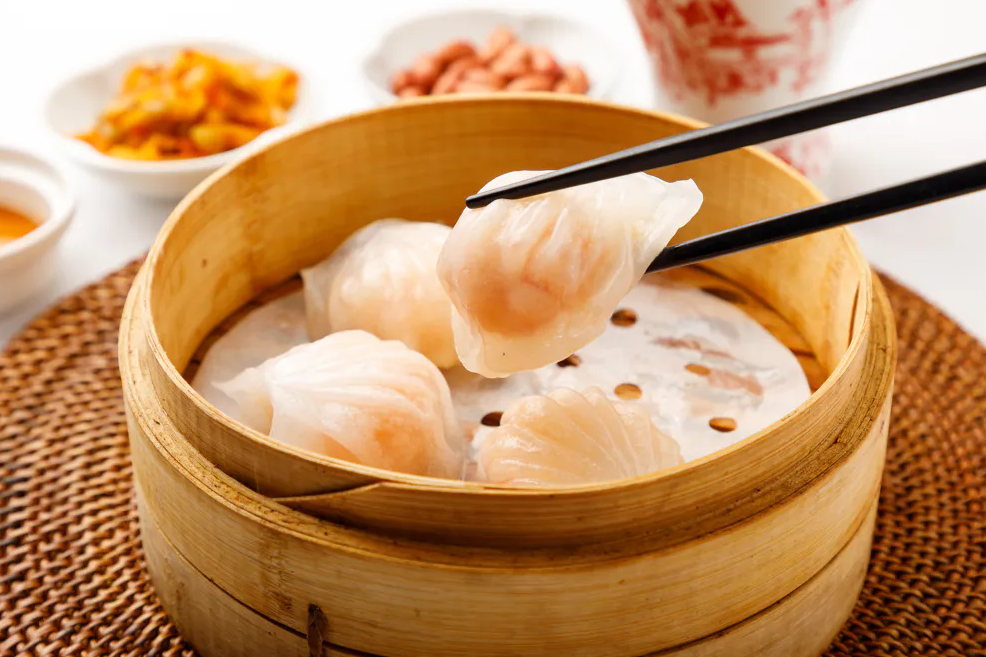 You can enjoy delicious dim sum all day long in a comfortable and casual atmosphere. Crystal Jade is famous for the Hong Kong style dim sums with fresh ingredients such as shrimp siu mai, pork and chives dumplings, and juicy xiao long bao.

What Our Inspectors Say... Crystal Jade first opened its doors in Singapore in 1991 as a Cantonese restaurant. More than two decades later, the restaurant chain operates in many countries across Asia, including Korea with more than 10 locations. Their mission is to serve high-quality regional cuisine from China. Classics like Hong Kong-style dim sum, sautéed prawns and scallops in XO sauce, and sautéed chicken in black bean sauce are perennial highlights.
This article is written in Korean and in English by Julia Lee and sub-edited by June Lee in English