If you're seeking a place in Seoul where you can experience the traditional French bistro, Bistrot de Yountville is a timeless escape. In its 12th year since opening in 2009, it has kept its original location in a small alley in Cheongdam-dong while accumulating numerous memories and stories within its walls. Chef-owner Tommie Lee has tirelessly developed this restaurant as an homage to the bistro tradition of the 1800s, so that guests may feel that they've stepped into a slice of Paris, the capital of France. For this, it has retained its MICHELIN Plate status since 2016.

"It's a casual restaurant where you can visit comfortably anytime, but I want to recreate Paris's gastronomic bistro, where diners can find exceptional cuisine with good ingredients and cooking techniques. A polite and careful service, reminiscent of the Old World, is of course important. I'm constantly trying to evoke the Parisian spirit," adds Lee.

The heartwarming fare on the table is accompanied by a philosophy that's much the same. "The food represents the chef. That's why the mindset is the most important; cooking may seem like a technical thing, but in fact, everything is decided in your mind. When you invite someone very special to your house – for instance, a mother who cooks for her homecoming children who visits after a long time – that's the food you cook out of happiness and joy, which comforts people. I think this sincere energy is the only spirit that a restaurant should have."

As we approach year-end with social distancing enforced more than ever, chef Lee's recipe of pepper steak is one that will brighten your dining table when you need it.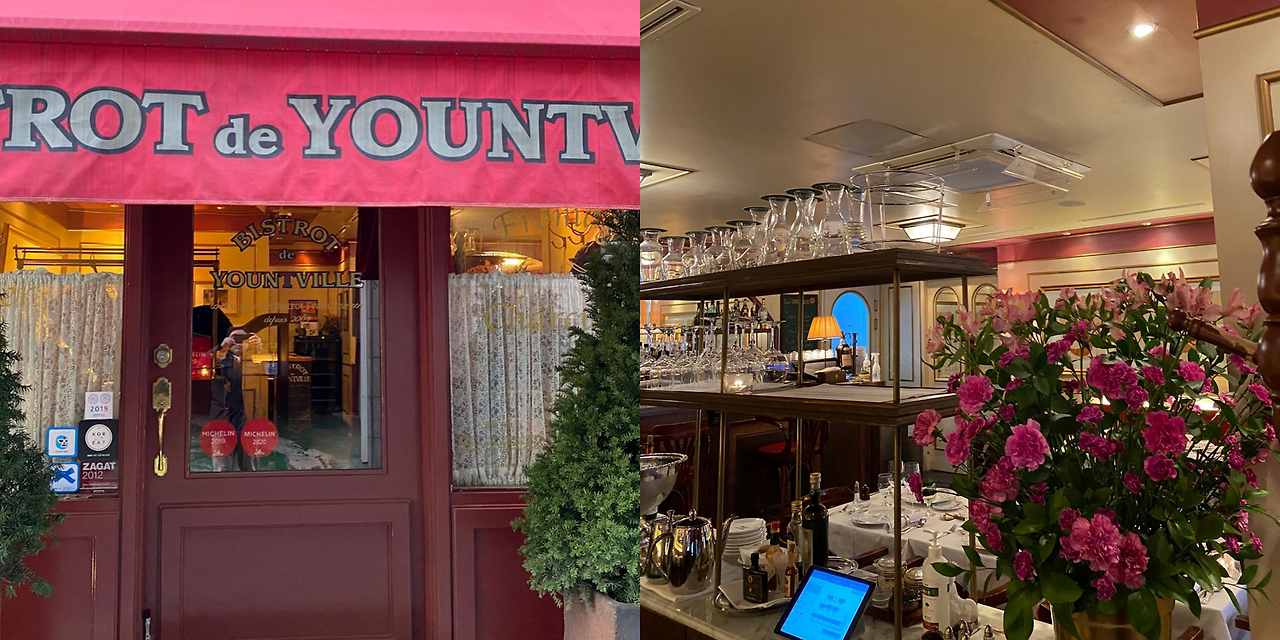 Bistrot de Yountville ⓒBistrot de Yountville
Steak au Poivre by Bistrot de Yountville
"The main course of a French meal can be shared with the diners at a table. This pepper-sauce steak, steak au Poivre is a simple but classic French dish. If you prepare enough of the addictive sauce in advance, you can easily serve it and enjoy it together with your partner, family, or friends. Why not pour a glass of red wine to complement the party atmosphere," suggests Lee, for your home parties.


The story behind the dish reveals a roller coaster of emotions. "I opened Bistrot de Yountville in Seoul in 2009, and I had long admired and wished to visit France. On its fourth anniversary, I left for Paris for 10 days on a gourmet trip with my wife. From 3-Star MICHELIN fine dining restaurants to local bistros, we ate French food all day long," recalls Lee, who started feeling sorry for his wife.

"On the third day, we were on our way to an old bistro when my wife saw a Vietnamese pho restaurant on the street. She burst into tears and asked to eat pho instead of French food. If I could turn back time, I'd have followed my wife's request, but then I insisted on continuing to the French bistro. In such a situation, we could hardly enjoy the food, but the dish we ate then was this pepper-sauce steak. It was so French and unforgettable that my wife and I were able to find laughter again," Lee describes. After coming back to Seoul, he then developed his own version of the steak inspired by this memory; it has since become very popular at the restaurant.


"The core of this dish is the poivre sauce, which literally means pepper sauce. I think the combination of cream, pepper and beef jus creates a special kick that gives you restaurant vibes even at home."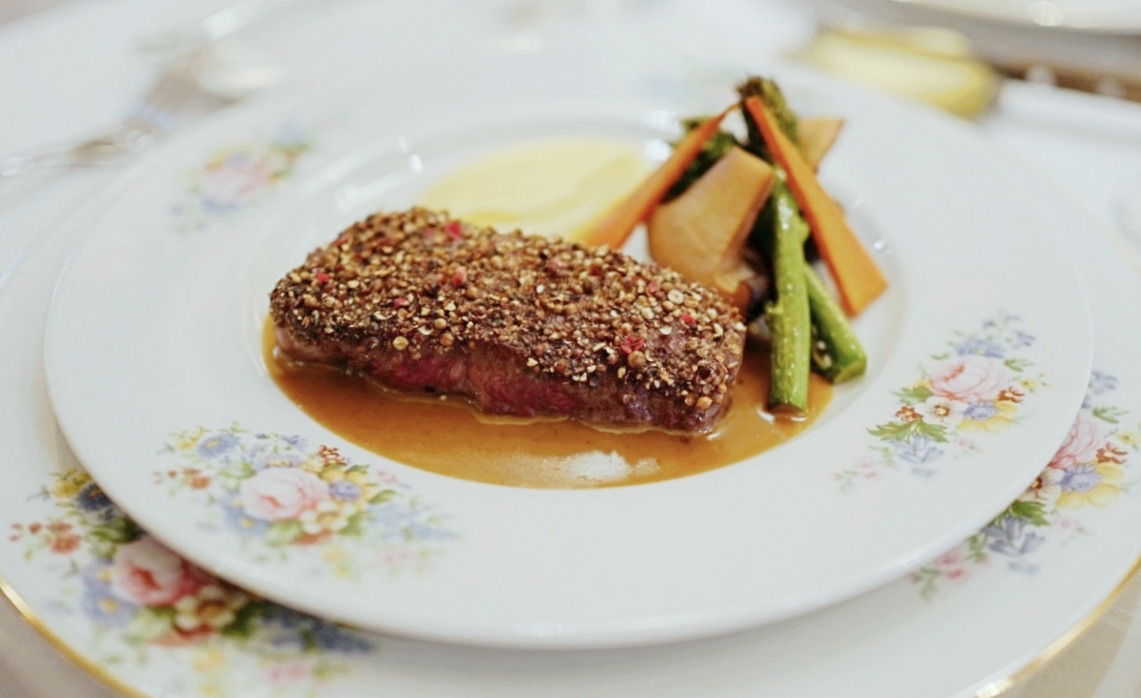 Steak au Poivre by Bistrot de Yountville
Recipe
Pepper Sauce (serves 4)
200g beef tendons
6g whole black peppercorns
40g shallot
20gs garlic
80ml white wine
20ml brandy
160ml brown stock
30ml cream

1. Preheat the oven to 200°C and bake the beef tendons for 20 minutes without burning it, and then drain the oil from the tendons.
2. Heat on medium a shallow and wide pot, coated with canola oil, then stir-fry the shallot, garlic, and whole black peppercorn.
3. When the shallots and garlic start darkening, add the tendons from step 1 and stir-fry together.
4. Add the brandy and white wine and boil to evaporate the alcohol.
5. Add brown stock and simmer until the sauce is concentrated.
6. Add cream and boil it down once more. Filter it, let it cool, and keep refrigerated until needed.

Steak (serves 4)
600g sirloin
600g French fries
Pepper sauce (prepared as above)
White pepper, ground
12g whole black peppercorn
12g whole white peppercorn
4g coriander seed
2g whole pink peppercorn

1. Coarsely grind the black and white peppercorn.
2. At room temperature, portion the sirloin into four 150g servings. Season with salt and apply the ground pepper to the surface, pressing down with your hands to firmly fix the pepper crust.
3. Warm your pan on high heat for 1 min. When the pan starts to smoke, sprinkle a generous amount of canola oil and cook the pepper side of the meat first. Cook it for 4 minutes until the pepper crust crisps up.
4. Turn the steak over and remove from heat, and continue cooking it to your preferred doneness in a preheated 180°C oven. Do this for all 4 steaks.
5. Remove the steaks from pan. While the steaks are being rested, place the prepared pepper sauce in the same pan and warm up together with the meat jus from the steaks.
6. Fry French fries in oil. Arrange the steak, sauce, and French fries on serving plates.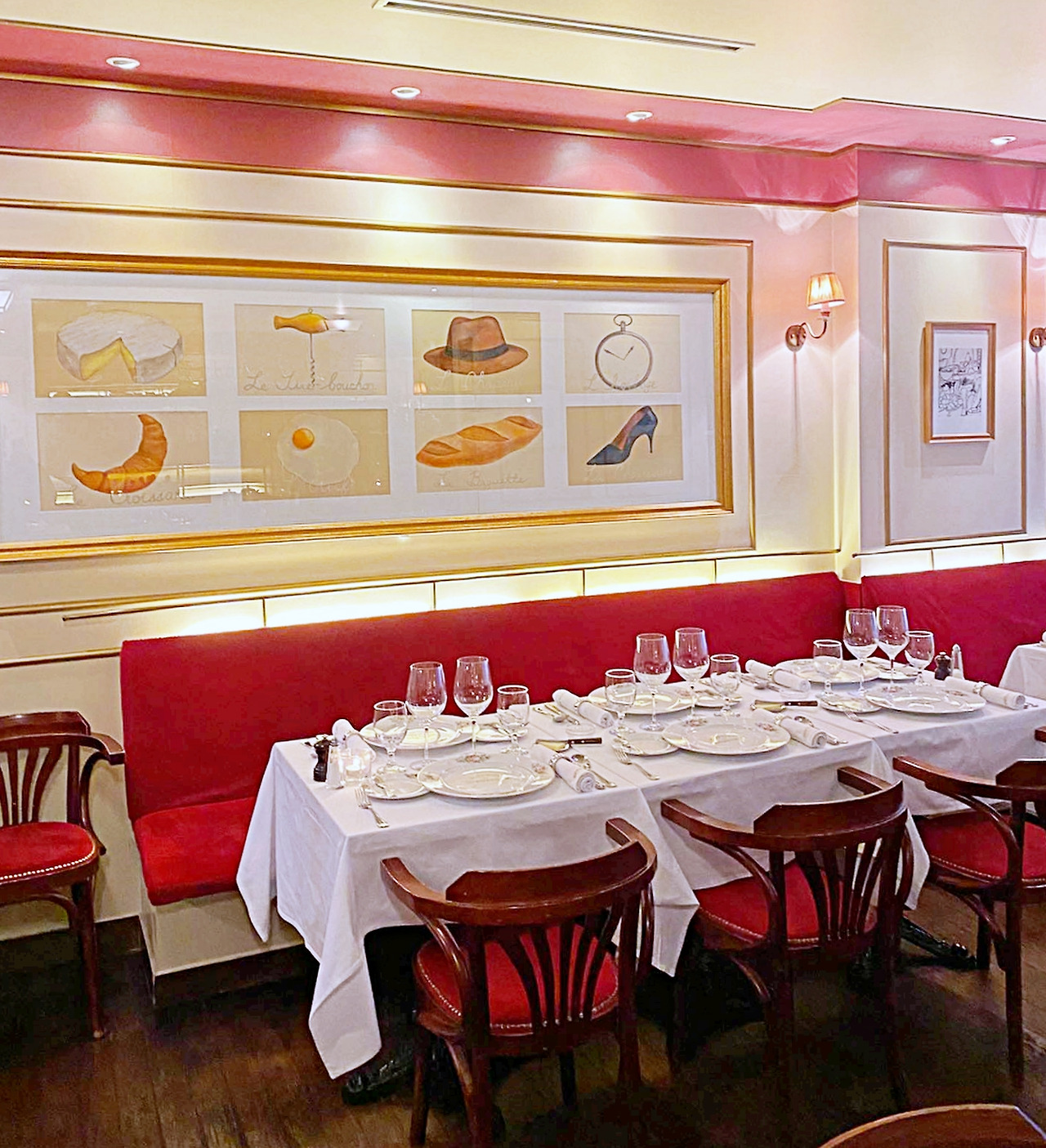 Interior of Bistrot de Yountville
A look back at 2020 with chef Tommie Lee
How do you feel now that we are coming to the year end?
I think everyone had a hard year due to the coronavirus. It was a big challenge for us working in a restaurant. It is ironic that this intimate space, where people get together, spend time together, dine, and experience the service of our staff, is where the virus can be easily transmitted.

It was a difficult time, but I realized that nothing will last forever. And I thought that each day might be the last day, so I tried to finetune even more on the food and service. And it was an opportunity to feel more grateful to every guest who came even during this difficult time.


Is there anything you'd like to tell your fellow chefs who are facing this period together?
It's always hard to keep cooking as a profession. We spend all night developing and preparing to serve delicious dishes to guests; while there is the loneliness of our families without our presence. In the trade of creating unforgettable memories for the guests, we give up our own time.
It may sound like a sad story, but it's also a question I always ask young cooks during interviews. 'Do you have a mindset that allows you to push aside your happiness for others, rather than dreaming to become a famous personality in front of the fire?' I know that my fellow chefs are working with this mindset, and I would like to thank these employees and their families. In particular, I express my gratitude to chef Park Jae-hyung, who helped our restaurant make a new attempt in another space. I'm very encouraged that a chef with a similar philosophy supports our team. And I'm always grateful to the guests who visited.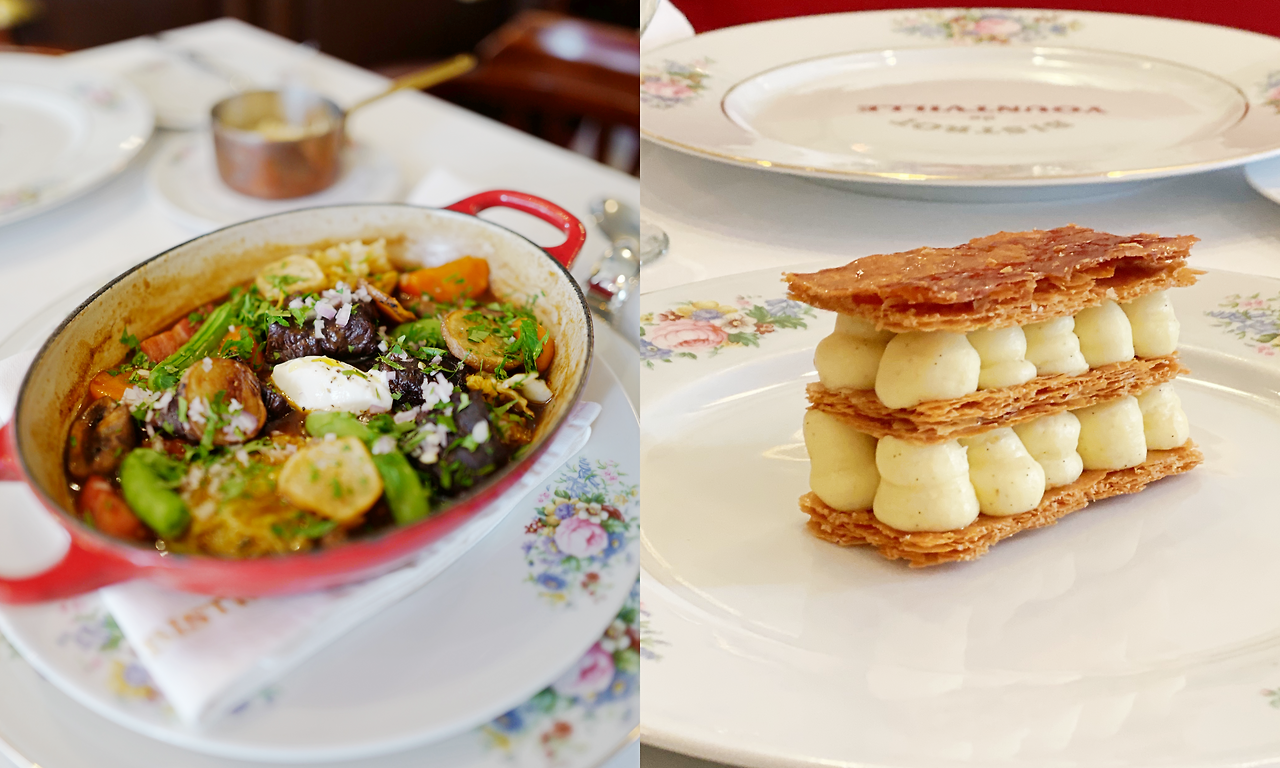 Coq au vin and Mille-feuille of Bistrot de Yountville
Do share your future aspirations.
The essence of a restaurant is, above all, a space that provides hospitality. So, it's not just a place to eat – it's a place to be treated well, served and comforted. I think restaurants that offer good hospitality will be differentiated in this difficult time.
I feel the reason why Bistrot de Yountville has been loved for a long time is thanks to the guests. I will try harder to make this place where diners may feel like they have been whisked away to France from the moment they step in. As a chef who prepares classic French cuisine, I will continue to think about the French 'spirit'.
Also, there is no better recipe than getting good ingredients. Studying good ingredients, understanding the original taste, and carefully combining and agonizing over the harmony between the ingredients… this work is my duty as a chef until the end of my life.


This article was written in Korean by Julia Lee and edited in English by June Lee.