From Yannick Alléno's three-star dining room in the Champs-Élysées gardens to elegant modern Korean at two-star Jungsik in Manhattan, here are 13 ultra-luxurious restaurants around the globe. After a meal fit for royalty, stay the night in a Tablet Hotels, the official hotel selection of the MICHELIN Guide.
---
France


This Parisian institution, one of the oldest restaurants in the city, is in a quiet, elegant pavilion in the Champs-Élysées gardens. The view through the walls of windows changes with the season—green in spring and summer, fiery oranges, reds, and golds in autumn. Shaded outdoor tables look onto the gently burbling Fontaine de Diane.

Within the
Four Seasons George V
is this Grand Trianon-inspired dining room with chandeliers hanging from its coffered ceiling and plush carpet underfoot. Specialties include Dublin Bay prawns with warm mayonnaise and crunch buckwheat pancakes.
Where to stay nearby?
Four Seasons George V — Paris : From the moment it opened off the Champs-Elysées in 1928, George V was causing an international stir. Greta Garbo, JP Morgan, and Marlene Dietrich stayed here, as did the Beatles. Now that it's reopened as the Four Seasons George V, it's more over-the-top French than before. And though it's not officially a palace, in many ways it's the most palatial hotel in Paris.

@SEBASTIEN VERONESE/Alléno Paris au Pavillon Ledoyen
---
Germany
Vendôme — Bergisch Gladbac, near Cologne
Though it's set in a magnificent Baroque castle hotel more than 300 years old, this restaurant marries traditional and modern, with a stone floor, upholstered armchairs in soft grey, and metal room dividers of black and gold circles and semi-circles. For dessert, don't miss banana with caramelized peanut ice cream and Valrhona Jivara spiced milk chocolate ganache.
Where to stay nearby?
25hours Hotel The Circle
— Cologne : an
audacious redevelopment of a landmark building. The retro-futuristic vibe in the classic late-modernist West German utopian style, pays tribute to a bygone era and pleases the contemporary traveler's eye.
© 25hours Hotel The Circle / Steve Herud
---
Monaco


The dining room here is luxurious enough for Louis XV himself, with ornate plaster and scrollwork, an enormous vaulted, painted ceiling, and everything brushed in gold. It's a slice of Versailles 950km to the south. It is here that Alain Ducasse forged his style, imposing his new exacting and masterful culinary classicism, always guided by the true character of the ingredients.
Where to stay nearby ?
Hotel de Paris Monte Carlo — Monte-Carlo : an extravagant pure-white swan of a building, Hôtel de Paris is arguably the true palace of Monte-Carlo, known for catering to some of history's most demanding guests — Winston Churchill, novelist Colette, and Princesses Grace and Caroline.
Columbus Hotel Monaco — Monte-Carlo : the look at Columbus Monte-Carlo is clean and contemporary, in restrained neutral tones, with nary a gilded tap to be found, a style and an atmosphere that could be called residential without a hint of exaggeration.
©Pierre Monetta/Le Louis XV - Alain Ducasse à l'Hôtel de Paris
---
Switzerland

In Crissier's former town hall, Chef Franck Giovannini oversees an impressive team of 25 chefs who conjure up masterful dishes such as a delicate inverted Gala apple tart with roasted hazelnut ice cream.
Where to stay nearby?
Hôtel Angleterre & Résidence
—
Lausanne:
from the outside, Hotel Angleterre looks like a classic Swiss resort, all manicured gardens and stone façades, set at the edge of Lake Geneva with the snowcapped Alps above. But inside it's thoroughly contemporary and a top choice for business travelers.
---
China
The eight-course menu at this 20-seat chef's counter changes every 6-8 weeks and comes with the option of adding two or four courses from the classics or specials menu. The food is elaborately prepared, well-balanced, varied and original.

Where to stay nearby?
The Middle House — Shanghai : Milanese architect and designer Piero Lissoni is responsible for the Middle House's interiors, where his focused, near-monochrome modernist style is applied to Shanghai's own distinctive visual language, to astonishing effect.
©Marius Ionita /Taian Table
---
Macau


Every detail celebrates the finesse of French craftsmen, with a touch of Asian sensibility. The welcome drink comes in the form of Ducasse's private label champagne. The chef's menu comprises four specially selected dishes accompanied by cheese.


Where to stay nearby?
Mandarin Oriental Macau — Macau : What matters in a place like Macau is luxury, which the Mandarin has in spades. The look might be a touch flashier than the hotel group's typical style, but it's one that's well suited to its high-rolling clientele.
© Mandarin Oriental / Macau
---
Singapore


Zen
—
Outram
You'll feel transported to Sweden at this tasting menu restaurant. The exterior—a 1926 shophouse, a type of heritage building found across South Asia—belies the interior, done up in Scandi modern furniture. An eight-course dinner is downstairs, coffee and petit fours are in the living room upstairs, and this chicest of dinners still costs less than a ticket to Stockholm.

Where to stay nearby?
Andaz Singapore — Kampong Glam: The public spaces at Andaz Singapore are impressive, equal parts luxe elegance and edgy futurism. But it's in the rooms that the hotel really takes flight. They're warm and organic but they're also stunning visual compositions.
©Zén
---
South Korea


The quiet, restful and elegant dining space, as well as refined service make for ideal companions to Gaon's culinary offerings. Authentic Korean cuisine is very modernized but with traditional DNA, and the ceramics are quite beautiful.

Where to stay nearby?
Park Hyatt Seoul — Seoul: Modern high-rise architecture, sweeping views, sober contemporary interiors, ultra-plush amenities, and gold-standard service. Also: Gangnam — the upscale residential enclave that the Park Hyatt Seoul calls home.
© Park Hyatt / Seoul
---
Taiwan


The atmospherically-lit bar here is enclosed in walls of wine cabinets that form the basis of its superb wine list. The chic dining room and good service add to the experience. A-grade cuts of beef from the U. S. and Australia are grilled to perfection in the open kitchen.

Where to stay nearby?
Palais de Chine — Taipei: The Palais de Chine is one of Taipei's most upscale hotels. The look is Eastern simplicity meets the eager Francophile — with nearly 300 guest rooms and suites outfitted in imported French furniture and artwork.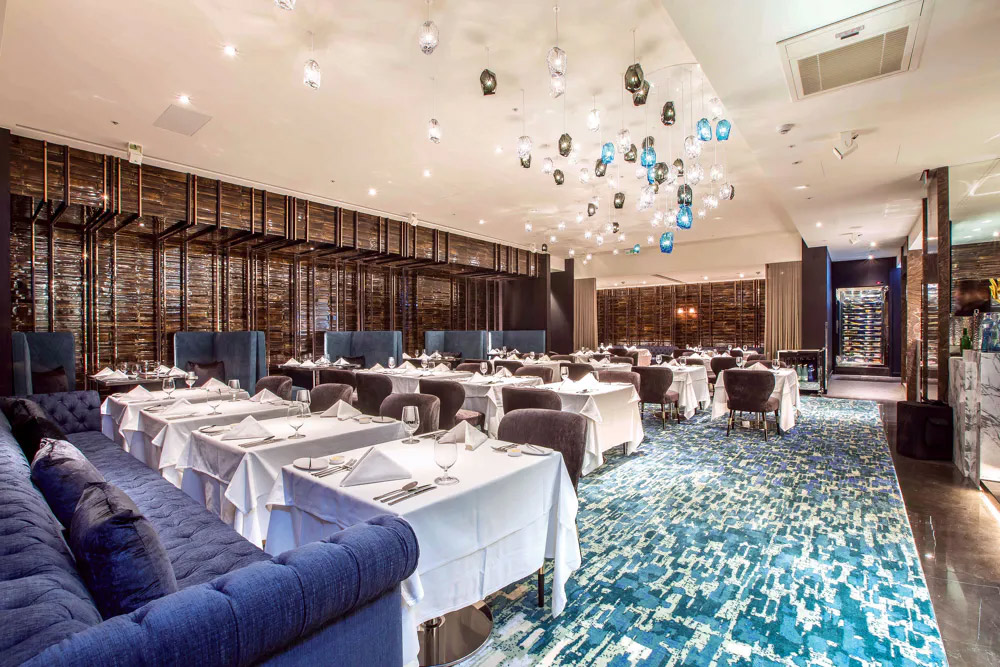 ©A Cut
---
Thailand
This destination in
The Mandarin Oriental
has earned a reputation as a premier destination for those looking for sophisticated French cuisine. Floor-to-ceiling windows overlooking the Chao Phraya River while local flora are arranged elaborately. Superb ingredients, refined techniques, and well executed combinations of flavors and textures ensure its reputation is deserved.
Where to stay nearby?
Park Hyatt Bangkok — Bangkok: Park Hyatt Bangkok is designed to be a "home away from home" — that is, if your home happens to be a luxury tower with floor-to-ceiling windows with unobstructed views of an Asian megacity.
The Sukhothai Bangkok — Bangkok: sprawling over six acres, the Sukhothai functions as an island of calm amidst the bustle of Bangkok. Gardens, courtyards and lotus pools await around every corner, and the restaurant floats on a man-made lake.
©Mandarin Oriental, Bangkok/Le Normandie
---
United States


New-York


The cuisine describes itself as "New Korean," which means it does lean westwards quite considerably; indeed, some of the wonderful sauces turned out of this versatile kitchen wouldn't be out of place at a grand French table. This is cooking that is original, impeccably executed and enormously satisfying. The space is cool, crisp and elegant; the service team sharp, keen and organized. Jungsik is an immeasurably good looking restaurant, run with the professionalism that its cooking demands.
Where to stay nearby?
The Crosby Hotel — New York: Firmdale's first U.S. hotel is exactly what New York City needs. From the bright colors to the decidedly un-minimal décor, it's rare for a New York boutique to present so opinionated a face to the world.
The Roxy Hotel Tribeca — New York: Tribeca is one of Manhattan's oddest blends, where 19th-century cobblestones meet sleek industrial architecture, and the Roxy Hotel perfectly exemplifies the neighborhood's unique combination of high gloss and arty edge.


Washington
The Inn at Little Washington is a destination in every sense of the word. Embellished to the last inch, the dining room resembles a jewelry box lined with patterned carpets, lush wallpaper, heavy drapes and bejeweled upholstery. Servers are knowledgeable and warm; the room is conducive to conversations.
Where to stay nearby?
Park Hyatt Washington
– DC:
The Park Hyatt in Washington D.C. is pitched perfectly for the city's more style-conscious guests. Its interiors are soothingly, stylishly Zen, and its service very much up to a diplomat's standard.
©Park Hyatt / Washington DC