If you're on the hunt for lunch venues that will impress your guests, be it your friends, a date, colleagues or clients, you'll be delighted to know that many MICHELIN-starred restaurants offer set lunches that are surprisingly affordable and no less memorable. You can expect exceptional food and wine, impeccable décor and attentive service while dining at these highly sought-after establishments in Hong Kong.
Read on for a list of MICHELIN-starred restaurants—all conveniently located in the heart of Tsim Sha Tsui—that offer great-value lunches for under HK$800 per head.


MICHELIN Selected Restaurant, MICHELIN Guide Hong Kong Macau 2022
In an elegant green-hued interior adorned with glowing glass globes and a lush green Kowloon Park view, Cuisine Cuisine at The Mira hotel is where you can enjoy Cantonese classics with creative, modern twists.
The Chinese restaurant offers a set lunch at HK448 per person that includes a selection of special dim sum, such as steamed shrimp dumpling with gold leaf, crispy taro puff with diced chicken and foie gras, and steamed wild mushroom dumpling with black truffle. This is followed by the braised shrimp soup, sautéed prawn with chives, dried sole and mushroom, as well as poached seasonal vegetables with conpoy in superior soup. The hearty braised noodles with barbecued pork and spring onion is served before a warming dessert of sweetened almond cream with walnut cookie. Chinese tea is also included in the set.
Several private dining rooms are available to accommodate parties of various sizes and different private events.
Price: HK$448 for the Cuisine Cuisine Set Lunch
Address: 3/F, The Mira Hotel, 118 Nathan Road, Hong Kong

RELATED: Best Char Siu in Hong Kong
MICHELIN Selected Restaurant, MICHELIN Guide Hong Kong Macau 2022
Specialises in Beijing and Huaiyang cuisine, Dong Lai Shun at The Royal Garden is the Hong Kong outpost of the original Beijing brand, best known for its Mongolian mutton and hot pot.
Dong Lai Shun offers two set lunches with great value for money. Priced at HK$188 per person, the Sichuan Style Luncheon includes one appetiser with the choice of jelly fish, marinated cucumbers or mutton terrine; one Sichuan mala main dish with the choice of mutton, beef, chicken or fish; simmered seasonal vegetables in supreme soup; and handmade noodles in Dong Lai Shun style. If you're not a fan of spicy food, try the Dumplings Luncheon set menu, which is also priced at a wallet-friendly HK$188 per person.
If you're booking in for a business meeting or special occasion, opt for one of its private dining rooms.
Price: HK$188 for the Sichuan Style Luncheon or Dumplings Luncheon set
Address: Basement 2, The Royal Garden, 69 Mody Road, Tsim Sha Tsui, Hong Kong
RELATED: Best Wonton Noodles In Hong Kong
One MICHELIN Star, MICHELIN Guide Hong Kong Macau 2022
Centrally located on the 4th floor of Harbour City, Épure is known for its contemporary French cuisine, extensive wine selection, romantic ambience and a magnificent terrace overlooking Victoria Harbour.
Its set lunch menu starts from HK$558 per person, which includes amuse bouche, appetiser, main course, cheese or dessert, petit fours and coffee or tea. Diners can opt to add HK$100 for an extra appetiser. From the list of appetisers, highlights include the Paris mushroom soup and onion with black truffle; choose from main courses including pigeon, US Black Angus striploin, toothfish, lobster, homemade pasta, or the tableside carving that serves two. To end, try the chocolate raspberry dessert, or opt for their exquisite artisan cheese. Selected wine by the glass is also available at HK$108 each.
With spacious indoor and outdoor seating spanning over 7,500 sq. ft., Épure is a choice location whether you're catching up with your girlfriends or organising a business lunch meeting.
Price: from HK$558
Address: Shop 403, 4/F, Ocean Centre, Harbour City, 3-27 Canton Road, Hong Kong

RELATED: Live Update: 2 Brand New Restaurants Listed in the MICHELIN Guide Hong Kong Macau – July 2022
One MICHELIN Star, MICHELIN Guide Hong Kong Macau 2022
Opened in 1953 and housed inside The Peninsula's old ballroom, Gaddi's is quite the gourmet institution, serving up "modern classic" European cuisine by chef Albin Gobil.
Available from Tuesday to Sunday, the grand restaurant's set lunch menu starts from HK$688 per head for three courses, or HK$788 for four courses. Subject to seasonality, the lunch menu selection may include Boston lobster, Australian black truffle, textures of corn, Perigueux sauce; Hokkaido scallops, noirmoutier potatoes, green curry, grenobloise garnish; and Piedmont hazelnut soufflé, Tahitian vanilla ice cream, caramelised hazelnuts. Coffee or proprietary Peninsula teas and petit fours are also included. Diners can also opt for wine pairing starting at HK$620 for three glasses.
For meetings and celebrations, the private dining room with classic French fine-dining setting is available for booking.
Price: from HK$688 for three courses, from HK$788 for four courses
Address: 1/F, The Peninsula Hong Kong, Salisbury Road, Tsim Sha Tsui, Hong Kong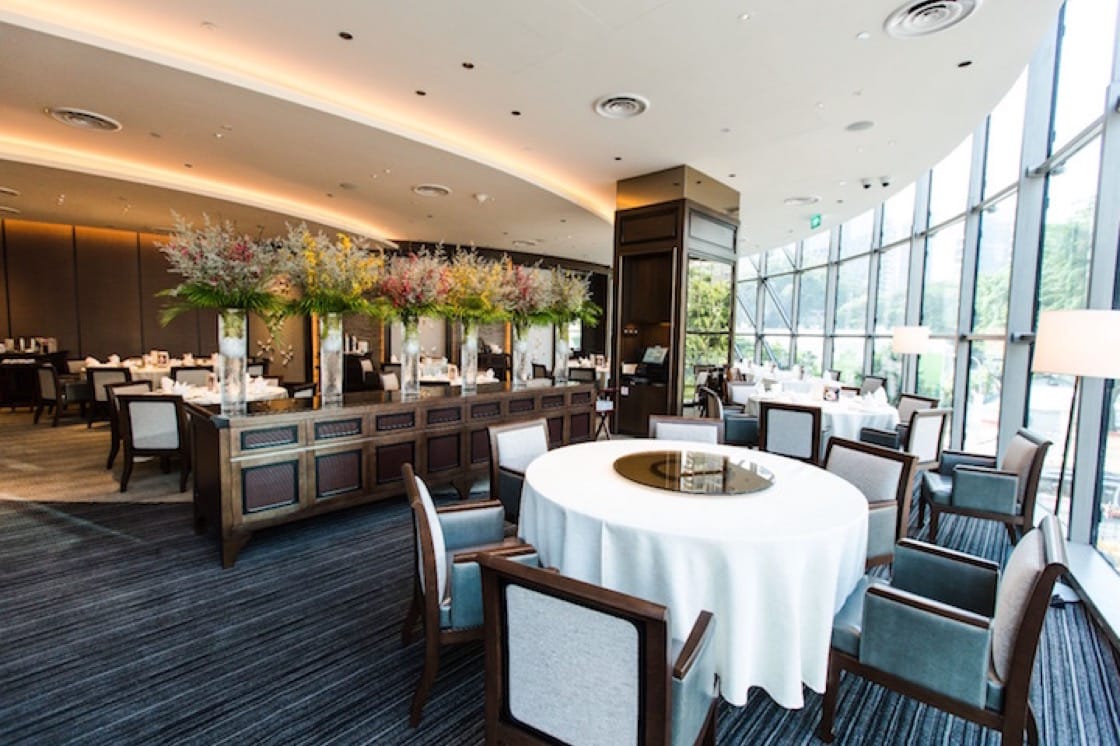 One MICHELIN Star, MICHELIN Guide Hong Kong Macau 2022
If you're looking for reliable, elevated Chinese fare, Imperial Treasure at the landmark location of One Peking is the place to be. The restaurant's opulent dining room is decked out in Asian artworks and floor-to-ceiling windows that promise panoramic harbour views.
At HK$328 per head, the Executive Business Lunch Set A kicks off with braised shark's fin with shredded chicken and two types of dim sum, followed by marinated beef shank and chilled pig's shank, braised seasonal vegetables with minced beef, braised thick noodles and dried shrimp in spicy sauce, and ends with black glutinous rice pudding. For those seeking a more decadent lunch experience, Lunch Set B at HK$728 per head features more premium ingredients with highlights such as braised sea cucumber with goose web in oyster sauce, steamed Boston lobster with minced garlic, and crispy rice in seafood broth.
The restaurant has a generously-sized dining area with several private and semi-private dining rooms for those looking for a bit more privacy.
Price: HK$328 for Executive Business Lunch Set A (min. 2 pax), HK$728 for Executive Business Lunch Set B (min. 2 pax)
Address: 10/F, One Peking, 1 Peking Road, Tsim Sha Tsui, Hong Kong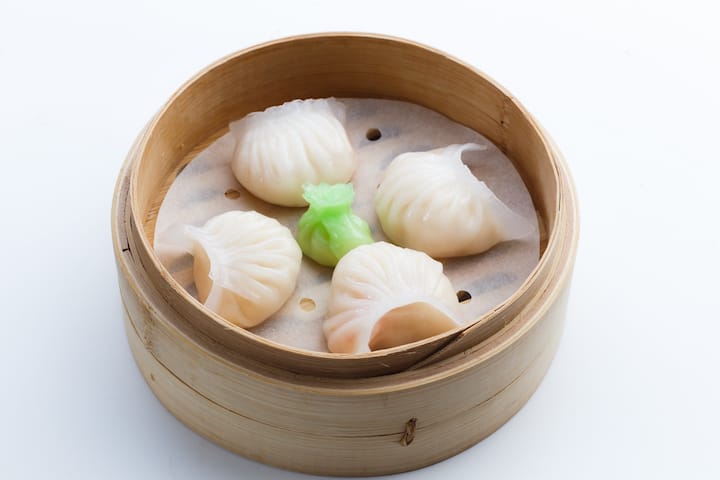 One MICHELIN Star, MICHELIN Guide Hong Kong Macau 2022
Set against imperial, lavishly decorated red and gold interiors with majestic chandeliers and Chinese paintings, Shang Palace serves classic Cantonese specialities by chef Cheung Long-Yin with meticulous plating to match.
Priced at HK538 per head, the Chef's Set Lunch features meat dishes including barbecued suckling pig and meat platter, and stewed pork spare ribs with dried plum; seafood dishes including sautéed spotted garoupa fillets with morels and green vegetables, and pan-fried vermicelli with baked prawns and pepper. Also on the menu are the soup of the day, and the sweetened cashew nut cream for dessert. To drink, the set comes with one glass of fresh fruit juice. Diners can enjoy wine pairing at HK498 per glass of selected red or white wine.
Looking for a venue to host your next private event or business lunch? Book the restaurant's 20-seat private dining room.
Price: HK$538 for the Chef's Set Lunch
Address: Lower Level I, Kowloon Shangri-La, 64 Mody Road, Tsim Sha Tsui East, Kowloon

RELATED: Mingles' Mingoo Kang On His Favourite Hong Kong MICHELIN Restaurants
One MICHELIN Star, MICHELIN Guide Hong Kong Macau 2022
Located on Level 102 of the ICC, the tallest building in Hong Kong, Tosca di Angelo offers Italian fine dining at an impressive setting with high ceilings, stately fountains and breath-taking views of Victoria Harbour. At the helm is Sicilian native chef Angelo Aglianó, whose signatures include house-made pasta and seafood dishes made with seasonal ingredients sourced from Italy.
For lunch, Tosca di Angelo offers a three- or four-course set menu from HK$638 per person. Depending on what's in season, the set menu may include mezzi paccheri "Mancini" with Sicilian red shrimps and basil pesto sauce; risotto "Acquerello" with green asparagus, saffron and parmesan fondue; and red star grouper in Matalotta soup with olives, tomatoes and capers from Salina. Chef Angelo's rum baba and traditional tiramisu with coffee granita are both excellent desserts that will leave a lasting impression on your guests.
Seats by the window are very popular, so be sure to make a booking. The restaurant also has two spacious semi-private dining areas, and one private dining room for larger groups.
Price: from HK$638 for three courses (starter, first or main course and dessert), from HK$788 for four courses (starter, first course, main course and dessert)
Address: 102/F, The Ritz-Carlton, Hong Kong, International Commerce Centre, 1 Austin Road West, Hong Kong

CONTINUE READING: Kung Wo Beancurd Factory: Soy Products to Take You Down Memory Lane
---