MICHELIN Guide Chicago 2020
Sepia
123 N. Jefferson St., Chicago, 60661, United States
50 - 75 USD • American
MICHELIN Guide Chicago 2020
Sepia
123 N. Jefferson St., Chicago, 60661, United States
50 - 75 USD • American
MICHELIN Guide's Point Of View
Housed within a historical 19th-century print shop, this urbane, stylish but unfussy dining room does a fine job mixing original details with modern touches. Muted tones in the exposed brick walls and custom tile floors complement newer elements like floor-to-ceiling wine storage and dramatic smoke-shaded chandeliers that drip with crystals. Though the décor may tip its hat to yesteryear, the ambience is decidedly inviting and Chef Andrew Zimmerman's cuisine is firmly grounded in the present. Settle into one of their spacious tables and look forward to a meal that reflects the delicious amalgam of American cuisine, with hints of Southeast Asian, Korean and Mediterranean tastes. But, it is at dinner when this kitchen truly shines. Gnocchi for instance may seem commonplace, but this version is memorable thanks to the flawless components and rich flavors of lamb sugo and ciabatta breadcrumbs. Chicken is downright exciting, served crisp-skinned with a buttery Albufera sauce, crumbly chestnuts, caramelized fennel and sausage. Simple-sounding desserts keep the bar high until the very end of the feast, and may include a toffee-coconut cake with chocolate ganache and burnt caramel.
Show More
Show Less
m One MICHELIN Star: High quality cooking, worth a stop!
ó Comfortable restaurant; one of our most delightful places.
Related Reads
Join MICHELIN as chef Andrew Zimmerman of one-MICHELIN-starred Sepia hosts Ron Siegel of one-MICHELIN-starred Madcap from the San Francisco Bay Area for...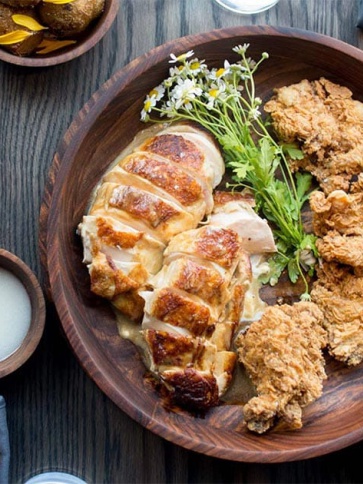 Here's where to go in the booming neighborhood.
Whether you want to share a meal with a special someone or eat your feelings with friends, these are the places for you.
Subscribe to our newsletter and be the first to get news and updates about the MICHELIN Guide
Subscribe
Follow the MICHELIN Guide on social media for updates and behind-the-scenes information