MICHELIN Guide Chicago 2020
Oriole
661 W. Walnut St., Chicago, 60661, United States
150 - 215 USD • Contemporary
MICHELIN Guide Chicago 2020
Oriole
661 W. Walnut St., Chicago, 60661, United States
150 - 215 USD • Contemporary
MICHELIN Guide's Point Of View
Welcome to one of Chicago's greatest restaurants. The interior is mod yet industrial, with an open kitchen—filled with jovial professionals who look like they're cooking for a dinner party—that takes up a good deal of the space. The fact that nothing feels stuffy should not surprise, since Oriole is something of a family business. Crisp attention to detail is clear from every member of this team, who are all thoroughly versed in the intricacies of the rather complex menu. Oriole's tasting menu is stimulating and utterly contemporary; borderless with its interweaving of global flavors. It all begins with a cavalcade of delicate small bites: Aged hamachi with fresh wasabi and truffle honey shows a fascinating sweetness. Maine uni with yuzu kosho and puffed rice has fantastic crunch. A single crab shumai bobs in a soothing kabocha and ginger broth. Caraway cappellini is paired with a rich yeast butter, puffed wheat, and shaved black truffle for a heady dish. Desserts offer a tempting array from a celery-pistachio financier and guava Danish to sweet potato cheesecake and peppermint-dark chocolate bon bon. Oriole thinks of everything; there is even a non-alcoholic beverage pairing on offer.
Show More
Show Less
n Two MICHELIN Stars: Excellent cooking, worth a detour!
ô Very comfortable restaurant
Related Reads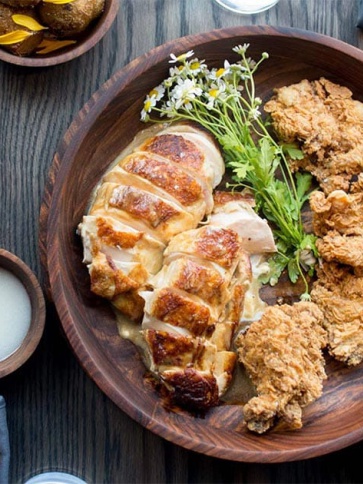 Here's where to go in the booming neighborhood.
This bar has been a long time coming for the Oriole team.
And she's doing it one alcohol-free drink at a time.
Subscribe to our newsletter and be the first to get news and updates about the MICHELIN Guide
Subscribe
Follow the MICHELIN Guide on social media for updates and behind-the-scenes information