Many Japanophiles hail Hokkaido as home to a cornucopia of Japanese food products, from dainty confectionery to luscious dairy products. But, if one digs deeper, most of the raw ingredients can be traced back to Tokachi in the south-eastern region of Hokkaido.

Synonymous with producing milk and beans, Tokachi, which is one of Japan's major agricultural hubs, grows an abundance of crops, including vegetables such as corn, wasabi, potatoes, yam, soya and azuki beans, sugar beets and wheat. Come spring and summer, which are the peak food production seasons, the verdant fields are chock-full of crops in neatly organised rows that stretch beyond the eye.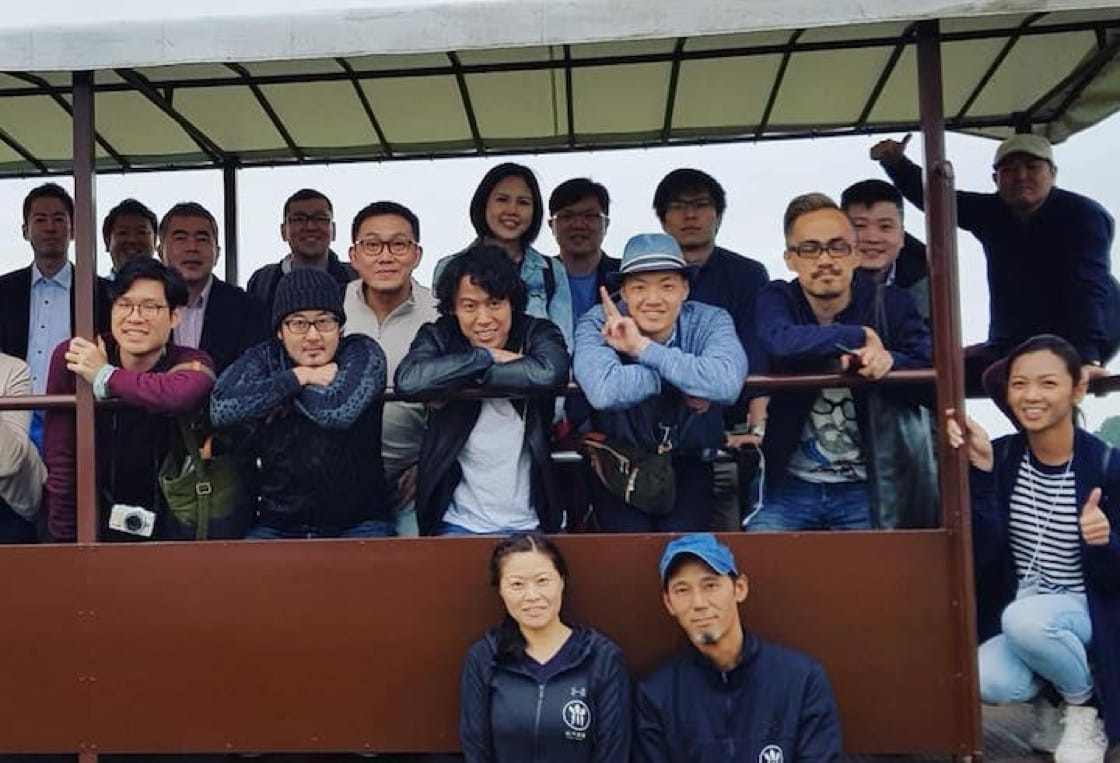 A group of 14 chefs, restaurant representatives and food distributors from Singapore attended an insightful five-day trip to Tokachi to understand more about its ingredients.
The rich tapestry of Tokachi's farm produce piqued the interest of a group of 14 chefs, restaurant representatives and food distributors from Singapore during a recent five-day trip to Tokachi.

For many of them, it was their maiden trip to the region known as the agricultural backyard of Hokkaido. Organised by Hokkaido food distributor Prime Stream Asia, the trip immersed the group into region's deep-rooted agricultural spirit and the local farmers' passion for provenance.
Tokachi ranks as one of the most agriculturally active regions in Japan. In 2016, the region produced 32,000 tonnes or 60% of Japan's azuki bean supply and supplied a quarter of Japan's production of wheat that is turned into flour and bread. The total cultivated land area per farming household in Tokachi is 41.7 hectares — twice the average area in Hokkaido.
The bulk of the produce is cultivated on the largely flat Tokachi plain, which is blessed with clean air and water, and more than 2,000 hours of sunshine annually (It receives sunshine about 80% of the year). The major food producing region, which is made up of 19 cities, is also relatively pristine, having been inhabited for just 130 years.

About 120 cows freely graze the 80-hectare Shinmura Farm, where the soil has been regularly tested to ensure the growth of nutritious grass.
Quality Produce Starts From The Soil

During the six farm visits, the chefs were struck by the vast amount of attention devoted to the terroir of the produce, especially on the soil. Some farmers keep the plots of land bare for up to a few years after harvesting a particular crop to avoid soil contamination.

The Japanese are renowned for their obsession with precision and it shows as some of the farmers spend much time and effort to maintain soil quality, from examining and researching on its nutrient levels to conducting regular tests in research laboratories.

One of the participants, Ryosuke Harada, chef-owner of Sushi Mitsuya, says: "It is heartening to see a younger generation of farmers who are passionate about continuing the farming trade. I am impressed by how the farmers take so much pride in the quality of their produce."
Ryosuke Harada, chef-owner of Sushi Mitsuya, who uses Hokkaido white corn, is impressed by the sweetness of the Megumi Gold Corn that is grown in Tokachi.
Another participant, Seita Nakahara of Michelin-Plated Italian-Japanese restaurant
Terra
, who uses Tokachi ingredients such as corn, rocket leaves and flour in his dishes, says: "I have done blind tastings of vegetables that are grown around Japan and those from Tokachi have more full-bodied and compact flavours. It shows that investing in the quality of the soil pays off. I hope to capture and translate the freshness of the produce in my restaurant in Singapore."
Agreeing is Chong Wan Khang, chef de cuisine of one-Michelin-starred Italian restaurant
Garibaldi
. He says: "It is great to see the farmers are so passionate about their produce, which builds upon the good impression that people already have of Hokkaido produce."
Jocelyn Huang, restaurant manager of
Ushidoki Wagyu Kaiseki
, echoes Chong's view: "Some of the vegetables are so sweet that they almost taste like fruit. The farmers take pains to maintain the soil's conditions instead of maximising the production of crops. This trip has allowed me to go deeper understand the growth process of the produce and share these stories with our diners."
Here are some of the farm highlights and insights that chefs have gained during the trip to Tokachi.
The 4 hectare plot at Yamakawa Farm grows yama wasabi that makes a good pairing with beef.
1. Yamakawa Farm
Key Produce: Yama wasabi (mountain horseradish)
The family-run vegetable farm in the Kasai-gun region grows eight types of crops, including daikon, cabbage and edamame. However, its star crop is undoubtedly the yama wasabi or mountain horseradish, which stands out for its mellow sweet flavour and slightly bitter aftertaste.
Spanning 4 hectares are lush fields of yama wasabi that are about four months old. Almost ready for harvest, these horseradish have grown to about 1.2m-tall and sport gigantic leaves. Kenichi Yamakawa
(below, left)
, the third-generation owner of Yamakawa Farm, pulls out a fully-grown wasabi plant from the ground to reveal the root vegetable, much to the amazement of the chefs. A couple of them have served yama wasabi in their restaurants, but few have seen the entire root vegetable, which is grown only in Hokkaido.
What is the secret to growing yama wasabi well over the past three decades? Yamakawa says that it lies in maintaining good soil quality. He practices crop rotation so plots of land "take a rest" after the crops are harvested before another type of vegetables is grown on it.

He adds: "We check the condition of the soil by testing it regularly for non-pathogenic microbes in research labs so that the plants are cultivated in a healthy manner."

Yamakawa adds that there are two seven-month harvest periods for yama wasabi — one in spring and the other in autumn. He heads the Chihoku Club co-operative of 290
wheat producers, who supply wheat to Yamachu Trading, a Tokachi-based food trading and manufacturing company.


To ensure the freshness of the yama wasabi, the harvested roots are kept in a chilled warehouse for up to three months before they are distributed locally or exported overseas.

One of the chefs who is enamoured by the yama wasabi is Kenji Yamanaka, chef de cuisine of one-Michelin-starred Japanese-French restaurant Beni. He says: "Regular wasabi can be too spicy for some diners, but yama wasabi has a unique blend of sweet and spicy flavours."

Ushidoki's Huang adds: "Although my restaurant has been serving yama wasabi from Hokkaido to pair with beef, I am surprised to see that the plant is so tall and huge in real life."


The Megumi Gold Corn is known for its fresh burst of sweetness.
2. Hokuo Agriculture And Forestry
Key Produce: Megumi gold corn
From potatoes, azuki beans to sugar beets, the 31-year-old
Hokuo Agriculture And Forestry
is home to a smorgasbord of vegetable crops. The sprawling 130-hectare plains is home to one of the largest vegetable farms in Hokkaido.
The group of chefs are dwarfed by the 14,000 Megumi gold corn plants standing on a two-hectare plot. The tips of the towering plants are sprinkled with gold hues from being crowned with corn tassel, which is the male reproductive organ of the corn plant that is crucial for pollination.
"Each corn plant has two cobs. Due to uneven weather, one of the cobs may not be ripe or the rows of corn kernels may not grow in straight lines," explains sales director Noboru Fujiwara as he bends down to twist out a cob from the plant. "We know that the corn is ready for harvest when the plants are knocked down by roaming foxes," he adds.
A buzz of excitement erupts among the chefs as they take turns to peel the husk to reveal bright yellow corn kernels that are crunchy and bursting with naturally sweet juices. Levine Lau, sous chef of two-Michelin-starred Odette, says: "I have not tasted such sweetness from a corn. The feeling of taking a bite of the fresh and juicy sweetness is incredible."

Echoing his view is Terra's Nakahara (left), who swoons over by the corn's natural sweetness. He has used this particular variety of corn as a garnish in appetisers such as burrata cheese with olive oil. Beni's Yamanaka is toying with the idea of incorporating the fresh sweetness of the corn as a mousse that can be served with uni (sea urchin).
Meanwhile, Garry Loh, owner of
Yamagawa Restaurant
, relishes the opportunity to taste the sweet and juicy corn that is freshly plucked on the farm, instead of waiting for days before the produce gets shipped to his restaurant.
Tokachi Dream Mill produces five types of flour in varying textures.
3. Tokachi Yume Mill By Yamachu
Key Produce: Flour

Hokkaido is one of the largest producers of wheat in Japan. Out of the 90,000 tonnes of wheat that was produced last year, about one-third originated in Tokachi. At Tokachi Dream Mill, a whopping 9,800 tonnes are kept in 16 huge tankers at the seven-year-old wheat processing plant that is run by food trading and manufacturing company Yamachu Trading that specialises in soy and wheat production. The flour is then processed to remove the outer husk before it milled into flour that can be made into bread and pasta.

Japanese flour has gained a reputation for being "soft" due to its low gluten content. This makes the flour more suitable for making udon than bread. However, Tokachi Dream Mill has branched out to produce flour in a variety of textures. One of the five varieties of flour is yume chikara, which translates to "dream power" in Japanese.
Some of the chefs uses yume chikara flour, which is suitable for making pasta and baking bread.
Dough made from the "super hard flour" has "extra strength" that can be made into pastry or pasta. Beni's chef de boulangerie Akira Maekouchi, who has been using this flour to roll out his baguettes and sourdough bread over the last two years, says: "This flour requires more water to be mixed with, so the bread doesn't turn out too dry, and has a mochi-like texture. The bread's aroma can also last over a longer period of time."

Terra's Nakahara uses the flour to make spaghetti and focaccia bread. "I like to cut my pasta thinly that gives a beautiful bite," he says. "I also use this flour to bake focaccia bread, which turns out moist and fluffy."
At Shinmura Farm, cow graze freely around the pastures, which have been engineered to grow grass that is packed with nutrients.
4. Shinmura Farm
Key Produce: Milk and dairy products, such as its signature milk jam spread
Producing full-flavoured milk starts with quality soil and grass, says Hirotaka Shinmura, the fourth-generation owner of
Shinmura Farm
. Over the years, Shinmura has worked with scientists from a research lab in the United States to develop soil that is rich in nutrients and minerals in order to produce wholesome grass for his cows.
The ranch's 120 cows, which are mainly the Holstein breed, are free to roam and graze on the 80-hectare farm that is made up of lush undulating hills. Shinmura, who converted his family's farm from a confined rearing setting to a free-range one when he took over the business in 1994, chimes: "Happier and stress-free cows produce better milk."
Although he is tapping on science, not every strand of grass is engineered to be packed with nutrients. Some parts of the farm are interspersed with "regular grass". He says: "Naturally, the cows eat what they desire as only they will know what is best for themselves."
Dairy products from Shinmura Farm include the full-flavoured milk and milk jam that comes in an assortment of flavours.
Depending on the seasons, the cows produce milk that varies in taste. During winter, the milk is thicker and richer as the cows bulk up with fat to combat the cold. A blend of milk from the various cows is mildly pasteurized below 65 degree Celcius in order to retain its original flavour.

Besides milk, Shinmura Farm also runs Cream Terrace, a cafe-shop within its premises. It produces dairy products such as its best-selling milk jam, which is made from slowly boiling down the milk with granulated sugar. The charming cafe also serves milk-based products such as milk ice cream parfaits, and tea sets with scones and house-made whipped cream.
Jocelyn Huang, restaurant manager of Ushidoki Wagyu Kaiseki, shares that her meat-centric restaurant has been making ice cream with milk from Shinmura Farm since 2015. The milk ice cream, which is served with burrata cheese and gula melaka, is a hit among diners. The restaurant uses about 20 litres of milk every two months to make the ice cream, which has to be made within three days of the restaurant receiving the imported milk. She shares: "The milk is rich and creamy. When we receive a tub, we like scraping off and eating the layer of cream and fat that has formed at the top of the tub."

Chefs digging into tofu by Nakata Foods, which is made with soya beans grown in Tokachi.
5. Nakata Foods
Key Produce: Tofu
From edamame-studded tofu pudding to tofu okra chips, Nakata Foods has been pushing the boundaries with inventive soya-based products.The 60-year-old company, which started out producing konjac, produces up to 1,500kg of tofu daily at its factory in Obihiro. Its CEO, Taketoshi Takato, says that its tofu is sweeter as the soya beans, which are wholly grown in Tokachi, contain a higher level of sugar and less protein than soya beans that are grown in other parts of Japan.
The sweeter soya beans are a result of the high temperature difference between day and night times, which leads to a high amount of starch being stored in the beans. The tofu also contains nigari (magnesium chloride), a natural firming agent that is made of seaweed.
At Mr Kotake's Soya Bean Field, chefs check out edamame plants, which will later develop into soya beans.
After learning about the tofu products at Nakata Foods, the group checked out the source — soya beans at Mr Kotake's Soya Bean FIeld. What surprised many of them is that soya beans are developed from edamame in the five-hectare plot. Edamame sprouts up three months after the seed are sowed.

By the end of October, a harvest of about 10 tonnes of soya beans would have been yielded. Sushi Mitsuya's Harada says: "I eat tofu for breakfast almost every day and listening to the production process has inspired me to make tofu in my restaurant."
---
Video Highlights From The Trip To Tokachi