Breaking from tradition, these restaurants – whether via their experimental approach to cooking or off-the-wall interior design – offer an escape from the ordinary. Explore our list of quirky UK restaurants featured in the Michelin Guide.

The Frog Hoxton
Sake no Hana, St James's
Sake no Hana is a sleek Japanese spot from the same group as the acclaimed Hakkasan restaurants. Renowned Japanese architect Kengo Kuma is responsible for the interior, with the angular and minimalist space reminiscent of Japan's bamboo-filled forests. This aesthetic contrasts with the intricate Japanese dishes, while innovation is brought to classic cocktail mixes at the bar.

Book 7-course Hana menu with a glass of champagne £65 per person

Sake no Hana, St James's
Sketch, Mayfair
Story, Bermondsey
With previous stints at Noma and The French Laundry under his belt, Tom Sellers brings a nostalgic yet pioneering take on British cuisine to Story in Bermondsey. Strikingly visual courses from the very open kitchen are served in unusual vessels, and Sellers conjures menus based around guests' preferences, alongside perfected house dishes – no menu is presented on arrival.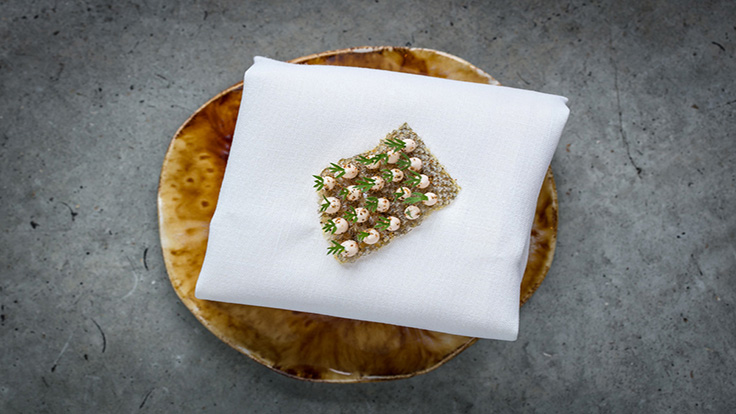 Story, Bermondsey
Purnell's, Birmingham
Set within a restored Victorian building, Purnell's is a renowned spot from Chef-owner, Glynn Purnell. British menus, which span from snack-style through to elaborate tasting journeys, have a distinct local identity, including the playful 'Brummie Tapas'. Creative presentation experiments with texture and natural materials: watch the chefs craft these artful plates in the exposed kitchen, and enjoy drinks in the adjoining bar, reserved exclusively for diners.

Purnell's Birmingham
Two Lights, Shoreditch
From The Clove Club's Chase Lovecky, Two Lights brings sharing-style American dishes to the buzzy throng of Kingsland Road. Whitewashed walls and laminate-topped tables fill this bijou space, while the window counter looks out onto Shoreditch. The wine list cherry picks American, Australian and European bottles, while the dishes forefront lesser-used ingredients.

Two Lights, Shoreditch
Twelve, Thornton
Adjacent to one of Europe's tallest working windmills and a short stroll from the coast, Twelve offsets its trusty menu of local and seasonal British dishes with its edgy urbane décor, and cool cocktail bar. Exposed girders, reclaimed wood and bare brick fill the dining room, while graffiti artwork depicts the likes of John Lennon and David Bowie.

Twelve, Thornton
Smokestak, Shoreditch
Playing host to some of East London's most celebrated barbecue cooking, Smokestak has an open kitchen for views of the oak-smoking in action. The space is moodily lit, with distressed chunky-wood tables and communal benches dotted throughout. Brisket and ribs are the mainstays here, accompanied by creative sides, a tight, selective cocktail list and comforting old-school desserts.

Smokestak, Shoreditch
Plaquemine Lock, Islington
Bringing the flavours of the Deep South across the Atlantic, Plaquemine Lock sits on the edge of Regent's Canal in North London. While the exterior is adorned with traditional pub hanging baskets and glossy teal tiles, indoors find swathes of sunshine yellow and murals that depict the bayous of America's south. Alongside American beers and Louisiana-themed cocktails, enjoy a menu of po-boy sandwiches, slow-roast meats and fried chicken.

Plaquemine Lock, Islington
Bob Bob Ricard, Soho
A riotously indulgent spot home to the legendary 'Press for Champagne' buttons found within plush booths, Bob Bob Ricard serves a diverse British menu, spanning from crowd-pleasing burgers to luxurious caviar and oysters. Gilded poles and glossy marble sit against cobalt blue leather in the dining room, with design features inspired by the lavishness of the Orient Express.

Bob Bob Ricard, Soho