Hit hard by the Covid pandemic, the hospitality industry has fought back; coming up with innovative and imaginative solutions to not only stay afloat but also to protect the jobs of their staff and suppliers.

Necessity being the mother of invention, many chefs and restaurateurs quickly switched to delivery and take away during lockdown. Others got to work manufacturing cook-at-home kits, providing online cooking classes or selling grocery items and fresh supplies – often at the same time as providing nourishment for key workers and the vulnerable in their communities.

Whilst some restaurants have sadly had to close their doors for good, others have managed to survive by relocating, like The Dairy, which was previously situated in Clapham but has now moved to Bermondsey.

Others pivoted to providing a different type of food in a different type of environment: Niall Keating is now back behind the stoves at Two Michelin-Starred The Dining Room in Whatley Manor, but spent the summer serving delicious but affordable dishes from his pop up trailer, Paradise Carriage, which also featured guest chefs like Sat Bains.

In the same vein, Josh and Holly Eggleton from the Michelin-Starred Pony and Trap have been serving food at pop up Breaking Bread on the Downs. Other restaurants have transformed their own outside spaces, with marquees and pods to provide socially distanced dining.

Resilience, flexibility, 'thinking outside the box': hospitality professionals have shown their mettle through these testing times and will continue to fight not only to survive but also to thrive. Here's a closer look at how some of the UK and Ireland's chefs and restaurants have reinvented themselves and their offering:

Brat, Shoreditch, London
During lockdown they diversified into a farm, grill and wine shop, selling fresh produce, wine and dishes for take away and delivery. Then in July began a Summer Residency outdoors at Climpson's Arch, serving a blackboard menu, which included their signature whole turbot cooked over fire. This will now continue until January 2021, offering dishes such as fried pork with anchovy and hay butter – and has allowed them to support their suppliers, keep on all their staff and even employ an extra 15 people.

Brat, London
Silo, Hackney Wick, London
Having moved from Brighton to Hackney Wick in 2019, this zero-waste restaurant from chef Douglas McMaster has now morphed into a casual wine bar, Silo X. The good news is that they are still serving food, with the set 6 courser having made way for a menu of small plates from the hearth. It's still mainly plant-based; they still serve the amazing siloaf and aged butter (made with flour milled by them and butter churned by them), and the staff are as warm and welcoming as ever.

Silo, London
Black Swan at Oldstead, North Yorkshire
During lockdown, the team from the Michelin-Starred Black Swan at Oldstead started a new business creating luxury 'Made in Oldstead Food Boxes', which they delivered to their customers. So successful was this venture that they are continuing it even though the restaurant has since reopened. Each box contains two 3-course menus for two or a 5 course tasting menu for two and uses produce grown on their farm. The business has its own premises and employs staff from the restaurant, therefore avoiding redundancies.

Black Swan, Oldstead
Chestnut, Ballydehob, West Cork
Chef-owner of Michelin-Starred Restaurant Chestnut, Rob Krawczyk is running morning and evening cookery classes once a week: casual online cooking experience 'Sticks & Twigs' enables a pair of budding chefs to prepare and cook a three course meal, whilst being guided through each step by Rob, who cooks along live in the restaurant kitchen. Rob is also continuing to offer a three course meal for two to takeaway, called 'Sticks & Twigs to Go' and the restaurant is open for dinner four days a week.

Chestnut, Ballydehob
Yorke Arms, Nidderdale
For over one hundred years, this charming Yorkshire inn has been dispensing refreshment and providing a bed for the night. Post-Covid they are moving on to become a country house available for private hire, with 17 stylish rooms and suites, sleeping up to 33 people. Meanwhile chef Frances Atkins has moved on to launch a new catering business called 'Paradise Foods' with two former colleagues. It offers bespoke hampers and private dinners, as well as food from an Airstream wagon located at Daleside Nurseries.

Yorke Arms, Nidderdale
Aniar, Galway
Michelin-Starred Aniar will remain closed until April 2021 due to Covid, but Chef JP McMahon isn't one to rest on his laurels. 'Aniar Boutique Cookery School' offers six week evening courses and one day workshops on subjects such as 'Tapas at Home', 'Planning a Dinner Party' and 'The Perfect Christmas Dinner'. McMahon is also running 'Aniar at Home': a two and a half hour cooking demonstration and tasting experience of up to five dishes from his Irish Food Cookbook, which takes place in your own home.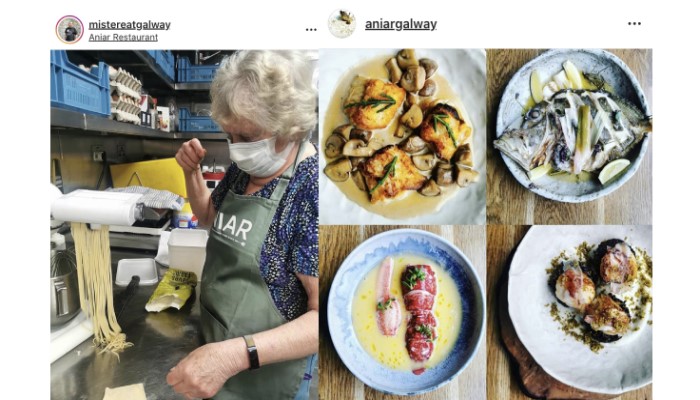 Aniar, Galway
Outlaw's New Road, Port Isaac
It's all change for Nathan Outlaw, whose Two Starred Restaurant Nathan Outlaw has now morphed into Outlaw's New Road; a more informal and accessible restaurant offering two sittings per service. It still has the stunning view and still offers top quality Cornish seafood, guided by the daily catch landed just down the road at Port Isaac – but they are no longer serving it in a multi-course tasting menu. These changes have enabled Outlaw to ensure that none of the staff have been made redundant.

Outlaw's New Road, Port Isaac
Winteringham Fields, Scunthorpe
Perhaps the ultimate reinvention, Colin McGurran, long-standing chef-owner of Michelin-Starred Winteringham Fields, has left the restaurant and gone on an around the world sailing adventure with his wife and three daughters. Although it might seem like a severe reaction to the pandemic, the family actually set off last May, leaving the restaurant in the capable hands of head chef Gareth Bartram. Chef Colin hopes that his trip will inspire creativity as he experiences new cooking from different cultures.

Winteringham Fields, Scunthorpe