Bordered by Slovakia, Ukraine, Romania, Serbia, Croatia, Slovenia and Austria, and historically bearing Turkish, Roman and Middle Eastern influences, Hungary – and its dining scene – is influenced by a wide variety of traditions, recipes and stories.

With such a rich cultural tapestry of interests to draw upon, it's no wonder Hungary happens to be a key destination for top-class fusion cuisine. Below, we hear from some of Hungary's most esteemed chefs to uncover the importance and prevalence of fusion cuisine within the country's gastronomic scene.

essência
Keeping It In The Family

The term 'fusion cuisine' is commonly used to describe food that combines varying elements of cuisines from different countries, regions and cultures: something Hungary is well-versed in. "Hungary's popularity as a destination for fusion cuisine can be attributed to a number of things, including its historical and cultural influences, geographical location, culinary innovation, tourism, and culinary education," says Tiago Sabarigo, chef-owner at essência. "These factors all contribute to a vibrant and unique culinary scene that embraces different culinary traditions – and attracts both locals and visitors alike."

At essência, cuisine is influenced not only by Hungary's rich culinary heritage, but also by the food, ingredients and traditions of Portugal. "I'm Portuguese and my wife, Èva, [who Tiago runs essência with] is Hungarian, so many of our dishes come from childhood memories, family meals and stories we've shared," says Tiago, who has trained at a variety of restaurants including Gordon Ramsay's Petrus and Miguel Vieira's Costes Downtown. "Our menu is influenced by our memories and childhood experiences, and we want to evoke these flavours to create new memories and experiences."

Diners here can choose between a Portuguese and a Hungarian menu, or a tasting menu that combines the two. "We change our dishes seasonally, but octopus, quail and mangalitsa always feature on our menu," says Tiago. "My father often grills octopus in his garden in Portugal, so we had to put this dish on the menu, plus it's also a hit with our guests. Mangalitsa pork is one of my favourite types of meat. It's really high quality, and my wife's family always prepares it for family occasions."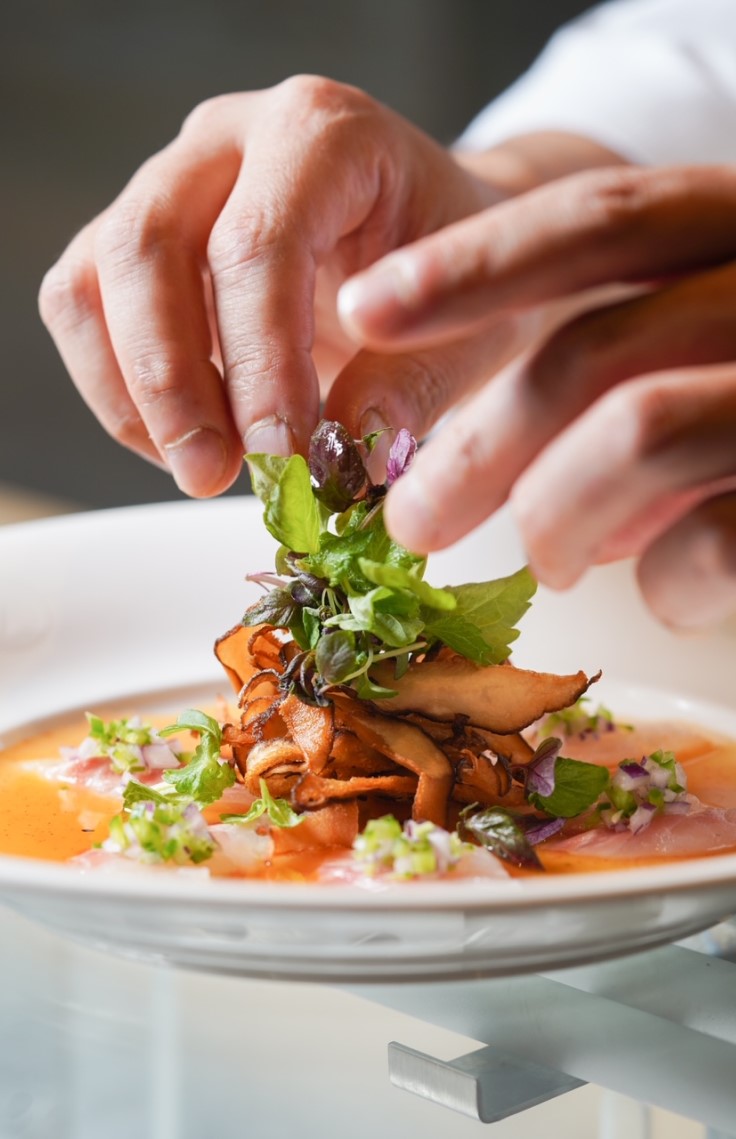 East and West

"Hungarian cuisine has always been a melting pot of influences," agrees Gábor Schreiner, Executive Chef at Nobu Budapest. "With centuries of culinary influence coming from across central Europe, there are a variety of flavours that make Hungarian cuisine unique and unmistakable."

But it's not just Europe that inspires Hungarian cuisine today – at Nobu, Japanese and Peruvian cuisine meet to create a symphony of standout flavours. Key dishes include black cod in miso, inspired by the ancient Kyoto technique of saikyo yaki – which sees the fish being marinated in miso before being cooked – as well as options such as miso chips with tuna or scallop, which clearly demonstrate the restaurant's fusion approach. On the menu you'll also find Peruvian-inspired classics such as tiradito and ceviche, both of which were Nobu San's favourites when he visited, says Gábor.

In addition to Peruvian and Japanese influences, Gábor and his team also look towards Nobu's extended network of chefs around the world when creating their dishes. "We operate more than 50 restaurants and hotels around the world, and Nobu San spends his time finding inspiration while travelling, so there's always lots of new influences and trends to inspire our fusion dishes," says Gábor.
Costes
Tradition Meets Innovation

For Jenő Rácz, chef-owner of Costes, Hungary's unique geographical position also influences an essential element at the very heart of gastronomy: the ingredients themselves. "Hungary is fortunate to be located in the Carpathian Basin, surrounded by countries whose cuisine and gastronomy have influenced ours over the centuries. There are ingredients which are only grown in our country, such as the world-famous red peppers, mangalitsa pork, grey cattle and even túró [cottage cheese]."

At Costes, Jenő and his team blend innovation and tradition, fusing unique Hungarian ingredients with international influences. Many of the restaurant's chefs have worked in several continents and countries around the world, with the ingredients and techniques they've discovered on their travels providing a key source of inspiration. But while fusion dishes are central to the cuisine they create, Costes' approach to gastronomy is also steeped in tradition.

''We enjoy building on tradition, but also being innovative,' explains Jenő. "We like to recreate the great classics, whether Hungarian or international. We don't break the rules, but sometimes we bend them to create something unique. One such example is our onion consommé. It's a French classic, but we serve it with parsley root gnocchi ripieni and ox cheek. Our sorrel dessert is a big crowd favourite, too. We decided to take a well-known, memorable ingredient from our childhood, sorrel, which diners tend to encounter in savoury dishes, and serve it in a dessert with white chocolate."

For Jenő, the natural world is a key source of inspiration when it comes to creating fusion dishes. "I love spending time in nature; the ever-changing environment is a real source of inspiration. But, as chefs, we can also be inspired by anything surrounding us: scents, shapes, ingredients. For me, gastronomy is like art. As children, we learn how to use our palette, and from there, the only limit is your imagination. Of course, having a strong culinary foundation – I've learned a lot from world-famous Michelin-Starred chefs – also helps."

Team Effort

"When we started out three decades ago, we primarily explored the cuisine of Eastern Europe, fusing Ukrainian, Russian, Georgian and Hungarian gastronomic traditions and recipes," explains Chef László Kanász of Budapest's Arany Kaviár, which specialises in Hungarian and Siberian caviar.

"Today, our gastronomy is more widely European, and incorporates modern technology to create unique fusion dishes," he continues. In honour of this daring style of gastronomy, the team has an experimental kitchen-cum-laboratory next to the restaurant where they experiment with dishes via the use of new technologies.

"There are no country borders on our menu. Our lamb dish is inspired by Hungarian elements, while our St James' mussel dish is inspired by our French heritage. For one of our favourite dishes, pelmenyi (Russian dumplings), we stray from the traditional recipe and serve it stuffed with lamb meat alongside caviar cream, lamb jus and light pasta. These dishes are the result of a creative team effort and our chefs are committed to searching for the new while also being inspired by the past."

And as for the caviar? "True to our name, we have always presented caviar in exciting and innovative ways, whether as a condiment, a stand-alone dish or with other unusual pairings," says László. "Our chefs and pastry chefs have used caviar to create everything from beef steak tartare with caviar to steak stroganoff and even coconut ice cream with caviar and balsamic vinegar."