When your ingredient is of the highest quality, it needs nothing more than a liberal dose of respect to bring out its intrinsic goodness and just a hint of creativity to bring out its unique flavours without changing it in any way.

Although Croatian cuisine has different facets and many excellent chefs, the common thread throughout is the abundance of superb ingredients available in this fertile land that boasts so many specialities. Whether it's the legendary cheese from the island of Pag, such as Kulenova seka from Slavonia, oysters and mussels from Ston, or salted anchovies, eels and frogs from the Neretva valley, Croatia boasts a vast choice of delicious specialities for inquisitive travellers in search of new flavours.
Croatia features many traditional recipes, such as komiška pogača, a savoury herbed focaccia originally from a small seaside village on the island of Vis, which is filled with various kinds of salted fish, and poljički soparnik, a thin savoury pastry stuffed with chard and onions that has been served in Dalmatia for centuries. Other specialities include štrukli, a sweet or savoury dough filled with soft cow's cheese and either boiled or baked in the oven, served mainly in Zagreb and Zagorje. Usually, those boiled in salted water are served with melted lard and breadcrumbs (or in a soup), while the gratin variety is sprinkled with sour cream before being baked. The art of preparing these štrukli is included on Croatia's List of Intangible Cultural Heritage.
Sinjski arambašići, a close relation of the highly popular sarma, is another Croatian delicacy – these fresh or fermented cabbage leaves are stuffed with a mixture of minced beef and pork – as is the minestrone soup from Konavle, a dish made from dried meat, cavolo nero, white cabbage, Savoy cabbage and potatoes.
Our list of Croatian delicacies continues with Zagreb-style veal cutlets (breaded veal stuffed with cooked ham and stringy cheese) and Dubrovački šporki makaruli, a kind of home-made macaroni served with a tasty meat ragu that was once prepared for the eve of the Feast of St Blaise, the patron saint of the city.
Other specialities on this seemingly endless list include Lika bread, a traditional type of bread made from cornflour that is a favourite with food-lovers and is excellent sliced and spread with lard or olive oil, and Slavonski Čobanac, a paprika-spiced stew that is slow cooked for hours and hours and is considered the perfect comfort food.
Croatia is fortunate to have chefs who preserve these old traditional recipes while also making the most of the country's unique produce, creating cuisine that is imaginative yet also fully respectful of the flavours and aromas of their ingredients.

One Croatian chef who makes every effort to showcase his country's cuisine is Rudolf Štefan at the Michelin-starred Pelegrini restaurant in Šibenik.

Pelegrini is much more than a simple restaurant. It is also a hub for gastronomic research that stands out for the way it works with small Croatian producers, and is renowned for its Chefs' Stage project, an international gastronomy and hospitality congress which provides young talented chefs with top-quality training in order to improve the country's food sector for the future.


Chef Rudolf Štefan - Pelegrini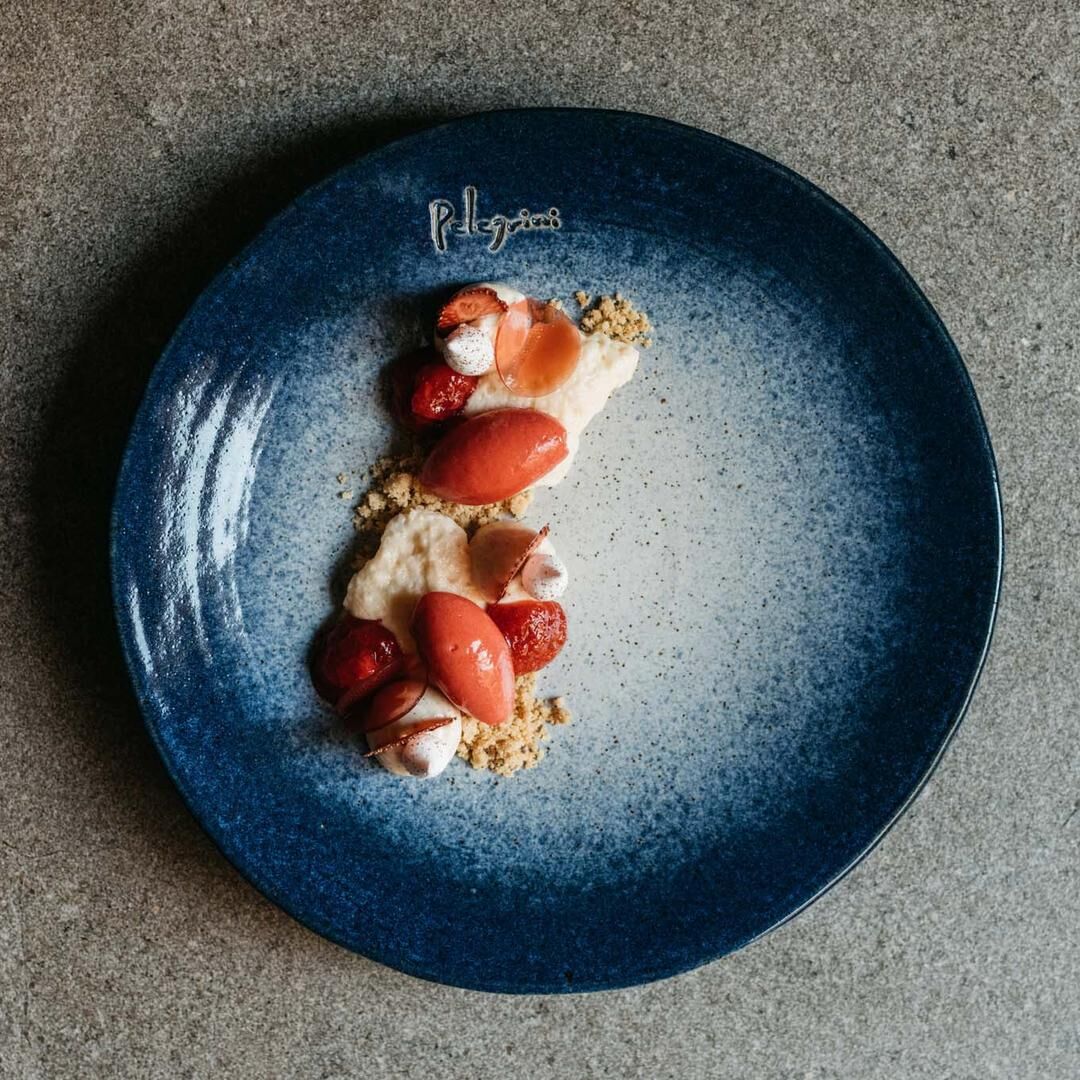 Mateja Vrckovic - Pelegrini
For chef Rudolf Štefan hospitality is a lifestyle and a way of being. "I live in my native city with my family, and I love what I do. For me, hospitality is a fantastic career which allows me to constantly improve, to travel and exchange knowledge and experience with colleagues from around the world, to implement new techniques, discover new flavours and pass on expertise to younger generations. Curiosity is fundamental for me – you have to be hungry for new knowledge in this job as this is a profession which is constantly evolving. But qualities that are even more important than curiosity are tenacity, patience and perseverance. Without these, there is no continuity and without continuity there is no success. These are the values that I share with my team and with the youngsters who are embarking on a career in catering. All of this makes me a very happy man!".
"Taste is everything in our cuisine and the flavours of our region always take pride of place on our menu", Štefan continues enthusiastically. "People should always be aware of what is around them and should love and value their surroundings. For this reason, we work constantly to enlarge our network of local producers who are one of the pillars supporting our restaurant. I also attach real importance to traditions – where I'm from we always say that life takes place around the table. Generations of children have grown up in kitchens, learning from their grandmothers – these early taste experiences train the palate and the soul, and we carry these with us for the rest of our lives".
"Our menu changes with the seasons in line with what is available locally", adds the chef. "We offer a modern interpretation of traditional Dalmatian dishes, inspired by the rich culinary heritage of our region and respecting the influences left by the Venetians, Turks, French and Austro-Hungarians over the centuries. Most of our dishes pay tribute to this country which we love with all our hearts".
One example of this extraordinarily varied history is Pelegrini's pasta with duck, one of the restaurant's house specialities.
"This dish represents a kind of culinary journey through our region", explains Štefan. "When you travel to the Krka National Park, just a few kilometres from Šibenik, the first thing you see are ducks. For this dish, we use every part of the duck, so there's no food waste. Our recipe is based on Tingul, a typical dish served at banquets that is usually made from duck or roast veal. This is a stew flavoured with herbs that uses every part of the animal to obtain a rich sauce – the type that makes you want to lick your fingers! We've all grown up eating this dish. Then we have roast duck breast with a liver gravy. There's also a sauce made from a 60-day-old cheese that we source from OPG Ston, which is truly delicious".
The region's traditions are also evident in the restaurant's pašticada (a Croatian meat stew), and in its various seafood salads, as well as the anchovies and mussels prepared "home style" but enhanced by the use of top-quality ingredients and expert culinary techniques.
At Pelegrini the concept of sustainability is an integral part of the restaurant's philosophy: "Croatian cuisine is traditionally the cuisine of the poor, as is the case is so many places in the Mediterranean, so paying attention to the sustainability of ingredients comes naturally", says the chef. "We base our menus on food that is available locally and produced by local farmers, growers and fishermen. In terms of waste, we try to do as much as possible to keep our environmental footprint to a minimum".
"Among my favourite ingredients are the mussels which grow naturally in the Šibenik channel. All of us here grew up eating these! Today they are also cultivated locally by our fishermen and are an excellent and sustainable ingredient that we always include on our menu. In early spring, we make use of the wild asparagus that we harvest from the countryside around the restaurant. There is nothing more elegant and delicious than this wild vegetable and here in Croatia we love it. We're often surprised to learn that some of our international visitors have never tried it, so here they have a chance to sample a delicious vegetable that is perhaps new to them, and of course they love it!".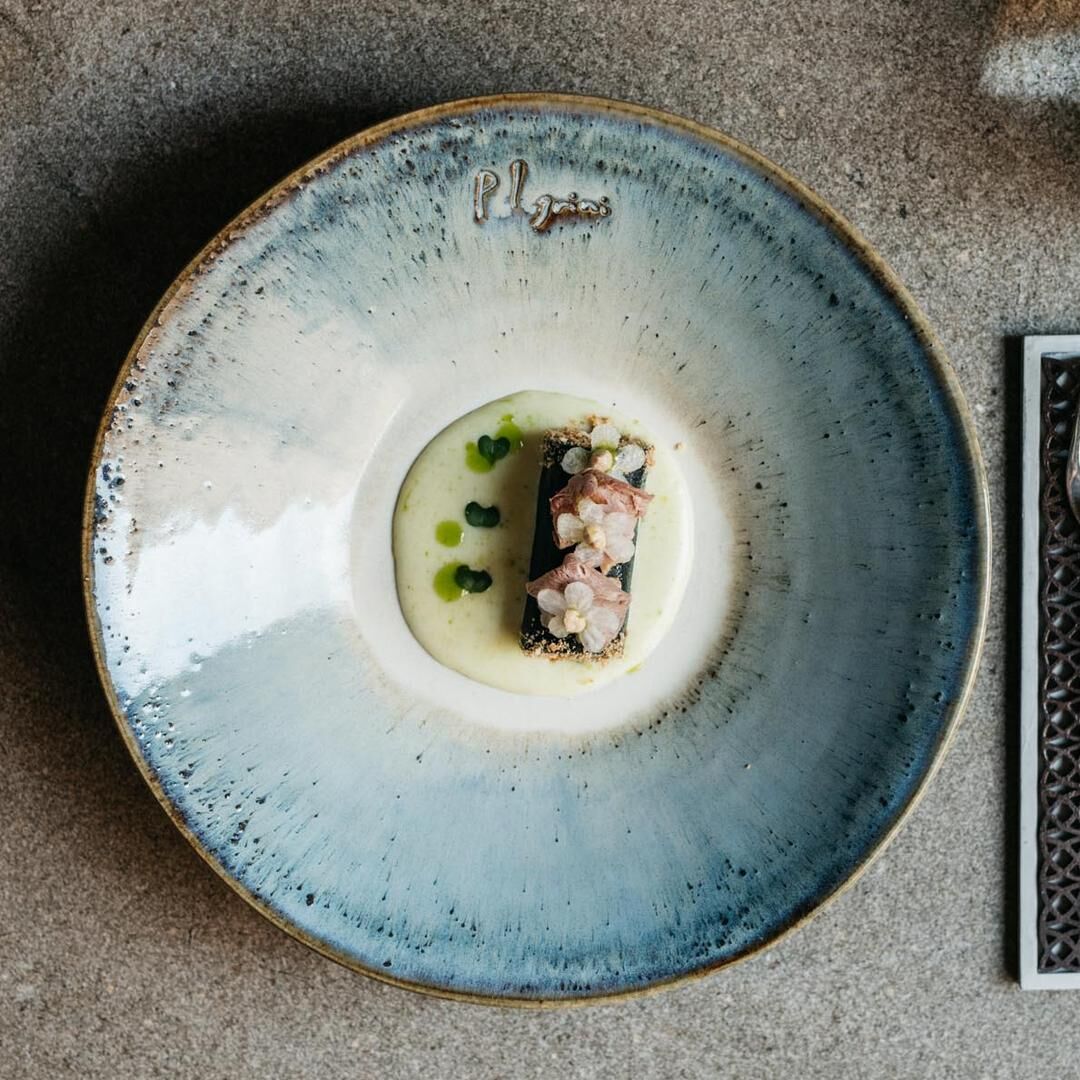 Mateja Vrckovic - Pelegrini
As already mentioned, this chef has forged strong links with loyal producers over the years, some of whom have now become good friends and with whom he continues to share his personal and professional journey.
"Our desire for innovation and our 'thirst for our region' will never wane and we are always on the look-out for new local producers that we can add to our long-established suppliers. At the moment, we're working with OPG Reljanović who produce food items such as Dalmatian lardo, streaky bacon and ham. We source our dairy products, ranging from buttermilk to hard cheese, from OPG Ston. Ante Skelin has been our fish supplier for years – he catches most of our seafood, shellfish, oysters, crabs and whitebait, as well as other fish available during the year".
Croatian wine is another of the restaurant's strong points: "For us, our wine is so good that we have decided to showcase it via a series of events that we call Pelegrini & Friends. During these sessions, we talk about the unique history of our terroir, our grapes and our longstanding relationships with wineries such as Bibich and Grabovac. Generally, the Croatian wine scene has grown hugely over the last 15-20 years and we can now say with pride that we have some excellent wines produced from native and international grape varieties alike".
"Nowadays, we are much more than just a simple restaurant as we are also a hub for research into and the promotion of Croatian produce", concludes Rudolf Štefan. "For us, cuisine and good wine are a conduit for greater knowledge and a way of demonstrating our love for our land. Fortunately, our passion is recognised and our guests share this with us, coming back to the restaurant several times a year".


Mateja Vrckovic - Pelegrini
Other places in Croatia that are well worth a visit include Lošinj, an island with incredible biodiversity and a climate that is so mild that the island is known as "the island of vitality". In this idyllic spot, the salty sea air mingles with the scent of Mediterranean herbs and pine trees, and the sunny days end with romantic sunsets.
If you're looking for elegant, refined cuisine with a focus on excellent local ingredients, don't miss the Michelin-starred Alfred Keller restaurant housed within the Alhambra Boutique Hotel.
Overseen by highly experienced two-Michelin-starred chef Christian Kuchler, Alfred Keller showcases authentic produce in its dishes which are prepared by creative resident chef Michael Gollenz using haute cuisine techniques.
The aim of Alfred Keller is to delight guests with a great restaurant experience where Croatia's best produce, fish and meat take centre stage. The menu here is continually evolving and embraces a sustainable, zero-mile philosophy by using only fresh, natural ingredients produced on the island of Lošinj and its immediate vicinity in its dishes.

Chef Michael Gollenz's cuisine is based on classic French culinary techniques and enhanced by flavours and influences from across the globe. His signature dishes include scampi tartare in a mint Thai sauce, Adriatic fish fillet with fennel and Baranjski kulen IGP sausage (also known as Baranja sausage, made from minced pork and flavoured with ground chilli pepper, garlic and pepper, then aged and fermented), and paprika beef ribs in a BBQ sauce.
The wine list, overseen by sommelier Filip Veselovac, embraces the same philosophy combining a focus on the region while at the same time looking to the future via a selection of wines that showcases the winemaking history of Croatia and the Balkans. It includes 660 prestigious labels that ensure a top-quality wine experience. The selection also extends to outside the country, following ancient wine routes and exploring wine regions in both the Old and New Worlds, yet always steering clear of the more obvious and well-trodden paths.
The atmosphere here is elegant, welcoming and intimate, with a colour scheme that plays with warm and neutral tones. The dining room is full of natural light thanks to the large panoramic windows looking out at Čikat bay below.


Ivan Brcic - Alfred Keller
"I'm originally from Hochburg-Ach in the district of Braunau am Inn, which lies on the Inn river that marks the natural border between Austria and Germany", says chef Michael Gollenz from the Alfred Keller restaurant. "I was lucky enough to grow up in a small country house with lots of fruit trees – we grew apricots, bilberries, peaches, hazelnuts, grapes and plenty of other fruit, so I learned how to recognise and appreciate natural flavours. I knew exactly what I wanted to do when it came to choosing a profession and I specialised in cooking, bread-making and butchery. During my training, I learned to respect food and how to transform ingredients in a professional way. I spent five years of my career alongside two-Michelin-starred chef Stefan Heilemann, and then, out of the blue, received a phone call from Stefan's friend, Christian Kuchler, who offered me a job. This involved a new project in Croatia, in a 5-star hotel overlooking a beautiful bay. I had never been to Lošinj before, but I had visited Poreč and Pula with my family. When I saw the place, I fell in love with its beauty. I almost immediately met local producers of olive oil, cheese and fish. At the time I knew nothing about Croatian cuisine but seeing the quality of the ingredients, I understood straight away that I would be able to do a good job here".
"In addition, and although I'm not originally from here, I do have incredible childhood memories of Croatia – this was where we came on holiday as a family when I was a boy. My menu is based on the freshest, top-quality ingredients that Croatia has to offer, from fish from the Adriatic to beautifully scented lemons. I've adapted my style of cuisine to local tastes, as I've understood that the heavier flavours of French cuisine would not be particularly suited to this location. I often travel to discover more about the country's traditional cuisine and two of my favourite local dishes are lamb with potatoes and carrots prepared peka style (under a bell-shaped dish covered with embers) and ledeni vjetar cake with strawberries. I like the latter so much that I've created my own version for the restaurant".
"In the restaurant, I serve local produce prepared using French culinary techniques and influenced by flavours from around the world", explains Gollenz. "I focus not just on flavour, but also on paying constant attention to reducing our carbon footprint. Some of our ingredients do come from abroad and as they are now part of our culinary identity, they can't really be replaced, but they form a relatively small part of our menu".
One of the restaurant's unmissable signature dishes is its Adriatic fish with Sardinian inspired fregola pasta. "We have served this dish at the Alfred Keller restaurant ever since we were awarded a Michelin star. I use three local ingredients in this dish – lemon, aromatic herbs and fresh fish, all combined beautifully to enhance their individual flavours".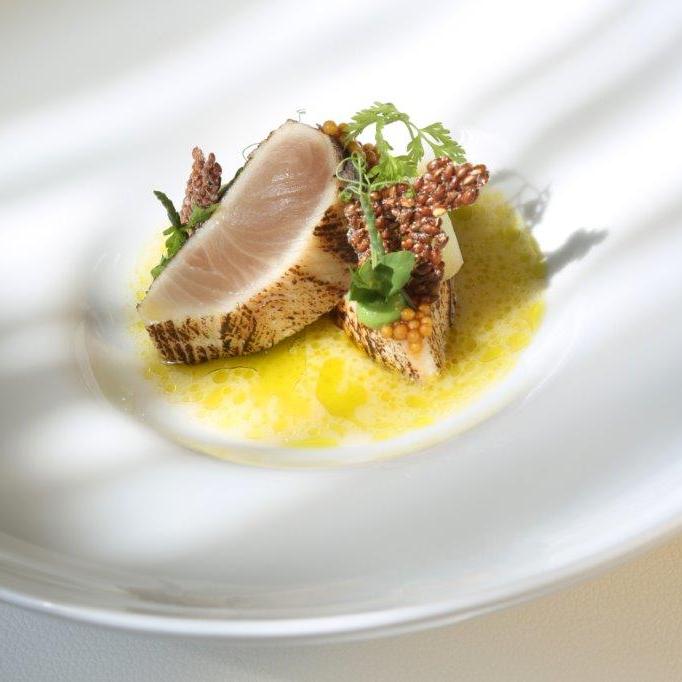 Damir Fabijanić - Alfred Keller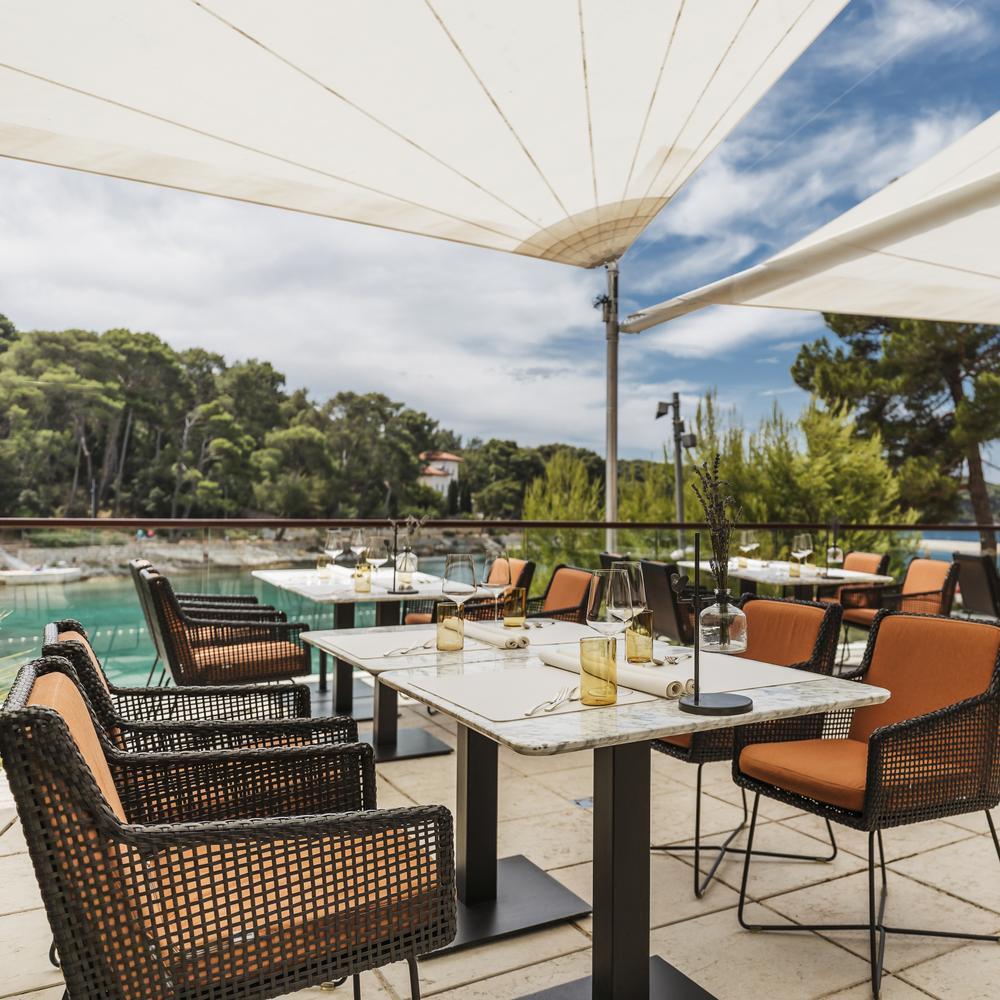 Ivan Brcic - Alfred Keller
"I'm constantly amazed by the variety of native herbs on this magical island and I love using these in my dishes. From the leaves of the pepper tree to rosemary and scented thyme, Lošinj is like a huge garden – it's the dream of any chef. In addition, I rely on superb artisanal producers such as Danilo Ivkovic, who produces a fantastic olive oil on the island of Cres – every year we buy around 120 litres of this oil for our hotel. As well as producing olive oil, he also grows spring onions. Another excellent producer is Igor Zlatkov from the Art Farm Filosici. He produces works of art in olive wood for restaurants – we buy plates, knives and boards from him that we use in our restaurant. He's also one of the best hosts I've ever met. You can book lunch at his farm and then he'll show you around after your meal. He'll also offer you delicacies such as salami, ham and home-made wine and grappa. It's a joy to sit at a wooden table and watch suckling pig slowly roasting over the fire, which is then served with beans and potatoes from the farm. Simply delicious – especially when accompanied by a glass of his organic wine".
"But my favourite 'producer' is nature itself", jokes chef Gollenz. "This was the main reason I decided to come here and start working at the Alhambra Boutique Hotel. The quality and variety of fish, seafood, herbs and vegetables here is staggering – I'm amazed every time I hold ingredients in my hand, ready to cook them for our guests. Our aim is to continually improve in order to offer a high-level gastronomic experience that pays tribute to the abundance of the place in which we live".
It is Croatia's good fortune not only to boast extraordinary natural beauty and fascinating cultural attractions, but also to be home to visionary chefs such as Rudolf Štefan at Pelegrini and Michael Gollenz at Alfred Keller who work constantly to promote the superb produce grown in the fertile Croatian soil to the world.
In this way, cuisine offers a way of enjoying, appreciating and getting to know places like Lošinj in order to raise their profile across the globe.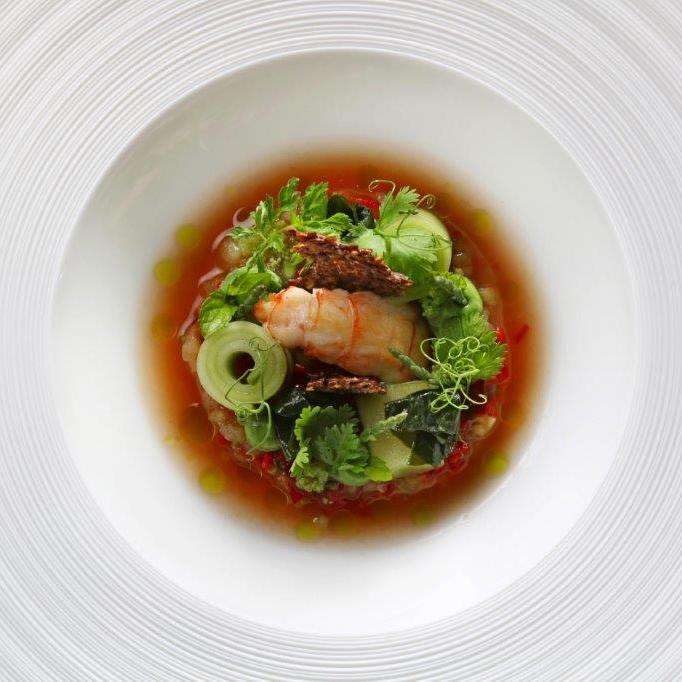 Damir Fabijanic - Afred Keller
Alfred Keller - Interior
Illustation image: Mateja Vrckovic - Pelegrini

This post is brought to you in partnership with Croatia