Phuket has sat quietly in the shadows of Bangkok's street food scene for a long time, but with the help of food guides, bloggers, and a new wave of determined foodies, it is slowly emerging as a street food destination worth venturing out of the resort to explore. From chewy noodles to satisfying stir-fries, third-generation shops to carts on wheels, here we offer a few of our street food favourites.

Go Benz (Bib Gourmand)
Arguably the most famous street food spot to come out of Phuket, this beloved joint has been dishing out bowls of khao tom haeng (dry rice porridge) for over 15 years. Open from 7 pm until 3:30 am, you can almost guarantee the street corner shop in Phuket Town will be overflowing with people, from families to groups of partygoers struck with the drunchies. Although the porridge is served with the broth on the side, you can still expect the softened rice and toppings like crispy shallots and soy-marinated pork to hold the same usual umami-packed punch.

Delectable dry rice porridge at Go Benz.
Hong Khao Tom Pla (Bib Gourmand)
Set in the bottom floor of a wooden shophouse in Phuket Town, this humble restaurant serves the stuff of dreams. Regardless of the eating hole's namesake dish, fish porridge, it's the hardy Thai-Chinese style plates here that have people buzzing at Hong Khao Tom Pla. Take the pu put pong ka ri (crab curry), for example. Not the least bit oily, the dish is thickened with egg and doused with a generous amount of curry powder. Other call-outs include the pla pat kiem chai (deep-fried fish with pickled cabbage) and the robust tom yum pla nam sai (clear tom yum soup with fish).

Mor Mudong (Bib Gourmand)
The warren of river-bordering bamboo huts that make up this east Phuket eatery is a strange-yet-charming setting for serious seafood that is worth venturing out of town for. The pla tu yat sai (stuffed fish) has earned the respect of discerning foodies from around the island with its crispy, delicate skin and meat that had its bones removed before being mixed with chilli paste and herbs. Oysters, squid, freshwater eel and water snails also grace the menu, all of which can be served with fiery sauces or grilled to perfection.

Mee Ton Poe (Wong Wian Ho Nalika) (Michelin Plate)
A 70-year-old stall, Mee Ton Poe is known for its thick stir-fried Hokkien noodles cooked over a charcoal stove. Whether accompanied with pork, vegetables, or seafood, the dish is best served with an oozy half-cooked egg on top. But work your way up to the good stuff with Phuket-style appetisers like satay, chewy fish cakes, and spicy fish curry paste with betel leaf.

Hooked on Hokkien noodles? Mee Ton Poe is the place for you.
Chuan Chim (Bib Gourmand)
This second-generation restaurant serves a long menu of fresh seafood dishes, but it's the aromatic and perfectly saucy kra prow stir-fries that have garnered the spot a cult following. Come solo and have your fix with a plate of minced pork or chicken stir-fried with basil and top it off with a crispy omelette or runny egg. Big groups have the advantage of being able to order more, like the equally impressive crispy fish topped with gravy or crackling pork belly with Chinese kale.

The kra pow stir-fry at Chuan Chim never disappoints.
Roti Taew Nam (Bib Gourmand)
Forget eggs and bacon, the real breakfast of champions is crispy roti and bowls of melt-in-your-mouth beef curry. At this 70-year-old shop in Phuket Town, roti is slapped on to one large charcoal flat pan where it is shaped, fried, and cut in haste. Flaky in all the best ways, add an over-easy egg on top of the pancake to go with the heady bowls of aromatic curry, or opt for the sweet version with banana and condensed milk.

Roti Taew Nam is always a good way to start the day. Photo courtesy of Kittiphan Kittiphotwilai.
Go La (Michelin Plate)
No frills, no problem. When bowls of Hokkien-style fried noodles are as good as this, plastic stools might as well be golden thrones. For two decades, owner Go La has perfected his noodle recipe in this humble shop in Phuket Town, recently passing on the baton to his heir. The soft and thick yellow noodles are made creamier with an oozing egg and crisp vegetables add a welcomed crunch.

Delicious Hokkien-style fried noodles at Go La.
Khao Tom Thanon Di Buk (Michelin Plate)
Waking up early is easy when you know that a steaming bowl of khao tom (boiled rice soup) from this family-run shop on Phang-Nga road is what's for breakfast. With the addition of dried seaweed and soup stock made from Chinese spices, this is not your mother's khao tom. The shop also makes a mean phad mee sua (stir-fried vermicelli with veggies) and khao na gai tao jiao (braised chicken with fermented soybean).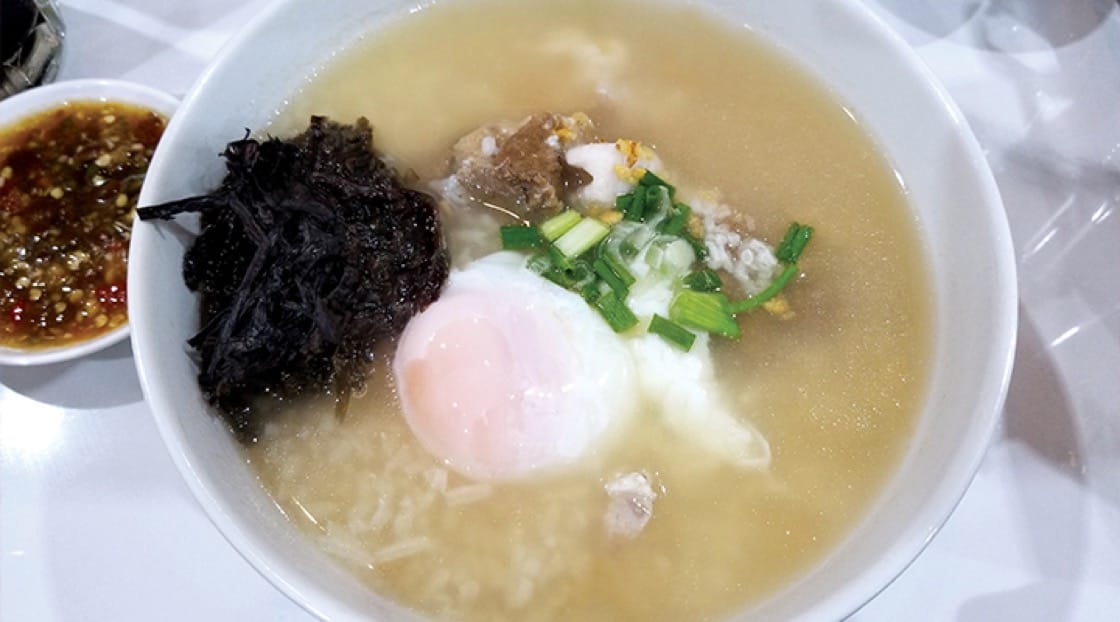 Breakfast of champions for Phuketians.
O Tao Bang Niao (Michelin Plate)
Pork cracklings and fried shallots top a stir-fried mix of seafood, taro root, flour, and eggs in this hearty dish that can only be found in Phuket. At this food stand opposite of Bang Niao School in Phuket Town, a smoky aroma acts as a prelude to the sticky, savoury dish. The notably fresh produce and spot-on flavours have earned the stand a loyal following for over 10 years.

O Cha Rot (Michelin Plate)
Noodles are what's for brunch at this legendary shop that has been feeding Phuket Town for over 30 years. Only open from 7 am until 3 pm, the shop serves noodle soup with bouncy, homemade meatballs and tender slices of beef that nearly melt in your mouth. Portions are conveniently sized so that you can reasonably try both variations of noodles (thin and stringy or flat and wide) and the clear or black soup.

It's hard to say "no" to bouncy meatballs and noodles at O Cha Rot.
Hero image: Snapshot from Hong Khao Tom Pla's kitchen. Photo courtesy of Paquan House.