Congratulations to the beverage team at One Star Bresca and Two Star Jônt, helmed by Will Patton, this year's Exceptional Cocktails Award winner! As part of this year's Washington, DC Michelin Star Revelation, we chatted with Patton about his unyielding love for Champagne.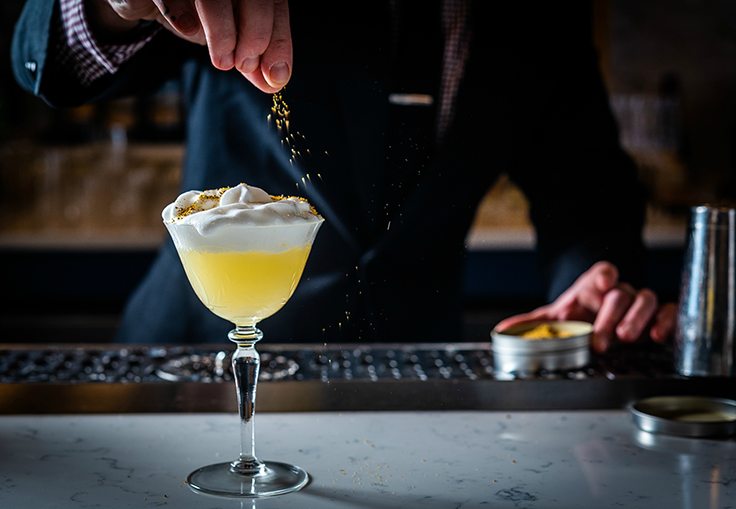 "Swan in the Sky" by Will Patton at Bresca
What are you drinking these days?
Over the last two years I have developed a love for Champagne. The clarity and effervescence really attracts me. Personally, I very much enjoy the Blanc de Blancs from Le Mesnil-Sur-Oger and Avize. I think my fascination comes from the uniqueness of Champagne's mouthfeel and flavor.

Favorite non-alcoholic drink?
Double espresso with a twist of lemon.

How have your cocktail tastes changed over the years? What were the first cocktails you enjoyed making/drinking, vs now?
When I was younger, I wanted the most intense flavors, be they bitter, funky or smokey. Now I enjoy more balanced and nuanced cocktails and lean to a lower abv. Instead of going home and making a Manhattan, I'll make an adonis.

What's the biggest misconception about mixology, or cocktails in general, that you'd like to dispel?
That they need to be overly complex. Let the ingredients shine through. You don't need to lacto-ferment an ingredient just because you can. If you treat your ingredients with respect and they taste good, you can mix them into a delicious beverage. That being said, I love fermenting ingredients.

What's your ideal meal and pairing?
Fried chicken sandwich and champagne. Anything and Champagne, really.

Bresca and Jônt beverage director Will Patton

---
Subscribe to our newsletter to stay on the top of the MICHELIN Guide's best restaurants, plus chef interviews, recipes, travel stories, and more.
Hero image: Beverage director Will Patton at Bresca.
All photos by Rey Lopez