After the Stars were handed out, there was one more group of restaurants also worthy of laud from MICHELIN and the public—our selection of haute boîtes providing inspired cuisine without the hefty price tag. Called the Bib Gourmand, this distinction is awarded by the MICHELIN Guide to restaurants offering three-courses for a reasonable price (typically US$50 and under). And with the cost of ingredients on the rise, we wanted to get the scoop from some of California's buzziest restaurants, Chef Jonathan Whitener of All Day Baby, Chef Kevin Keovanpheng, Chef Ravi Kapur, and Jeff Hanak of Good Good Culture Club, and Chef Kristina Liedags Compton and Rachel Sillcocks of Hilda and Jesse on how they continue to innovate on a budget while maintaining high standards in the dining room.
Note: Interviews have been edited for clarity and length.
There are familiar favorites and then there are those that become go-to's. All Day Baby takes its premise from the former to be the latter. "The original idea was to build my ultimate hangout and it's modeled after a favorite diner I used to go to as a kid, the Harbor House, in Orange County," says chef Jonathan Whitener. Years in the making, All Day Baby is the brainchild of Whitener and partner Lien Ta, marrying SoCal fare with Mexican influences. "It's about comfort, it's literally what I want to eat," says Whitener of the menu he conceives which includes buttermilk biscuits, white gravy, and his take on a Loco Moco. "It's my fun, dirty take on a Hawaiian dish but done with southern flair." And despite its Silver Lake location, don't expect the typical health conscious options. "In the beginning, we'd get complaints that there's nothing vegan or vegetarian options," says Whitener. "I'm not trying to be rude, but this is not the focus of this type of food." And with prices topping out for entrees at $18.75, it's also comforting to know that Whitener is bringing filling food with flavor at a price.
All Day Baby chef Jonathan Whitener © Joyce Kim/All Day Baby
All Day Baby's big chicken biscuit © Albert Ocampo/All Day Baby
Sometimes it takes a pandemic…and a village to get a restaurant open. "Jeff [Hanak] and I made the decision before we reopen in any fashion we're going to take a look at how we've done things, why we've done things," says chef and co-owner, Ravi Kapur. The foundation for the duo's latest endeavor would be a value-based restaurant that promotes equity across all staff while simultaneously providing guests with a distinctive, yet familiar experience. To achieve their goal, the pair sought out a familiar name as their chef, Kevin Keovanpheng. "Let's identify this next generation of individuals who will take the industry to where it needs to be. Realizing that we worked with Kevin for a few years and that he has something to say on what matters to him and his food." The resulting menu is a smattering of Southeast Asian flavors with a SoCal slant. "There are "traditional" references but we're not recreating dishes, we're using those dishes or ideas or stories to build our own," says Kapur. Those stories take their cues from Keovanpheng's own experience growing up in San Diego as the son of Laotian refugees from the Vietnam War. "I'm always referencing whether my family would come in and eat this, and staying true to our heritage-driven cuisine while highlighting that it's not just about nationality, it's about our stories and where we come from." Standouts include the curry and the sausage, inspired by Keovanpheng's mom's recipe, but for the trio, it's about fostering a sense of welcoming and appreciation. "Being here in San Francisco, creating nostalgic food in a sense, and having our guests go, "oh this reminds me of" keeps me doing what we're doing."
Good Good Culture Club chefs Kevin Keovanpheng and Ravi Kapur © Rasami Storm/Good Good Culture Club
Good Good Culture Club's beef carpaccio with crispy pig ear © Patricia Chang/Good Good Culture Club
"I feel like limitation makes you more creative as a chef," says chef Kristina Liedags Compton, adding "I thrive off of that." The result of that limit is a vibrant, rich, and unique three-course dining experience for $49. "I look at a traditional tasting menu and then flip it on its head," explains Compton who believes in making multicourse menus accessible to everyone. "If people want to try other stuff, we have an add-on section," explains Liedags Compton, "but the idea behind [the menu and the restaurant] was to bring a bit more luxury and intention to the daytime meal period." Co-founder and director of operations Rachel Sillcocks agrees. "We have fine dining service but it's a little bit messy. We don't have one staff member per two guests. We're a tight team but you feel the intention and the attention to detail. Just like with the food, the experience blows people away." Highlights include the pancake—Liedags Compton says there's always a version on the menu whether accented with white truffles or traditional buttermilk—and a Japanese-style omelette with caviar, but don't expect the typical avocado toast or eggs Benedict. "You could come every single day for a week and we'll change the menu," says Liedags Compton with Sillcocks adding, "One of the things is that Kristina has it ingrained in her not to waste. One of the most important things about being able to offer all these menus is she's able to use everything. If she's doing duck, she uses the bones for a stock, the breast for an $85 menu, and the legs for a la carte menu. There's a lot of specificity around the food and how she brings it in and that's really important." No doubt in their signature style of modern, fun luxury.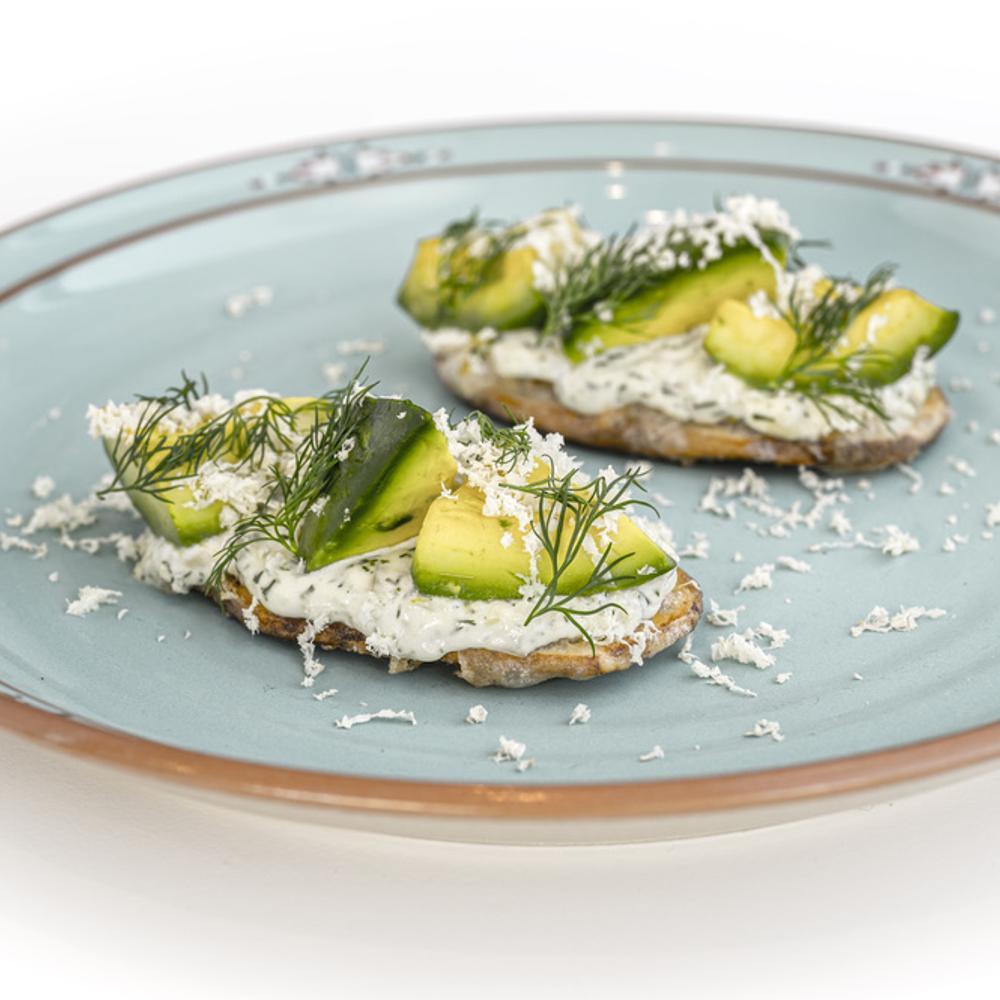 Hilda and Jesse's avocado "toast" © Timofei Osipenko/Hilda and Jesse
Hero image: Hilda and Jesse co-founders Rachel Sillcocks and Kristina Compton
© Adahlia Cole/Hilda and Jesse