Chef Todd Richards might not be a name that you're already familiar with, but you should be. Richards is the chef/owner of Richards' Southern Fried in Atlanta and the director of culinary for Jackmont Hospitality. Throughout his career he has received a number of accolades and recognition from the culinary community, including two nominations for Best Chef Southeast from the James Beard Foundation. His debut cookbook, Soul, was released May 22 and is the epitome of what soul food is today and gives a glimpse of what it will be in the future.

"Soul food is the original cuisine of the South, born from an involuntary collision of cultures," Richards writes in the book's introduction. Though many equate this genre of cooking with dishes such as fried chicken and collard greens—which yes, he includes recipes for in his book—Richards goes beyond the expected to incorporate today's more global pantry. "I started by trying to create dishes that were stereotypically Southern or Soul in category but soon realized that approaching a dish based on preconceived notions limits creativity. So I chose to toss limitations aside." As a result, you also get dishes such as ginger and collard green fried rice and fried green tomatillos with ancho chile barbecue sauce.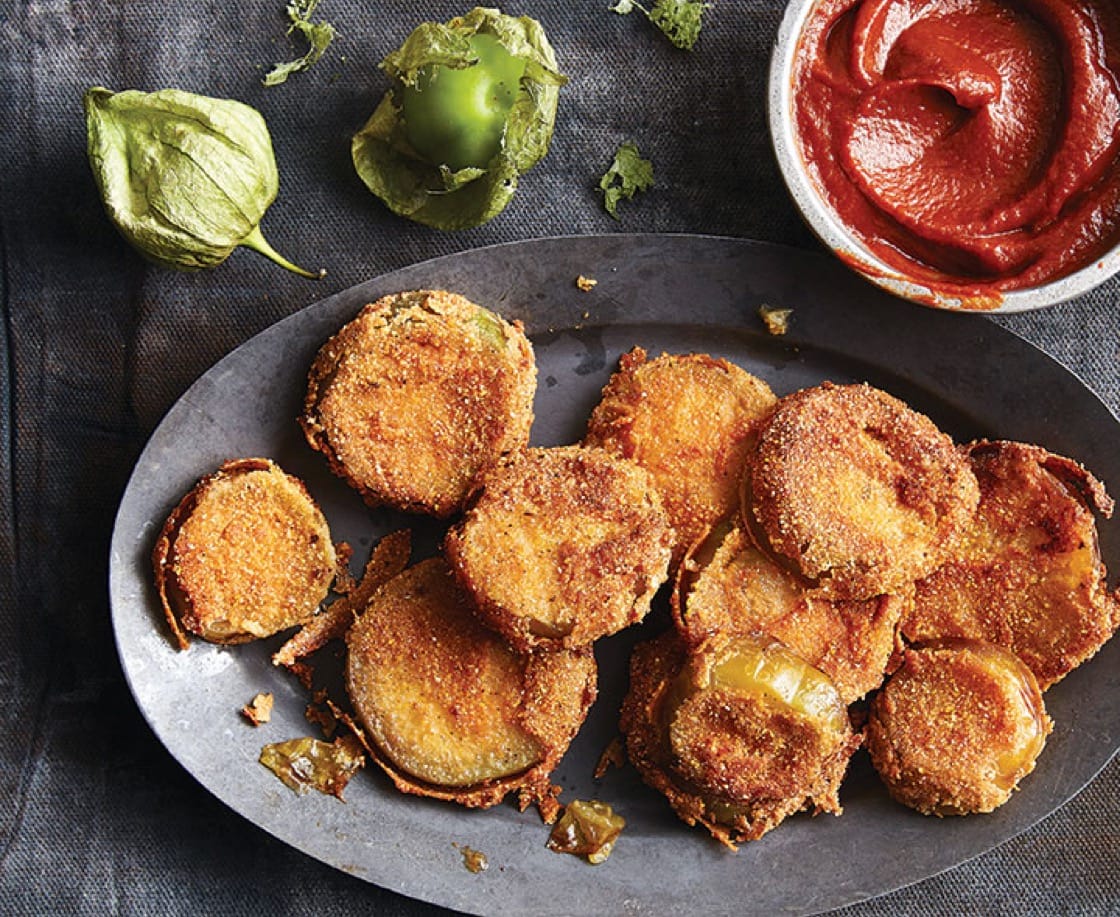 Fried green tomatillos with ancho chile barbecue sauce. (Photo by Greg DuPree.)
"This book is a testament to what I've discovered on my journey and in my practice as a chef," Richards says. He is a native of Chicago and currently lives in Atlanta, but is connected to places all over the country. From his youth spent in Chicago's South Side—where he has included stories of foraging for wild strawberries and memories of the small Chinese restaurant he would visit—to cooking with chefs like Jacques Pépin and Sean Brock (who also penned the foreword), all of his life's experiences have impacted who he is as a chef and as a person.

Soul includes 150 recipes organized into chapters by main ingredient: Beans and Rice, Stone Fruit, Lamb, etc. (There's also a chapter dedicated to "essentials" like brines, dry rubs and emulsified sauces.) This organizational system intrinsically encourages seasonality, which was inherently how his ancestors cooked and ate.

"Each chapter kicks off with a recipe that's relatively traditional in the African-American culinary repertoire. The recipes progress in my exploration of different flavor combinations and techniques."
It's a true page-turner, replete with mouth-watering photography, enticing recipes, and helpful tips and tricks. ("Look for yellow onions with longer root stems for best flavor," he writes in the headnote accompanying a recipe for onion broth with onion dumplings and braised chicken wings.) In addition, there are drink pairings, serving suggestions, and menus for various occasions (with music suggestions as an added bonus).

Okra seed porridge with pork jowl and pan-roasted okra. (Photo by Caitlin Bensel.)
One tenet of cooking that Richards and many of the greatest chefs subscribe to is the connective power of food. "It's clear to me that food brings people together if we choose to use it that way." Perhaps unintentionally, Soul is much more than just a cookbook—it is a prescription for how we can build community and unite people. "It starts with honoring our culinary heritage, . . . which took me some time to embrace. The next step is acknowledging one another's. Doing so enriches our lives, our communities, and, hopefully, opens minds so that we can begin to appreciate what we all bring to the table."
MORE: Make the Ginger and Collard Green Fried Rice Recipe
Soul is packed with beautiful vignettes, interesting historical context and—perhaps most importantly—recipes that you actually want to cook. I could quote just about every other sentence and it would be worthwhile, but instead I encourage you to purchase the book and explore it yourself.
Photo of Todd Richards by Eric Vitale.