New year, new you. If eating more plant-based meals is on your to-do list this year, we've rounded up five vegan restaurants across North America that you'll want to put on repeat. And, the best part is, all five are Bib Gourmands, a distinction earned by establishments serving good food at moderate prices (think around US$50), so you can save a little green when you eat your greens.
Mesa Verde © practice_studies/Instagram
Santa Barbara, CA

This restaurant feels more like a house with its lovely garden terrace, wood décor and wide-open kitchen. The home-like atmosphere carries over into kitchen as the food is supremely comforting that even meat-eaters will instantly love each forkful.

Our inspectors' take: From the first bite of a mushroom umami burger with crisp lettuce and superb heirloom tomatoes, it's abundantly clear that these ingredients arrive fresh from the farm. Be sure to sample their Latin-style dishes like gluten-free picadillos tacos or empanadas. Polenta fries with jalapeños and caramelized onions are a hands-down favorite; while the sweet cashew cheesecake decked out with strawberries and an almond crust is a signature for good reason.
Millennium © food_alchemist_ambrosio/Instagram
Oakland, California

The restaurant industry is notoriously difficult, so when a place stays in business for more than 20 years, you know it's good. Millennium moved to Oakland from San Francisco but kept their unique plant-based cooking style.
Our inspectors' take: While dedicated vegans are sure to swoon, even hardcore carnivores might reconsider the lifestyle after a dose of chef-owner Eric Tucker's culinary creativity, showcased best on a five-course "Taste of Millennium" menu. Roasted pumpkin tamales with pumpkin seed pastor and cashew nut crema are knockouts, as are the crunchy king trumpet fritters with chili-persimmon jam.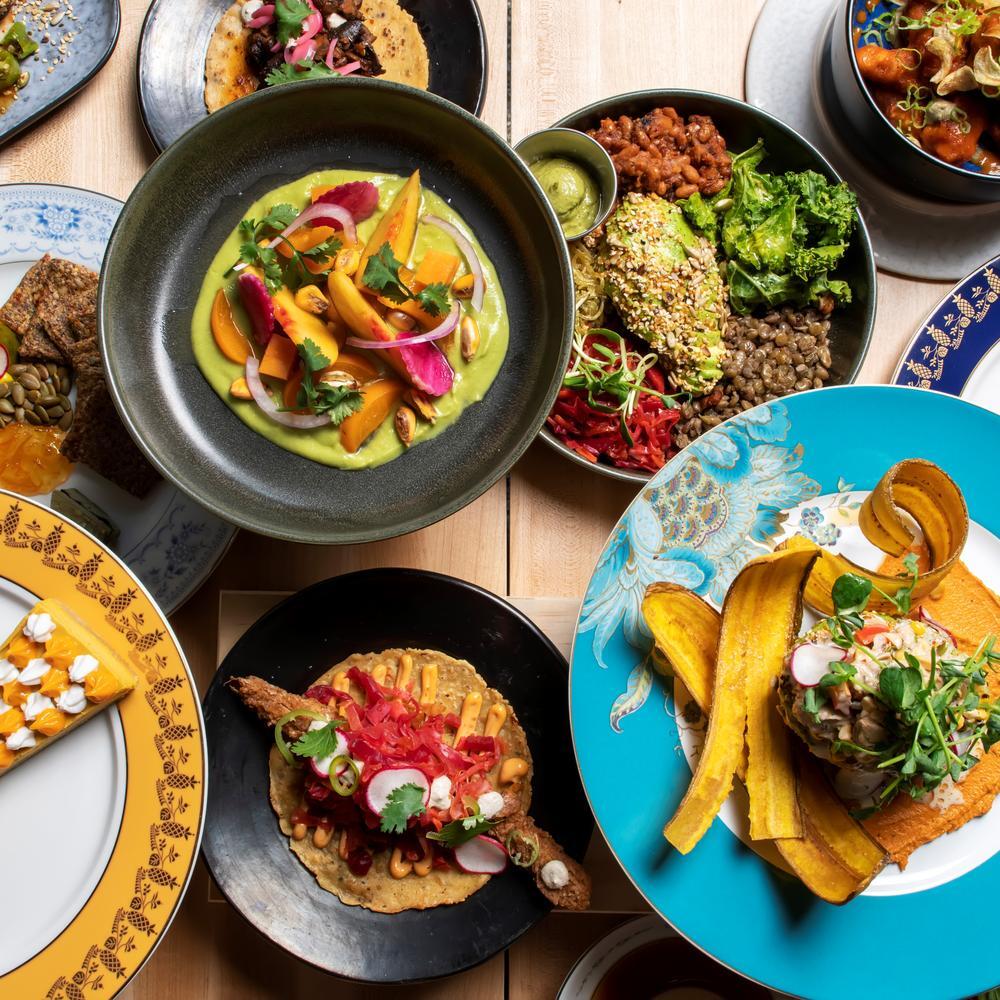 Bloom Plant Based Kitchen © Lori Sapio/Bloom Plant Based Kitchen
---
---
Chicago
You'll definitely "bloom where you're planted" at this upbeat and airy space. It's big and the menu has plenty of winning dishes innovating on classics with a green lens.

Our inspectors' take: Baja tacos underscore a tortilla made from hemp seed and filled with fried banana blossom for a delicious and nutritious take on the classic dish. Kelp noodles with acorn squash velouté and pumpkin seeds are wholesome yet wholly gratifying, while those with a sweet tooth will love indulging in their avocado-Key lime "ice cream" with ginger crumbles for an electrifying finish.

Soda Club © Eric Medsker/Soda Club
New York, NY

This East Village hot spot marries a cool vintage vibe and a name that blends Italy's tradition of hand-crafted sodas with a wink toward Prohibition. What's not to love?

Our inspectors' take: Complementing the seasonal, deftly executed vegan dishes are a myriad of natural wines meant to electrify one's taste buds. Toasted focaccia served in a miso bagna cauda is an umami-rich bite, tailed by tagliatelle tossed with nori "butter" sauce and broccoli rabe. Date cake with vanilla "gelato" gets a hit of black salt for delicious complexity.

Fancy Radish © Michelin
Washington, DC

Take one part haute cuisine with equal measure vegan ingredients and you get the tone of Fancy Radish. Established by culinary power couple Richard Landau and Kate Jacoby, this dynamic duo of vegan/vegetarian dining are bringing new flavors to the nation's capital.

Our inspectors' take: Flavorful and satisfying are words that spring to mind when sampling razor-thin trumpet mushrooms, which are a clever stand-in for pasta, bathed with a silky broth. Rich and spicy dan dan noodles are then tossed with a tahini-based sauce for a glossy and intensely savory bite. This kitchen team keeps you on your toes right through dessert—when hearty chickpea-flour donuts are paired with rhubarb- and sour cherry-gazpacho for that final, delectable punctuation.

---
Hero image: Soda Club © Eric Medsker/Soda Club
---