Michael Mina, the chef's namesake San Francisco flagship known for its refined New American cuisine, closed for three days near the end of May. When it reopened, the menu had been transformed into an Egyptian/Middle Eastern-inspired tasting menu.

Molokhiya, koshary, and basbousa? Suddenly there were unfamiliar dishes and ingredients.

But the change was anything but sudden. "It took two years of menu development," Mina explained in a telephone interview. He test drove the menu for those years in his Test Kitchen. He introduced one dish at a time for 12 months on the Michael Mina menu to give the servers time to learn the new vocabulary. He's been wanting to do something like this for as long as he can remember. "When I really started thinking about it was when Cory Lee opened Benu. I thought 'Wow! He did it. He combined all of this technique with his Korean background.'"

Smoked fairytale eggplant with tangerine labneh, chicken oyster and tomato conserva.
He was also looking for a location all that time. "Then I had an ah-ha moment and said why not just do it at Michael Mina?"

These are the foods of his childhood. Mina was only two years old when his family left Cairo for California. "This is not about my experience there but about mine here," he explains. "My mother had nine brothers and sisters that lived within 50 miles of us. There were always 30 or 40 people in the house. Everybody cooks; everybody brings something [to the table]."

"I also spent two weeks with my mom working on menu items," he recalls. "A funny thing about food from the Middle East is that a lot of things don't have real names. Every time she would tell me a name it would translate to something like 'bread from my town.' We used a lot of American wording for things like glazed Egyptian mango with foie gras."

"Mango is the fruit of Egypt," he explains. "It's like going to Hawaii and having pineapple. People go to Egypt to have mangoes; they leave with boxes of mangoes. And foie gras originated in Egypt thousands of years ago. I wanted to be able to tell some of those stories."

Spiced squab and foie gras with koshary rice, zucchini and Brooks cherry.
He also wanted to share the food he grew up with—particularly his favorites like squab with kushary rice. "Whenever I go home I ask my mom to make it—chickpeas, rice and lentils all cooked together with caramelized onions mixed in and served with a spicy tomato sauce. That's the starch. You stuff the squab with a forcemeat. That's the national dish of Egypt." A refined version will be presented at the restaurant. The kushary rice will stuff a squash blossom. The squab will be grilled. "We're taking the core of a dish and doing a high level interpretation."

Another favorite is molokhiya. "You find stews cooked with this vegetable—the texture is similar to okra—in every household. You can cook it with chicken or beef or lamb or use lobster stock and make a seafood stew like an Egyptian bouillabaisse." On the current menu, there's grilled wild Mediterranean sea bass with molokhiya and tomato-shellfish stew.

Semolina dumpling with beef kubbe, horseradish and beetroot consommé was inspired by a dish the team encountered when traveling in the Golan Heights.

"That's what's so much fun—using high end ingredients to showcase what this food can be. This one is close to my heart," he says of the third iteration of the Financial District space where he started at Aqua.

There's a special emphasis on spices featuring proprietary blends created by Lior Lev Sercarz of New York-based spice shop La Boîte. A housemade MINA spice includes sumac, sesame and urfa pepper.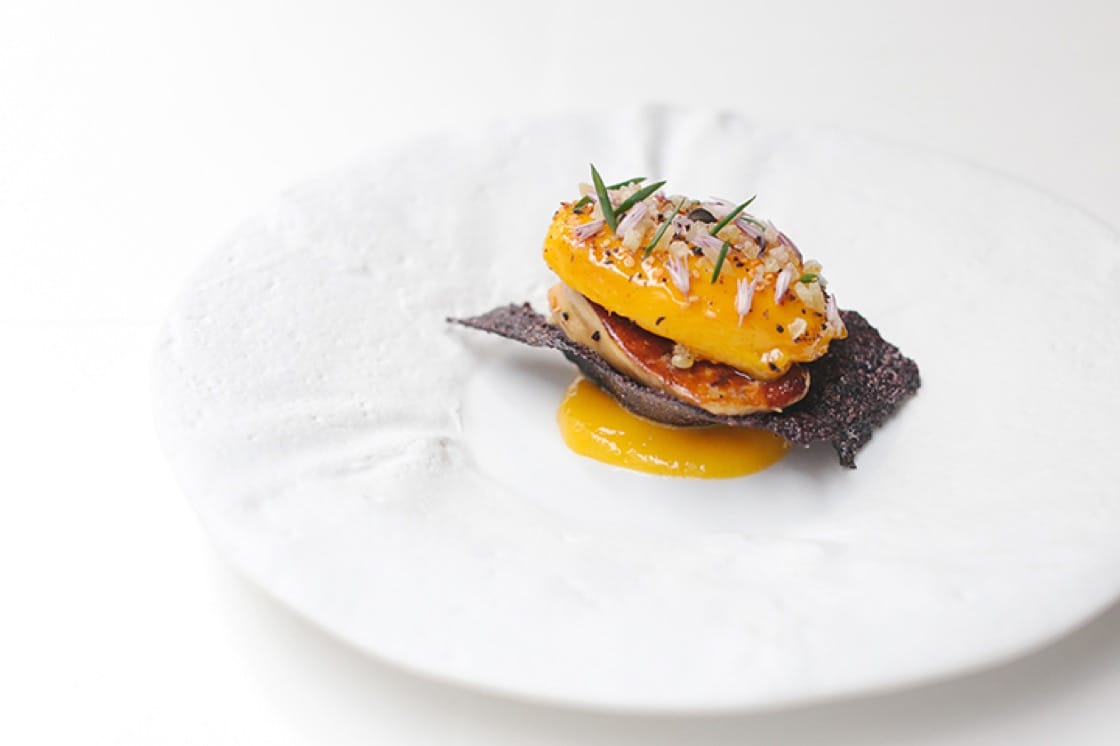 Glazed Egyptian mango with foie gras, candied ginger and MINA Spice.
A bread and pastry program led by Josh Gaulin features Egyptian flatbreads such as baladi, one of Mina's childhood favorites. Pastries combine French technique with Middle Eastern flavors.

Will price be a hurdle as middle Eastern food is more typically served in casual settings? The tasting menu-only format will be $155. "If Michael Mina wasn't established, it would be, but people are already used to eating here. You wouldn't launch this just anywhere. San Francisco is a good place to launch."

He doesn't believe there's another restaurant quite like it. Mourad, where Mourad Lahlou channels Morocco "is the only thing a little similar but it's very different. But no doubt it helps."

Lahlou's now shuttered Aziza was the first Moroccan restaurant in the U.S. to earn a Michelin star and his namesake restaurant Mourad also has one. Michael Mina is shooting to be the first Egyptian/Middle Eastern restaurant in the starry galaxy. "Our goal is to keep moving up with Michelin stars. We're proud to have one but we want three," he says. "If they gave it to me before, I can't imagine why not now. We're at a higher level now. We reduced the number of seats from 120 to 70 and made a private room in back."

Rajat Parr, MINA Group's wine director, offers pairings that match with the food. The focus is on wine from the Middle East and Mediterranean but also features old world wines from Italy, Spain and France. Wine pairings are an additional $130.

In Mina's mind, the planets are now all aligned.

Photos by Jordan Wise.