Whether you're craving a steaming bowl of pho, tapioca dumplings steamed in banana leaf, or mackerel with chili jam, these are the best Vietnamese restaurants in NYC.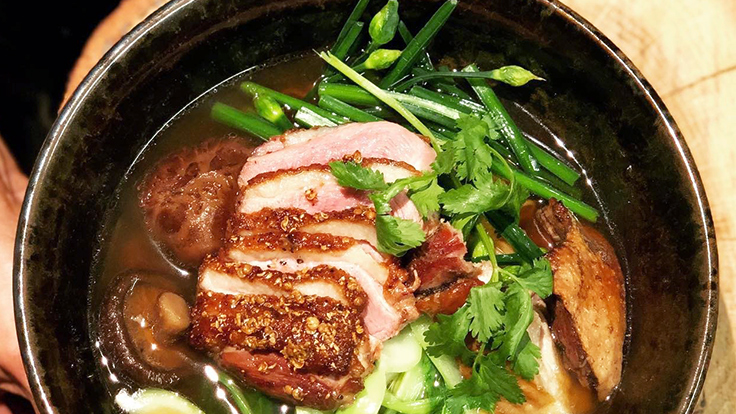 Van Đa. Photo @vandanyc/Instagram
Van Đa (
East Village)
Restaurateurs Yen Ngo and Chef Hannah Wong are the brains behind this fantastic and exciting offering in the East Village. This menu is divided into street food from different regions, including Hanoi, Hue and Saigon—each sporting their own style. Standout dishes include turmeric griddle cake with wild mushrooms and coconut custard; crisped, delightfully chewy mochi balls; and tapioca dumplings steamed in banana leaves.
One peek at the specials on the walls (maybe golden-fried squid strewn with sea salt) will have you begging for a seat in the crammed room.
Pho choices are abundant, but the real star of the show is pho tai—where raw beef shavings are cooked to tender perfection when combined with a scalding hot, savory broth replete with herbs, sprouts and chewy noodles.
The menu soothes the soul with well-known favorites, daily specials, and of course, an array of pho—also the star of the show. Wok-seared beef pho delights with tender sliced brisket, egg yolk, and rice noodles floating in an umami-packed bone broth. Couple this crispy goi ca (handrolls) or meaty mackerel with sweet chili jam for a serotonin-boosting spread.
Bolero
(Williamburg)
The kitchen team straddles the line between subtle and savory with ease and creativity. Follow the example of a Vietnamese rice tamale filled with shrimp, chilies, and pork crackling. This gem stands out for its keen understanding and delicious rendering of Vietnamese cuisine, which is rather rare in these parts. Shelves of market goodies lure passersby into the cool, contemporary space, fitted out with a central open kitchen, two vast dining areas, and a cozy backyard.
Bolero. Photo by Michelin North America
Hero image: Thái So´n. Photo by Michelin North America