This Tampa Bib Gourmand is known for their innovative plating and pairings. However, for the colder months, we wanted to focus in on something soothing. Enter chef-owner Ferrell Alvarez of Rooster and the Till Parisian-style gnocchi with braised short ribs, ricotta and pickled peperonata. The ricotta recipe is below, but those wanting to save time can easily buy fresh ricotta. It's a hearty and rich dish—butter plays a starring role here—but view this plate as a filling, comforting cooking project for a winter afternoon. Chef Alvarez says, "This is the only dish that has been on the menu at Rooster since day one."


Gnocchi dough
1.5 cups water
16oz butter
2.25 cups all purpose flour
1/2 tablespoon Dijon mustard
1 tbsp chopped parsley
4 eggs
1 tbsp salt
Method

Bring the water and butter to a simmer in a sauce pot. Once simmering, add the all purpose flour and stir on low heat for 5 minutes.
Add flour-butter mixture, parsley, and Dijon to a KitchenAid bowl. With the paddle attachment, mix on low speed, adding one egg at a time; don't add the next one until fully incorporated.
Place gnocchi dough into a piping bag and pipe into just simmering water.
Once the gnocchis float, remove from water and cool in fridge.
Short ribs
10 lb. boneless short ribs
2 large yellow onions, diced
2 large carrots, diced
2 celery stalks, large diced
10 whole garlic cloves
1 qt. San Marzano tomato juice
Beef stock
Method

Season the short ribs with salt and pepper, then sear on both sides.
Place the seared short ribs in a deep baking pan.
Add the onions, carrots, celery, garlic, and tomato juice to the short ribs. Submerge in beef stock, cover in foil, and cook for 4 hrs at 300°F until tender and falling apart.

Ricotta
1/2 gallon whole milk
Juice of 2 lemons
1/2 tablespoon salt
Method

Add milk and salt to a sauce pot and slowly bring to a boil.
Once boiling, add the lemon juice and let simmer for one minute.
Remove from heat and place into the refrigerator.
Spoon ricotta into a fine strainer and reserve.
Pickled peperonata
1 lb sweet peppers
16 oz apple cider vinegar
8 oz water
4 oz sugar
2 tablespoons salt
Method
Add everything except peppers to a pot and bring to a boil.
Once liquid is cooled, add thinly sliced peppers.
Chef's note: this is best when pickled for a minimum of 3 days.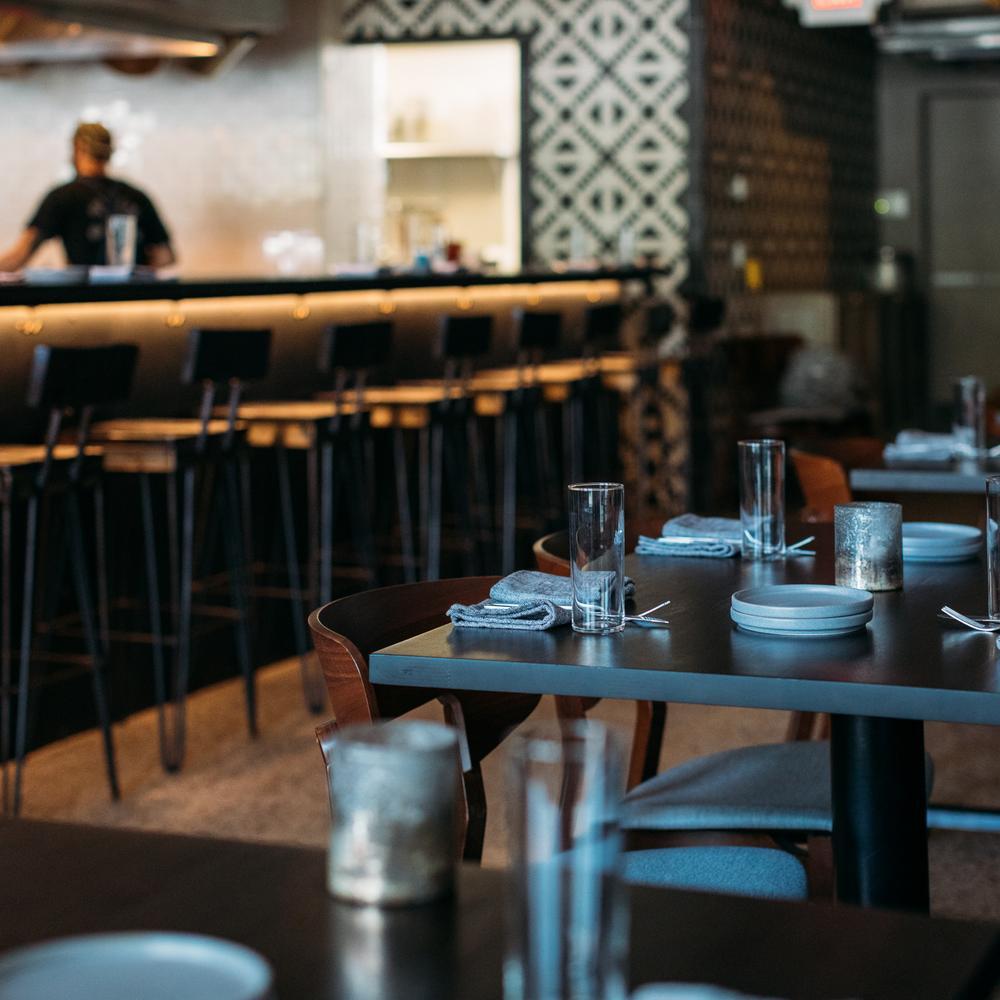 Rooster and the Till
Short rib drippings

Strain the cooked ribs and reserve all the liquid (braising liquid).
Melt 1/4 lb butter in a small saucepan. Once the butter is melted, add 1/4 lb flour and mix thoroughly with a wooden spoon to make a roux.
In a separate saucepan, bring the braising liquid to a soft boil and then add the roux.
Simmer roux for 7-10 minutes at a low heat while stirring frequently.
The drippings should be thick and rich.
Season to taste with salt then strain one last time.
Composing the dish
1 cup short rib drippings
2 tsp minced garlic
1/3 cup chopped San Marzano canned tomatoes
1 cup vegetable stock
2 tbsp unsalted butter
1 tbsp chopped parsley
12 gnocchi
Method
Heat a large sauté pan over medium high heat with 1 tablespoon of olive oil.
Once the oil is warm, add the minced garlic and sauté for 10-15 seconds.
Add the chopped San Marzano tomatoes and combine.
Add the short rib drippings, vegetable broth, and gnocchi; reduce the heat to medium and simmer, stirring frequently.
Continue cooking until sauce is thick and rich and gnocchi are heated all the way through. Taste one to be sure.
Remove pan from heat and add butter and chopped parsley.
Season to taste with salt and serve in a bowl. Finish with as much homemade ricotta and pickled peperonata as you like.

Rooster and the Till chef-owner Ferrell Alvarez
All photos © Skyler June/Rooster and the Till