Xiao long bao are intricate soup-filled meat dumplings that are often found on dim sum menus. These delicious parcels may look simple, but they require a high level of craftsmanship to master.
Served bamboo steaming baskets containing eight to 10 dumplings, the dumplings are best consumed as soon as they hit the table while they are hot and fresh.
Din Tai Fung has become internationally known for its xiao long bao (Photo: Din Tai Fung)
How to eat xiao long bao
As xiao long bao are filled with hot liquid, it is a delicacy that should be consumed with care by following these five steps: lift, move, open, sip and eat.

First, using a pair of chopsticks, gently lift the dumpling by its tip into a spoon. Nibble carefully on the outer skin of the dumpling to create a hole and gently sip the hot soup inside. Then, you may enjoy the Xiao Long Bao in one whole bite. For an unadulterated experience, consume the first one or two dumplings without any accompaniment while they are still hot and fresh. By the time when you reach the third or forth dumpling, the temperature would have dropped and the gamey taste of the pork filling more apparent than before. This is when the accompanying dip of shredded ginger and vinegar come into play.
A great xiao long bao is judged not just by the tastiness of its filling, but the fineness of its skin. Each basket of eight to 10 dumplings are steamed and should any break open during the steaming process, the whole basket is ruined. This is not only a waste, it also delays the serving time. In order to reduce the likelihood of wastage, chefs might make the dumpling skin thicker and use gentler heat for steaming. Thus, the preparation of xiao long bao is always a fine balance of efficiency and achieving the thinnest skin possible.
Din Tai Fung's Renowned "Golden-18 Folds" Xiao Long Bao (Photo: Din Tai Fung)
Din Tai Fung (Xinyi Road)
Bib Gourmand, MICHELIN Guide Taipei & Taichung 2020
"It's now a renowned international chain famous for its xiao long bao and authentic Shanghainese fare, but this 330-seater four-storey flagship is where the story began back in 1972," say the Michelin inspectors. All around the world, its xiao long baos are made with absolute precision, complete with exactly 18 intricate folds called the "Golden-18 Folds". Any more than 18 folds and the tip of the dumpling will be too thick, affecting the overall texture of the dumpling. Too few and the xiao long bao loses its delicate appearance.

Hang Zhou Xiao Long Bao is known for its well-made and well-priced dumplings
Hang Zhou Xiao Long Bao (Da'an)
Bib Gourmand, MICHELIN Guide Taipei & Taichung 2020
Owner Huang Wenjun originally ran a Chinese barbecue meat restaurant. But in order to develop new dishes for his restaurant, he later learnt the craft of making xiao long bao from the dim sum chef of the famous 369 Dumpling House. It quickly became the most popular dish in his restaurant, eclipsing his roast meats. Huang eventually transformed the restaurant into one specializing in Jiangsu and Zhejiang dim sum.

Huang started his business as a street stall. It was originally an unnamed stall on Hangzhou South Road. For easy identification, people started calling the shop "Hang Zhou Xiao Long Bao." Soon after, a signboard was set up with a slogan of what the stall had become known for: "The Quality of Din Tai Fung, the taste of 369, the price of street food stalls".

The dumplings are made fresh by Huang every day, weighing between 20 and 26g, with 21 folds. The shop is famous for making its xiao long bao fillings with fresh ingredients such as chilled pork and the famous Yilan scallion.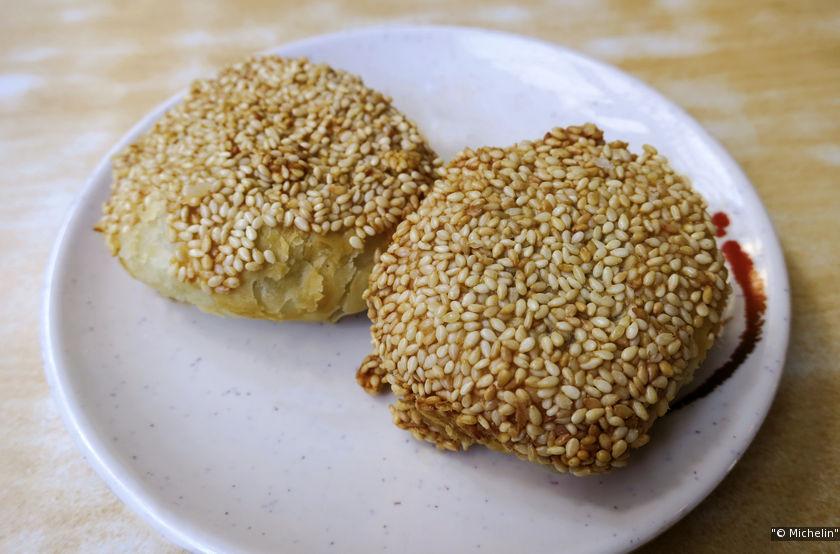 Other than xiao long bao, Hao Kung Tao Chin Chi Yuan also offers an assortment of dim sum that are a favourite for many.
Hao Kung Tao Chin Chi Yuan (Da'an)
Bib Gourmand, MICHELIN Guide Taipei & Taichung 2020

Located in the Yongkang neighbourhood, Hao Kung Tao Chin Chi Yuan is famous for its xiao long bao at an affordable price point. With its dim sum masters busy making and stacking up an assorted range of dim sum at the entrance of the restaurant, it became a memorable scene for its customers. Dim sum has been the signature dishes at Jin Ji Yuan. Apart from xiao long bao, they offer an impressive line-up of 16 other types of savoury and sweet dim sum.


The colourful Xiao Long Bao at Dian Shui Lou (Songshan) (Photo: Dian Shui Lou)
Dian Shui Lou (Songshan)
Bib Gourmand, MICHELIN Guide Taipei & Taichung 2020

With sumptuous modern Chinese furnishings and antique art décor, Dian Shui Lou is your best bet to enjoy Xiao Long Bao with a vibe. Apart from the traditional Xiao Long Bao, their assorted colourful one includes fascinating flavours like crab, basil, mala, jade, XO Sauce and truffle.

Su Hung (ZhongZheng)
MICHELIN Plate, MICHELIN Guide Taipei & Taichung 2020

Recognised by many as the affordable version of Din Tai Fung, Su Heng's unique creation of Xiao Long Bao with luffa and shrimps filling was more popular than the convention ones. Other signature dishes include Dongpo Pork, Hangzhou Stewed Duck Claypot, Braised Fishhead and Fried Yellow Croaker in Huadiao Sauce.


Banner image by Din Tai Fung.

This article is written by Chen Ching-yi and translated by Billy Kwan. Click here to read the original story.