At the tender age of 36, sushi master Kenji Gyoten has achieved what others can only dream of. His success story is also testament to dreamers willing to put in the hard work to make their dreams a reality. Gyoten always wanted to become a sushi chef, inspired by his grandfather who himself was one. By the time he was 21, Gyoten had trained at well-known restaurants in Tokyo and in 2009, he opened his first restaurant at the house where he was born in Shimonoseki City, Yagamuchi Prefecture. It was when he moved to Fukuoka that he received his first three Michelin stars, becoming the youngest ever to attain such a remarkable status.

In Thailand this October for a special event to serve Edomae sushi - sushi in the Edo period; a rarity that involves fish marinated and preserved for a few days rather than served fresh. The Japanese rice is from Gifu, grown using natural mineral water from the mountains and comes from an area with dramatic temperature changes from day to night, resulting in unique grains which are then seasoned in a light but deep-flavoured red vinegar. The seafood is all sourced directly from Toyosu Market in Tokyo and from suppliers in Kyoto and Fukuoka, ensuring only the very best for his customers.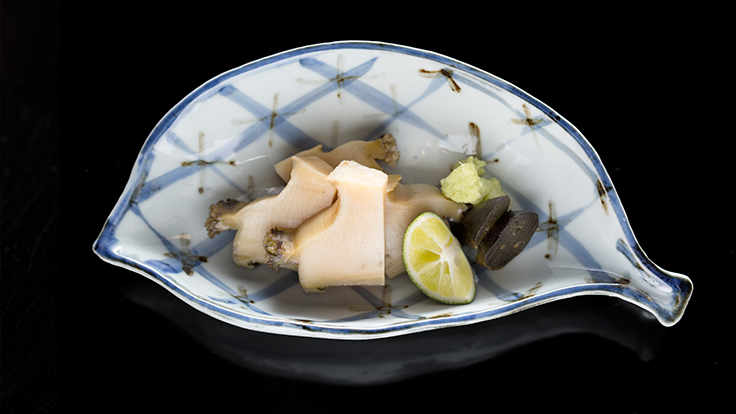 Gyoten has held on to its three stars for six years now since 2014. To what or do you think the restaurant owes this major success?
It all comes down to old-fashioned hard work. We all work hard doing even the simplest things to the best of our ability. It sounds easy but it actually isn't. The most important thing, I feel, is greeting our guests from the heart. Second, is carefully handling the ingredients that make up each dish. And finally, saying "thank you". Expressing gratitude to my customers is very important to me.

Tell us about your professional journey as a chef and how this led you to Gyoten.
I was influenced by my grandfather and grandmother who own a sushi restaurant and I would observe their every move. I quickly realised as a kid that I'd rather be doing this rather than working in an office. I held my first pair of scissors when I was five years old. I still remember owning a kitchen knife since I was five. My love affair with food happened very naturally.

What has been the most difficult part about holding on to three stars?
Mental support is very important and it helps if you get this from your family. I also try to keep myself motivated at all times, reminding myself to always adopt a strong mentality, to build up physical strength, and to hone my management skills in order to properly manage my staff. How do I build up my self-confidence? I try to be humble enough to adjust to the changes that occur within me.

What has been the most valuable experience for you as a young chef growing up?
Every day is a lesson in life for me. Seriously, I keep doing what I love, practising the skills that are required of me to become the best at what I do. Never give up.

Most people work their way up from one star, to two stars, to three. Under your supervision, Gyoten got three stars straight away. The pressure must've been so great for you. How do you deal with pressure?
The environment changes when you become a top chef, especially the environment around you, not yourself. It's very important to keep yourself from losing sight of your goals and what you believe in; even more important to do this when you have achieved three-star recognition.

The Japanese have a name for every emotion or state of being – kintsugi: finding beauty in imperfection, komorebi: the beauty of rays of sunlight seen through the leaves of trees. Is there a word for the joy of eating good sushi? If not, would you like to invent a word now?
People smile when they eat something delicious and yes, the Japanese always have a word to describe every feeling, especially a sense of happiness. I can't really invent a word but the Japanese say "sugoku oishi!" everytime we enjoy food. Same as when Thais say "aroy mak!" or the French say "delicieux"!

Name a favourite dish that you never get bored of making.
I appreciate the ingredients more than the final result, whether it's the smooth fragrance of wasabi, the water content, the temperature and humidity of rice or the salt concentration of soy sauce. The ingredients lie at the heart of any dish I make and as long as they're dishes I feel I can make for my family to enjoy, they're all my favourite dishes.

What is your main philosophy in cooking?
Safety and cleanliness are vital in every part of the process, from the manufacturing, handling to the selling of the produce. Sweetness from the ingredients is required because Edo-mae does not use sugar. The ingredients should therefore taste like nature's power. And you have to know the method to bring out the best in each ingredient, depending on where they were grown.

How much importance do you give to ingredients?
Without ingredients, we have nothing. Ingredients have the power and vitality to survive the natural world. There are many things that are invisible to the naked eye but can be understood only by those who make the effort to tend to the ingredients every day. I think all the top chefs who handle ingredients know this. We wait for the right moment and work hard every day to get the ingredients we need. I'm grateful for Mother Nature.

How would you convert a non-sushi lover into becoming one?
It 's a difficult question. I try to build a relationship based on trust with my customers. First of all, listen to the other person's story and listen to what they don't like and why they don't like it. Is it the taste? Is it because of the smell or the texture? I will tell you about certain foods that I don't like, but we will talk about it and how we can overcome the obstacles together. Trust is the beginning of a positive food experience. That's why people enjoy coming to my restaurant. They trust me.

What can Thais look forward to at your October event in Bangkok?
I very much appreciate anyone in Thailand interested in coming to the event and I will wait for them patiently. The finest tuna will be used at the event so I hope they enjoy it. It will be a good opportunity for us to celebrate both our cultures. I look forward to making sushi for people in Thailand and hope we can create good memories together.

Kenji Gyoten will be cooking lunch and dinner sets at Sushi CYU, Central World from 5-6/8-13 and 15 October.