The MRTA has opened a section of the Blue Line Extension (since August 24th) to unveil seven new MRT stations for public demonstration and is offering free test rides daily between the Wat Mangkon station and Bang Wa station from 07:00 to 21:00.
If you have never truly explored Bangkok's Chinatown (aka Yaowarat) now's your chance to do so without the hassle of getting there. The MRT Wat Mangkon station not only brings you to the historical Charoen Chai community known for its colonial-style shophouses and Chinese joss paper market, but this new station is your gateway to the bustling district most famous for its vibrant street food scene. Named after the largest Chinese Buddhist temple in Bangkok, Wat Mangkon station was designed to reflect the area's distinct cultural heritage and is touted to be one of the city's most beautiful underground metros.
So while you marvel at this transit hub's elaborate interior, why not also check out some of the best street food stalls in Yaowarat?

When an eponymous restaurant also contains the name of its signature dish, you know you're in for a treat and Guay Jub Ouan Pochana has been serving their treat for over fifty years. Guay Jub is a rice noodle soup dish made of rolled up white rice noodles immersed in a peppery pork broth that contains pork offal and an egg. What makes this noodle dish unique are the thinly rolled up rice noodles resembling mini cigarillos that are cooked just right almost firm to bite, the clear pork bone broth 'nam sai' (this vendor's specialty as opposed to the darker, denser broth 'nam khon'), and the assortment of pork innards (a great source of B vitamins). This hearty, nourishing bowl of guay jub is a must for all noodle soup lovers.
Address: Yaowarat Road, Chakkrawat, Samphanthawong, Bangkok
Tel: 086 508 9979

Hungry and don't know what to eat? A heaping plate of khao pad (fried rice) is your answer, and you can't go wrong with everyone's favourite go-to dish. Good khao pad uses the fragrant Thai jasmine rice and is topped off with Thailand's national condiment – nam pla prik kee nu (chopped bird's eye chilies in fish sauce), a generous squeeze of fresh lime, and a sprig or two of spring onion. Khao pad can be made with any type of meat so when you order, you indicate what meat or meats you would like in it (or not). This famous food stall happens to specialise in using crabmeat and their khao pad pu (crab fried rice) is divine. Chang Phuek (White Elephant) is a symbol of auspiciousness and a fitting description of the delicious chunks of sweet white crabmeat in this comfort food classic.
Address: 140 Yaowarat Road, Samphanthawong, Bangkok
Tel: 081 812 5067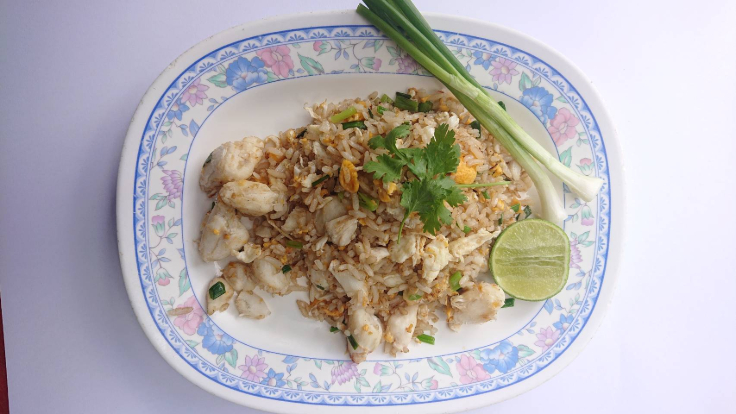 The Lim Lao Ngow food stall is known for their legendary fishball noodle dish (guay tiew look chin pla) that features homemade fishballs and homemade egg noodles. For over eighty years this family-run stall has held onto their original ancestral recipes and have maintained the quality and taste of their specialties. Their famous 'bouncing' fishballs are made purely from fresh select fish meat giving them their soft and bouncy texture and their signature egg noodles are made with premium grade flour and fresh eggs which give them that rich golden yellow and flavourful, chewier texture. Lim Lao Ngow's expansion into ten branches is testament to the ever-lasting popularity of their noodle dish and the best fishballs in town. So if you're looking for a healthy meal, then treat yourself to a bowl or two of these very tasty noodles!
Address: In front of building no. 299-301, Song Sawat Road, Yaowarat
Tel: 081 640 4750

Photo courtesy of Lim Lao Ngow.
Another great place for guay jub is Nai Ek Roll Noodles. Nai Ek started selling guay jub from a pushcart stall in Chinatown over fifty years ago until he opened his own shop in 1989. Nai Ek's reputation grew thanks in large part to his unique take on guay jub in which crispy pork (moo krob) was added to the peppery broth along with minced pork, sliced pork and pork offal. The rolled rice noodles themselves are outstanding as they are longer and thicker which means a soft, fuller and chewier texture balancing out the spicy heat of the soup, and completing this signature dish. You can indulge in a serving of guay jub for breakfast, lunch or dinner because Nai Ek is open daily from 9am to midnight.
Address: 442 Soi Yaowarat 9, Bangkok
Tel: 02 226 4651

Photo credit: Mimi Grachangnetara.
Almost every country in the world has its version of fried dough because our love for fried dough is universal. Our version here in Thailand is called pa tong go, an adaptation of the Chinese youtiao, and these crispy golden doughnuts are irresistible. Soft and doughy on the inside with a tender crispiness on the outside, it just crumbles when you bite down and are best eaten fresh off the fryer and after dunking them in sangkhaya bai toey (Thai pandan custard) or in sweetened condensed milk. At Pa Tong Go Savoey, the dough is made from wheat flour and this famous stall (said to be the best in Bangkok) fries over a thousand pairs every evening except on Monday. If you're ever craving a late night or after dinner snack in lieu of dessert, then trek over to Pa Tong Go Savoey and treat yourself to this guilty pleasure!
Address: 489 Song Sawat Road, Yaowarat, Samphanthawong, Bangkok
Tel: 095 591 5651

Hero image: Photo courtesy of Mimi Grachangnetara.