In its seven years since debuting in 2016, the MICHELIN Guide Singapore has celebrated alongside the city-state's finest chefs and hospitality professionals as they take the stage for the most anticipated award ceremony of the year.
The unveiling of the MICHELIN Guide Singapore 2023 will take place on 27 June 2023 at PARKROYAL COLLECTION Marina Bay. In addition to the One, Two, and Three MICHELIN Star restaurant revelations, a number of special awards will also be presented on the day.
This year, the MICHELIN Guide Ceremony in Singapore will be the first in Asia to be conducted in an evening cocktail event format, lending a convivial and interactive social flair to the proceedings. Guests will be treated to a feast for the senses, with several live stations featuring a diverse range of cuisines presented by a curated group of MICHELIN-Starred, Bib Gourmand, and Selected establishments throughout the night.
Date: Tuesday, 27 June 2023
Time: from 5:30 PM local time
Location: PARKROYAL COLLECTION Marina Bay

*Please note this is a by-invite-only event.

MICHELIN Bib Gourmand Selection Release: Thursday, 15 June 2023
The much-loved Bib Gourmand selection will be unveiled one week prior, on Thursday, 15 June 2023, to highlight the restaurants that consistently offer "good quality and good value cooking". In 2022, there were 67 Bib Gourmand locations, including 22 restaurants, 40 hawker centre stalls, and 5 street food establishments listed in the guide, making for a diverse variety of casual eats that define Singapore's street food and local hawker food scene.

All establishments are chosen by the anonymous inspectors of the MICHELIN Guide, following multiple tests and according to the same five criteria used around the world: quality of the ingredients; mastery of cooking techniques; the harmony of the flavours; expression of the chef's personality in the cuisine; and consistency, both over time and across the entire menu. Location, décor, service, and available facilities are not part of the selection criteria, even if they might be highlighted of a particular interest.

The full selection will be available exclusively in digital format on all the MICHELIN Guide's official platforms: website, mobile application, and social networks.
Stay tuned for further announcements of this exciting event and the MICHELIN Guide Singapore 2023 selection. Follow the latest updates on our website or MICHELIN Guide Facebook page.
MICHELIN Guide Ceremony Featured Restaurants
Chef Kirk Westaway, JAAN by Kirk Westaway (Two MICHELIN Stars, Singapore)
Drawing from both his English heritage and a strong culinary training under world-renowned chefs, Chef Kirk Westaway is recognised for his mastery in reinventing gastronomic classics that that are well-received, comforting yet refined.
What our inspectors said about JAAN by Kirk Westaway
Embodying the quintessence of fine dining, this romantic restaurant has it all – food, service, ambiance and spectacular views. Chef Westaway makes good use of top-notch British produce and inspirations, such as scallops from Scotland and turbot from Cornwall, to turn out modern culinary creations that never fail to impress. Some British classics also got a makeover – "hen's egg" is a refined take on the breakfast favourite dippy eggs with soldiers.

Chef-Founder Louis Han, Nae:um (One MICHELIN Star, Singapore)
Chef Louis Han was born in Seoul, in the trendy forward-looking district known as the pulse of the city – Gangnam. His childhood therefore played out in the modern, cosmopolitan capital of South Korea, where global cultures intermingled, and international influences interwove with Korean heritage.
What our inspectors said about Nae:um
The bright room is furnished in a cream and birch colour scheme, imparting calmness and warmth. The Korean chef Louis Han named his restaurant Nae:um, meaning a fragrance that evokes memories. Food culture and recollections of his home country are at the core of his episodic menu that changes with seasons. Innovative courses are precisely executed and presented in an ethereal, refreshing manner, but have inklings of their Korean roots.


Chef-Owner Rishi Naleendra, Fool (Bib Gourmand, Singapore)
Born into a family of food professionals, Chef Rishi Naleendra grew up in the midst of the hustle and bustle of the industry. Possessing an instinctive flair for dissecting ingredients and techniques, he has been creating what he humbly calls very logical combinations of flavours, textures and aesthetics that strike a fine balance in much-vaunted dishes which have received numerous accolades in Singapore.
What our inspectors said about Fool
This lively wine bar concept is another brainchild of the chef-owner behind Cloudstreet and Kotuwa. The décor is on trend with a retro 1970s look. The wine list is extensive and well-choreographed, with a slight bias towards older vintages. Pair your wine with snacks and small plates hallmarked by precise execution, beguiling presentations and pronounced flavours.

Chef Chan Hon Meng, Hawker Chan Soya Sauce Chicken Rice & Noodle (Bib Gourmand, Singapore)
Chef Chan whose parents were farmers, grew up in a kampong in Ipoh, Malaysia. His family raised livestock and grew produce in the family's farm. Chef Chan's culinary journey began during in his daily preparation for the family's meals. The early exposure to cooking developed his passion to cooking.
What our inspectors said about Hawker Chan Soya Sauce Chicken Rice & Noodle
What started at a stall in Chinatown Food Centre lead inevitably to Chef Chan opening a restaurant. Equally inevitable is the size of the queue – it forms well before opening time, such is the reputation of his delicious soy sauce chicken rice and roast pork. The new premises may provide more space and seating but, just like back at the hawker centre, you'll be sharing your table with others.

Kok Sen (Bib Gourmand)
While "Kau Kee" – which the eating house is sometimes known by – is taken from the name of the restaurant founder, "Kok Sen" is the name of the founder's son. Currently helmed by Chris Wong of the family's third generation, the origins of the restaurant is humble. In the 1980s Wong's father inherited the stall and built a fledging business out of it.
What our inspectors said about Kok Sen
Now into its third generation, the Wong family has been serving cze char classics like seafood, eggplant, tofu in claypot and curry fish tail at various locations for nearly 50 years. Call to pre-order special dishes available only from April to September, like braised pork belly with salted mustard greens or duck smoked with camphorwood and tea leaves. Expect to find a queue any time of day. Reservations are accepted for tables of six or more.
Executive Chef Martí Carlos Martínez, Restaurant Gaig (MICHELIN Guide Selected, Singapore)
Born in Mataró in 1989, Chef Martí grew up in Barcelona in a family that enjoyed cooking and feasting. Strongly influenced by his mother, who was a superb home cook, young Martí developed a penchant for cooking.
What our inspectors said about Restaurant Gaig
After renovation, this relaxed and friendly restaurant run by the same family as its namesake in Barcelona has doubled in size. Catalan classics like the cannelloni are prepared the same way as they were back in the 19th century, and their tapas portion sizes allow diners to sample a wider variety. Recommendations include lamb shoulder with trinxat and mint pesto. The wine list has a great Spanish selection that's available at a reasonable price.

Executive Chef Saurabh Udinia, Revolver (MICHELIN Guide Selected, Singapore)
Considered one of India's youngest and most promising culinary talents, Saurabh is the Executive Chef at Revolver. A master of fire and smoke, his love for experimenting with the grills has led to the creation of bold and refined charred flavours in his progressive menu.
What our inspectors said about Revolver
Its name is a pun on how cooking revolves around the charcoal grill, brazier and tandoor. Whether you sit at the counter or in a booth, the chefs put on a show that is visible from all seats. Two tasting menus and a vegetarian menu are offered. Dishes are rooted in different regions of India, but are reimagined and reborn over coals and fire. The distinctive smoky flavour and layering of spices works magic, resulting in a delicate balance.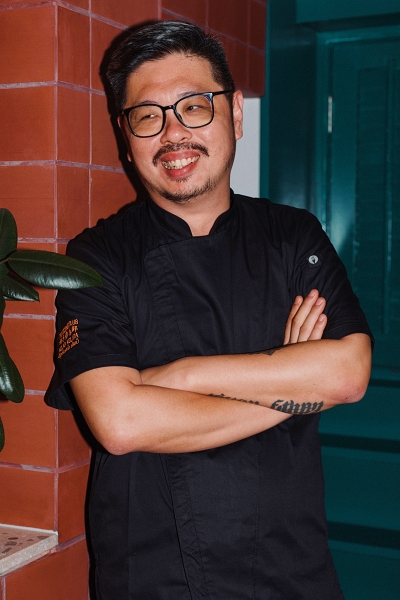 The Coconut Club (MICHELIN Guide, Singapore)
The Coconut Club is an gathering place to experience Singaporean food through the lens of the humble coconut. Armed with the belief that coconut milk is the lifeblood of Southeast Asian cuisine, The Coconut Club continues to relentlessly pursue authenticity and quality in reimagining heritage dishes...
What our inspectors said about The Coconut Club
This traditional shophouse evokes unmistakably tropical vibes – wicker back chairs, wallpaper with banana leaf prints and cheerful blue-and-white tiled flooring. On the menu, the coconut theme is also obvious – the nasi lemak set is the best seller, but other dishes deserve equal attention too, such as ayam goreng berempah (spiced fried chicken with crispy rempah crumbs), and sago pudding with pandan, palm sugar and coconut cream.
Chef Alan Chan, Rempapa (MICHELIN Guide Singapore)
After graduating from university, Chef Alan Chan came to Singapore and worked at Pizzeria Mozza and MICHELIN Starred restaurant, Burnt Ends and MICHELIN Bib Gourmand Kotuwa before joining Chef Damian D'Silva at Rempapa, where he continues to showcase his passion and expertise.
What our inspectors said about Rempapa
In a smart, casual room with tan banquettes, powder blue chairs and terrazzo tiled floor, Damian D'Silva, a respected judge from the Singaporean edition of a popular cooking show, champions a novel cuisine that crosses boundaries among Chinese, Peranakan, Eurasian, Indian and Malay cooking. Hearty dishes sit comfortably next to century-old recipes, all prepared with shrewd judgment, and the right amount of oomph. Baca Assam (beef cheek) is unmissable.

Birds of Paradise (MICHELIN Guide Selected, Singapore)
Established in 2016, Birds of Paradise is on a perpetual mission to create botanical gelato of the finest quality. By creating the concept of botanical gelato that is made from scratch using local and regional produce like lemongrass, pandan leaves and blue pea flowers, Birds of Paradise has won the hearts of gelato aficionados in Singapore. The gelato boutique has also been recognised with prestigious awards such as MICHELIN Guide Singapore selection in 2018, 2019 & 2022. While new flavours are always in the works, Pandan and White Chrysanthemum can be counted on as some of their most well-loved, delicious triumphs.

Our Partners