Foodies may do a double take when they see
the Bib Gourmand list in the MICHELIN Guide Singapore 2018
. A popular bak chor mee stall,
Tai Wah Pork Noodle
, is one of the 17 new additions to the list, which recognises good value dishes under S$45 from 50 hawker stalls and restaurants.
If the name sounds familiar, it is because the stall in Hong Lim Food Centre is helmed by Gerald Tang, the nephew of Tang Chay Seng, who runs the one-Michelin-starred
Hill Street Tai Hwa Pork Noodle
in Crawford Lane.
Gerald Tang's father, Tang Chai Chye, used to run Hill Street Tai Hwa Pork Noodle at a coffee shop in High Street with his elder brother, Tang Chay Seng. Both stalls started with Gerald Tang's grandfather, who was a street food peddler in 1939. Tang Chai Chye went on to start his stall at Bestway Building in Prince Edward Road in the 1990s and later shifted to Hong Lim Food Centre. Over the past decade, his son has been running the stall and also expanded the business to Jakarta, where they opened Tai Wah Pork Noodle restaurant in April.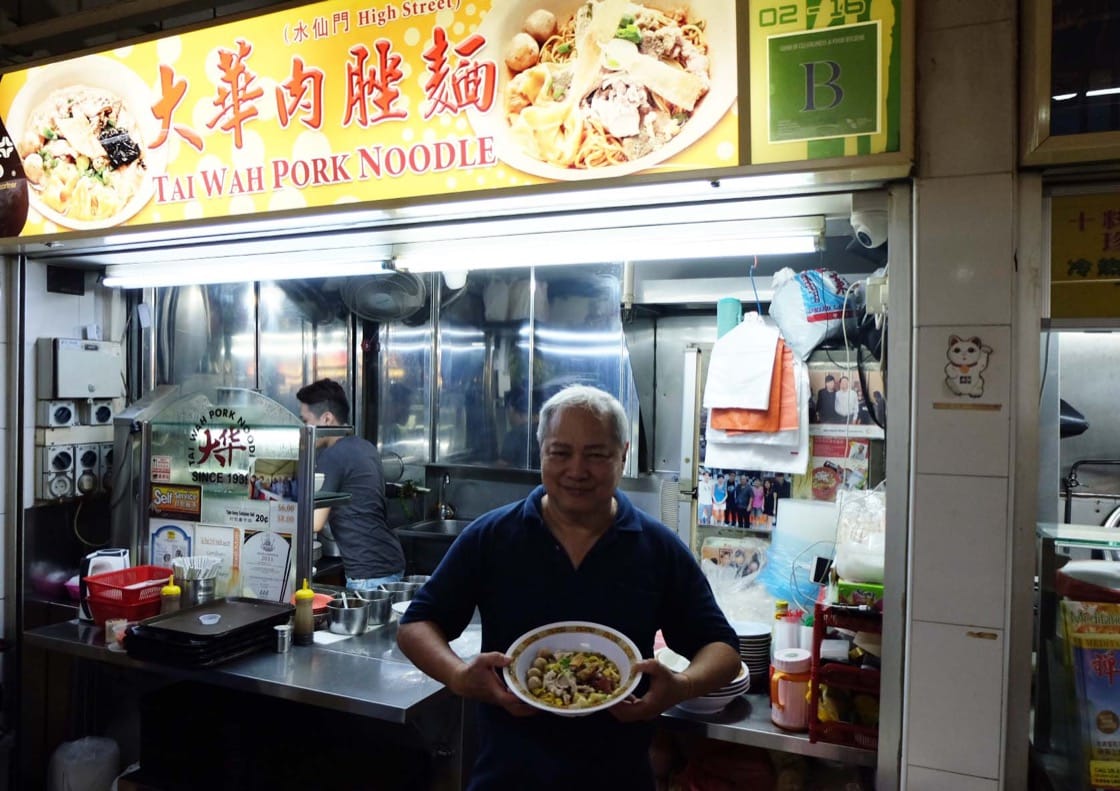 Tai Wah Pork Noodle's Tang Chai Chye with his signature bowl of bak chor mee. (Credit: Kenneth Goh)
Beaming with delight, the older Tang says in Mandarin: "It is a given to be happy to receive this award and I didn't expect to receive this surprise. I am now in my 60s and have been a hawker since I completed my national service."

On what makes his bak chor mee special, he says that the secret lies in using fresh ingredients and the technique of cooking noodles till they become al dente. "We are also particular about our seasonings, such as the chilli sauce and the black vinegar, which shouldn't be too sour. We also use pork lard which brings up the fragrance of the dish."

Located directly opposite Tai Wah Pork Noodle in Hong Lim Food Centre is another first-time Bib Gourmand recipient Outram Park Fried Kway Teow Mee, which is known for attracting queues for its char kway teow.

The stall's owner, Ng Chin Chye, 66, says in Mandarin: "I have been running this stall for 18 years, so this is a happy surprise."
The best of the MICHELIN Experience in your inbox
Stay on the top of the best restaurants, offers, lifestyle, and events recommended in our guide cities.
Subscribe
Outram Park Fried Kway Teow Mee's Ng Chin Chye has been frying char kway teow for the past 18 years. (Credit: Kenneth Goh)
The stall was started by Ng's father, who served up piping hot plates of char kway teow until he was in his 80s in 2000. The older Ng had started his char kway teow business in a push-cart in Tanjong Pagar before moving to a coffee shop in the vicinity. In 1953, he shifted to a coffee shop in Outram Park and remained there for close to 20 years.
On his secret to a good plate of char kway teow, he says: "It all lies in the
wok hei
(the flavour imparted by a hot wok) and the type of soya sauce that we use which isn't too salty.You should be able to taste the soya beans from the sauce."
Rolina's Bren Tham (right) and his parents at their 16-year-old stall in Tanjong Pagar Food Centre (Credit: Kenneth Goh)
Over at Tanjong Pagar Food Centre,
Rolina Traditional Hainanese Curry Puff
also got the Bib Gourmand nod. Its second-generation owner, Bren Tham, 43, says: "We are very honoured as the recipe for our curry puffs, which is more than 50 years old, has been passed from my dad to me."
His father, Tham Niap Tong, 78, had picked up the recipe from a Hainanese sailor and started selling curry puffs on the streets when he was 19 in Serangoon and outside Novena Church in Thomson Road. In the 1970s, he moved to a coffee shop in Serangoon Gardens. The stall has been at Tanjong Pagar Food Centre for the past 16 years.
The younger Tham says: "Although the curry puffs are smaller, they are full of filling made from a unique and freshly made
rempah
. We will continue to make and deep-fry curry puffs till everything is sold out for the day."
Another recipient, Hong Kong Yummy Soup, which has been at Alexandra Village Food Centre for the past four years, is famed for its nutritious Chinese soups. Owner Hilda Xie says: "We are happy with such a surprise."

The stall's most popular soup is the Night-blooming Cerus Spareribs soup, which is brewed with red dates, orange peel and apricot seeds, and is known to be ease coughing and boost one's immune system.

Besides hawker stalls, this year's Bib Gourmand honour roll also has restaurants on the list.
One of them is
The Coconut Club
in Club Street that serves coconut-centric dishes such as nasi lemak and chendol.
Nasi Lemak From The Coconut Club. (Credit: Kenneth Goh)
One of the co-owners, Lee Eng Su, says: "The work that we put in here every day is out of pride for our country and the food that we cook. Some may think that taking nasi lemak and chendol out of the hawker centre into a shophouse restaurant is atas ("high class" in Singlish), but that is the only way to produce them the way that we want."

The announcement of the Bib Gourmand recipients comes one week ahead of the results of the MICHELIN Guide Singapore 2018, which will be revealed on 25 July.
RELATED: The Results: Bib Gourmand Distinction For The MICHELIN Guide Singapore 2018
---