Where
The Blue Ginger
97 Tanjong Pagar Road
6222 3928
Peranakan culture has been experiencing a revival in recent years – its food is now celebrated and highlighted as part of a uniquely Singaporean heritage. That hasn't always been the case – especially not 22 years ago.
Just ask Susan Teo, director of Bib Gourmand recipient
The Blue Ginger
. The restaurant opened in 1995 and has not only seen the
Tanjong Pagar
area around it blossom but also experienced the turning point where
Peranakan
culture moved from the background and into the limelight.
"Things were very different. You can't really get a place where you can go to for Peranakan food of good quality and good service. It was more homely with small little eateries," she says on the restaurant scene back then. "So we thought, why not bring this culture to the masses and introduce them to Peranakan food which has been kept in the background for a long time?"
SEE ALSO:
Food Rest: Why Some Dishes Taste Much Better The Next Day
Overcoming Challenges
Reception in the early days was lukewarm as there wasn't much awareness for the cuisine.
"Peranakan food is perceived to be very close to Malay food, and you can get Malay food everywhere," says Teo. "So the diner would ask, 'why should I pay for such food when I can get it for much cheaper elsewhere?"
Indeed, as Peranakan food is the result of a merger of Chinese and Malay food traditions, many techniques (the making of
rempah
, long braising) are the same. Some Malay and Indonesian dishes are also adapted into the Peranakan household.
Even so, there's a fine difference especially in the palate for those who grew up eating Peranakan food. "It's closely related but of course, the main difference is the use of pork," explains Teo. "Some of the dishes are also not cooked in the same way. Indonesian and local
rendang
is dry, and ours has a little more sauce. The ingredients and the techniques are the same but the measurements are slightly different."
SEE ALSO:
10 Delicious Traditional Malay Kueh Dissected
The Turning Point
To get around the issue and educate diners, the staff go to great lengths to explain the entire history and food culture of the Peranakan community. The restaurant also regularly puts out marketing materials.
The turning point came a little over a decade ago when 'The Little Nyonya', a critically acclaimed televised series went on air. It exposed the masses to Peranakan culture by detailing the life of an extended Peranakan family over three generations.
Business boomed as local diners began to take an interest in the cuisine. The Blue Ginger also began to see a marked increase in tourists as the series was exported across Asia.
"It brought about awareness, from China to Thailand, Taiwan, Korea and all. They also came thanks to the foreign media and inflight magazines who wanted to write about the culture," says Teo.
SEE ALSO:
5 Lesser Known Southeast Asian Herbs Demystified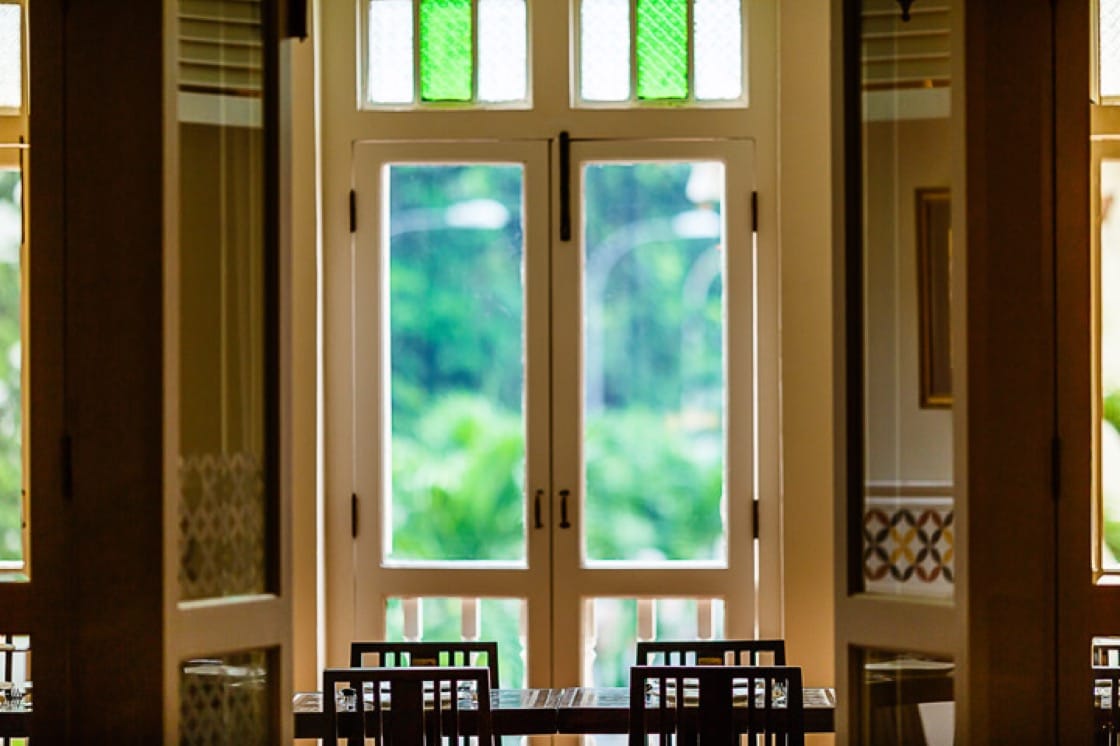 What To Order
But promotional materials and a cultural renaissance isn't worth much if the food is lacklustre. Key to the restaurant's success is in keeping to the original recipe which they set out to cook those 22 years ago. These were provided by a retired school teacher, homemaker and proud Peranakan named Vivian Seet.
"She helped us to fine tune the recipe, guide the chefs and even till today she periodically comes in to have a taste to make sure the quality is not altered."
The chefs are also mindful to cook in limited quantities. "We don't make too much in one go because we don't want to deviate from the original recipe," says Teo. "So we cook often and when the amounts run low, we make another batch."
Several dishes are especially popular. One such is the bakwan kepiting – meatballs made of crab, minced pork and bamboo shoots served in a soul-warming pork-based clear broth.
Another is well-known Peranakan classic, kueh pie tee where rice pie tee shells are stuffed with turnip, bamboo shoots, prawns, cilantro and chilli cuka.
SEE ALSO:
The Tourist's Guide To Nasi Padang
The assam gulai or fish in a spicy stew made sour with tamarind is another favourite. In essence, it's the same dish as assam fish but the recipe at The Blue Ginger calls for the addition of ginger flowers which brightens up the dish with a citrusy-floral note.
But Peranakan cuisine serves up a specific challenge: not many dishes can be cooked ala minute. "You can cook assam gulai this way but certain things like rendang and babi pong tay you can't," says Teo.
"The pong tay itself is cooked overnight and then stewed again before serving. Otherwise, the ingredients itself are quite simple; trotter, shoulder and pork belly with tau cheo, shallots, garlic, five spice powder."
"I hope they'll be able to have a memorable taste of the culture and food," says Teo on the experience she'd like visitors to experience. " I'd like [guests] to feel like they miss it and want to come back to eat it again."
Recommended reading: View all Behind The Bib stories here.