Chefs Helder Amaral of Aurora and Eric Räty of Arbor will be joining hands in a series of collaborative lunch and dinner menus on 28 and 29 June at Aurora in Altira Macau as part of the MICHELIN Guide Hong Kong Macau 2019 International Chef Showcase.

While the two chefs come from markedly different culinary backgrounds, visiting chef Räty's refined Nordic-Japanese sensibilities promise to add a fresh slant to Amaral's French-inspired Mediterranean flavours at Aurora.

The private dining rooms at Arbor.
At one-MICHELIN-starred Arbor, Räty's culinary style combines French cooking techniques with Nordic influences inspired by his Finnish upbringing. He cut his teeth at two-Michelin-starred Chez Dominique where he spent four years honing his skills under chef Hans Välimäki and his star-studded team. Räty then specialised in pastry for almost three years at three-Michelin-starred Aqua at the Ritz Carlton Wolfsburg before returning to Chez Dominique as head chef. His thirst for new challenges led him to Asia in 2014 where he worked under chef Gray Kunz at Café Gray Deluxe in The Upper House in Hong Kong. This was also a pivotal moment when he began incorporating Asian ingredients and flavours into his repertoire. Räty joined Arbor as chef de cuisine in early 2018 and, only a few months after opening, earned the restaurant its first Michelin star.

On the other hand, chef Helder Amaral draws on his native Portuguese roots and deep knowledge of Mediterranean ingredients and culinary traditions to create fine Mediterranean dishes that allow the simplicity and freshness of the produce to shine through. Amaral's culinary career spans a number of world-renowned restaurants in Europe before his move to Macau in 2012 to work at contemporary French fine-dining restaurant The Tasting Room at City of Dreams, which attained its first Michelin star in 2013 and second in 2016.

This four-hands collaboration at MICHELIN Plated Aurora will be a great opportunity for diners to experience the mastery of two award-winning chefs set against a beautiful backdrop. The spectacular panoramic sea view frames the chefs' collaborative nature-rich menu that shines a spotlight on seasonal summer ingredients from land and sea.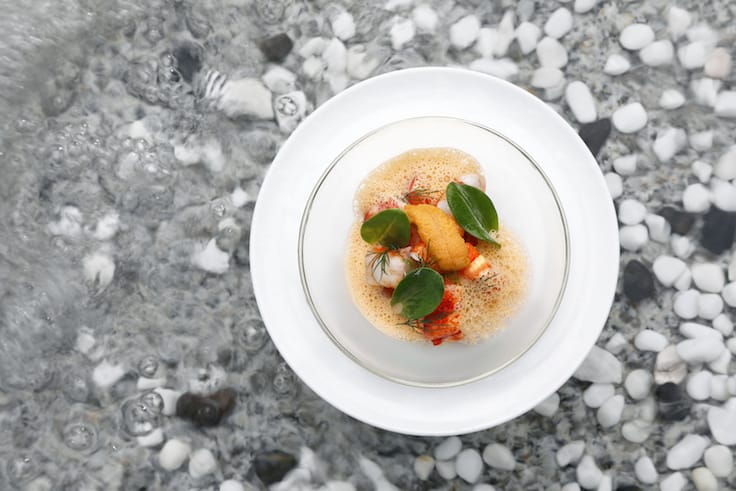 Aurora's Mediterranean Seafood Nage
What do you think about four-hands collaborations in general?

Helder Amaral: Four-hand collaborations are an amazing opportunity to work with another chef who has a unique vision and uses different techniques in cooking. Having the chance to assemble both chefs' philosophies in one balanced menu is brilliant.

Eric Räty: It's always good for inspiration as I can get out of my daily routines and work with other chefs. It's also an amazing opportunity to bring excitement and new energy to guests in a different area.

How do you usually select your four-hands partner?

HA: As chefs, we are always excited to collaborate with individuals who share our passion and are eager to exchange in knowledge and experience. There are many contributing factors to selecting our four-hands partners, but what stands out most is their enthusiasm to delight their guests.

ER: There's no rules, but I always want to understand my four-hands partner's style and vision first. From this understanding, I can create an exciting menu with bold flavours which are full of surprises.
Arbor will be presenting a langoustine dish at the event.
What do you think about your four-hands partner this time?

HA: Chef Eric has an impressive culinary background. His outstanding product knowledge and the precision and perfection in his dishes are the perfect match to our Mediterranean concept at Aurora.

ER: Chef Helder has a respectful career and rich experience gained from a lot of prestigious restaurants. I think his fresh, Mediterranean influenced cuisine is a good match with our style at Arbor.

Please tell us more about the menu you're presenting together.

HA: The menu will showcase a few of our signature dishes and highlight the summer. An important part of both Arbor and Aurora's culinary philosophies is seasonality and this will be highlighted through the use of seasonal summer produce.

ER: It's going to be fun, with major focus on the beauty of the season. We will bring some spices, a lot of umami and some of the most delicate seasonal fruit to Macau. As our dishes evolve from time to time, please look forward to the final products at Aurora on 28 June.

What's one tip for guests to enjoy this collaboration to the fullest?

HA: Just sit back and enjoy the ride.

ER: Just relax and enjoy.
---
The MICHELIN Guide Hong Kong Macau 2019 International Chef Showcase is on 28 and 29 June at Aurora, Altira Macau. Prices start from MOP438 for a three-course Lunch Menu with optional pairings of Robert Parker-rated wines that have a minimum of 90 points each.
Ticketing information can be found here.