Soigné has been awarded a MICHELIN star for five years since 2017 in the MICHELIN Guide Seoul, presenting modern Seoul cuisine. When Chef Lee Jun was studying at the Culinary Institute of America in 2010, he was nicknamed soigné, meaning well-groomed or well made in French. In 2015, the name lent itself to his first permanent restaurant in Seoul. Treating the theatrical space as though it is a stage for a performance, chef Lee presents food through what he terms 'episodes', employing ingredients and experiences to create unforgettable memories. Here, chef Lee introduces his culinary philosophy and Soigné's key episodes.

How did you become passionate about cooking?
I've loved art and machine assembly since I was in elementary school. Helping my mom was also a pleasant memory for me, so I naturally became interested in cooking. When I was in middle school, I thought about my career and decided to become a chef to indulge all my interests.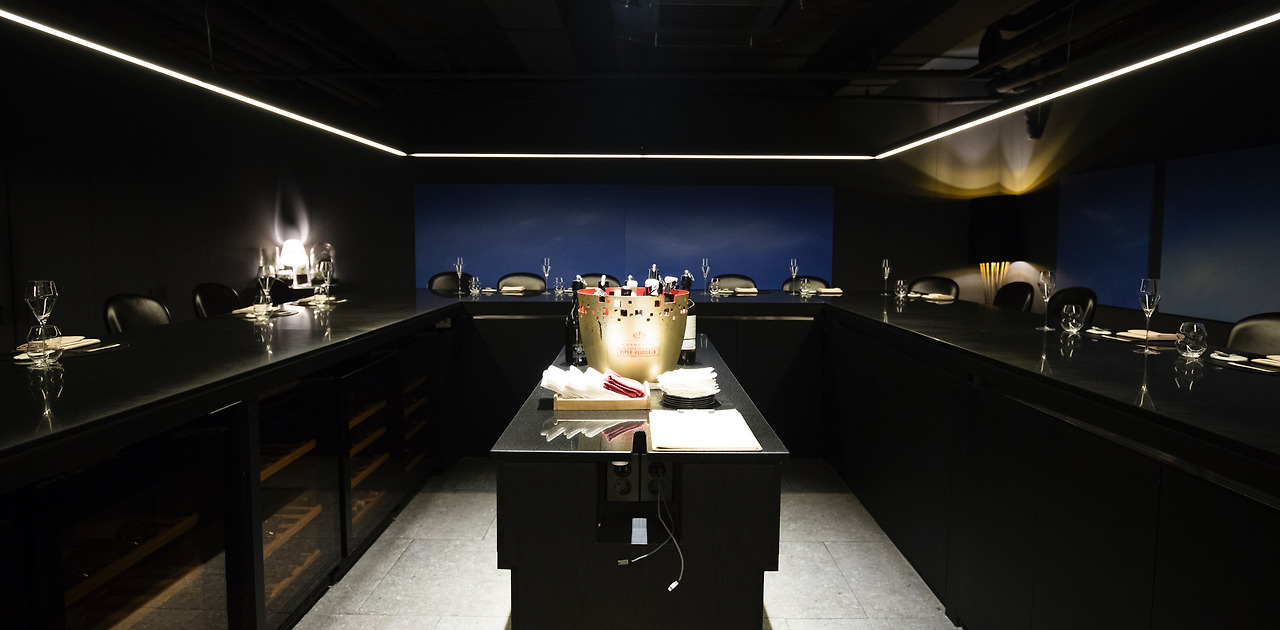 Do you have any role model?
From the start, I was influenced by my parents' cooking, but my professional role model is Thomas Keller. I admire his steady delivery of the pioneer spirit and philosophy, and most of all, his efforts to create new standards in the restaurant industry by pioneering a path that other chefs have not taken.
READ MORE: Going Green at The French Laundry
What are your favorite ingredients and how do you use them?
It's hard to pick one, but I like local aromatics such as green onions and garlic. It creates a firm flavor base for Korean food, but most of all, it has unique characteristics that vary depending on how you cook it. I like the unique change in these flavorsome vegetables; these can play good supporting roles and sometimes leading roles in a dish.
One of the early dishes is green onions with mascarpone cheese and salted clams. Since then, we have constantly developed new versions while maintaining the same composition.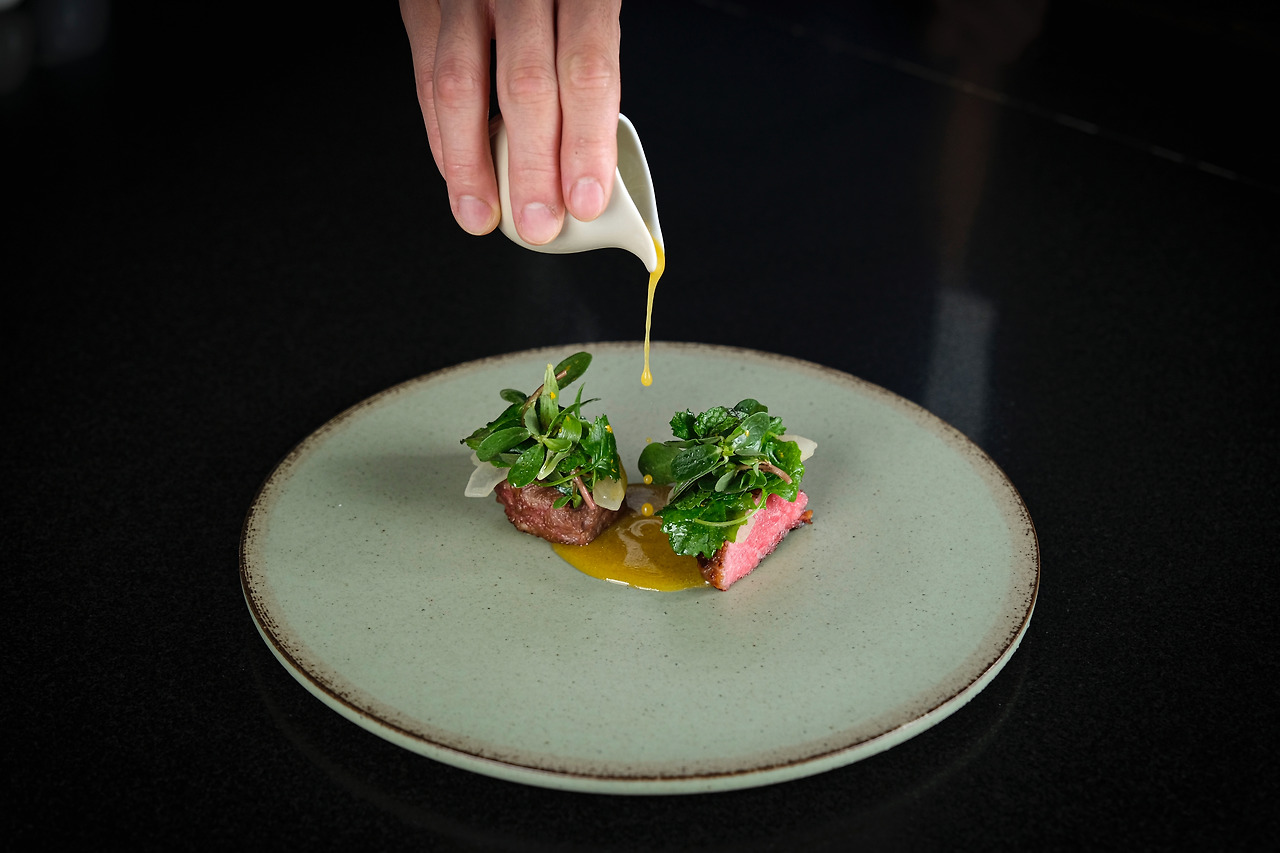 Where do you get inspiration for cooking?
I'm inspired by everything around me, even if it's not directly related to cooking. Sometimes an impressive visual image brings ideas; also various stimuli such as eating or smelling. Usually, I begin with a particular material or feeling, which embodies inspiration in a way that extends the branch of thought.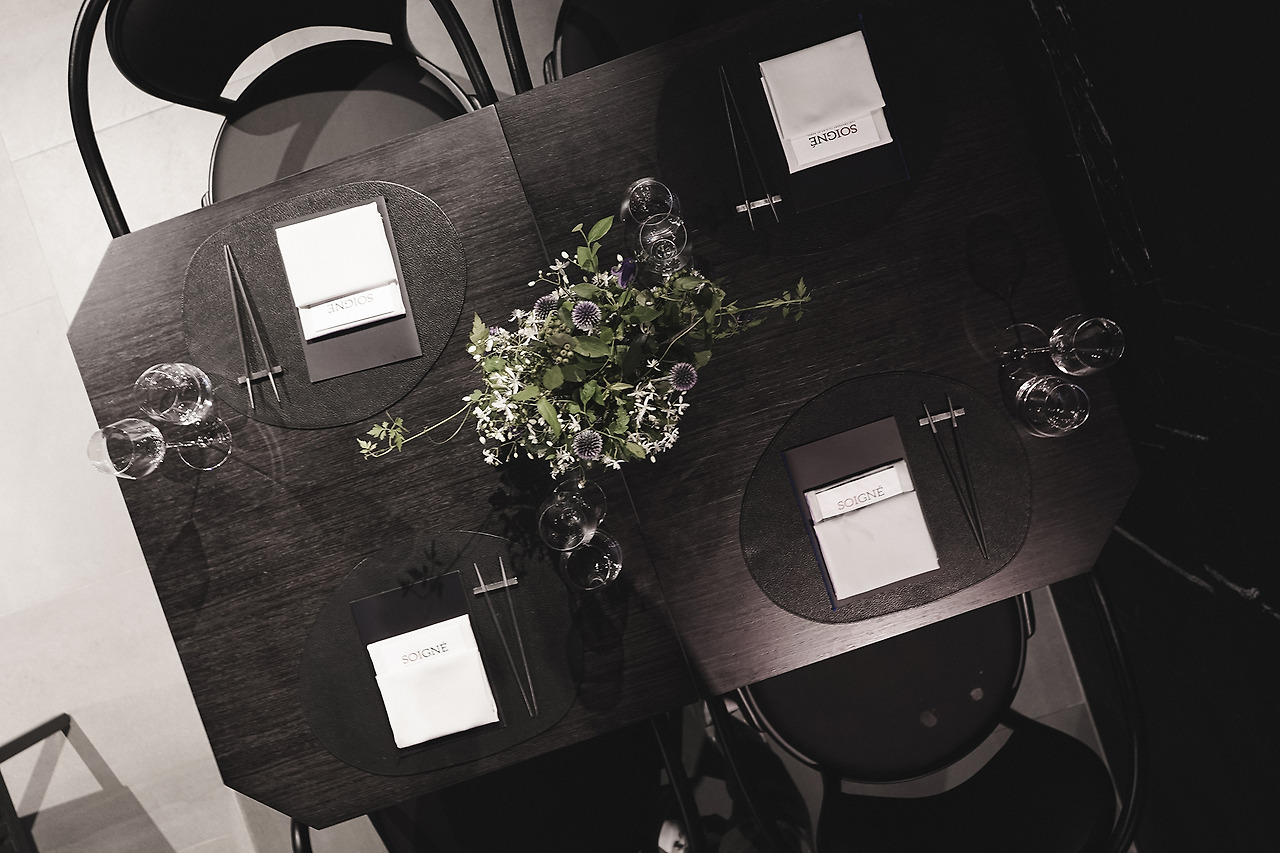 The culinary philosophy pursued by Soigné is….
When I was working as a stage (apprentice) at 3-MICHELIN-Star Per Se under Thomas Keller, I was very impressed to see the chef changing the menu every day. Customers who often visit the restaurant would enjoy different meals each time, so each meal can be remembered with unique memories and longing. This made me think deeply about what makes for a memorable meal.

I think food brings back memories and makes new memories. There are also purposeful meals such as business meetings, but basically, a fine meal is a medium of connection between people. Everything from the moment the diner eats with his or her companion to the restaurant staff who delivers this process is burnished into memory.

I hope the meal at Soigné will be remembered as a performance. Like a performance with a story, it becomes a place where producers and audiences gather together while enjoying the food and story that we put into it. Beyond just eating, I hope it will be a memorable experience.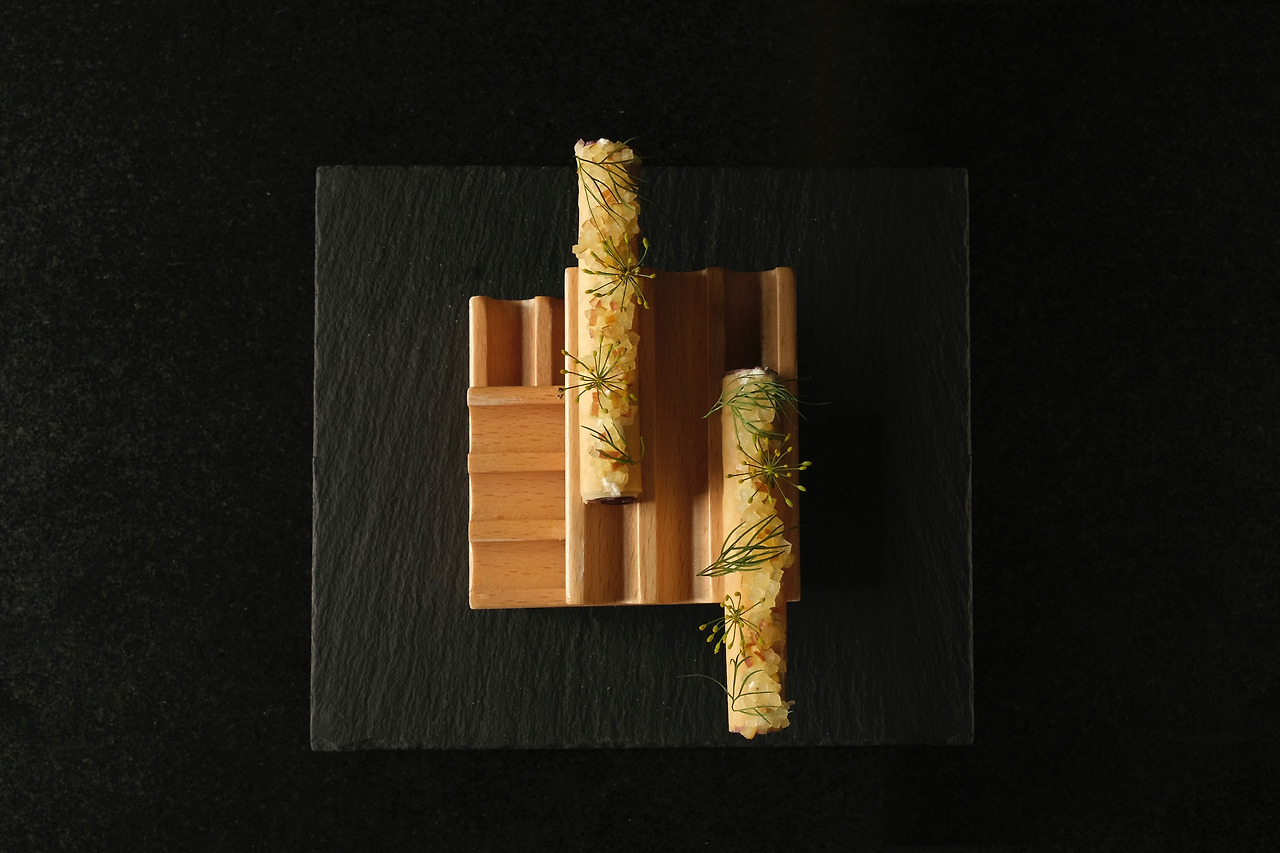 How do you put 'episodes' in your food?
Based on the concept of Food with Stories, I chose to describe unique episodes that change every time. In the beginning, the whole menu was fitted into one episode; but these days, we try to develop each food with a specific story to make a whole episode.

When developing each episode, I consider the unique character of the food and ingredient the most. The most effective episodes so far are those of Gojoriseo, the Ancient Korean recipe book and Western art history. I studied both episodes in detail to prepare our menu. I thought deeply about how to interpret the culture of the past in a modern way. Of course, I couldn't completely satisfy everyone, but many guests told us that they were deeply moved by our food, understanding our intention and story.

We have regular guests who visit whenever the episode changes. Sharing the journey of Soigné over the past eight years, we were able to experience the supportive relationship with our guests, praising each other's growth. I remember a young girl who visited our restaurant with her parents for the first time when she was 10 years old. Now that she is an adult studying abroad, she misses our food.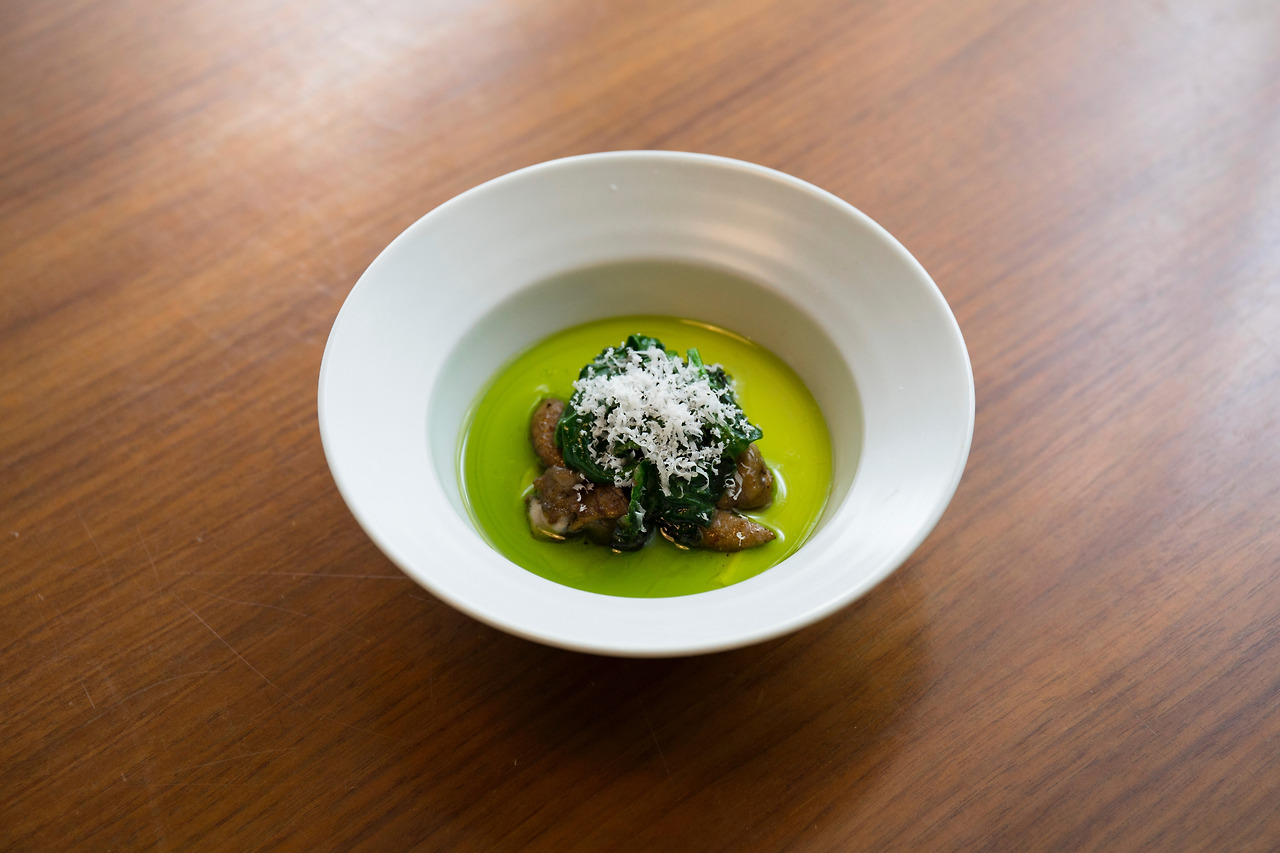 Soigné's signature dish: Seorae Snail
It is a warm appetizer with green onion oil, local snails, and roasted spinach on top of truffle egg custard. This dish is the very first menu item that we served at our restaurant and contains the essence of modern Seoul food.

For Koreans, truffle and snail are quite foreign ingredients; I use these with comfort food, which is steamed egg custard. So, anyone can feel the familiarity within their food culture and discover new things at the same time. It is Soigné's signature dish, which is made by considering familiarity, novelty and balance between Eastern and Western foods, with diversity harmonizing without alienation.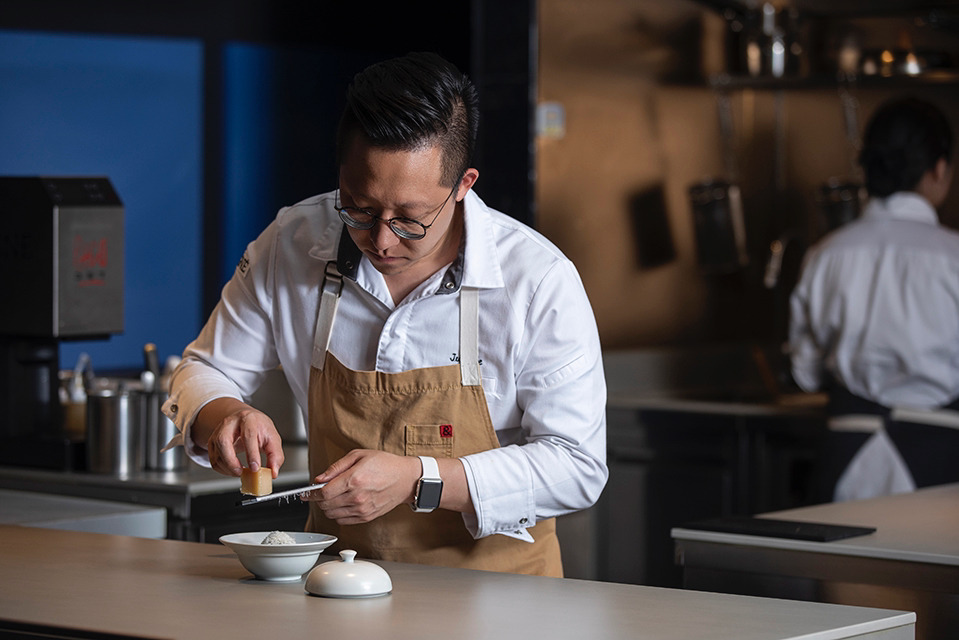 What is it like as a chef?
The most difficult thing is that it's a job with no predictability. Guests are new each time, and every component affects the daily service, including the ingredient supply and the surrounding environment that are not related to cooking. Also, the pressure to show an impressive menu and the competition within the industry means you cannot get too comfortable.

However, all these reasons are also the driving force to create new things. I feel blessed to do what I wanted to do from childhood without being bound by discipline. With food and cooking, I communicate wherever I go in the world! Cooking is a common language that does not belong to a particular country or culture.


What does a MICHELIN star mean to you?
Winning a MICHELIN star is the best honor a chef can get. I feel that it is an acknowledgment of my efforts and an indicator when I introduce myself to others. At the same time, there is considerable pressure on growth, a constant whip to relentlessly improve myself.


What would you like to say to young students who dream of becoming chefs?
I hope you can think about what you want to cook and how much passion you can put into it, without thinking about people's prejudices, connections, economics, politics, and so on. I think the most important virtue that a chef should have is the patience to believe in themself and perseverance to push ahead with that philosophy.

The goal of this job is to satisfy the customer from beginning to end, but I don't think you can satisfy the other person without satisfying yourself. There might be dining trends and some foods that sell better; but if you are too immersed in the commercial perspective, you can't be a good chef for a long time. If you want to create a restaurant that can be a symbol of your name, you should cook something that you can truly enjoy and stay focused on. That way, your colleagues can hold your hand and walk on the same path.
This Article is written in Korean and English by Julia Lee and sub-edited by June Lee in English.