The MICHELIN Guide announced the debut of the MICHELIN Mentor Chef Award in Seoul in 2021. This award is sponsored by Genesis, a partner of 5 years since MICHELIN Guide Seoul's inaugural publication, and is a special honor designed to convey the passion and efforts of a mentor chef who has led members of the industry to grow together to further develop the gastronomic scene.

Chef Cho Hee-suk started her career some 40 years ago as the youngest chef in a hotel. It is no exaggeration to say that she has laid the foundation for the highest levels of cooking in Korean fine dining. The tenets of traditional Korean cuisine that have been passed down via the palace, temples, homes and local regions are faithfully preserved, and elegantly reinterpreted to present a thoroughly captivating dining experience. After years of working in restaurants and as a resident chef for the South Korean Ambassador in the U.S., and at Woosong University as a professor of culinary arts, Chef Cho is currently the chef-owner of 1-MICHELIN-Star Hansikgonggan.

Ina Lee, head of the Global Customer Experience Group at Genesis, congratulated Chef Cho Hee-suk and praised her achievements in the field. In addition, she added, "Like the MICHELIN Guide Seoul, which is published every year, the Genesis brand is also providing positive changes and experiences to customers with new models and services."


Dining hall of Hansikgonggan ⓒHansikgonggan
You have won the MICHELIN Guide Seoul's first Mentor Chef Award. How do you feel?
I never dreamed that I would receive a MICHELIN star in my cooking life, but it has been a reality for 3 years. To further earn the honour of being the first MICHELIN Mentor Chef is overwhelming and fills me with gratitude. I'm happy, but it makes me look back on what I've achieved to be deserving to be called a mentor, and I feel inadequate. For the rest of the time given to me, I will continue to teach my juniors and accept mentoring as a way to encourage them.

In the chef community, there is a feeling that it would be worthy to lead each other, support each other behind the scenes, and create an atmosphere of growing together for generations to come. It's important to have great skills, but if you have a relationship that lets you learn, you'll be the driving force behind doing this for longer.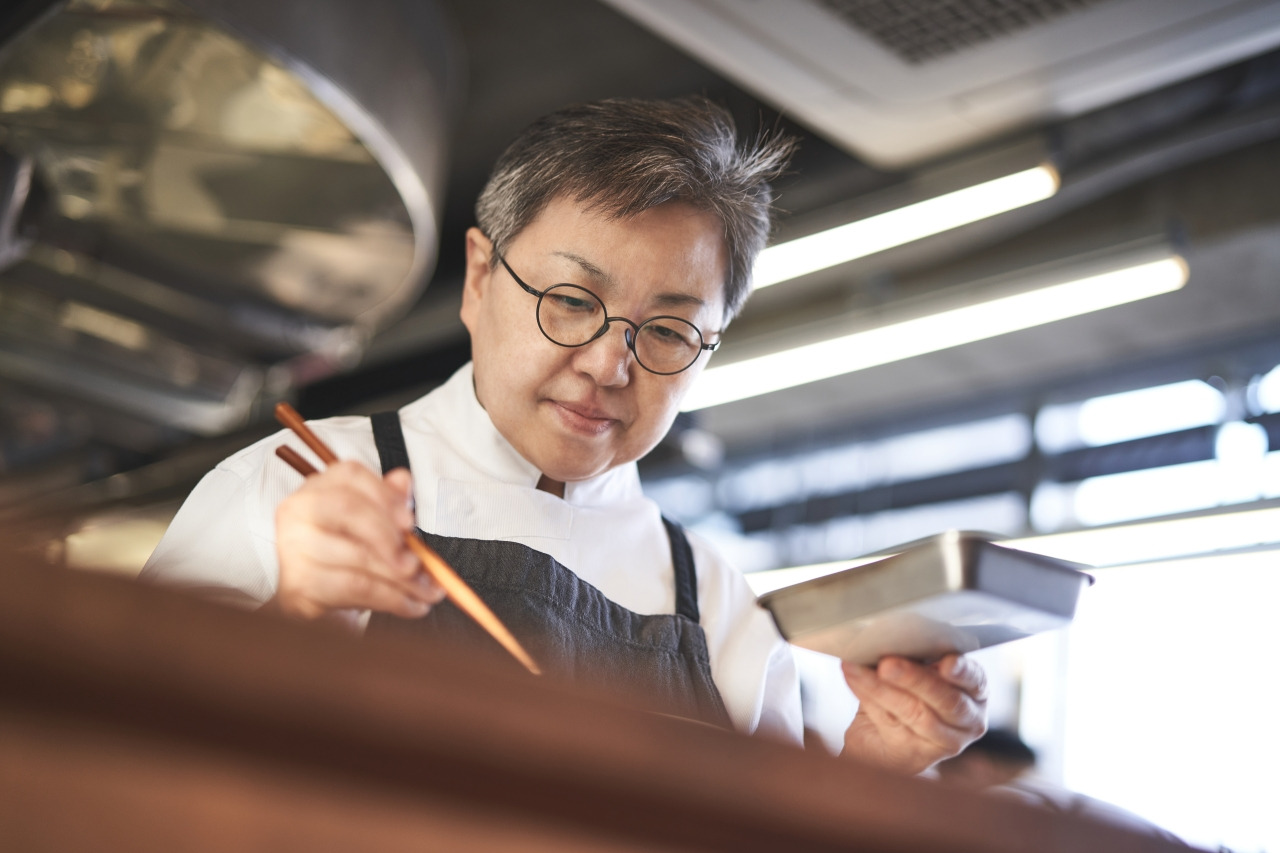 Chef Cho Hee-suk ⓒHansikgonggan
What was the most difficult challenge in your journey to where you are now, being recognized as 'Godmother of Korean cuisine'?
I first started working in the kitchen in 1983. At the time, work-life balance was not valued, and the Labor Standards Act was not well observed. It was basic to work more than 15 hours a day. In my daily life, I had no choice but to feel the physical limitations of my job while shouldering the burdens as a wife and mother. It was not an easy path to take.

Among the challenges, the most difficult thing was the process of fitting in when entering a new organization. When a stranger enters between people who have been working as a team, it is not common to welcome them with open arms. I remember having a very difficult process of overcoming this atmosphere of rejecting new people, and achieving the goal of working as a team.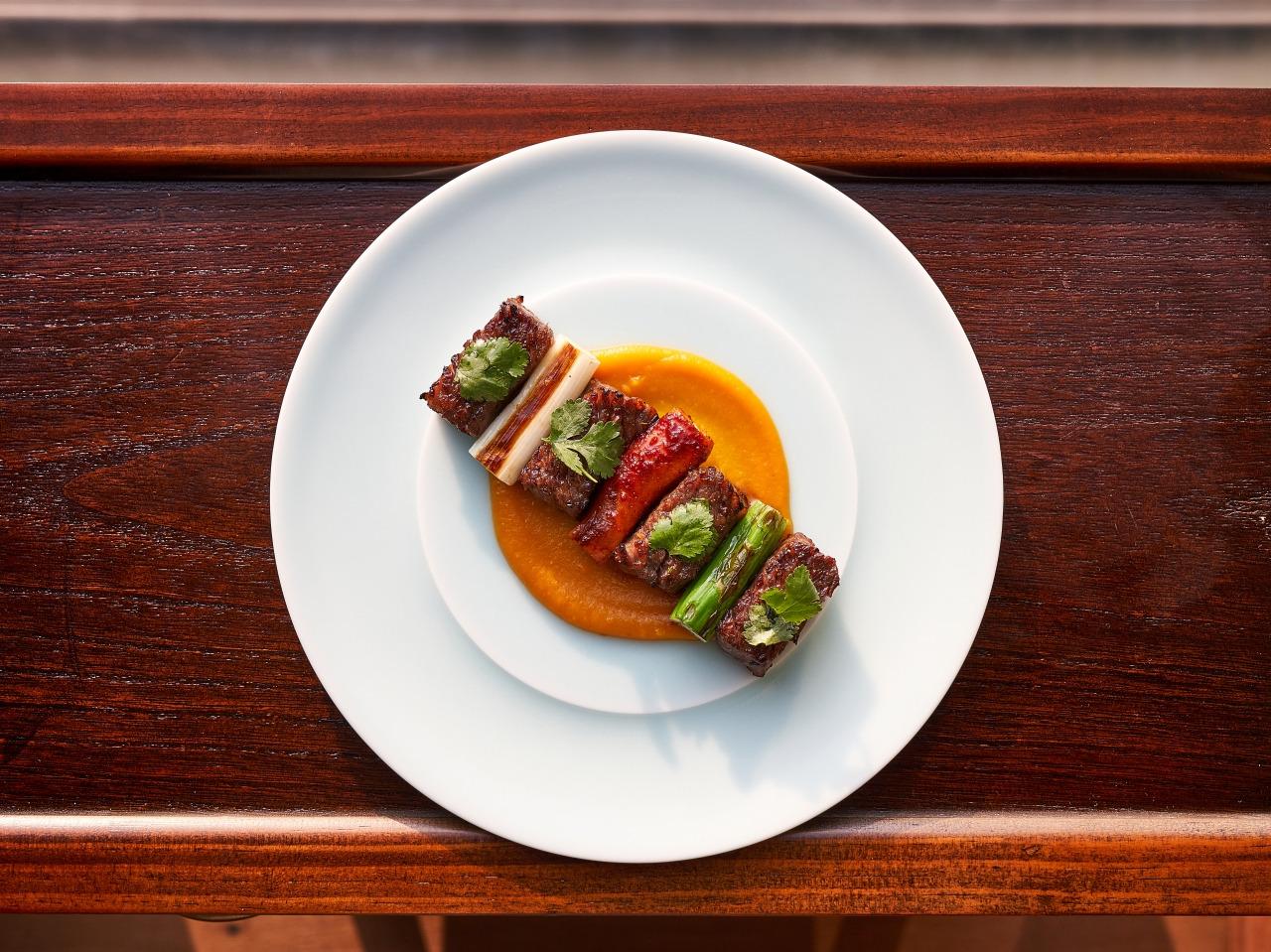 Refined Korean cuisine – Hanwoo(Korean Beef) Tteokgalbi ⓒHansikgonggan
What are the most important virtues and attitudes a chef should have?
I always say that before taking on a job as a chef, as a human being you must have a solid direction in life and a sense of duty in your work. In any profession, not just cooking, you don't always have fun and happy times. When you have a sense of vocation for your job, you will gain the strength to not give up even though large and small obstacles. And especially if you decide to make cooking your career, you should always retain a sense of mission, as there are still more difficult roads waiting for you.

For me, honesty is the most important value. Different chefs think differently about what matters most when cooking, but I think the basic of the basics is that as a person who deals with feeding fellow human beings, we should be able to make honest food that is not harmful. Expanding this idea eventually leads to a heart that wishes to protect the planet and the environment. The idea of making good dishes honestly makes you feel more responsible.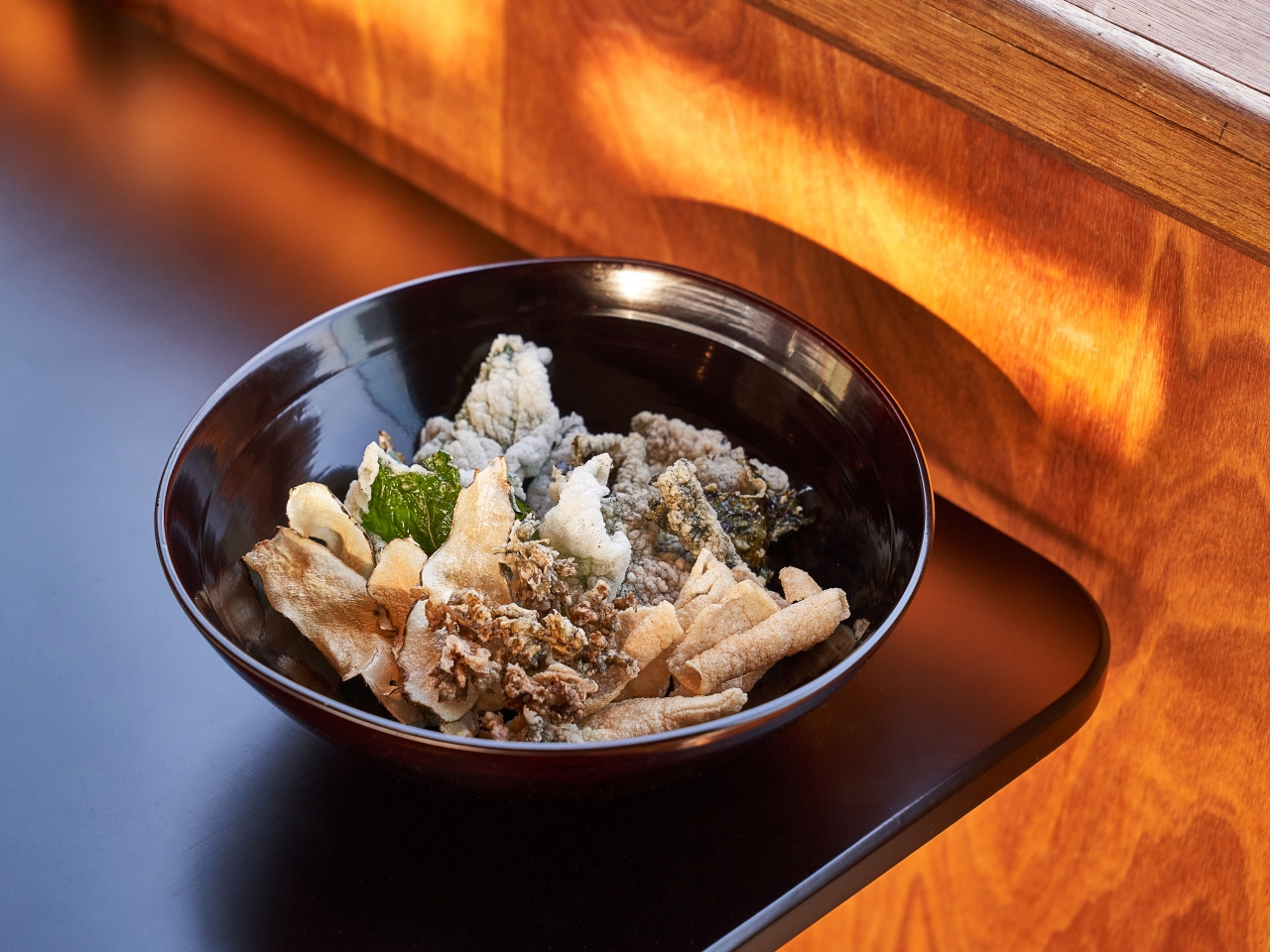 Bugak – made by deep frying dried vegetables or seaweed coated with glutinous rice pasteⓒHansikgonggan
Who was your mentor and what was the greatest teaching you received?
Everyone has a teacher. When I joined a hotel, I first learned about commercially framed cooking on site. Since then, I learned much from Ms. Mal-soon Lee, the president of the Korean Traditional Food Research Association, and through this could refine the traditional foundation of Korean food. You need to know the basics so that your creativity can blossom. Even now, when conceiving a new menu, I try to imbue the authenticity that I learned from my teacher.

Mal-soon Lee is still handing down the knowledge of Korean food. And she personally shows by example that its value is as important as the dignity of good food. How to treat good ingredients, the thoroughness of respecting the cooking process, and the heart of honoring previous mentors... I see the attitude that a cook should possess, and I always work with an attitude of learning.


What advice would you give to young students who dream of becoming chefs?

If you dream of a job as a chef, you have to apply a studious nature to it. If you just vaguely want to be a chef, you will be distracted by thinking of the trappings of successful people and the splendor they enjoy. But nobody becomes a successful chef just like that; you have to envision how to get there.
Being a chef means having a job with responsibility and a declaration that you will play a role in society. In order to cook as a profession, a firm philosophy must be established. Any difficulty can be overcome when you have a strong interest and affection for food and food handling. It is the foremost mindset in order to take the chef's path in the long run when encountering numerous walls.


---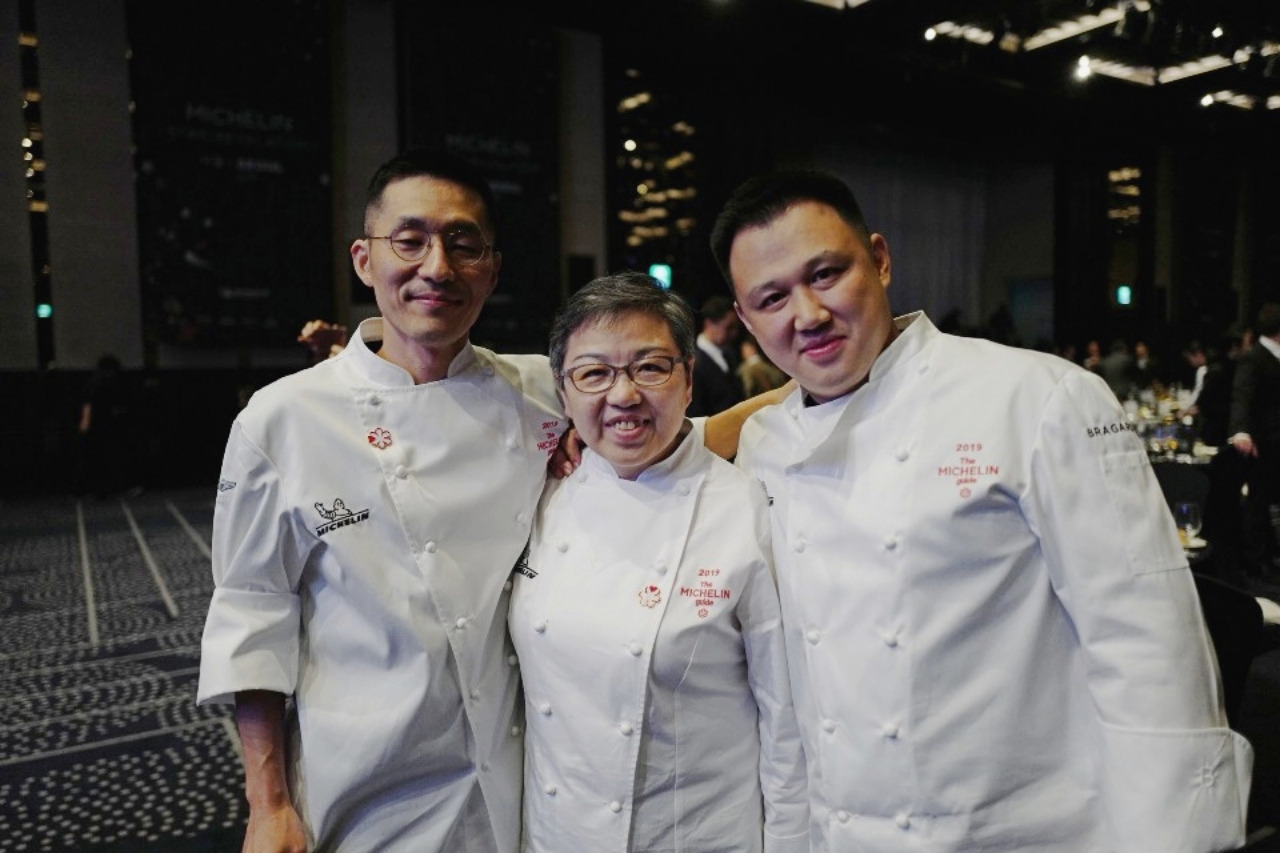 With chef Mingoo Kang of Mingles (left) and chef Changho Shin of Joo Ok at Michelin Star Revelation 2020 (in 2019 Novemner)
Chef Cho's passion is not confined to the kitchen at Hansikgonggan. For many years, she has been generously disseminating her knowledge to junior cooks who knock on her doors, including luminaries like two-star restaurant Mingles' Chef Kang Min-gu, one-star restaurant Joo Ok's Chef Shin Chang-ho, and many more. Here, they speak of her influence in their own words.
Chef Kang Mingoo of 2MICHELIN-Star Mingles
I had a desire to study Korean food while learning to cook abroad, but I couldn't find a clear way to achieve this. After returning to Korea and opening Mingles, my thirst for learning Korean food in more detail was constant and deepened.

It is not an exaggeration to say that meeting Chef Cho Hee-suk and learning Korean food, and the way I view Korean food and Mingles' cuisine, have all revolved 180 degrees. I learn a lot from her as she fully understands traditional Korean cuisine and creates creative and beautiful Korean food within that framework. As a new chef who is inheriting this culinary art, Chef Cho is the best mentor and great benefactor.

My most memorable lesson is the spring greens class. She prepared about 20 kinds of Korean wild spring herbs that were in season, and I was very impressed by the endlessness of her knowledge, from basic care for each herb to various recipes. I also thought I would like to introduce the spectrum of this Korean namul dish to the chefs of famous overseas restaurants who are pursuing foraging cuisine. I think this variety of Korean food will be a huge surprise to them.

In fact, what you learn from Chef Cho is not just cooking. She has a tremendous talent and passion for this industry, but she humbly says she is always studying and learning. I admire Chef Cho as a model, and I try to have that mindset before cooking.

Chef Shin Chang-ho of 1- MICHELIN-Star Joo Ok
Chef Cho Hee-suk is a teacher who teaches not only in culinary arts but also in many areas. She is a teacher who can identify shortcomings that arise while studying Korean food and cooking. She can easily tell when you have troubles in life as well as cooking. She is also a counselor who always gives me gem-like advice. Whenever I visit my fellow chefs and Chef Cho, I feel that she is like a mother who always watches us warmly, always cheering and caring for us even though she still possesses a child-like playfulness.

I have been taught a lot from chef Cho, but I would like to share the most memorable dish among the first dishes I learned. It's steamed whole bellflower perilla. As someone who doesn't like vegetables a lot, it's true that I didn't pay much attention when I first got the chance to learn this dish. But after the cooking class, I tasted the dishes and it was so delicious that it gave me goosebumps. This dish had the greatest repercussions for me, as seafood and meat were my main ingredients, and changed my perspective on vegetables.

Secondly, I carry these words as my guide: 'Even the most ordinary dishes that everyone knows, need to be constantly reviewed and evaluated to develop them further.' She often says, "What do we do in our generation". She practices those words and shows them in action. I embrace this in my heart and work. There are countless teachings that I have received, but these two are truly memorable. Thank you, chef!

This article was originally written in Korean by Julia Lee and sub-edited in English by June Lee
Genesis is a design-focused luxury brand that embodies the philosophy of Athletic Elegance.
The Genesis product lineup consists of the flagship SUV GV80, flagship G90 luxury sedan, the G80 and G80 Sport midsize luxury sedans, and the G70 luxury sport sedan, which was named 2019 North American Car of the Year.
In 2018, Genesis was the highest-ranked brand in the automotive industry awards for quality and owner satisfaction by respected, third-party experts, including Consumer Reports, J.D. Power and Auto Pacific.

For more information on Genesis and its new definition of luxury, please visit
http://www.genesis.com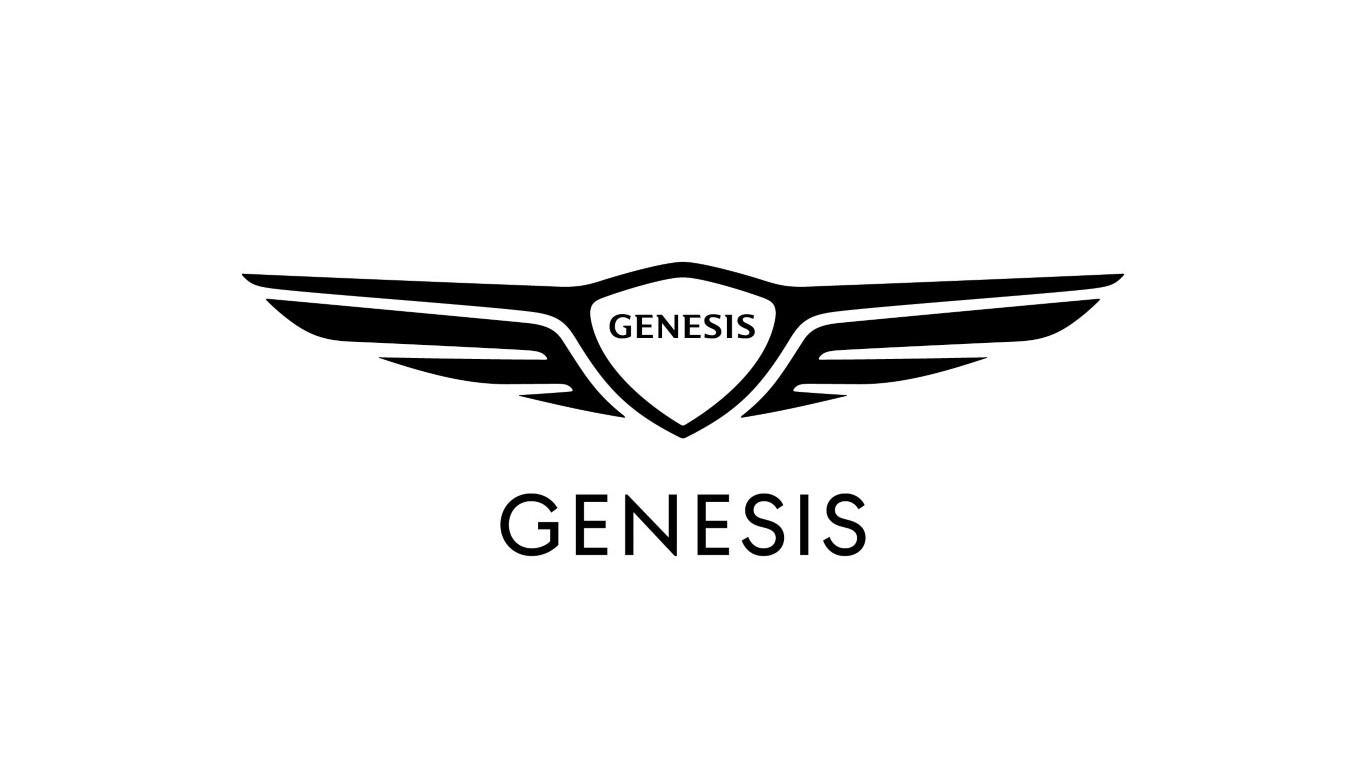 This post is brought to you in partnership with Genesis