With his whimsical, creative and modern offerings, chef Kim Jin-hyuk of Alla Prima continues to attract gourmets with discerning palates. The combination of his reverence for local and seasonal ingredients, attention to balance, and delicate yet assertive sauces work together in harmony. The final effect is much like a gastronomic symphony that pairs well with both wine and sake alike. The restaurant's L-shaped counter with ample seating, the gleaming open kitchen, the spacious dining hall, and the private dining room all come together to make diners feel comfortable. Just one and a half years after opening, Alla Prima was awarded 1 star in the MICHELIN Guide Seoul 2017, and then was awarded 2 stars in the 2019 and 2020 edition.
In his younger days, Kim's rebelliousness and reluctance to work at his parents' bakery led him on a path to a period of intensive learning in Japan. Along the way, his restaurant ran out of funds but gained MICHELIN stars instead. After relocating the restaurant to a better location, it garnered better reviews from dinners. However, just as things seemed to be looking up, the sudden diagnosis of the tumor made Kim's work more complicated. Nevertheless, all these challenges have only served to make Kim stronger.


Where did you get your passion for cooking?
My parents used to run a bakery. I was young, spired and rebellious, and I didn't want to follow my parents' path. I decided to learn Japanese cuisine simply because I liked the Japanese culture of craftsmanship, and it was my dream to live in Japan someday. I went to Japan after three years of work experience in Korea, but there was a huge language barrier and it was really hard to find a job. I ended up going to cooking school to extend my stay in Japan and put my passion into my work.

Why Japanese cuisine? I liked fish and was fascinated by the attitude of Japanese chefs. While in Japan, I learned about the charm of French and Italian cuisine by visiting fine restaurants. I was also interested in creative cuisine thanks to the influence of Ferran Adria's molecular cuisine. At that time, molecular cuisine was regarded as one of the best in the world. I also had a vision to create a unique style.
In Japan, I learned how to cook and literally worked until I had no time to eat. When I came back to Korea and found a job, it was tough. The pay was very low, and above all, there was a huge gap between what I learned and wanted to show people, and what I had to do for a living. After working in several restaurants, I ended up at a large food corporation for six years while preparing to open my own restaurant, I finally opened a small place with 16 seats in 2015, with the dream of becoming a chef-owner.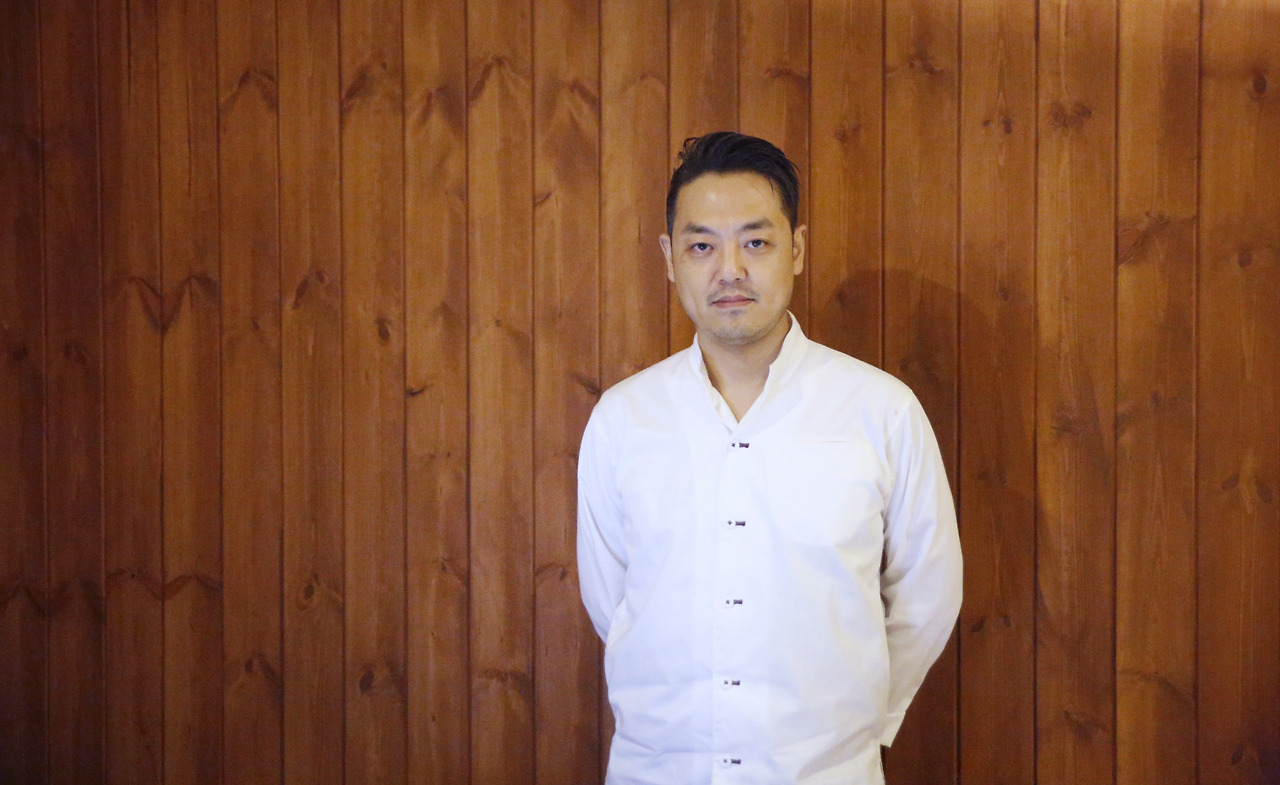 Chef Kim Jin-Hyuk of Alla Prima (Pic: Julia Lee)
How did Alla Prima manage to attain a MICHELIN star only after a year of opening?
When the restaurant opened, it was in a desperate situation. If sales didn't stabilize within three months, I would be forced to shut down. But if the restaurant had closed due to that reason, I wouldn't have had any lingering feelings. Fortunately, we were able to settle down thanks to our customers.

I think getting a good review from the MICHELIN Guide is both coincidental, and yet not entirely a coincidence. A chef must have the desire to succeed and a certain degree of jealousy. Before opening this restaurant, I studied a lot and went to many fine establishments that received a lot of recognition. In this process, I constantly thought about how I could do better. The innumerable goals that I had while preparing for the restaurant all melted away when I opened the restaurant.

About half a year after opening Alla Prima, I heard from an acquaintance that MICHELIN Guide Seoul was soon launching, and I thought a lot about how to get the attention of the inspectors. So, we took all the profits and reinvested it into the restaurants – from the dishes we used to the restaurant's interiors. I threw away the cheap plates that I used to serve food on because I didn't have a big enough budget when I opened Alla Prima, and changed them all into works by great potters and ceramists. And I was able to differentiate Alla Prima's food from other restaurants by imbuing them with a distinct character. Thankfully, we were able to get recognized.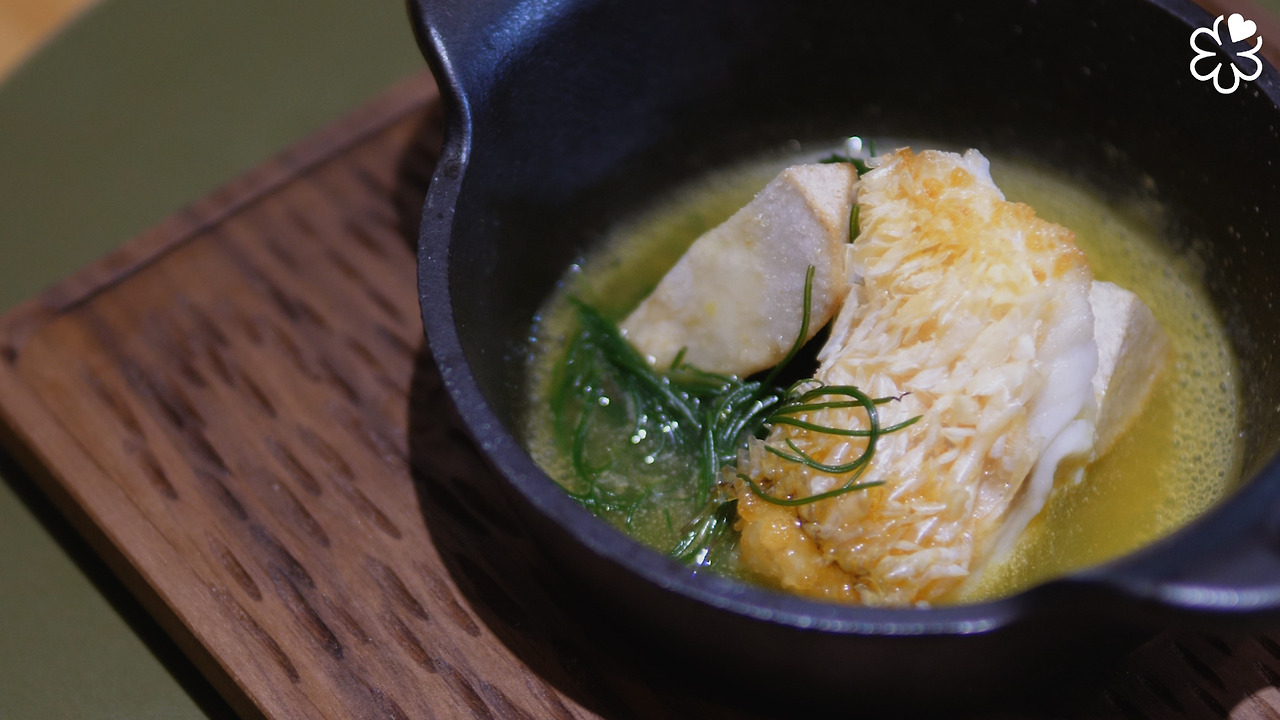 Tilefish, Saffron, Barilla, Spring Onions, Taro
Alla Prima received its second star in 2019. What is the secret behind that achievement?
There's no secret. I still feel that my goals have not been achieved! My hope is to be a better person with the passing of every day. It is the driving force of my life to do my best, and I do this by experimenting with my limitations. I get a feeling of catharsis when I see the results of this experimentation, and I feel like I'm growing up as a human in this whole process. I should not succumb to laziness and constantly improve my cooking. This process involves putting in effort in the details. If I keep myself and this restaurant growing steadily, then the good reviews will follow.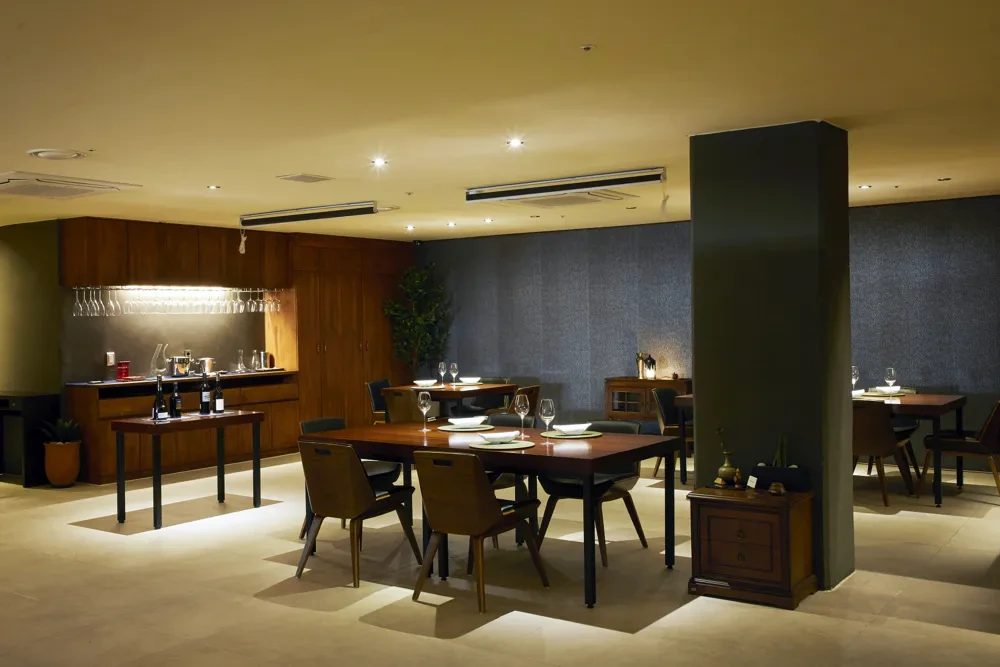 The dining hall at Alla Prima (Pic: Alla Prima)
Why did you move the restaurant to a larger space?
We started this restaurant in a small and uncomfortable space, but thankfully, we were still well received by reviewers and guests. I wanted to welcome guests in a better place to match their expectation, so we moved to a larger place where guests can park their cars more conveniently, where the restrooms are nicer, and with a spacious dining hall.

Although the restaurant is located in the central part of Seoul, it is not a busy neighborhood. We're located in the alley, so you have to be observant in order to find us. Moving to a rather remote place was a challenge for me, but I was encouraged by receiving the MICHELIN stars. I thought a MICHELIN starred restaurant should be a place worth visiting even if it is a little remote. In Japan, there are many excellent restaurants in a quiet neighborhood in Japan, and that gave me the courage to move.


I heard you took a break from work due to health problems.

When I moved to this location, I wanted to make my dreams into reality, so I did everything from interior design to selecting the objects that were used in the restaurant. I was very tired and stressed out. After the relocation, I felt extremely tired in a way that I had never felt before. After a short break, I thought that I would've recovered, but it felt like something was really wrong with my body. It was then that my wife encouraged me to have a medical checkup. I didn't take care of my health while working as a chef, so I finally got a checkup.

As a result, they found an egg-sized tumor on the thymus. I was very frustrated when I was diagnosed with it and told I had to have surgery. It had only been 4 months since the restaurant was relocated and opened, so I was thinking about closing it for a while. But my colleagues helped me a lot. It is thanks to all the team members' efforts that the restaurant was able to run without any problems while I was recovering from surgery.


Local Baby Octopus, Fennel, Green Mandarin, Onion (Pic: Alla Prima)
What kind of leader should the chef be in the restaurant?
When I first learned how to work in the kitchen, you were expected to follow orders, and I had to say "yes" unconditionally. But now times have changed. If I treat my team members the way that I was taught, then my restaurant won't run smoothly. Now a chef has to be a really kind teacher. (laughs)

I try hard to make my employees have a broader perspective. The whole world changes so quickly, but I think you need to take the time to try various things and then decide one's career. You don't have to be in a hurry! One should spend that important time by doing things to the best of your ability. And if you don't think that's the way you should go, you can give up without regret because you have done your best already.

Now it's easy to get a whole range of information, and having a broader vision in order to utilize that properly is of the utmost importance. Thus, we encourage our employees to see and experience everything in the restaurant, from cooking to hospitality and service from our open kitchen. Since the diners are always watching, you have to be very hygienic and be careful about how you cook. You should also learn about restaurant sales, management, and accounting. That way, you can grow up quickly and dream big.


Do you have any advice for young chefs aiming for their own MICHELIN stars?

The most important thing for a chef is to have a distinct character. A diner should be able to recognize that a dish was created by you just by looking at it. If someone dream of becoming a great chef, he or she should be constantly developing a distinct identity that is their own, and should not get caught up with trends. By doing so, you can get good reviews from others – including the MICHELIN Guide.


This article was originally written in Korean by Julia Lee and sub-edited in English by Wong Jia Min.