Two brothers who have climbed the ranks in the dining industry over several years have fused their culinary expertise and varied experiences to open a restaurant together. Chef Lee Jae-hun and Manager Lee Jae-ho, both in their mid-40s, named the place after their shared name, Jae. Less than two years since they opened in in June 2019, they have been recognized with a MICHELIN Plate recognition in the Seoul MICHELIN Guide 2021 edition. While Jae is classified as an Italian restaurant, you can expect a wide range of intuitive flavors and unique interpretations that take classic recipes to a new level.

In the blossoming of spring after a cold winter, Chef Lee introduces his life as a chef and his spring menu.


How did you become passionate about cooking?
When I started out working at an Italian restaurant, there were few authentic Italian restaurants or academies where I could get professional training. I always wondered about the 'real' food that Italian people enjoyed in their lives, so I took a chance to study at ICIF (Italian Culinary Institute for Foreigners), an Italian cooking school in Italy. After studying abroad, I built my career at restaurants in Apgujeong and Cheongdam-dong in Seoul where the gastronomic scene was the fiercest in Korea. It was an environment where it was difficult to survive without having enormous passion and skills, and I naturally became more immersed in what I do as a vocation.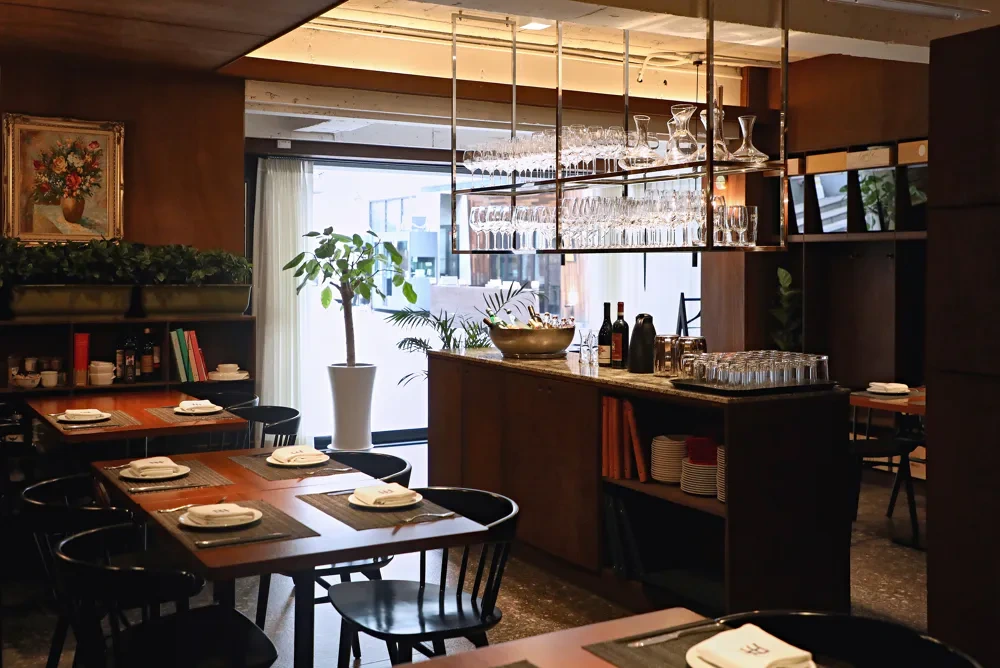 Interior of Restaurant Jae
Who is your role model? Is there any particular person who has influenced you?
I don't have any particular chef as my role model. However, when I was studying abroad in Italy, I was invited to a teacher, Pietro Baldi's home. He went to the mountainside right behind the house and collected wild asparagus and some other vegetables. He then made a fresh salad with those veggies! I was so impressed; I will never forget the taste, flavor and all the atmosphere that you can feel from that single dish. He taught me a great lesson about the nature of Italian cuisine, its harmony in simplicity.

What is your favorite ingredient and how do you use it?
I like to cook seafood, and I love oysters the most. Personally, I prefer to eat raw oysters, but I have to be cautious about the potential dangers of norovirus when oysters are served to our guests. So, we serve the oysters cooked in a Montalcino-style pesto which I first encountered when I visited Montalcino in Tuscany, Italy.

The sauce is made with minced garlic, pepperoncino and Italian parsley in olive oil with anchovies. After cooking oysters in this pesto, we add minced dallae on top to show the taste of spring in Korea. Dallae is one of the harbingers of spring, a versatile green with a mild kick. It looks like a chive as they're in the same genus, allium, along with onions, shallots and garlic. It makes a nice match with oysters.


What is the charm of pasta?

I think it's a blank canvas where you can paint the color you want. There is an endless possibility of changes, so it captures the chef's individuality and creativity. Of course, the texture of well-boiled pasta itself is amazingly satisfying.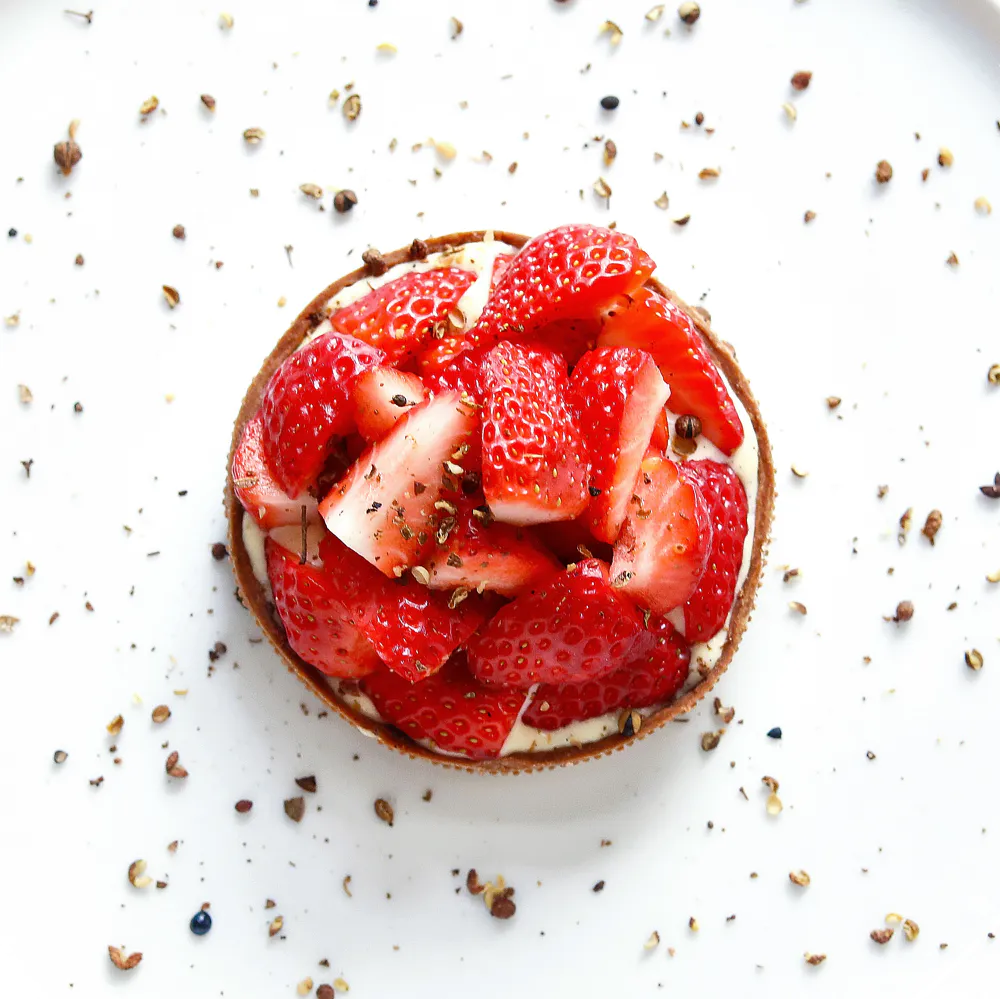 Starwberry tart of Jae
Can you share your culinary philosophy?
The key to Italian cuisine is understanding the ingredients. Our food is inspired by Italian cuisine, but it is not limited to it. I use recipes from various countries and cultures, but central is "understanding the ingredients fully and giving them the best taste," which is the core of Italian cuisine. When I cook, I usually think of the main ingredients first and then add the sub-ingredients that Koreans like to eat. For example, salted fish roe pasta with green onions is inspired by the Korean way of sprinkling sesame with chopped green onions when making salted pollack roe as a side dish. We try to merge our favorite combination of flavors with new recipes.

Our restaurant name is spun from my and my younger brother's names. It's a statement that two people are starting something new. Although we are still facing Covid-19, making it difficult to eat out, I'd like to give joy to those who come to our space. I hope you enjoy your food and wine with an open mind.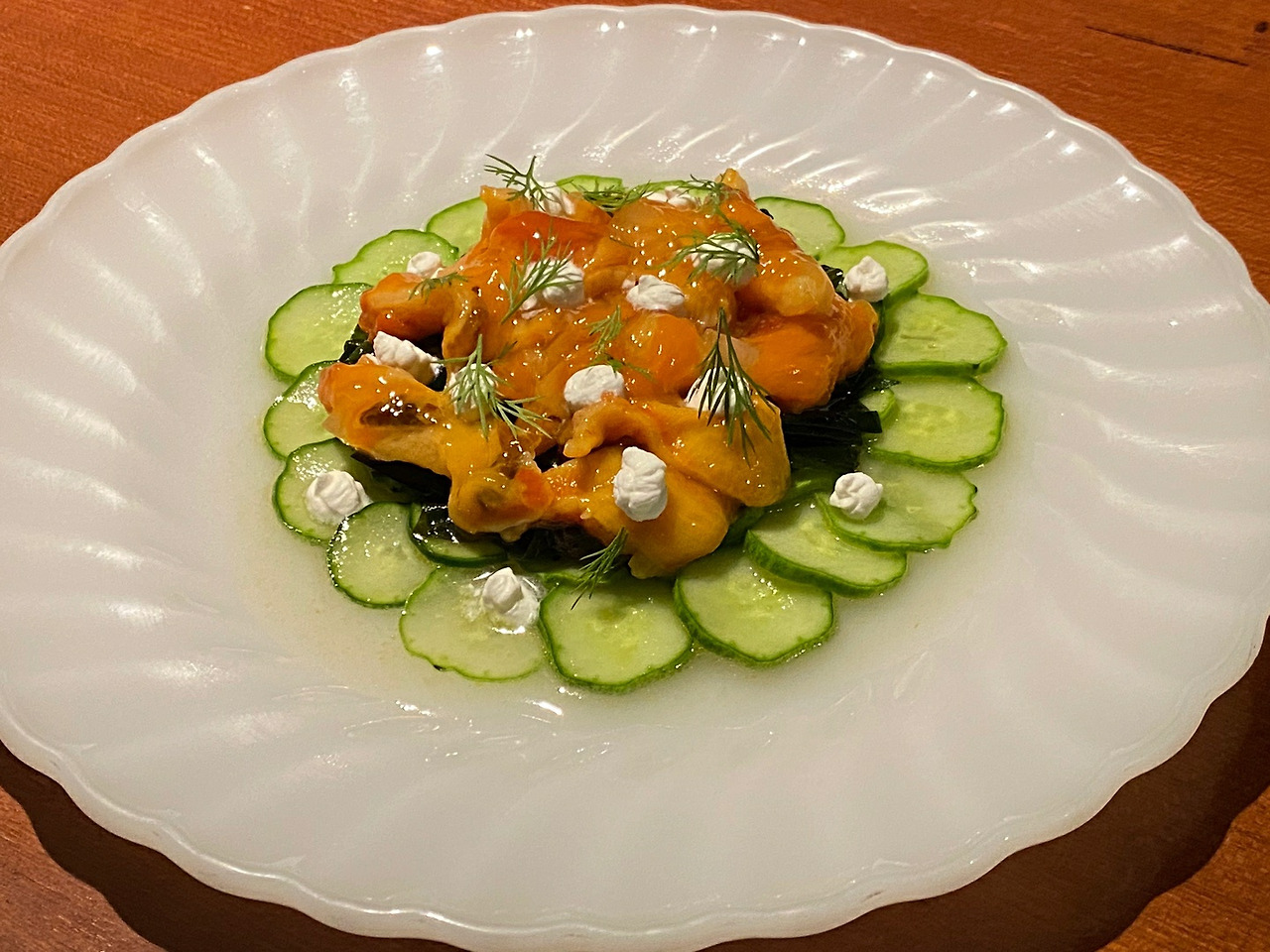 Jae's Sea Squirt Salad
Jae's Sea Squirt Salad
Sea squirt is a representative spring ingredient in Korea. It is good to stimulate your taste buds with the fullness of seasonal flavors; sweet, bitter and salty. We add pickled cucumbers and seaweeds and finish it with wasabi foam.



What are the positive and difficult aspects of a chef's life?

From the perspective of a married man, I think this job presupposes the sacrifice of the family. It's hard to participate in big and small family events because it's common to work on weekends and we have long working hours even on weekdays. I think it's a really difficult job without the help, understanding and support from your family.

On the other hand, people around me, including myself, will get to eat delicious food! Eating well-prepared dishes together makes for the happiest moments in my life. As a chef, being able to cook great dishes for special people around you – including your family and friends – is a pleasure.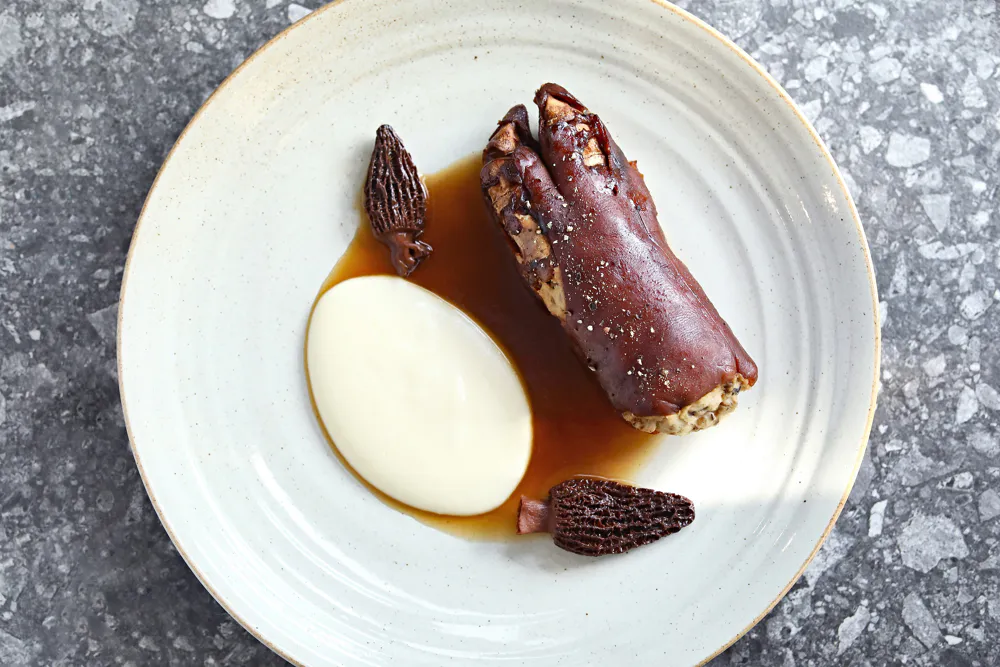 Jae's Creative Dish inspired by various cuisines
The most important virtue a chef should have is...
From the perspective of a chef belonging to a company's restaurant brand, I think the originality, or chef's distinct character, is important. On the other hand, as an owner-chef, the ability to manage and maintain restaurants is also an important virtue. I believe everyone must have had a hard time due to the pandemic last year. I also endured a difficult year; it was very hard mentally to ride a roller coaster due to something that I could not control. Despite these difficulties, however, it is the chef's job to cheer his colleagues up who work with him and to continue to carry on. The ability to manage restaurants helps you continue working with people.


Can you share some wisdom for the young generation of chefs?
If you're determined to do it, do it properly. Whatever it is, if you decide to take up something as your job, you need to do it with enough enthusiasm to say that you've devoted yourself to it. At a time when you need to keep learning, absorb more and grow, because it is unwise to limit your efforts. Don't draw a line on your passion!



This article was originally written in Korean and English by Julia Lee and sub-edited in English by June Lee.