Two Chefs, Two Restaurants

On Inspiration
Yusuke Takada/ La Cime, Osaka: "I am inspired by the pristine nature of my hometown (Amami Island). I am keen on discovering things I have not come across before – whether or not it is food-related. I have always had an insatiable curiosity and an open mind. That combination becomes a catalyst that leads me to new experiences and challenges which, in turn, inspire me as a chef. For this particular event, I let my own journey in Korea guide me."

Kang Min-goo/ Mingles, Seoul: "Our motto is 'mingling contrasting elements into harmony.' While traditional Korean cuisine constitutes the foundation of our cooking, much of what we do revolves around marrying tradition with new techniques and modern sensibilities. Our aim is to propose an original style of Korean cuisine for the contemporary palate. I get much of my inspiration through my studies. I research ingredients in their season. I train with masters of traditional Korean cuisine and temple cuisine. Even within the realm of the familiar, I am constantly exited by new discoveries."
On Spring
Butterbur, cherry blossoms, dureup (aralia elata shoots), spring egg cockles, webfoot octopus, white asparagus, wild strawberries. It really doesn't get any more 'spring' than this.
Kang: It's not full-on spring yet, but I really wanted to incorporate some of the most iconic local spring produce into the menu, including egg cockles and dureup (Aralia elata shoots). As part of the four-hand collaboration, I visited Osaka in December and dined at La Cime. Chef Takada and I sat down to brainstorm and exchange ideas about ingredients and concepts for the menu. Last month, Takada came to Seoul and we fine-tuned the details. Over the course of three days, we explored Seoul's foodscape, eating everything from local street food to haute cuisine. I drove him out to JH's Farm and visited the local markets.
Takada: I was deeply inspired by the local food scene and the things Chef Kang introduced me to. We had long discussions about the products that were coming into the season. We finalized the list of ingredients a week before the event. Naturally, our focus was on the products that taste the best this time of year.
On Collaboration
Kang: "Every restaurant has its own identity and personality that is expressed through food. Although ingredients change with the seasons and, along with it, the menu, it's difficult for chefs to deviate completely from their signature style. That's why an event of this nature – where chefs and restaurants collaborate to bring their ideas and creative forces together – is so important for continued growth. Sharing and exchanging create a synergy which gives birth to new ideas. I hope to grow from this experience and be inspired by it to do more exciting things."
Takada: "I agree with what Min-goo said. When chefs get together and share their unique sensibilities and individual experiences, it can lead to great things."

La Cime & Mingles Present:

4 Kinds of Amuse-Bouche / Champagne: René Geoffroy Champagne Volupté Brut Premier Cru
2-year-old oyster from Goheung County, katsuobushi jelly, salad burnet
Webfoot octopus, Napa cabbage dip and chips, tomato water reduction with black vinegar, dill
Boudin noir, pickled Chinese artichoke tuber
Decadently rich, laced with a warm spice blend (cinnamon, cloves, coriander) reminiscent of North African flavors, the boudin noir – brought over by Chef Takada from Osaka – was encased in a crispy pillowy shell colored with squid ink. The crunchy Chinese artichoke tuber pickle is normally served as a side dish in a Korean meal.

Steamed egg custard with spring herbs, a signature amuse-bouche by Chef Kang Min-goo
Wilted butter lettuce, lightly-fried butterbur stem, butterbur stem purée, pickled wild strawberry, dried shrimp & shiitake mushroom vinaigrette / Domaine Daniel Sage, La Voix du Perisope 2016

The lively acidity of Domaine Daniel Sage, La Voix du Perisope 2016, a natural wine from Viognier grapes, accentuated the umami (dried shrimp, dried shiitake mushroom, dried abalone powder), tempered the bitter (butterbur stem purée), and spoke to the tart (pickled wild strawberry) elements of the dish.
Kang: "We used dried shrimp and dried shiitake mushrooms to create a sauce with a deep umami akin to the Chinese XO sauce. We added the final touch of umami by dusting it with a fine crumb of dried abalone."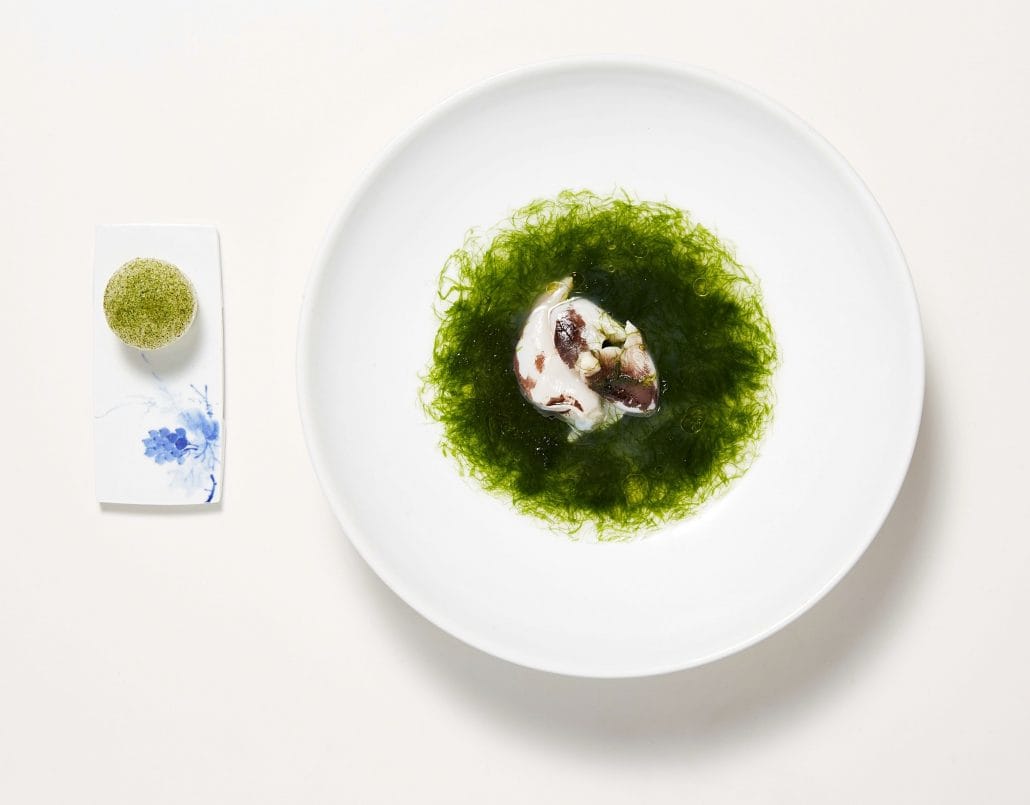 Spring egg cockle, maesaengi (seaweed fulvescens) from Wando Island, and cherry blossoms in beef consommé served with steamed makgeolli rice cake stuffed with soy sauce-pickled laver
How are you both similar and different to each other?
Kang: "Chef Takada is 10 years my senior and his background is classic French cuisine. We don't share much in terms of culinary training. What connected us through this journey is our love for cooking with a strong focus on seasonal ingredients. We let the products dictate what we put on a plate – to let them shine for what they are. Like Chef Takada, I am a proponent of light and vibrant cooking that doesn't require a lot of fat but still leaves a strong impression."
Takada: "The way we interpret raw materials into a finished product may be different, but Chef Kang is easygoing and is always open to new ideas. That kind of approach to cooking is one of the reasons that made this partnership so easy."
Kang: "We didn't want to take the safe route. There was a mutual understanding on the need to create an energy and flow that could only come about from a partnership between La Cime and Mingles. Chef Takada was gracious and accommodating and listened attentively to all of my ideas."
Makgeolli-batter conger eel tempura with scrambled eggs, gochujang sauce, banana and onion puree, young cilantro leaves / Domaine Latour Giraud, Meursault Cuvée Charle Maxime 2015

Takada: "Of all the dishes, I think this dish best exemplified what we do at 'La Cime.' The beauty of this dish lies in the sauce. Depending on where I am, I can make adjustments by using local ingredients. Here, I used gochujang – as an homage to Korea. I'm very much into fermented foods, so I was set on using gochujang from the get-go. Because spring is the central theme, I wanted to accentuate the sweetness, the bitterness, the acidity, and the overall fragrance of the dish."

Vegetables from JH's Farm & crispy-skin okdom (red tile fish) in fish bone broth, cherry blossoms
A dish of contrasts. The moistest flesh of white fish covered in a layer of scaly skin so delicate and crispy it shattered into tiny shards upon biting into it. Beneath it, a trio of bitter and sweet green vegetables from JH's Farm, which consisted of a single perilla leaf folded over, nestling a young dureup shoot and a slice of spring zucchini.

Beef striploin, crab, turnip, pressed shank, bone marrow, crab and dried anchovy reduction / Domaine Philippe Pacalet, Nuits-Saint-Georges 2011
Adorning each piece of beef like cold pats of butter were squares of pressed beef shank jelly which slowly dissolved and enveloped the steak in the most luxurious fashion. Veiled under the white disks of turnip were mounds of sweet crab meat. In Chef Takada's hometown, meat and seafood are often served together in one dish.
Ochazuke, salted and dried yellow corvina, katsuobushi, Jingkwang tea, pickled deodeok (lance asiabell roots), pickled sancho (Korean peppercorns)
Kang: "I suggested we serve rice after the main course instead of bread. Chef Takada accommodated and we came up with ochazuke."

White asparagus ice cream, crumble, crème anglaise, pickled cauliflower, celery leaves, fennel fronds, hog fennel
Warm red-bean porridge, Korean mugwort, arrowroot starch, soymilk foam, caramel, lemon
Kang: "When Chef Takada suggested a warm dessert, I told him I really wanted to incorporate danpatjuk (sweetened red-bean porridge) into the final product. The steamed dough surrounding the sweet red-bean filling is made with arrowroot starch. It's not traditional, but tteok – pounded and steamed cake typically made with rice – made with arrowroot starch is less gummy and doesn't dry out like a typical rice cake does.

How would you describe Chef Takada based on your experience of working with him?
"Chef Takada can come across as tough and intimidating, but he is a gentle and extremely thoughtful soul. Diners often go to restaurants, expecting to have their minds blown by one or two star dishes with a certain 'wow factor.' I, on the other hand, prefer to be served a menu that is fluid and cohesive in its entirety – the kind where I find myself getting more and more into as the meal progresses.
Chef Takada loves experiencing new food cultures and taking new challenges. After seeing the changes Seoul's culinaryscape is currently going through, he said the Japanese chefs back home seemed like big fish in a small in comparison. He went on to praise the young Korean chefs for their zeal and come-what-may spirit."

Chef Takada, how would you describe Chef Kang?
"As a fellow Asian chef – especially one from a neighboring country – I have always admired 'Mingles' and Chef Kang. I've come across both on numerous occasions in the media as well as through first-hand accounts from other chefs. Having met him in person and having worked with him over the past two months, I can say that Chef Kang is a genuinely nice person. I especially want to applaud the way in which he constantly strives to better himself and restaurant."
If the collaboration had taken place not in Seoul, but in Osaka, do you think the menu would have been completely different?
Takada: "We have different ingredients back in Osaka, so the menu will have been different. Even the same variety of vegetables have subtle differences in taste nuances depending on where they grow. When I work with foreign chefs, I try to veer away from the realm of what I cook in Japan. I want to express the terroir of the place where the collaboration is taking place, to express what I've seen and experienced. I want to show people that an ingredient can take on an entirely different form on a plate depending on who is making it. A chef needs to have such skills."
What are your final thoughts on this collaboration?
Kang: "This event was a true collaboration in every sense of the word. It was much more than just two chefs being present in the kitchen together and serving dishes from our individual restaurants in a set order. Chef Takada and I went over every detail together from day one: the concept, which products we were going to showcase, in what dish, and in what order. It was meaningful because we were able to feature some of the best ingredients Korea has to offer this time of year. However, a collaboration of this nature always leaves something to be desired, because the time it takes for the diners to sit down and enjoy the meal is so short compared to the time it takes to plan and execute – two months in this case."
Takada: "It's been ㅁ short but meaningful collaboration. I heard the feedback from customers was positive and that makes me happy. It was a good partnership."