In the ever-evolving restaurant scene in Seoul, The Green Table stands out as stalwart. For more than a decade, the cozy French restaurant has survived — and thrived — in the highly competitive business of fine dining. At this MICHELIN Plate restaurant, chef Kim Eun-hee's delicate touch is felt in the dishes that subtly reflect the changes of the seasons.

While female chefs have been in the spotlight internationally in recent years, they are still in the minority, especially in South Korea. There is perhaps still prejudice against women leading a kitchen in the country, Kim states, as the perception is that women cannot meet the physical and mental challenges that come with the role. Yet, every day, she proves that she is more than up to the task, serving up her elaborate French cuisine.

She opens up about her culinary journey, mentors, favorite ingredients and more.
Where did you get your passion for cooking?
I have loved cooking since young, but I did not dream of becoming a chef until I was in my mid-20s. As an engineering major, I had a vague dream of becoming a competent technician, but somehow, I still felt like something was missing. After graduation, I started my career as a web designer. I had a desire to work with something creative back then.

When I was 25, I was involved in a car accident on my way back from a picnic. It was not a severe one, but it changed my whole outlook on life. If I had died that day, my petty anxieties and fears would have been for nothing, and I was convinced that I must do what I really wanted to do in my life, so that I wouldn't have regrets. This thought was on my mind so strongly and it made me reconsider my whole career path. My final answer was to pursue cooking as a vocation. I realized that it was just a miserable excuse to say that my parents were against my dream, that I was a woman, that I was physically weak or that I had learned nothing so far.

I also realized that if I want to cook, I have to start learning first. It seemed too late to start learning French cuisine in South Korea, so I decided to throw myself in a completely immersive environment to learn faster. Once I decided, there was no time to hesitate. I made a quick decision to go to New York and attended the Culinary Institute of America for 10 months. A few years later, one of my closest friends said that I was like a crazy person at that time. No one could stop me.

Those three years in the United States felt like 10 years. They were so intensive. My hair even started going grey even though I was only in my mid-20s, but I've never regretted my decision to cook, not even once. I felt relieved that I'd finally found my vocation, thanks to that car accident. Even the fatigue I felt was fun and exciting. During that time, my life transformed most radically.


Who is your role model? Is there anyone in the industry in particular who has influenced you?
All my role models and teachers came from books. While studying in the US, I went to the Strand, a second-hand bookstore in Manhattan, every weekend. There, I found Thomas Keller's book. The idyllic, beautiful atmosphere of The French Laundry, led by chef Keller, captivated me at once.

Also, there's Alain Ducasse, the master of French cuisine. Fifteen years ago, there were no video lectures like those you can find on YouTube nowadays, so one of the best ways to learn more outside of school was to read books. Ducasse's books were full of sophisticated yet basic French techniques, like an encyclopedia, and those books became my bible. I love reading his vegetarian recipe books, which inspires me constantly. Vegetables are now becoming a big part of my cuisine.

Two years ago, when Ducasse visited South Korea, he came to our restaurant. I can vividly remember that day. It was the most unforgettable moment when my mentor, who led my vision for cooking, tasted my creations. I tried hard not to be nervous.

When I heard that the Michelin Guide will be published in Korea, I couldn't believe that I might be included in this honorable book with other prominent chefs whom I've been always looked up… including Alain Ducasse and Thomas Keller. Now, I'm very honored to have my restaurant in the book. Wouldn't it be more exciting because I'm a French cook?

Someday, I want to get a shining star from Michelin, so I'll have to work harder.


Interior of The Green Table ⓒJulia Lee
What's your favorite ingredient?
It's hard to pick only one ingredient but I love using root vegetables these days. I utilize a variety of root vegetables such as Jerusalem artichoke, radish, yam, and lotus root. I used to use herbs and leafy vegetables a lot, but over the years I gradually fell in love with all these delicious root vegetables. It's fascinating that these ingredients have very fulfilling flavors with earthy, hearty and warm characters. You can feel the energy of nature no matter how you cook. You can wash it clean and eat it raw, cut it thick and caramelize the exterior like a steak; the flesh inside will be extremely juicy and soft. Simply put, root vegetables are healthy, lovely, and delicious.

My father has a small farm. He sent me 60kg of Jerusalem artichokes, so our team developed many recipes; we grilled, boiled, pickled, dried and fried the produce. Out of all these ways to cook it, our pickle was very special as it was inspired by the Korean dish of jangajji. Jangajji is usually pickled in soy sauce, soybean paste, or chili paste and is usually preserved for a long period. It can be stored for several years, and as time goes by, a very nice peachy aroma comes from this pickle.

Recently, I learned Korean temple cuisine and was greatly inspired by it. The approach to handling vegetables is very different from the French cuisine that I'm familiar with. You have to learn continuously even if you become a chef. When I first encountered the temple cuisine, the ingredients were too simple and the recipes were relatively easy. But as I learned more, I found that I had to study more closely to bring out the essence of its taste. Instead of adding ingredients, we are focusing on taking them out and using the most suitable method of cooking.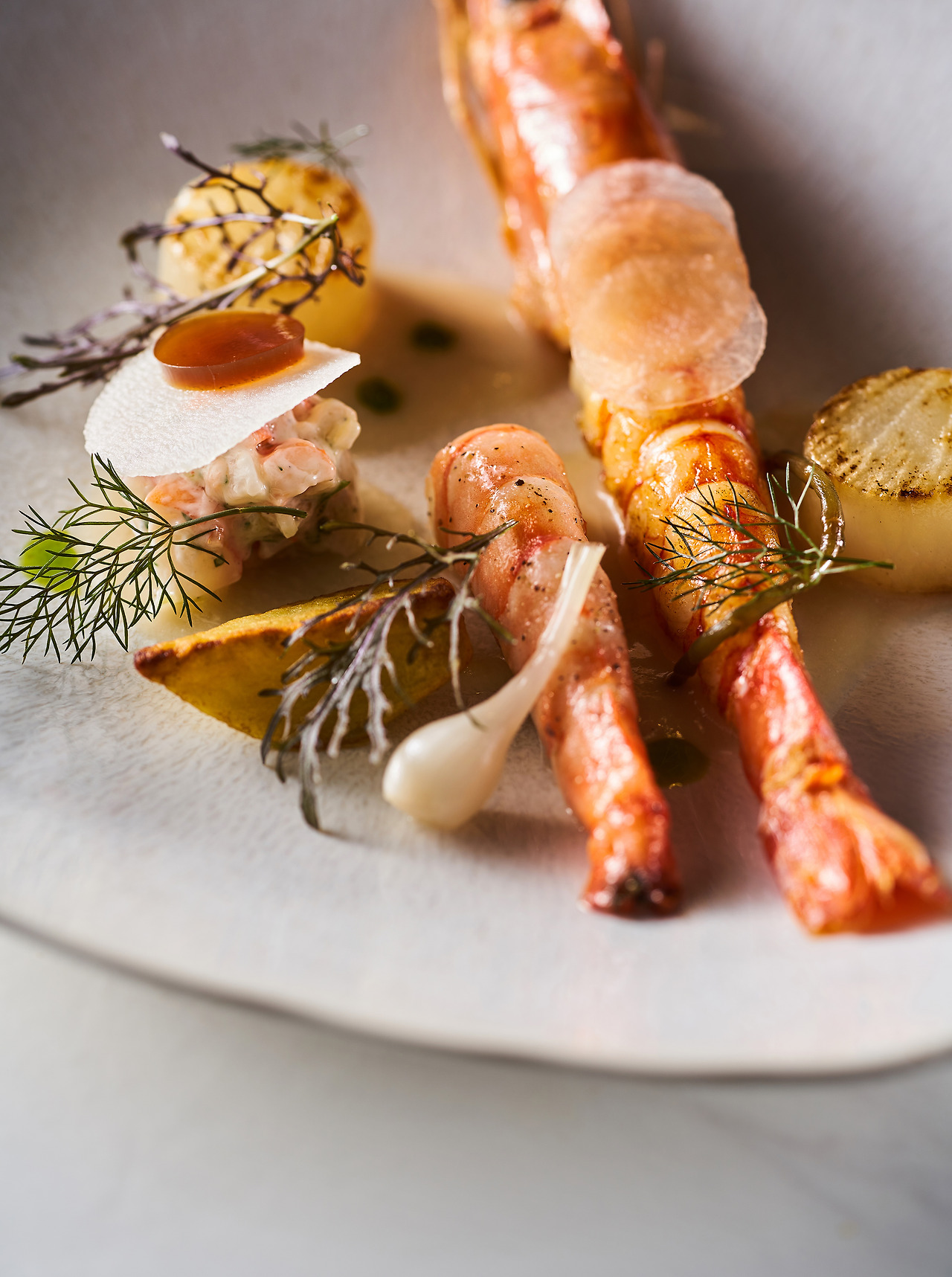 What advice do you have for a young female chef entering your kitchen or looking to go overseas?
"Let's be bold," is all I want to say. If your chef scolds you, just improve your cooking skills rather than be obsessed with shame. You'll get better. To be recognized as a partner in this professional field, you need the courage to walk forward without being swayed by emotion.


We need to challenge ourselves more. Nothing is more stupid than succumbing to an imaginary fear before you try something new. Everyone is not good enough at first. If you can improve from day to day, it will all work out. Finding the core in yourself, having faith, and heading single-mindedly toward your goal, you will definitely find your own path.


For the part on female chefs: What else do you think needs to be done to help more female chefs get recognition from the industry?
I've never done any marketing at our restaurant. I'm just a chef working in the kitchen, hoping my guests to be satisfied when they visit my restaurant.

Living as an owner-chef seems to be paying too much. I decided to become a cook, studied cooking, learned cooking, worked on cooking, worked on cooking after returning to Korea, and eventually set up a restaurant. I think that 18 years have been my personal growth. When I looked back on it, I started to cry; I was very introverted, and I met the world through cooking, who could live in a room with only books and rock music all day long. I'm still enduring the pain to learn how to run my own restaurant, from account to managing employees.

We still don't know the answer to get recognition. I don't intend to work on that. (I'm not saying I won't do it because I'm lazy, but I think I'll have to think about the purpose of being a cook.) Every year, every month, there's a new trend, and I think you lose yourself if you follow it.

As a person who works in the kitchen, I don't have enough time to laugh and cry about fame, and I don't want to follow the trend. I haven't lived that long yet, but I think the most important thing is to keep the "essence". If you have the will, you can believe that someday you will do what you want to do, and you just have to stick to your happiness and work hard. The result is not the only important thing - I feel happy every day when I work, and I often look back on myself to maintain a curious attitude toward everything around myself. I'm sure that the way you treat life will be in your food, and even if it takes time, there will be people who recognize it.


What do you think is the dining trend for the next decade?
With the growth of Seoul's dining scene, the level of customers has gone up a lot and I think the enthusiasm for a particular cuisine has disappeared. In Seoul, there are numerous excellent restaurants where you can enjoy great food. From a diner's point of view, after experiencing a variety of restaurants, what matters is dining at places where one can feel the warmth and sincerity.

As a chef working every day at my restaurant, I feel this change. So, is hospitality the dining trend for this year? A meal is made complete by the interaction of the chef and the diner. Like attending a play in the theater, there is a similar energy and teamwork between the chefs and their guests, the food, and their conversations. The true joy of eating comes from the memorable moments created when hospitable chefs and receptive diners interact.


This story was originally written in Korean by Julia Lee and edited in English by Suzanne Sng. Read the original here.