The Michelin Great Britain and Ireland Guide 2021 was launched at an online event on Monday 25th January; a celebration of the huge talent we have in the UK and Ireland, as well as of the inspiring way in which restaurants have been rising to face the challenges over the last year.

In these uncertain and highly testing times, we are delighted to be able to announce the promotion of three restaurants from One to Two Michelin Stars. This brings the total number of Two Starred restaurants in the Great Britain & Ireland 2021 selection to 20.

Let's take a closer look at these three restaurants…

A. Wong, 70 Wilton Road, London, SW1V 1DE

A. Wong
Behind a foliage-filled terrace on unassuming Wilton Street sits A.Wong; a neighbourhood restaurant which has grown better and better over the years. There are seats at the counter on the ground floor for those who like to watch the action, as well as tables both on this level and in the intimate downstairs room with its rich, classical Chinese decoration.

The smartly uniformed team deliver detailed service in a bright, chatty manner and proudly offer in-depth descriptions of the dishes – and there is a warm, laid-back buzz to the room.

Andrew Wong is an ambitious, focused chef. His cooking is refined and sophisticated, with well-balanced creativity and stimulating depth of flavour – and precision is at the forefront of everything he does. As well as encompassing Chinese traditions, his dishes show diversity and originality, and his personality shines through in these unique interpretations.

Lunch sees expertly crafted, creative dim sum but it's the 'Taste of China' menu served at dinner which shows the full repertoire of this talented kitchen, with this 3-hour culinary voyage around China creating a sense of eager anticipation for each course to come.

Our Michelin Inspectors' loved:
Shanghai steamed dumplings
Memories of Peking duck
Steamed duck yolk custard bun

Da Terra, 8 Patriot Square, London, E2 9NF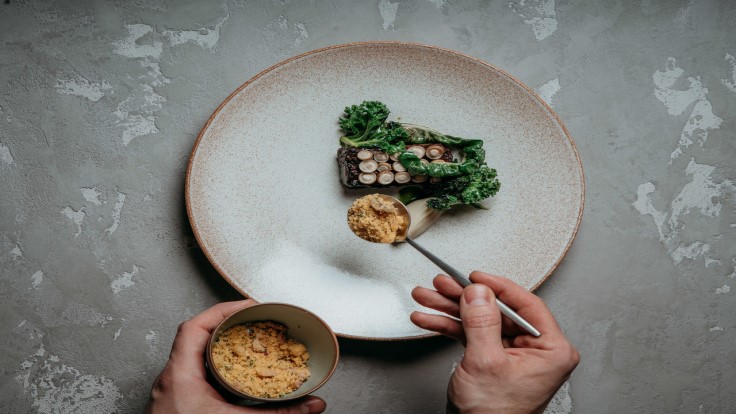 Da Terra
Da Terra sits within an impressive Victorian hotel, formerly a town hall, and, in contrast to the grandeur of the exterior, has quite an understated, modern look, courtesy of grey walls hung with colourful contemporary art.

Chef Rafael Cagali hails from Brazil and his great grandfather was from Verona in Italy, and these influences, along with time spent working in Spain, come together in skilfully crafted, highly original dishes founded on Brazilian traditions. Flavours and textures are intriguing and captivating, colours burst through and presentation is striking, with dishes building beautifully as you move from course to course.

Lunch (Fri-Sat) sees a 5 course menu, while dinner (Weds-Sat) offers 8-10 courses, which skilfully hold diners' attention throughout the evening and linger long in the memory.

Dishes are delivered by the chefs themselves and are accompanied by a detailed and passionate dialogue, and the wine matches are thoughtfully chosen, with admirable breadth and originality.

Our Michelin Inspectors' loved:
Scallop – Isle of Mull, fennel, Granny Smith
Moqueca – Langoustine, palm heart, cassava
Caviar – Cachaça ice cream, Oscietra, mole

Story, 199 Tooley Street, London, SE1 2JX

Story
Story sits in a somewhat unique location, on an island in the middle of two roads, but the setting is all part of its charm, which you'll discover as you sit ensconced in your own little bubble, watching the world go by through the floor to ceiling windows.

It's an understated sort of place with a slick, modern feel. The on-view kitchen is a big part of the room and the chefs come out to serve the dishes personally.

At lunchtime there's the choice of a 5 or 7 course tasting menu, while dinner comprises 9 courses plus snacks. The latter is tailored so that returning guests receive a different experience from first-timers, so regular diners can ask if there's something they love and want to have again.

Tom Sellers' visually impressive dishes are crafted with care and precision. The superb ingredients are at the luxurious end of the scale, modern techniques bring out the best in every item, and texture and temperature play an important part.

Imaginative, playful touches come through in some of the dishes, like the bread and beef dripping, where your candle melts to provide the dip; the 'Storeo' – a savoury version of an Oreo; and the 'Paddington Bear' pre-dessert of pain perdu and citrus marmalade.

Our Michelin Inspectors' loved:
Langoustine, black garlic and spirulina
Pumpkin agnolotti and lemon
Almond and dill

This year, the guide is being published in a digital format only, both on our website (UK and Republic of Ireland) and via the iOS app.
Quick links to:
All Michelin Stars in the UK / Republic of Ireland
All Michelin Bib Gourmands in the UK / Republic of Ireland
All Michelin Plates in the UK / Republic of Ireland