When Syed Asim Hussain, now 36, was studying in a boarding school in Pakistan, he would come back to Hong Kong and work at his father's restaurant, The Mughal Room on Wyndham Street, every summer. His tasks: cleaning bathrooms and throwing out garbage.
"I started when I was 12 (very illegal in retrospect) so the seed was planted early," says Hussain. "But taking care of people and building communities has always been in my blood and bones."
But he didn't get into hospitality right away. After graduating from Carnegie Mellon University in Pittsburgh, Pennsylvania, where he majored in finance and international relations, Hussain moved to New York City to work at a brokerage house. But it didn't take long before he found his way back to restaurants. At the age of 24, he decided to take the plunge and return to Hong Kong—the city his family has called home for five generations. This led him to take up an apprenticeship at a prominent restaurant group, where he met Christopher Mark, who eventually became his business partner for Black Sheep Restaurants.
Bonded over a vision for restaurants that would centre around storytelling and sincere hospitality, the duo started Black Sheep Restaurants in 2012. Mark is the mind behind the group's culinary development; Hussain takes care of the creative and business side of things.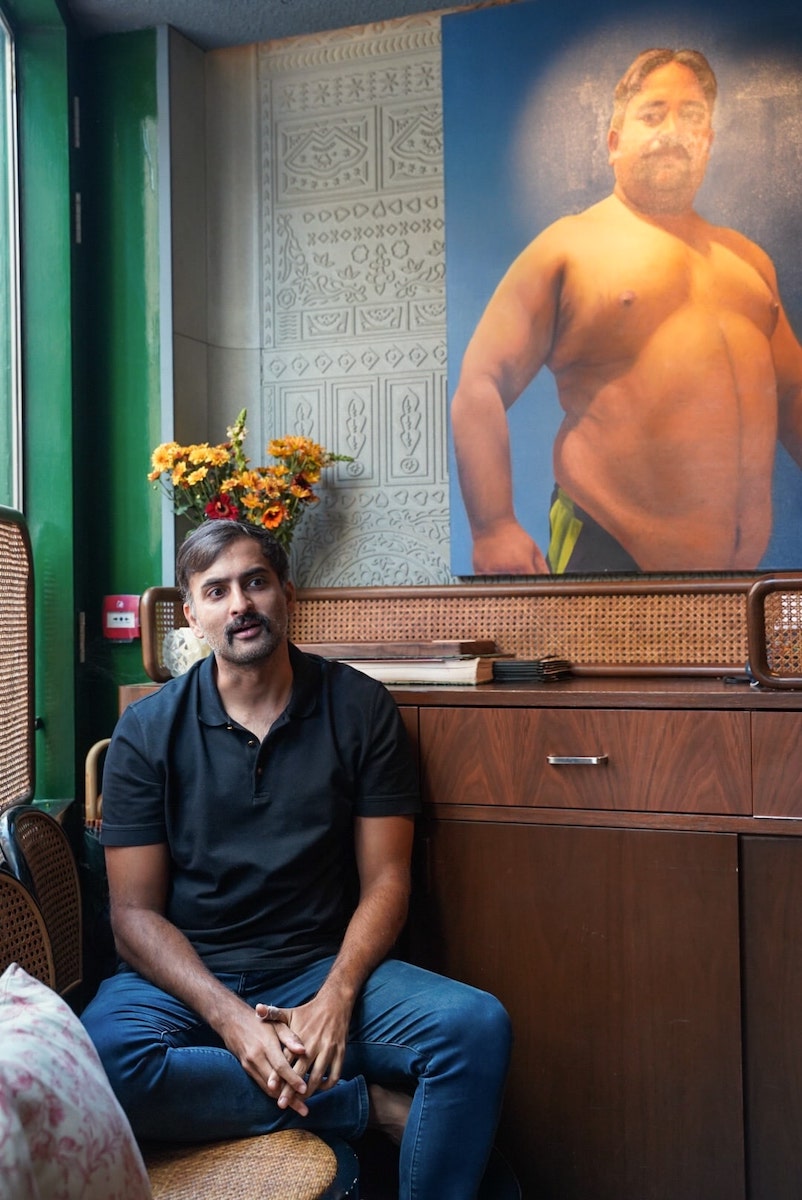 The name "Black Sheep," which came from Hussain, felt apt. "I have always felt like a black sheep," says the restaurateur. "While I know the expression does have negative connotations, I did not think it should; being a bit different, doing things my own way, not conforming—these are all traits that have served me well. One thing I was certain of when we started was that we wanted to challenge the status quo and rewrite the rules, so I felt the name Black Sheep was very liberating."
Today, Black Sheep is known for some of the most talked-about restaurants in town, with 30 locations in the portfolio and counting. Among them is a Punjabi restaurant, New Punjab Club, which was awarded a MICHELIN Star in the 2018 edition (and in the two editions after), making it the world's first Punjabi restaurant to receive the distinction.
RELEVANT: Belon 2.0, Yakiniku Jikon Opening And More New Ventures By MICHELIN Restaurants
New Punjab Club is the aforementioned restaurant previously owned by Hussain's father. "This restaurant is a piece of me", says Hussain. "All of our restaurants tell a story, but New Punjab Club tells my story. These are my memories of playing tennis at the Punjab Club in Lahore, it is my art on the walls, the tandoors in the kitchen are from my father's restaurant."
Under Hussain and Mark's leadership, Black Sheep has ambitious plans to expand locally and overseas—but Hong Kong will always be home. "Our guests here are well-travelled, knowledgeable and curious—they keep us on our toes. We are really proud that Hong Kong is Black Sheep's home."
Ahead, Hussain tells the MICHELIN Guide why he thought New Punjab Club's one MICHELIN Star was a prank, why guests keep coming back, and what makes a restaurant "Black Sheep."

Was it ever your goal to open restaurants that operate at a MICHELIN-starred level?
We never had MICHELIN aspirations when we started, we just knew we wanted to do good, meaningful work that stood the test of time. But of course, the stars have been an incredible and humbling validation of our hard work.

Of all your restaurants, New Punjab Club is said to be the closest to your heart. Can you tell us why?
All of our restaurants tell a story, but New Punjab Club tells my story. These are my memories of playing tennis at the Punjab Club in Lahore, it is my art on the walls, the tandoors in the kitchen are from my father's aforementioned restaurant; this restaurant is a piece of me.

Broadly speaking though, there are so many amazing culinary stories from South Asia that have not been widely shared so chef Palash and I are on a mission to tackle them one at a time.

What was your first reaction when you found out New Punjab Club became the first Punjab restaurant in the world to receive a MICHELIN Star in 2018?
We did not believe it. The whole thing was a comedy of errors on our part. MICHELIN had been trying to email one of our managers, but he had recently changed his email address and unbeknownst to us, neither the bounceback nor the auto-forward were working on his old email address. So right before the awards, the New Punjab Club team got a phone call to the restaurant enquiring about our attendance at the award ceremony and a little perplexed at our lack of response. My team called me borderline hysterical, telling me they knew this meant we had a star. I remember I told them to calm down, I said 'no this is a prank, this is not how you get notified about something like this'. I almost shrugged the whole thing off. New Punjab Club had only been open a year and I was sure it took longer than that to get recognised at this level... Ultimately though they were right. The reaction from friends, industry peers and even total strangers in Pakistan was incredible, I felt like we had won the world cup.

"We are really proud that Hong Kong is Black Sheep's home."
What are your favourite dishes from New Punjab Club?
Anything chef Palash pulls out of those tandoors is magical but I am a sucker for the classics, the masalewali chanp (lamb) has been on the menu since day one but it is hard to beat. He also does spectacular work with seasonal ingredients, often these are dishes that are only on the menu for a couple of weeks so I usually just let the Chef order for me, he always knows best.

How has Hong Kong's restaurant scene changed since you started Black Sheep Restaurants in 2012?
The restaurant scene here has been through a bit of a renaissance and in a small way we hope we have been a small catalyst for this movement. We are very proud of the work we are doing but beyond Black Sheep there are so many amazing chefs and restaurateurs doing excellent, interesting work.

What makes your restaurants distinctively Black Sheep?
I am not sure there is one thing because they are all so different, but I have been told by guests that they have realised halfway through a meal that they were at a Black Sheep restaurant because of the level of detail that we go to. From the menus to the uniforms, to the music and the service style, everything has been thought about and deliberately chosen and I think guests can feel that, they know that someone really cared. All these little things add up to the unique, intangible brand of hospitality that we are known for, it is hard to quantify but whether guests are dining at BELON or Associazione Chianti, they feel our brand of hospitality.
READ MORE: Yardbird HK Co-Founder Lindsay Jang's Favourite MICHELIN Restaurants
(Left) Syed Asim Hussain and (Right) chef Palash Mitra in front of New Punjab Club (Photo: Pearl Yan)
With your restaurants covering a diverse array of cuisines, do you think people from these respective cultures in Hong Kong enjoy the food at your restaurants?
That is one of our favourite compliments, when guests from the places our restaurants represent come, love it and then come back with their guests. Especially from some of the more underrepresented cuisines in the city. That was one of the best parts of New Punjab Club getting the star for me, seeing other Punjabis in Hong Kong bringing their guests to the restaurant and being able to point to this thing we had created and say—this is my heritage, this is where I am from. Food is such a beautiful way to experience someone else's culture.
With new restaurants popping up everywhere, how do Black Sheep restaurants stay competitive?
For me it is easy not to get distracted by the new things, I am always uninterested in whatever the restaurant of the moment is, if I visit a city I want to be taken to the oldest restaurant in town, not the newest. We are very insular, we are very focused on our community—our people and our guests. We try not to worry about what other people are doing, we always say that the only competition that matters is with ourselves. We just want to be better than we were yesterday.

Where do you see Black Sheep Restaurants by this time next year?
Since the pandemic, I have stopped trying to predict the future but I hope by this time next year we will have a handful more world-class restaurants under our belt here in Hong Kong and that we are hard at work on our first European opening.
CONTINUE READING: Industry Insiders : JIA Group's Yenn Wong's Recipe For Success
---
Photos taken by Pearl Yan