For Kezia Chan, mooncakes and tea do not just go well together — they are a match made in heaven.
Says the restaurant manager and tea master of one-MICHELIN-starred Chinese restaurant Rùn at the St Regis Hotel Hong Kong: "Tea can balance out the richness of the mooncake, and it can elevate certain flavours."
The slight sweet and bitterness of Iron Buddha tea, when paired with alcohol-flavoured mooncakes, for example, can help the hint of the alcohol linger on your tastebuds longer, Chan elaborates.
Chan (pictured right, photo: Rùn) has been specialising in chayi, or the art of tea, for more than 20 years. She has been certified as a professional tea master by the International Tea Masters Association (ITMA), and is also a trained wine taster. As Rùn's resident tea expert and buyer, she gives customers recommendations for tea pairing by fusing her knowledge of tea and wine to introduce tea in a refreshing new way.
When introducing the provenance of Pu'er teas, for instance, Chan likes to draw parallels to the appellation system for wines such as champagne, where only those produced in Yunnan are called Pu'er, whilst the others are generally called black tea. Such easy-to-digest titbits give diners, particularly those new to Chinese culture and tea appreciation, a deeper impression of the tea they are enjoying.
Mooncake with lotus seed paste and egg yolk is best enjoyed with a cup of 20-year aged Pu'er (Photo: Mandy Li)
1. Mooncake with Lotus Seed Paste and Egg Yolk with 20-year Aged Pu'er tea
One of the most popular mooncake styles in Hong Kong, the lotus seed paste and egg yolk mooncake has a savoury and sweet filling that is delicious yet rich. Pairing this mooncake with aged Pu'er tea helps to cut through the greasiness of the mooncake, Chan says. "The most enjoyable thing about Pu'er is its smooth texture. The sweet notes of the 20-year-old Pu'er can eliminate the greasiness of any food and at the same time, it allows the sweetness of mooncakes to linger in your mouth."
2. Five-nuts Mooncake with Aged Pu'er tea
Five-nuts mooncakes, typically made of walnuts, sesame seeds, melon seeds, almonds and Indian almonds as well as Chinese dried ham, used to be an unpopular choice of mooncake because of its unique combination of sweet and savoury flavours and a potentially unpleasant and hard texture if it's not made well. But it is enjoying a recent resurgence in popularity as people rediscover the health benefits of the nuts and start to appreciate the taste of nostalgia it offers.
"Five-nuts mooncakes may have a slightly more dry texture than other types of mooncakes. The soothing nature of the aged Pu'er is gentle on the throat and helps to compensate for the dryness of the five-nuts mooncake. It will also enhance the flavour of the nuts," Chan shares.
FURTHER READING: Ask The Expert: Choosing Pu'er Tea
3. Red Dates Paste Mooncake with Shui Xian tea (such as Lapsang Souchong)
This vegetarian-friendly mooncake originated from China's Shandong province and marries the sweetness of the red date paste with crunchy walnuts. "The fruitiness of red dates and the medicinal hint of the Lapsang Souchong tea helps to bring out the elegance flavours of this mooncake. It is one of the best pairing options for vegetarian mooncake lovers, but it is not so suitable for pregnant women," Chan cautions.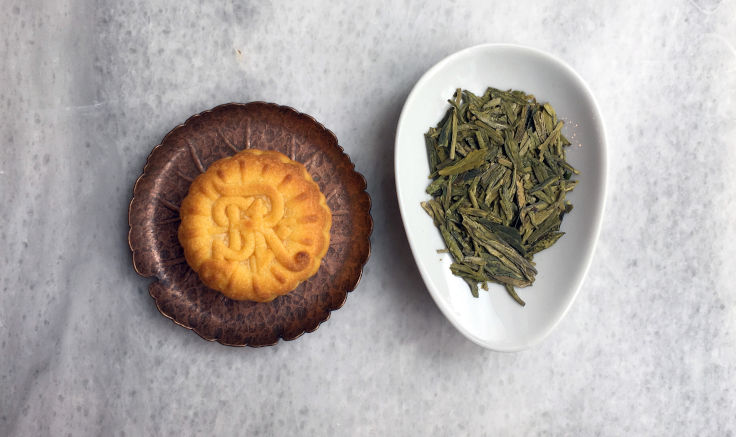 The richness of the custard mooncake goes well with prized Longjing teas (Photo: Mandy Li)
4. Custard Mooncake with Longjing tea
Custard mooncakes are one of the most popular mooncakes in Hong Kong. They are made with a cookie crust and filled with a rich egg custard, and taste the best when served warm from the oven. Chan says: "Eating custard mooncakes is like eating butter cookies. The richness of its flavour goes well with Longjing tea, which allows the flavours of both the mooncake and the tea to be appreciated fully." Her pick? Longjing produced in Shifeng Mountain in Hangzhou and picked before Ching Ming Festival is one of the most prized of this tea variety, she says.
5. Chiu Chow Mooncake with Iron Buddha or Dan Cong teas
Chiu Chow mooncakes are made with a layered pastry crust and filled with taro or mung bean paste. They are typically deep-fried and hence could be oily at times. Therefore, people in Chiu Chow traditionally serve their mooncakes with tea in order to help cut through the grease. "Chiu Chow mooncakes naturally work best with teas from Chiu Chow. More intensely flavoured tea varieties, such as Iron Buddha tea, helps to reduce the oiliness of the mooncake, and yet provides a good overall balance of the flavour for the pairing. Dan Cong tea is another good option. It has a slightly thinner texture and a more aromatic fragrance," Chan shares.
RECOMMENDED READING: Chiu Chow Mooncakes: Layered With Love And Beauty
6. Alcohol-flavoured mooncakes with Iron Buddha tea
Alcohol-flavoured mooncakes are among the new flavours offered by a growing number of restaurants and hotels in recent years. The mooncakes are usually infused with spirits such as rum or whisky. For these modern creations, Chan suggests pairing them with Iron Buddha teas. "Its bittersweet aftertaste allows the hint of alcohol from the mooncakes to linger on your tastebuds, which is the highlight of an alcohol-flavoured mooncake."
7. Tea-flavoured Mooncakes with English Breakfast tea
Another trendy option for mooncakes are tea-infused mooncakes with flavours such as Earl Grey, English Breakfast, Iron Buddha and Rose teas infused in their fillings. But how should one best pair teas with tea-flavoured mooncakes? Chan recommends going with English Breakfast tea as a failproof option. "Its relatively milder flavour will not cover the original taste of the mooncakes, and yet it can help to balance out the fullness of flavour, making it a highly suitable pairing for this type of mooncake."
8. Sweet Mooncakes with floral teas (pictured left)
An alternative to traditional mooncakes are dessert mooncakes, such as chocolate mooncakes. Chan says: "When eating dessert or other sweet courses, scented teas such as rose, chamomile or other floral combinations allow you to taste the sweetness of the mooncake and yet reduce any greasiness."
READ MORE: Mooncakes From MICHELIN Restaurants and Hotels in Hong Kong This Mid-Autumn Festival 2020
9. Snow Skin Mooncakes with Keemun Black tea
Snow skin mooncakes are usually enveloped with a soft and chewy outer skin made with glutinous rice flour, and various type of sweet fillings, such as custard, fruit, bean paste and yoghurt. For Chan, this type of mooncake is best paired with black teas that have a lighter flavour. "Keemun black tea can reduce the sweetness of the mooncake and will not overwhelm its original flavour. Breakfast tea is also another suitable choice."
10. Durian Mooncakes should not be paired with any tea
People in Hong Kong love durians so it is increasingly popular to find mooncakes made with durians of all varieties, such as D-24, Musang King, XO and more. As delicious as they are, be careful and not to pair them with tea, Chan advises. "Durian is like a tonic, and I still cannot be sure how the human body will react if we consume durian with tea, which also has other tonic properties. If you have to pair these mooncakes with a beverage, it is best to pair it with water, or boiled water drunk from a durian shells," she says.
Banner image taken by Mandy Li
---
This story was written by Mandy Li and translated by Billy Kwan.