Michelin Guide – Online – Restaurants
For 2021, the Michelin Guide Great Britain and Ireland has been published in a digital format only (
UK
/
Republic of Ireland
) /
iOS app
. Here are some handy hints for getting the best out of our website and app…
WEBSITE
Where do I start?
In the top right, choose the country you are interested in and your preferred language.
Top Tip: You can choose a single country or all countries at once by clicking 'Global'.
Menu
Click the menu to switch between categories:
- 'Restaurants' lists all establishments within the selected region
- 'Magazine' shows all articles related to that region – and some highlights from others
- 'Hotels' redirects you to the Tablet website, our partner for the best hotels

Top Tip: To view any of these for a different region, simply reselect the country at any time.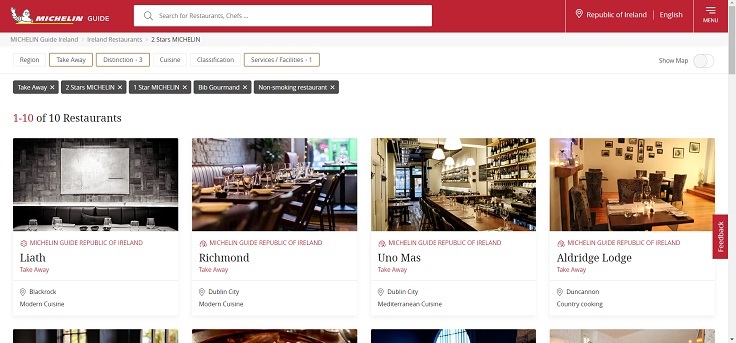 Restaurants
There are several different ways to search for a restaurant.
The search box:
- Search for a
restaurant by name
- Search for restaurants from your
favourite chef
- Search for a restaurant in a specific
location
Restaurants near me:
Click directly in the search box to display the option '
Restaurants near me
'.
This will then display a further option in the top right to '
Show Map
'.
Filters:
Click 'Restaurants' to reset any previous searches you may have made.
Then, to refine your search, combine as many
filters
as you wish. These include:
- Region (once you've selected a region, 'City' will also appear)
- Distinction (Plate, Bib Gourmand, Star, Green Star)
- Cuisine Type
- Classification (Surroundings and atmosphere, from simple through to luxurious)
- Services/Facilities (Such as Brunch, Vegetarian Menus, Small Plates, Outside Dining, Car Park
or Bedrooms)
- Offers (Special discounts and promotions for Michelin readers)
Picture: website view from a tablet
Once you've found the place you're looking for, if the restaurant offers it, you can book directly via the Michelin site.

Magazine
Here you will find a great selection of articles, including those related to Michelin-recommended restaurants, Michelin launch events, news, interviews, food trends and more.

The page opens with the most recent articles but by clicking 'read more stories' you can catch up on anything you've missed.

- If you selected a specific country, you will see articles relating mainly to that region.
- If you selected 'Global', you will see highlights from across the world.

You can also search for articles by using the search bar (e.g. enter 'sustainability' or 'Birmingham', then hit 'enter' to find all related articles).

Top Tip: At the bottom of each restaurant listing, as well as suggestions for other restaurants nearby, you'll find any articles relating to that specific restaurant.

If you're out and about and looking for a restaurant spur-of-the-moment, using the iOS app is your best bet.

It opens with 'restaurants nearby' and the map shows the closest Michelin Plates, Bib Gourmands and Stars to your current location. Once inside the map, you can add filters and sort by distance, distinction or price.

You can even start planning your next meal or trip on your way home, with the added 'favourites' feature. Tap the heart to save an establishment to your 'love' list or tap the bookmark to group places together in custom lists. If you book through the app, then you'll also be able to view all your bookings in one place under the 'Reservations' tab.

(Android version coming soon… watch this space)