MICHELIN Guide United Kingdom
The Woodspeen
Lambourn Road, Bagnor, Newbury, RG20 8BN, United Kingdom
34 - 67 GBP • Modern Cuisine
MICHELIN Guide United Kingdom
The Woodspeen
Lambourn Road, Bagnor, Newbury, RG20 8BN, United Kingdom
34 - 67 GBP • Modern Cuisine
MICHELIN Guide's Point Of View
Despite being set in an old pub, this neighbourhood eatery has a contemporary feel, courtesy of its bright wood and glass extension which comes with a thatched roof, a vaulted larch ceiling and modern Scandic styling. Sit by the open-plan kitchen to watch the smooth efficiency of the chefs or book the chef's table in the smart cookery school opposite to observe close-up the precision and accuracy with which the dishes are prepared.
Mouth-watering menus centre on the seasons and bring together ingredients from the kitchen garden and the surrounding area. Flavour is paramount and dishes have a comforting, modern classic style – there are even some for two to share. The kitchen team are confident and service is charming and structured.
Show More
Show Less
m One MICHELIN Star: High quality cooking, worth a stop!
Related Reads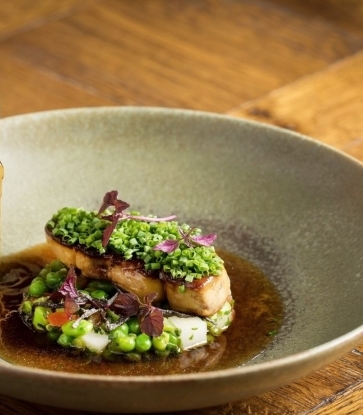 Michelin-Starred Restaurants Continuing to Offer Discounts this Month
Where to Eat Out this Weekend (4th/5th July 2020)