MICHELIN Guide United Kingdom
The Woodspeen
Lambourn Road, Bagnor, Newbury, RG20 8BN, United Kingdom
28 - 68 GBP • Modern Cuisine
MICHELIN Guide United Kingdom
The Woodspeen
Lambourn Road, Bagnor, Newbury, RG20 8BN, United Kingdom
28 - 68 GBP • Modern Cuisine
MICHELIN Guide's Point Of View
Despite being set in an old pub, this neighbourhood eatery has a contemporary feel, courtesy of its bright wood and glass extension which comes with a thatched roof, a vaulted larch ceiling and modern Scandic styling. Sit by the open-plan kitchen to watch the smooth efficiency of the chefs or book the chef's table in the smart cookery school opposite to observe close-up the precision and accuracy with which the dishes are prepared.
Mouth-watering menus centre on the seasons and bring together ingredients from their garden and the local area. Flavour is paramount and dishes have a comforting, modern classic style; there are even some dishes for two to share. Experienced chef-owner John Campbell leads the confident kitchen team and the service is charming and structured.
Show More
Show Less
m One MICHELIN Star: High quality cooking, worth a stop!
ó Comfortable restaurant; one of our most delightful places.
Specialty
Seafood risotto with garden herbs, crispy shrimps and lemon
Pan-fried sea bream with fennel, pickled shallots, mussels and seaweed broth
Banana mousse, lime caramel, praline ganache and sheep's yoghurt ice cream
Related Reads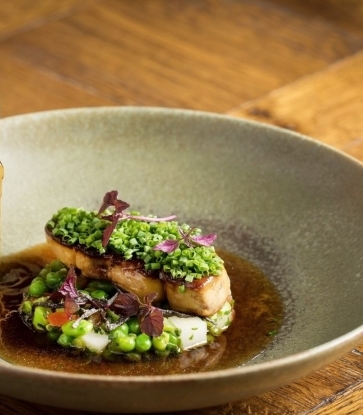 Michelin-Starred Restaurants Continuing to Offer Discounts this Month
Where to Eat Out this Weekend (4th/5th July 2020)
Subscribe to our newsletter and be the first to get news and updates about the MICHELIN Guide
Subscribe
Follow the MICHELIN Guide on social media for updates and behind-the-scenes information