Hong Kong's Cantonese cuisine originates from neighbouring Guangdong Province in southern China and can be broken down by its cooking methods of steaming, stir-frying, boiling, grilling, roasting and braising. Cantonese food is distinguished by its use of fresh ingredients, texture, temperatures and well-balanced flavours.
Don't leave Hong Kong without trying…
Dim Sum or Yum Cha
Dim sum is the bite-sized morsels of food served during the ancient Chinese tradition of tea drinking or yum cha. Similar to tapas, there are many small dishes that fit into the dim sum category and is constantly evolving over time. For the traditional dim sum experience, don't leave Hong Kong without trying braised chicken feet, har gao (prawn dumplings), siu mai (pork dumplings), cheung fan (rice noodle rolls), barbeque pork buns, lo mai gai (chicken and pork with glutinous rice) and egg tarts. A full course in dim sum can range from approximately 700 THB to over 3,000 THB.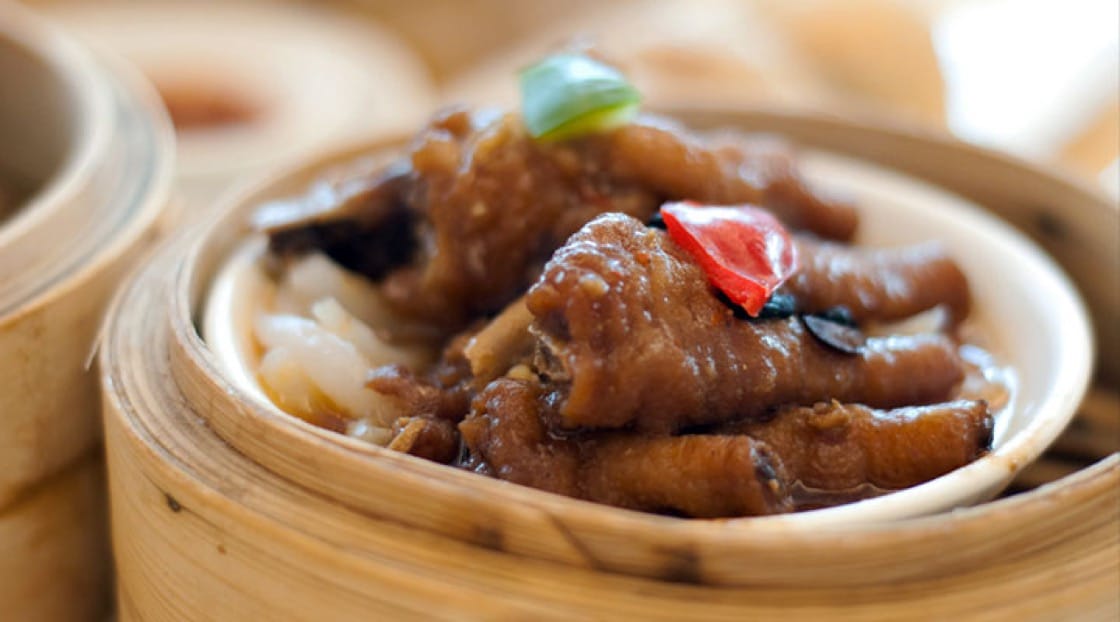 Considered a Chinese delicacy, chicken feet is mainly eaten for its slippery texture.
Roast Meats
A highlight of Cantonese cuisine, traditional roast or barbecued meats also known as siu mei comes in a variety of styles ranging from cheap one plate lunchtime specials served with rice to whole animals. Don't leave Hong Kong without trying char siu (red barbeque pork), roast goose or duck and siu yuk (crispy skinned barbeque pork). Roast or barbeque meats in Hong Kong cost between 200 THB to over 3,000 THB.
Roast or barbecue specialists usually hang their goods in the front window.
Noodles and Congee
Specialists in noodles and congee (rice porridge) often serve both under the same roof with the lighter versions of congee enjoyed for breakfast. Today, noodles and congee come with a variety of toppings and ingredients, but don't leave Hong Kong without trying the classics such as: wonton noodle soup, beef curry noodle, hor fun (stir-fried beef noodles) and congee with century egg and pork. A typical bowl or plate of noodles and congee will set you back between 150 THB to over 700 THB.
Pictured: Wonton soup with egg noodles.
Seafood
Eating seafood in Hong Kong is a delicious experience but a messy one, as the Cantonese serve their seafood with bones in and shell on. Don't leave Hong Kong without trying white boiled shrimp, lobster or crab with ginger and scallion served on a bed of al dente egg noodles or steamed fish with soy sauce, scallions and ginger. Seafood in Hong Kong is largely based on market prices and can range from 500 THB to over 3,000 THB depending on the season.
The Cantonese steamed fish emphasis freshness and is served with skin and bones on.
Cantonese cuisine stretches far and wide and along with the dishes mentioned above, there are many other classics that we've excluded. To help you explore, we've compiled a list of the best Cantonese restaurants in Hong Kong below.