When it comes to sourcing for produce in Japan, many might look to Tokyo's bustling Tsukiji market or to Hokkaido's verdant environs for fresh seafood and meat. But Japan is a treasure trove of nature's bounty and some of these gems are hidden in less conspicuous places.
When Tan Ken Loon, owner of seafood restaurant
The Naked Finn
, chanced upon the Yamaguchi Prefecture booth at a Japan trade fair last year, he was intrigued. "One of my most favourite fish to work with is nodoguro and I found out then that Shimonoseki is a major producer of nodoguro, among many other seafood varieties."
Nodoguro, or black throat sea perch, is a variety prized for its fatty flesh (Pic: MICHELIN Guide Digital)
Nodoguro is the Japanese name for the black-throat sea perch, a fish prized by fine-dining establishments for its fatty, tender flesh. Chasing down the ingredient to its source led Tan to the port city of Shimonoseki — most famously known as Japan's capital of fugu, supplying more than 80% of the country's puffer fish.

Just a 23-minute Shinkansen train-ride away from Fukuoka, Shimonoseki city boasts a thriving fish market, a world-recognised aquarium, beautifully restored temples and lush countryside farms. The bounty of local produce available has produced a vibrant dining scene that belies the city's tiny 260,000 population, from hole-in-the-wall izakayas grilling up the day's freshest catch to a hundred-year-old ryotei beloved by Japanese royalty.
Chef Kenichi Takatsu outside his eponymous restaurant in Shimonoseki (Pic: MICHELIN Guide Digital)
Shimonoseki's sleepy charm and abundance of fresh produce has even lured young and talented chefs like Kenichi Takatsu back from more dynamic dining cities like Fukuoka and New York, where he worked at renowned restaurants
La Maison de la Nature Goh
and
Basta Pasta
respectively. The cosy nine-seater
Restaurant Takatsu
is helmed by the chef alone, with just one front-of-house server cum sommelier. The elegant little restaurant serving up a tasting menu of contemporary French cuisine with local produce would not be out of place in Tokyo, New York or Singapore.
Watch as the MICHELIN Guide Digital explores the city's wealth of culinary experiences with Tan and add Shimonoseki to your list of dining destinations.
How To Get To Shimonoseki
Direct flights from Singapore to Fukuoka are available daily and Shimonoseki is a short 23-minute Shinkansen ride away from Hakata Station. The
Shimonoseki Grand Hotel
is situated right by the waterfront of the Kanmon Straits, a mere a five-minute walk to the Shimonoseki City Aquarium and the city's famed Karato Market, adjoined by the scenic Karato pier and boardwalk.
Places We Visited
Toyota-cho
The countryside of Toyota-cho, about 45 minutes away from the city by car, is studded with over a dozen pear farms that are open to public from end of August to October every year. The Yamaguchi prefecture is famous for its delicious Shuho and Housui variety of pears. The farms are popular picnic spots for locals and tourists and visitors pay a small entry fee to the orchards where they are free to stay as long as they want and eat as many juicy pears as their stomachs allow.
Karato Market
In the video, Tan visits the Shimonoseki fishery port famous for monkfish and nodoguro, as well as the early morning pufferfish auction at Haedomari Fish Market which is the only one of its kind specialising in fugu. A more accessible fish market open to the public is Karato Market, where open-air stalls hawk inexpensive fresh seafood with many selling fugu sashimi.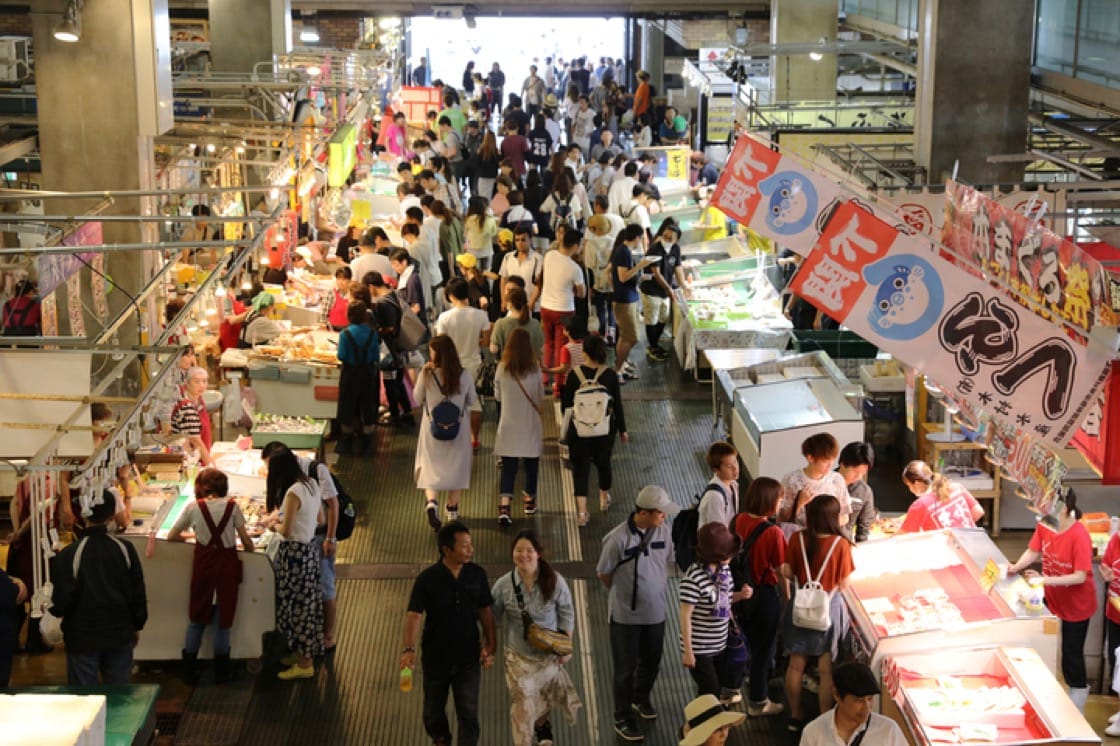 Karato Market in the day (Pic: ShutterStock)
Ubekamaboko
Established in 1944, Ubekamaboko is one of the leading fish paste companies in Yamaguchi. It makes springy, delicious kamaboko from the paste of fresh local fish like hamo (conger pike) and lizardfish that is used in many Japanese cuisine restaurants. The factory has a retail shop and a lovely Zen garden and tea house.
Yamaka Shoyu
This small-batch artisanal soya sauce maker dates back to 1872 and its quaint brewery still sits in its original traditional Japanese house location in a mostly residential neighbourhood. The premium soya sauce brewed here is unique in its slightly sweet aftertaste, a preference of the locals in Yamaguchi. Take a tour of the brewery to see its original 19th century chimney and take a paddle to one of the hulking brewing vats inside.
Stirring the fermenting soya beans at Yamaka Shoyu (Pic: MICHELIN Guide Digital)
Restaurant Takatsu
After honing his craft in the hip Basta Pasta in New York and working his way up to sous chef at the acclaimed La Maison de la Nature Goh in Fukuoka, Kenichi Takatsu returned to his hometown of Shimonoseki in March 2017 to open French contemporary fine-dining establishment Restaurant Takatsu. Here, he incorporates seasonal local produce in a thoughtful and refined degustation menu.

Kogushiya
This 147-year-old ryotei is beloved by the Japanese royal family and serves kaiseki ryori with seasonal produce including fugu, uni and hamo. Adorning the walls are framed correspondences from Japanese emperors past and dinner is served in the beautifully refurbished ryokan overlooking the rooftops of historic homes or a Zen garden.