Felix : Chic and fun bistronomy on the Buda side, by an authentically French chef
This vast and gorgeous venue, offering views of the Danube, a beautiful terrace by the river, and a chic, classic interior decoration, seems to be designed for elegant parties with international guests. First and foremost, it happens to be a huge favorite of the Hungarian elite.
The attraction might be the casual, yet classy atmosphere of the place, but it might also be the appeal of Chef Jeremy Cayron's cuisine. The French chef with a no-nonsense attitude and perfect French technique also has funky ideas, like a cigar sauce on duck breast with truffle mashed potatoes. This friendly, hard-working man who has gathered a huge amount of experience in restaurants in Baku, Cairo, Bangkok, Berlin, Montreal and Wellington, is regularly hosting official diplomatic luncheons and dinners for the Hungarian government.

Felix / Photo Eszterle Gábor
But one doesn't need to be a diplomat to try Felix's generous cuisine. A meal here is really a feast, with whole seafood platters (a rarity in a landlocked country), foie gras terrines, Wagyu sirloin steaks, Charolais Côte de Boeuf, Russian caviar, classic Wiener schnitzel, and soufflé Grand Marnier for dessert… along with some Hungarian staples, like an exquisite goulash soup, or a chicken consommé. If that sounds a little too classic for you, wait until you see the bold plating. Try the smoky, exquisite veal cigar-infused sauce on the duck magret. And marvel in front of the goulash soup ice cream cone, made with chilled savory beef and paprika broth. « Working around the world has broken down any mental barrier I had », Chef Jeremy explains. « You can cook anything, if you do it well ».

His menu features a side of Thai fried rice, a saffron risotto, an octopus salad with edamame bean and radicchio. It is truly international, just like the brigade of 17 people from all around the world (Hungary, Italy, Algeria, Pakistan, Switzerland…) « but the technique is always French », he emphasizes. The impressive wine menu, curated by in-house Hungarian sommelier Tamás Czinki, is just as international with its Hungarian, French, Italian or American bottles. It's a real object of contemplation, an interactive list of 800 references providing some education about the terroirs, the wine grapes, the regions and vinification methods.

Felix / Photo Eszterle Gábor
Although most of his ingredients come directly from the Rungis produce market in France, Chef Jeremy tries to source many products close-by, like the Charolais beef, which is raised in Hungary. Most of the vegetables are locally sourced as well. The fish and seafood, Cayron's signature ingredients, are usually imported. Hungary is a landlocked country and Chef Jeremy likes to work with saltwater fish, « especially just grilled outside, on the terrace barbecue. Simple, excellent quality ingredients, nothing more ». Generally speaking, Chef Jeremy prefers working with 3 to 4 flavors per dish, never more. « The food must be good, unfussy, and generous ».
If Felix is really a classy brasserie in the purest French tradition, with a modern and whimsical twist, this approach will be expanded upon with a new Budapest addition called Aqva. The fine dining place will open behind Felix, during the course of 2022, and offer more elaborate dishes in a beautiful, more intimate art gallery space.

Spago Budapest: The Wolfgang Puck signature at Pest
Just across the river, at the other end of the majestic Elisabeth Bridge, another restaurant offers impeccable international cuisine. Located on the ground floor of the prestigious Matild Palace, a recently renovated neo-baroque building from 1902, Spago is an elegant restaurant with a modern design, initiated by Wolfgang Puck, the Californian star chef of Austrian descent. The place boldly opened in the midst of the coronavirus pandemic, in June 2021. True to the original Spago concept, the restaurant is built around an open kitchen.
Spago, István Szántó & Wolfgang_Puck
That's where you will be able to admire István Szántó's skills, the head chef, a Hungarian cook trained in France. He worked in the best kitchens of Budapest, including Michelin-starred Costes Downtown, before being recruited by Wolfgang Puck to orchestrate Spago Budapest's brigade, and bring his personal touch to a menu featuring all of the Puck's international signature dishes. « I said yes to the job because Spago is close to my vision of hospitality », he explains, « It's not overly complicated. It's fine-dining, but with bigger portions. The plating is simple. You don't need to mince every vegetable into perfect little cubes », he adds with a laugh.
Before the restaurant opening, Chef István toured Hungary with Spago's executive team, exploring local markets, eateries and wineries. They exchanged many ideas and recipes to create a well balanced menu, mixing Hungarian dishes and Spago classics. Though the concept defined by Wolfgang Puck in his original restaurant in Beverly Hills, California, is still palpable at Spago Budapest, it definitely includes Hungarian specialties and ingredients.

Spago, the spikey lemon
For instance, the smoked salmon pizza, one of Puck's renowned dishes, is served with a topping of Hungarian caviar. The signature Hong Kong fish with stir fried Chinese vegetables is prepared with pike perch, a Hungarian freshwater fish. Two typical Hungarian starters are on the menu, a baby beetroot salad and a butternut squash soup. The beef goulash soup is obviously on the menu, but in an elevated, airy version: instead of cooking all of the ingredients together (home cooking Hungarian technique), Chef István cooks everything separately (French gastronomy technique). The vegetables are tender and still a little crisp, not mushy, and the paprika broth is both light and intense.

During his young years in France, working in Bar-le-Duc at a restaurant with a vegetable garden, István Szántó developed an enduring love for nature. « I love raw ingredients, I need to understand the ingredients », he says, producing jars of fermented raw cabbage or snake onion, an indigenous Hungarian type of chive. As a way to explain where his plating inspiration comes from, he grabs his smartphone and shows us pictures taken during his recreative nature walks : a dried-out riverbed, tree bark, vine leaves running against a stone wall, a thatched roof…
Judging by his rendition of somlói galuska, a Hungarian classic dessert (rum-infused sponge cake with vanilla custard, whipped cream and chocolate cream) his presentation ideas are undeniably creative. The dish comes in the shape of… a hard-shell golden ball, which melts as you pour a thick, velvety hot chocolate sauce on it, unveiling the rum-infused sponge cake and a divine hazelnut ice cream scoop.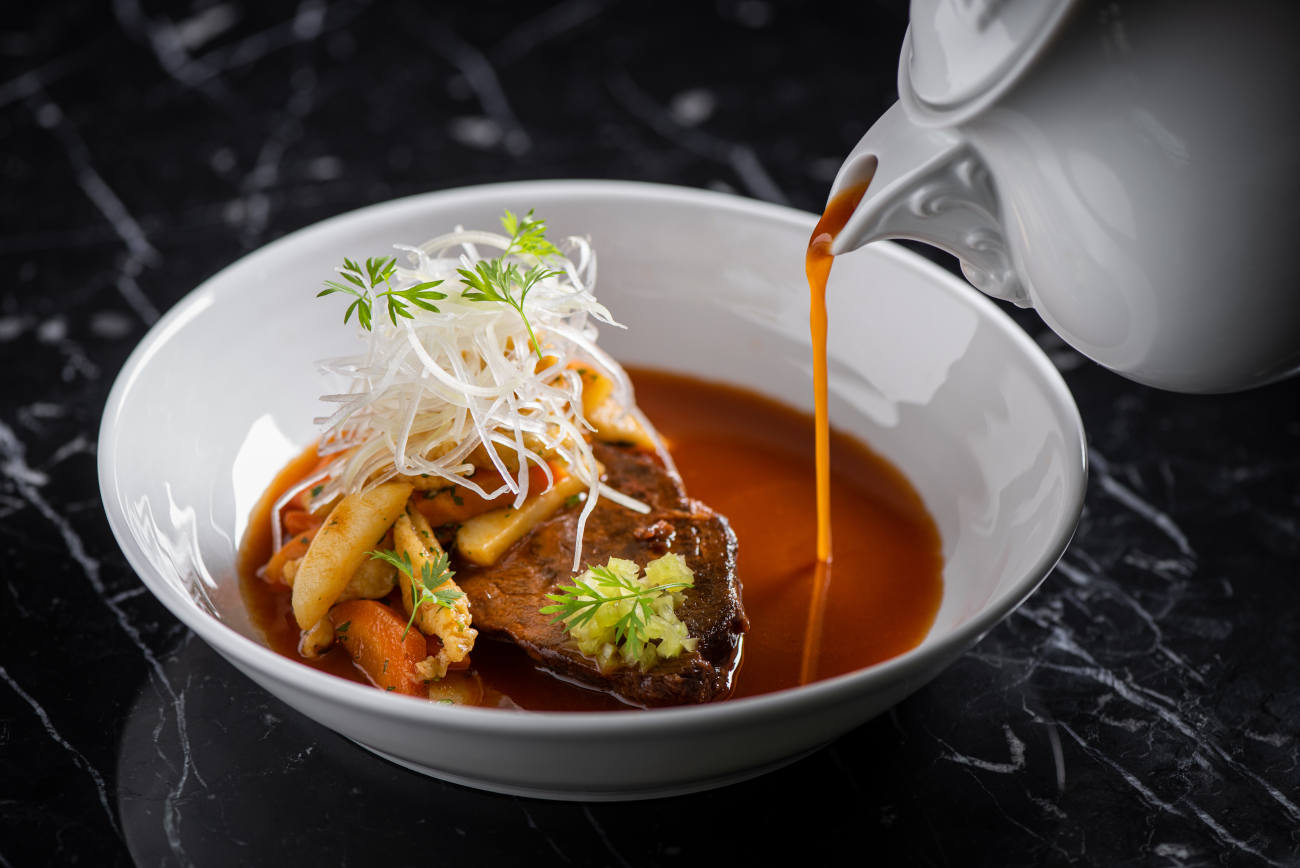 Spago, Goulash soup
To complete the experience at Spago, don't forget to pair your food with one of the 300 references of wine. The head sommelier, Máté Horváth, is a fervent supporter of Hungarian wines, and will be happy to recommend a local bottle of Furmint or Kadarka, or tour you through his beautiful glassed cellar.
Hero Image : Felix / Photo Eszterle Gábor