This unique island boasts beautiful and unforgettable scenery. Today's journey to Croatia takes us south to Korčula, a historical fortified town with walls that bear witness to the island's past. Here, you'll find splendid streets laid out in a fishbone pattern which not only allow sea breezes to circulate easily but also protect the town's inhabitants from the strongest winds, demonstrating the brilliance of the early town planners.
The island's most important historic monuments include the Gothic- and Renaissance-style St Mark's Cathedral, the old town and its massive walls that defended it from enemy attacks, and the superb 15C Franciscan monastery and its fine buildings on the island of Badija.
Korčula is also renowned as the birthplace of the famous traveller Marco Polo in 1254. And although the Polo family house in Venice has disappeared and is now the site of a theatre, his house on Korčula remains intact. It preserves the historical memories of this visionary explorer.
The main street divides the town evenly into two sections – a perfect layout which made life easier for its inhabitants and enabled the town to be defended more effectively from attack.
The island boasts a delightful historic centre, where the 16C Gabrielis Palace is home to the Civic Museum and its exhibits relating to the island's culture. On the ground floor, admire the Lumbarda Psephisma, a tablet which describes the foundation of the city by the Greeks in the 4C BC.
A shorter inscription describes an earlier contract drawn out between the Greek colony on the island of Issa (Vis) and the chiefs of the Illyrian tribe, the island's native inhabitants, in which the latter were obliged to pledge unconditional loyalty to the new powers.
From Korčula town, you head along a footpath that follows the sea to the hill of St Anthony.
101 stone steps lead you to the old church and hermit's cave that dates back to 1420, where works of art are dedicated to St Anthony of Padua and St Anthony the hermit.
The island's many culinary specialities add to its appeal, including traditional desserts such as cukarini, klašuni, hrustule and prikle (pršurate), as well as the delicious rozata (crème caramel). On Easter Day, the whole island takes part in preparing traditional Easter bread, which is a type of focaccia known as sirnica.
On All Saints' Day, a traditional bread known as lumblija is baked in Čara, Smokvica and Blato, while in Korčula town the Feast of St Martin is marked by the preparation of lojenica, bread flavoured with lard, crackling, ground almonds and walnuts, pine nuts, raisins, brandy, eau de vie, spices and vanilla.
If you're looking for a special experience with a maritime flavour, we recommend a stay at the Lešić Dimitri Palace, a fascinating, peaceful and relaxing hotel housed within a carefully restored bishop's palace dating from the 18C. Here, you'll find suites and private residences equipped with comfortable amenities. The building was restored by an Asian-Croatian team of architects and interior designers who took inspiration from Marco Polo and his travels along the Silk Road.


The jewel in the hotel's crown is the Michelin-starred LD restaurant, where chef Marko Gajski is at the helm, taking inspiration from the rich culinary traditions of Dalmatia. Having qualified as a computer engineer, Gajski discovered a love for cuisine which has never left him, and which is now his main focus and profession. Within just a few years, he accepted a position as chef at the DiVino restaurant in Hvar, and after spells working at Perivoj in Spalato, Gauthier Soho in London, the Bar Boulud at the Mandarin Oriental Hyde Park Hotel and Alain Ducasse at the Dorchester Hotel, he decided to return home to Croatia.
The Italian, French, Turkish and Austrian influences that provide Croatian cuisine with its unique blend of flavours, aromas and colours are immediately obvious on his menu. His ingredients follow the seasons and his dishes feature produce available on the island, from delicious freshly caught fish to wild herbs and other seasonal delicacies harvested by hand.
The restaurant also showcases a huge array of native olive oils from the island of Korčula and the Pelješac peninsula, the unique regionally inspired flavours of which explode on the palate. The restaurant's outdoor terrace is a peaceful oasis protected by pine trees. Located just a few steps from the sea, it offers stunning views that extend out to the nearby archipelago and an immersive Mediterranean experience that has few equals.


Tomislav Samoscanec/LD restaurant
"I started working in this magical place in 2017", explains chef Marko Gajski from the LD restaurant. "As soon as I met owner Michael Unsworth, I understood that our passion for the island and its varied culinary treasures would soon become a way of life. We have always been a strong, united and close-knit team. After just three years, we were awarded a Michelin star which we felt recognised all the work we've put into the restaurant, and which brought us great joy. Today, more than ever, we are like an extended family and we're happy to have worked together for seven years now – our reciprocal respect is our greatest strength".
"My philosophy for life, even more than in the kitchen, is to surround myself with good people and positive energy: whatever I do, I want to have a positive impact on people. I apply the same philosophy to my cooking. Being in the kitchen is not just a job for me. Just like life, food must have its own character, it should be full of emotion and able to tell a story. Inspiration surrounds us here – all we have to do is look around, and love and respect everything that Mother Nature gives us throughout the different seasons. My main inspiration is Croatian cuisine, which over the years has also been highly influenced by the culinary traditions of Italy, France, Turkey and Austria. For me, sitting down to eat is a time to forget everything and put all our problems to one side, so that we can focus all our attention on our senses – on that perfect combination of taste, smell and atmosphere. My aim as a chef is to create this magical moment for my guests".
"Sustainability is very important to our business", continues Gajski. "We work hard to promote the flavours, ingredients and traditions of this island. We don't just serve food – we are also trying to offer guests a very special experience. If we want to preserve our identity and share our stories with future generations, then we must improve our knowledge of sustainable issues. We share these issues with our guests, who also share our vision. Those who come here to eat love Nature and the planet and know that luxury can go hand-in-hand with sustainability."
"For me, Croatia is the most beautiful country in the world, and I don't just say that because I'm Croatian – it's a fact!", says the chef. "Croatia has more than 1,000 islands surrounded by the crystal-clear waters of the Adriatic. But we also have magnificent mountains, rivers and inland areas with fields and meadows, and our historical and architectural heritage goes back to Greek and Roman times. It stands to reason that our food is as complex and beautiful as our country".


Tomislav Samoscanec/LD restaurant
The menu features many specialities including prawn gyoza, one of the restaurant's signature dishes. "I know that gyoza isn't a traditional Croatian dish, but my passion and admiration for Asian food led me to create this recipe, which is gyoza with a Mediterranean flavour. We use every part of the prawn in a bid to reduce food waste – the meat is used as the filling, the head for the sauce and to make a delicious butter, and the shell as a powder to enhance the dish. We add oven-dried cherry tomatoes and grated cabbage that has been marinated in vinegar. This has become one of our most popular and most frequently ordered dishes, as so many visitors from all around the world come to LD restaurant specifically to taste our famous gyoza – we're very proud of it".
The chef's interest in traditional recipes, which he reinterprets with plenty of creativity, is demonstrated in his Komiška pogača, a traditional bread that is stuffed with a tomato and anchovy sauce and which originates from Komiža on the island of Vis.
"We've transformed this dish into an elegant starter using sophisticated techniques while at the same time retaining the dish's traditional flavour. The tomatoes are replaced by confit tomatoes and the onion flavour is created by the use of onion marmalade. The crackers are made with cooked dough which has been dehydrated and then fried. We also add caper powder, garlic cream and fresh oregano, the latter a very important ingredient thanks to its unique flavour which lingers on the palate. The dish is finished with some delicious, salted anchovies and olive oil infused with wild oregano."
"Two of my favourite ingredients are pancetta ham and olive oil. Both contain fat, both are full of flavour and to me they represent my continental European heritage. I can't imagine cooking without these two ingredients. My aim is also to showcase small-scale local producers such as Eko Ško, an excellent producer of Korčula organic olive oil. They also offer a fine array of vinegars, as well as pickled wild herbs, and salted and marinated fish, and provide us with fresh herbs and vegetables during the summer season. I'm also a great fan of Bosnić dairy which produces different types of fresh and seasoned cheeses and Komparak farm which makes different kinds of honey and artisanal gin.
We support these small-scale producers because we share the same philosophy of perfection and dedication".
At the LD restaurant, the wine list is as meticulous as the cuisine. "Wine has been an integral part of our culture for over two thousand years", says head sommelier Dinko Lozica. "Our wine list includes some of the best wines in Croatia, with a particular focus on southern Dalmatia, the island of Korčula and the Pelješac peninsula. Korčula is a micro locality which grows two exceptional native white grapes, namely Pošip and Grk, as well as the red Plavac Mali variety. We are proud to work closely with local producers and our sommeliers are famous for their creative pairings with the chef's dishes and for their extensive knowledge of wine production and local history. One of the advantages of Croatian wine is that we have a huge terroir and over 60% of our total wine production comes from native varieties such as Grk, Pošip, Plavac Mali, Plavec Žuti, Malvazija and Teran. Millions of tourists flock to our country every year and we are proud to be able to introduce them to our excellent wines. Studies have shown that our native varieties are very resistant to changes in climate and this characteristic will be a crucial factor for the wine industry in the future".


Mateja Vrckovic/LD restaurant
Another very well-known restaurant on Korčula is Filippi, situated along the Petar Kanavelić promenade near the port, known to locals as the Zakerjan. Here, tables are arranged along the ramparts in a location which boasts breathtaking views of the Pelješac Channel and the islands in the Korčula archipelago. The restaurant serves creative, healthy and delicious Dalmatian cuisine, which is prepared using home-made pasta and local seasonal ingredients, with a focus on aromatic herbs and fresh wild herbs.
After many years working abroad, the chef at Filippi, Dragan Kordić, has returned to his native Croatia where he showcases Croatian ingredients sourced, as he likes to say, from "as close to home as possible". He applies the same philosophy to wine, choosing regional labels from nearby Pelješac and the islands of Korčula and Hvar, and paying particular attention to small-scale producers who are widely represented on the wine list here.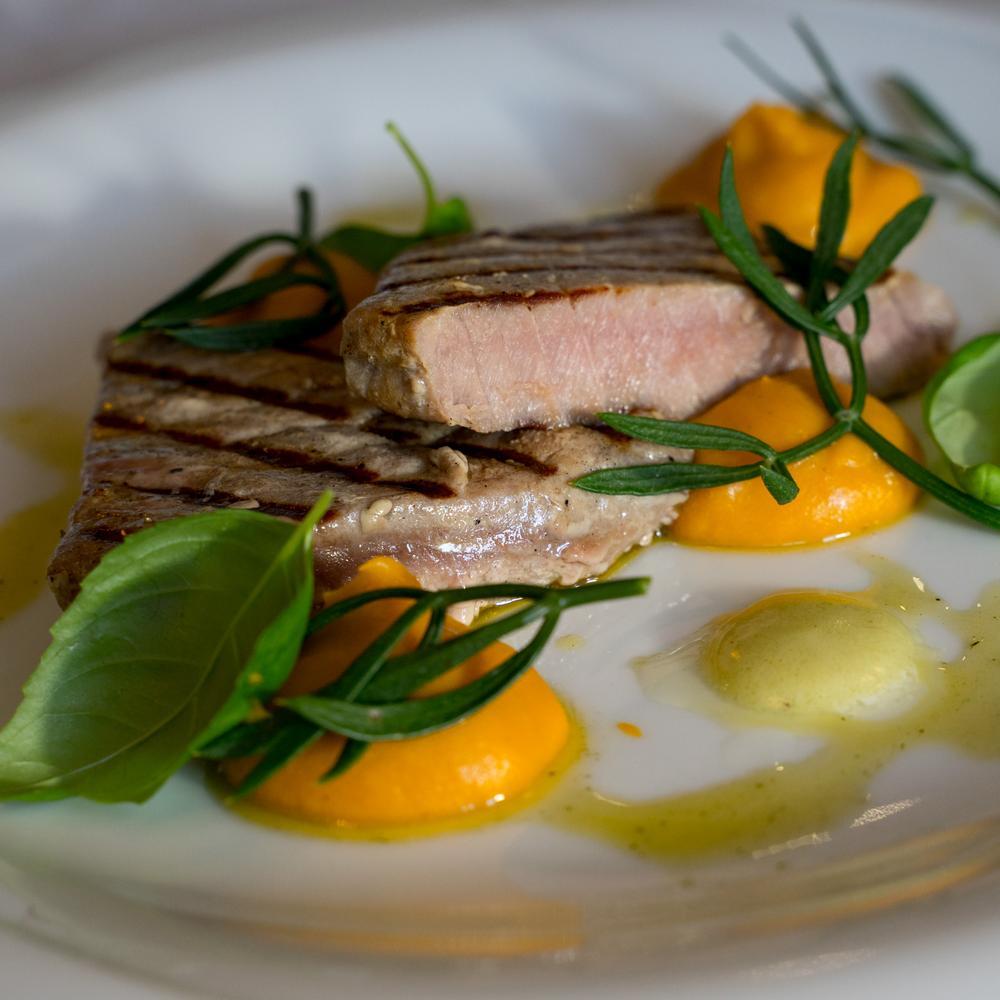 Filippi - Tuna steak with wasabi
"We opened our Filippi restaurant in our family home in the historic centre of Korčula back in 2012 with the aim of offering a personal, contemporary vision of our excellent local cuisine", explains owner Ivana Filippi alongside chef Dragan Kordić. "We are particularly proud of the restaurant's location right by the town walls with its stunning views of the sea".
"We follow a simple philosophy based on good food and local identity. The word Bonkulovich in our local dialect describes someone who is passionate about delicious food – over the years, this word has come to describe anyone from Korčula. We search out the best ingredients from our region, we prepare them with creativity, and we serve them with a friendly smile. That's our magic formula!"
"Sustainability is a key theme for our restaurant, as well as for the whole town of Korčula. A sustainable approach is so important to us that we have created, along with our colleagues, the Korculanske pjatance food and wine festival in order to promote local producers and dishes, and at which we organise workshops and presentations. This has helped to promote the island and the town as an eco-sustainable food destination.
Our restaurant is also a member of an organisation called LAG5 which is dedicated to rural development, and which provides financial assistance to the island's small-scale producers. The majority of these producers now supply their excellent ingredients to hotels and restaurants, not just on the island but also elsewhere in Croatia and further afield. We are delighted with their success and pleased to see this example of positive teamwork."


Duck with minci pasta
"Croatia is a very varied country with many different culinary influences, resulting in a very particular food scene that blends Mediterranean, Central European and Ottoman influences. At Filippi we focus mainly on Mediterranean cuisine as this plays such an intimate part of Korčula's history. One of our signature dishes is a mix of traditional pasta made by hand in the village of Zrnovo, which is served with prawns and dried bilberries. This dish provides balanced flavours on the palate and is a favourite with all our guests".
An absolute must at Filippi's is the sous-vide lamb with a parsnip cream and vegetable demi-glace which takes the traditional lamb that is so popular in Dalmatia's inland areas and brings it up to date through the use of haute cuisine techniques.
"As I've already mentioned, at our restaurant you can enjoy the legendary pasta made by the women of Zrnovo using just water and flour. We also source our goat's cheese (also made in small quantities) from this village. We buy our ham from a producer based up in the mountains on the border with Bosnia, where the strong northwest Bora wind influences the quality of this ham. All our vegetables come from the famous Neretva valley, while our fish comes from the Pelješac peninsula. We also source our olive oil from the small town of Vela Luka, home to some excellent organic produce".
"Wine is the island's main agricultural product, and we often help small-scale producers by introducing their wines to tourists who eat at our restaurant, which is a good way of helping these producers and showcasing their work. On our wine list you'll find Merga Victa, Bire, Vitis, Cebalo and Radovanović, all of which come from wineries on the island. We also have an excellent Testament from Sibenik in central Dalmatia".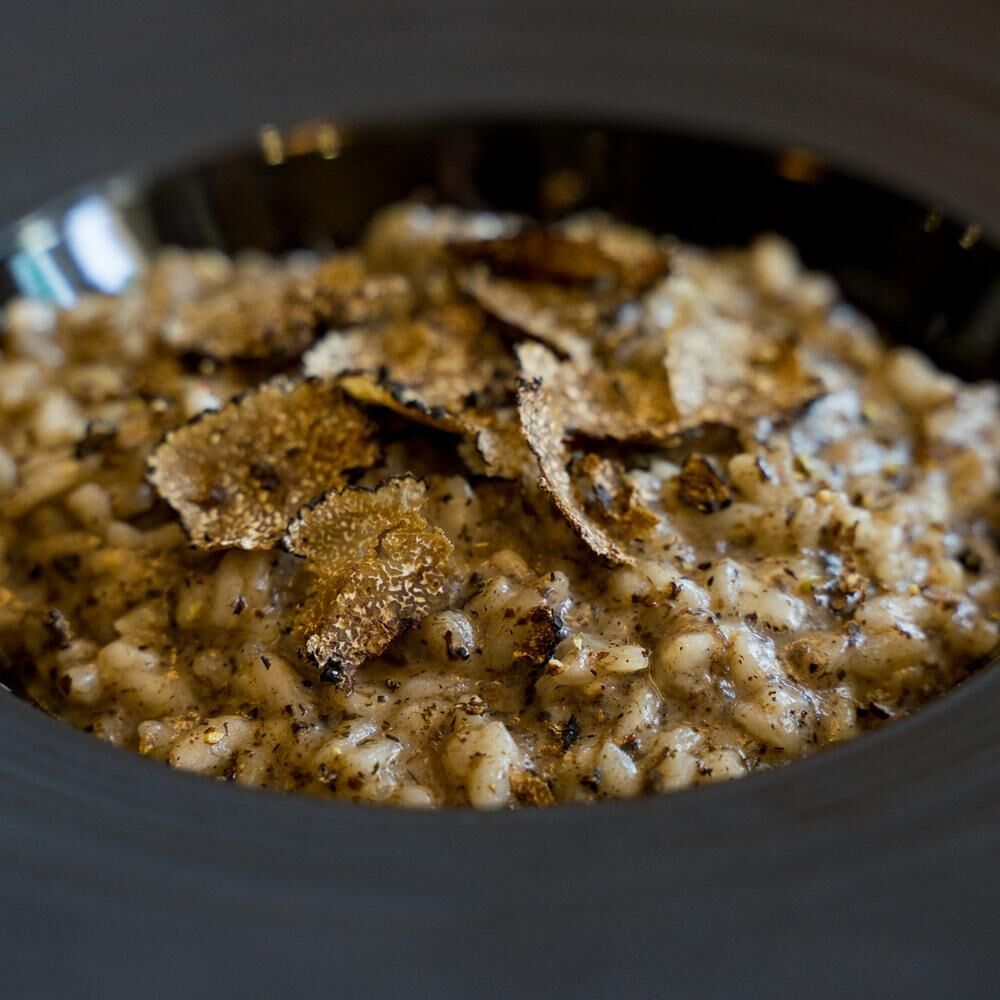 Risotto with black truffles - Filippi
"We invite everyone to visit Croatia, a country that offers a unique and varied gastronomic experience thanks to the different cultural influences that have played their part here over the years", conclude Ivana Filippi and Dragan Kordić. "We encourage our guests to explore the island's villages and visit the small producers who make wine, olive oil and other artisanal products, enabling them to discover new tourist sites that are slightly off the beaten track. If you come to the island, don't miss the museums and churches in Korčula that bear witness to the rich cultural heritage evident in both the town and the island. Croatia has a huge amount to offer visitors and we look forward to welcoming you all with open arms!"
Croatia is the perfect destination for anyone seeking an authentic and immersive experience, thanks to its exciting combination of culture, restaurants, beautiful natural scenery, excellent produce, warm hospitality and a desire to introduce visitors to all that it has to offer.


Korcula - Filippi
This post is brought to you in partnership with Croatia