Croatia never ceases to amaze. As well as producing a whole host of top-quality ingredients, this fertile and bountiful land is also a mecca of creativity. Here, an ever-growing number of chefs bring innovative interpretations to traditional dishes, endowing them with an original and contemporary flavour – an approach that is proving increasingly popular with a younger generation of foodies.
One of Croatia's most exciting features is its diversity. First and foremost, its wide variety of landscapes: each tourist region, whatever its size, has its own distinct biodiversity, traditions, culture and gastronomy. It's safe to say without fear of contradiction that Croatia boasts myriad enticing destinations, fascinating cities and beautiful natural landscapes, all of which are teeming with the tastes, scents, sights and sounds of this enchanting and colourful country.
Today we are heading to Split, the largest city in Dalmatia and the second largest in Croatia in terms of population. Split is situated on the peninsula of the same name, on the Adriatic coast in central Dalmatia. Like Croatia itself, it is varied and contrasting in nature, boasting a harmonious combination of sea and mountains. The Adriatic surrounds the city on three sides, while Mosor mountain stands to the north-east of the city, Kozjak mountain to the north-west, and Marjan hill at the tip of the peninsula itself.
The city's climate is Mediterranean, making it an ideal travel destination even in winter thanks to its mild temperatures. Spring brings fine sunny days from March to June, perfect for a pleasant stroll on Marjan hill, day trips and maybe even the first swim of the year in the sea. At this time of year, Split begins to live outdoors, and its streets and squares come to life, bustling with people who are delighted with the return of warmer weather. Summer brings with it the opportunity to relax in the sun on one of the city's beaches, take a trip to an offshore island, or soak up the atmosphere at an exciting festival, such as the Days of Diocletian or Split in Summer.
Split has a fascinating history and is renowned as the site where the Roman Emperor Diocletian built the palace in which he is said to have spent the last years of his life. The city's historic centre was included on UNESCO's World Heritage List as long ago as 1979, recognised not just for its superbly preserved Roman palace but also because this palace has always existed in perfect symbiosis with the city itself. The building boasts architectural features from many different historical periods, from Ancient Rome to the Middle Ages and right up to the current day, making it a magnificent and monumental testament to the passage of humanity.
Strolling through the old town is like taking a trip back in time. Here, you can admire extraordinary examples of ancient architecture (such as the Roman peristyle), Romanesque churches and medieval Gothic buildings, aristocratic mansions with their Renaissance doorways, Baroque façades and modern architecture that blends harmoniously with the city's rich heritage. This diversity is also reflected in Split's everyday life, with tourists from around the world mingling with local inhabitants in a colourful melting pot in which visitors themselves become part of the backdrop.
The fruit and vegetable market known as Pazar by locals is an iconic sight for all food-lovers. Situated alongside the eastern wall of Diocletian's Palace next to the Church of St Dominic, this is one of the focal points of daily life in the city, as well as being a popular attraction for visitors keen to immerse themselves in its local ambience. Here, tastes, scents and colours mingle with the voices and cries of the stallholders, creating a truly theatrical spectacle.
Also worth a visit is the fish market (peškarija) which, in addition to being an interesting building in its own right, is also home to some of the best fish and seafood caught in the Adriatic. Here, sardines, anchovies and mackerel are laid out alongside snapper, sea bass, lobster and other shellfish, all freshly caught.
Split is also renowned for its culinary traditions. In this region, there is huge respect for the so-called "Dalmatian minimalism", according to which the best-quality ingredients (such as fresh fish) are prepared in the quickest and simplest way possible – today we recognise this approach as the optimum way to preserve the taste and flavour of an ingredient. Fish such as John Dory, snapper, sea bream and mullet are cooked simply so that their natural taste is preserved without being overwhelmed by other flavours. Over the years, other more complex and varied recipes which require several days' preparation and the use of carefully balanced spices have also been created.
One example is the famous pašticada, a recipe that is passed down from generation to generation. This dish takes a long time to prepare, with different stages required before the dish even makes it to the oven. Firstly, the meat (beef or veal) is marinated in a flavoured vinegar and then sautéed. Wine is then added, along with dried fruit (usually prunes) and various spices, such as cloves, nutmeg, bay leaf and pepper. The mixture is then cooked slowly over a low heat. According to tradition, pašticada should be left to cool slowly, then diced and sautéed again before being served with its own strained sauce. It is accompanied by freshly cooked gnocchi and topped with grated pecorino for a little added flavour. As well as beef pašticada, there are also popular versions of the dish made with horsemeat or game.

Split boasts several fine restaurants, including a selection in the MICHELIN Guide that provides a feast for all the senses.
Nestled in the heart of the historic centre in the tourist area overlooking the port, Zoi is an elegant address with a stylish decor that provides the backdrop for Mediterranean cuisine prepared using modern techniques. Specialities include smoked trout with daikon, crispy fennel and trout roe for extra flavour, and sea bass with fresh crispy celery, spirulina, local extra-virgin olive oil and spicy apple to add a touch of character. In addition, the top-floor panoramic terrace enjoys superb views of the port.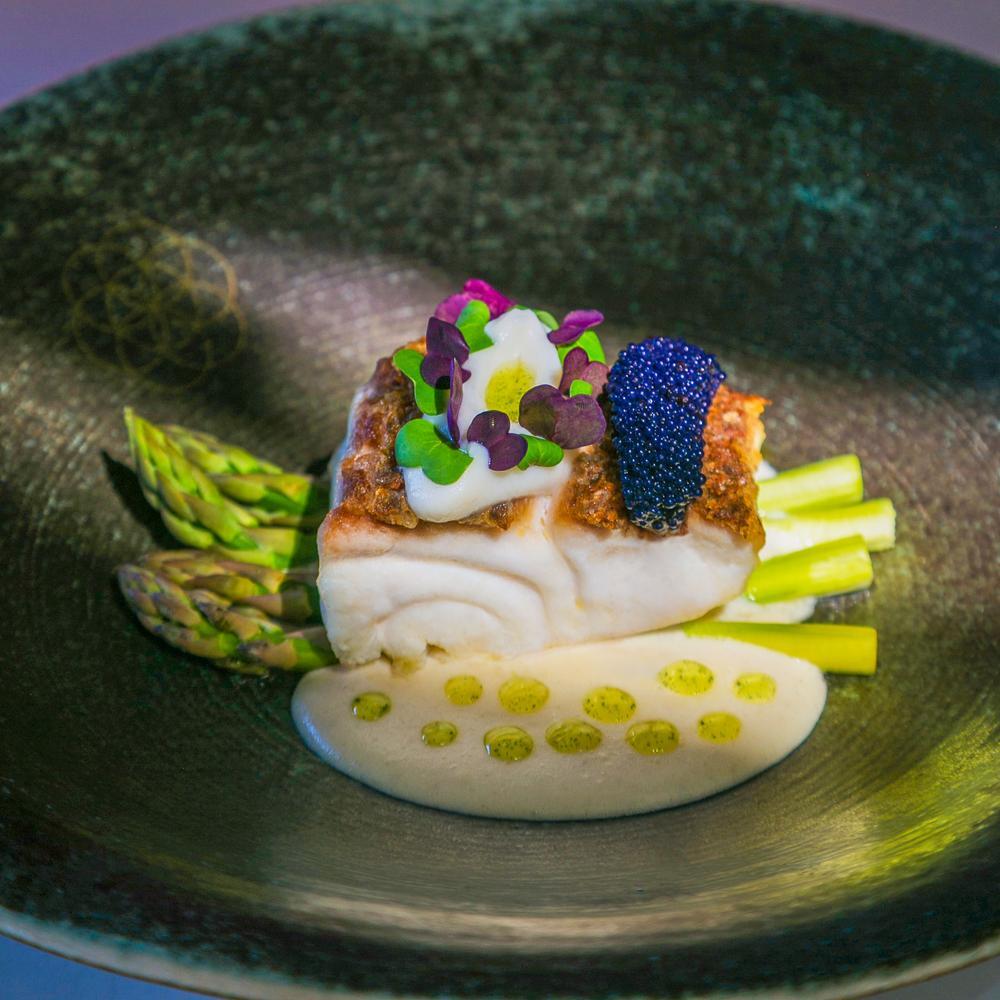 ZOI
Šug, a Bib Gourmand restaurant situated outside the busy tourist centre, is renowned for its excellent value for money. This pleasant, informal and relaxing restaurant serves a wide array of traditional fish and meat dishes from Dalmatia, in a peaceful setting where its young staff provide friendly and courteous service. Its delicious, carefully prepared dishes are inspired by home-cooked favourites such as tomato soup, home-made pasta with truffles, venison stew, beef soup with bread croutons, and renowned goat's cheese from the island of Pag. You'll also find a small, attractive outdoor dining space in the inner courtyard.
Konoba Fetivi, an authentic "konoba" (inn or tavern) run by the Fetivi family who have strong roots in the region, serves excellent traditional cuisine. Here, guests can savour local meat and fish specialities, including old family recipes such as tagliatelle with richly flavoured venison ragu, monkfish with potatoes and a superb apple strudel.

If you're fond of the sea, Zrno Soli is definitely the place for you. Situated on the first floor of the ACI Marina building, this restaurant boasts a terrace overlooking the harbour with its boats and yachts at anchor, as well as fine views of central Split and the clear blue waters of the Adriatic. This restaurant is a favourite with fish-lovers, with its attractive display cabinet of fresh fish from which guests can make their choice. The menu here is seasonal, adhering strictly to offering whatever is available at any given time of year. If you're lucky, you'll find dishes such as monkfish soup and cuttlefish with bulgur wheat on the menu, both of which particularly impressed our Michelin inspectors, as did the desserts.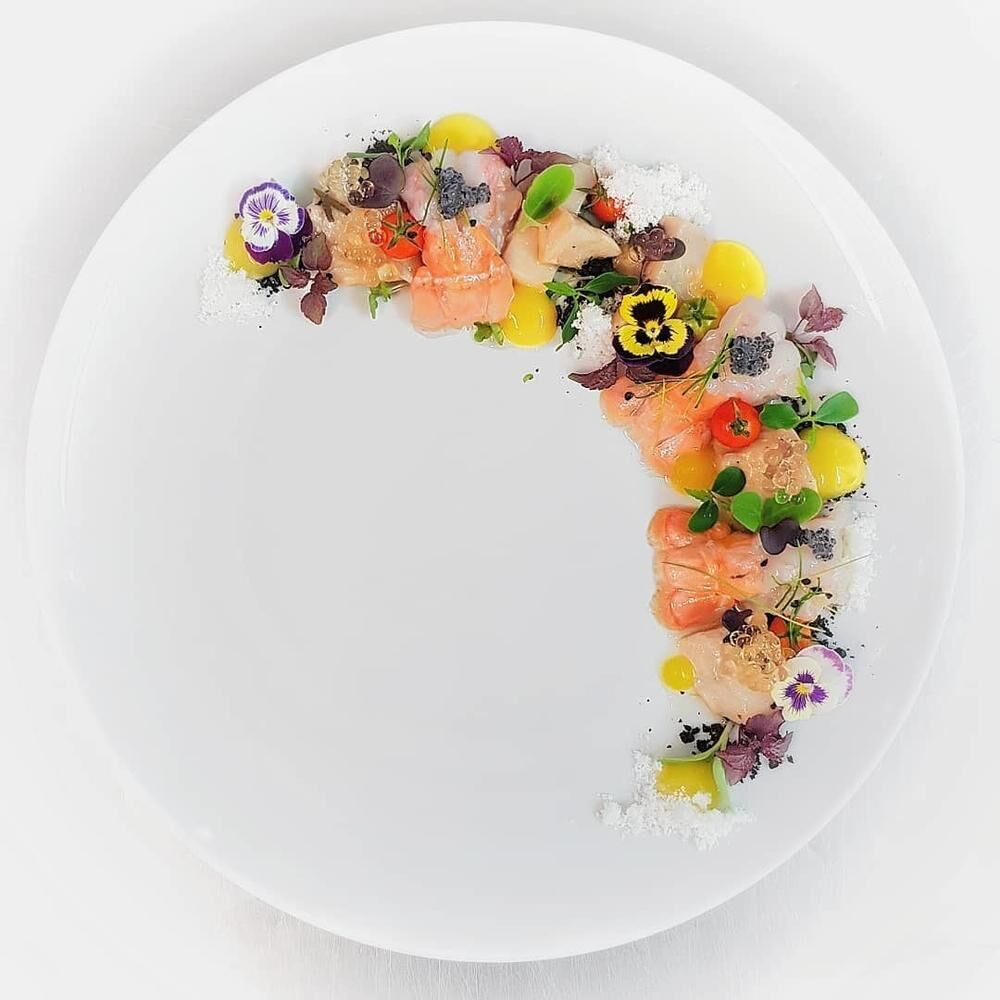 Zrno Soli
Another restaurant that enjoys a superb location is Kadena, situated just a stone's throw from the sea and boasting fine views from its terrace. This is surely one of the most enchanting locations in Split, and Kadena is without a doubt one of the city's most elegant restaurants. Fresh fish takes pride of place on the menu here, proudly displayed on ice and served in a whole host of superb dishes. Don't miss the prawn and scallop tartare, the famous Dalmatian fish soup known as "gregada", and the typical pasta carbonara with smoked mussels from Korcula island – the latter is real comfort food! The restaurant also offers a small breakfast menu featuring options such as delicious ham and cheese waffles, and poached eggs with a tomato and basil emulsion.

Situated on the coast outside the city centre, Dvor is a family-run restaurant boasting a relaxing atmosphere, attentive service and an extensive tree-lined garden with shaded tables overlooking the sea. The cuisine here is Mediterranean in style, with meat, fish and vegetables all making an appearance on the menu. Alongside traditional cooking methods, the restaurant also makes full use of a wood-fired barbecue which adds a delicious smoky fragrance to ingredients without overpowering their natural flavour. Memorable dishes here include pork belly and sea bass risotto, as well as more creative options such as risotto with fresh and smoked shrimp, smoked mussels and cheese ice cream. The desserts (especially those made with chocolate) are a real absolute highlight.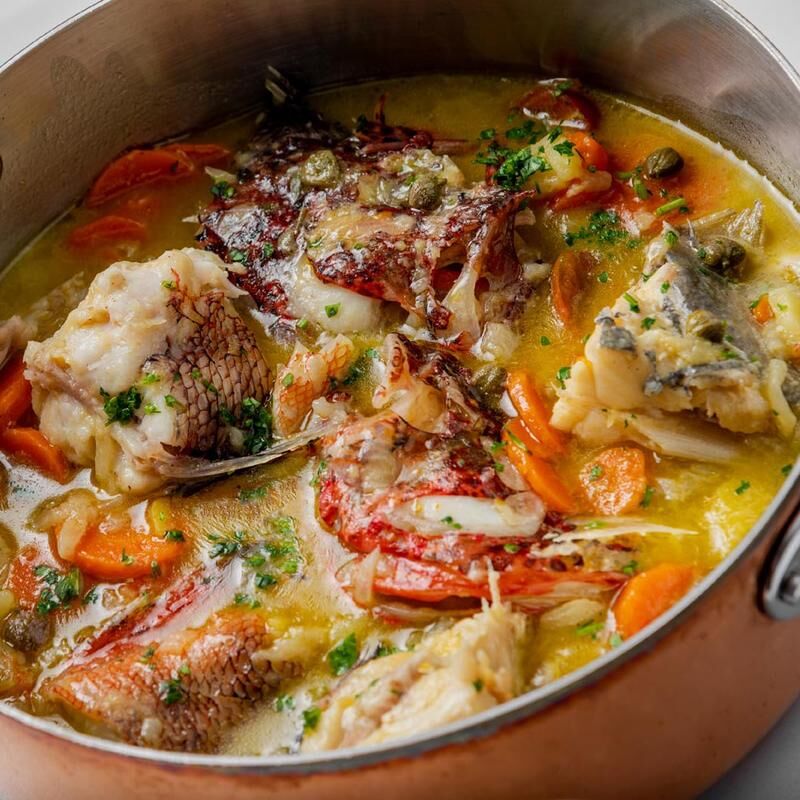 Kadena
The next few restaurants are all new entries for Split in the 2023 Michelin Guide. The first of these is PiNKU fish & wine, a pocket-sized restaurant (the word "pinku" means "small" in the local language) housed in an old butcher's shop. The restaurant stands next to the old Peškarija fish market, from where it sources the ingredients that make up its concise yet delicious fish and seafood menu. It offers just two tables indoors (in front of the marble-topped kitchen counter) and six tables on its outdoor terrace. For the full dining experience, we recommend choosing the tasting menu which showcases the best of the day's fresh catch. The dishes are more complex and elaborate than they seem at first glance thanks to the use of contemporary techniques, fermented ingredients and clever combinations of acidity and sweetness, as well as interesting and varied textures. Specialities here include fillet of fish glazed with honey and olive oil, served with radish salad, pickled fennel and jasmine.
Another new restaurant in this year's Michelin selection in Split is Bòme. The exterior of this surprising, brightly decorated socialist-modernist building is in sharp contrast to its more modern and minimalist interior. The restaurant, which is run by enthusiastic owner-chef Mario (now back in his homeland) and his girlfriend Franciska, has just seven tables facing an open-view L-shaped kitchen. The cuisine is Mediterranean and modern in style, comprising well-balanced flavours and appealing textures. Both the pasta and the bread served here are made on the premises, and all ingredients are sourced from the market.
We move on now to Trogir, a town situated on the central Adriatic coast, where Il Ponte stands just a stone's throw from the town centre. This elegant restaurant, with its attractive veranda-style dining room and stylish decor that plays with shades of blue and yellow, is the setting for modern, creative cuisine which reinterprets Mediterranean culinary traditions in an original and imaginative way. Here, delicious flavours combine with beautiful presentation, as demonstrated by the Il Ponte Selection appetiser, which brings together the colours and scents of the Adriatic in a selection of small bites accompanied by light sauces and local extra-virgin olive oil. The wine list deserves special mention for its carefully curated selection of Croatian labels, while the superb desserts include a delicious combination of chocolate, truffle and sea salt. The latter is sweetened by the addition of Brački Varenik IGP, a thick liquid produced by cooking the juice of fresh or dried grapes until its volume is reduced by a third. This sweet liquid produced on the island of Brač has notes of honey and grapes and a flavour of caramel, while its colour varies from dark red to dark brown if made from red grapes, and dark yellow to light brown if white grapes are used. Il Ponte is open from midday into the evening and features an attractive outdoor space where you can soak up the sunshine in summer.


Il Ponte
Another restaurant in Trogir featured in the MICHELIN Guide is Konoba TRS. Situated in the heart of the town's compact yet bustling pedestrianised centre, this restaurant also boasts an outdoor space with a typical and relaxing feel. Its menu features Mediterranean-style cuisine, including an impressive selection of fresh fish prepared with the occasional imaginative twist, along with delicious traditional dishes such as lamb pašticada. Other options include duck breast with sweet potato and carrot cream, demi-glace sauce and cherry coulis; various risottos made with seasonal ingredients; and excellent platters of local cheeses. There's a pleasant, air-conditioned dining room for those who prefer to stay cool in the hot summer months.
In Supetar, just a few minutes' walk from the charming port on the picturesque island of Brač, you'll find the modern, elegant Otok, situated on the ground floor of the Osam hotel. The restaurant's terrace shaded by mature olive trees provides the perfect backdrop for delicious, traditional Croatian cuisine, while the menu includes an array of island specialities such as fish soup and fresh seafood from the Adriatic, all accompanied by a selection of carefully chosen Croatian wines.
Konoba Kala is another new entry in Supetar. This intimate, tastefully furnished restaurant is situated in a secluded location near the main port. Here, two tasting menus showcase island specialities prepared from seasonal ingredients, such as freshly caught fish from the Adriatic and delicious lamb, with some dishes cooked over a wood-fired barbecue to add a pleasant smoky flavour. But the real highlights here are the desserts, especially those made from figs. And to round off your meal in style, make sure you try one of the island's local wines – a glass or two of Senjković Bosso is a must. The icing on the cake is the restaurant's charming terrace which is perfect for alfresco dining.
Meanwhile, the island of Solta is home to Konoba Škoj, a Bib Gourmand restaurant run with great passion and enthusiasm by young owner-chef Ines Dieneš. Excellent Mediterranean-inspired cuisine and friendly service are the hallmarks of this restaurant, which has just a few tables and where the simple yet skilfully prepared dishes include tagliatelle with prawns, surf'n turf, pea soup, a variety of different cuts of meat, and Caesar salad. The small terrace overlooking the town's natural harbour is the perfect setting for a meal as well as creative cocktails such as its signature Amaretto sour.
After visiting Split and its surrounding region and having eaten in restaurants listed in the MICHELIN guide, you may well agree with locals who like to say that if the powerful Emperor Diocletian chose to build his grandiose palace here, when he could have chosen anywhere in the vast Roman Empire, there must have been a reason. It's hard to disagree!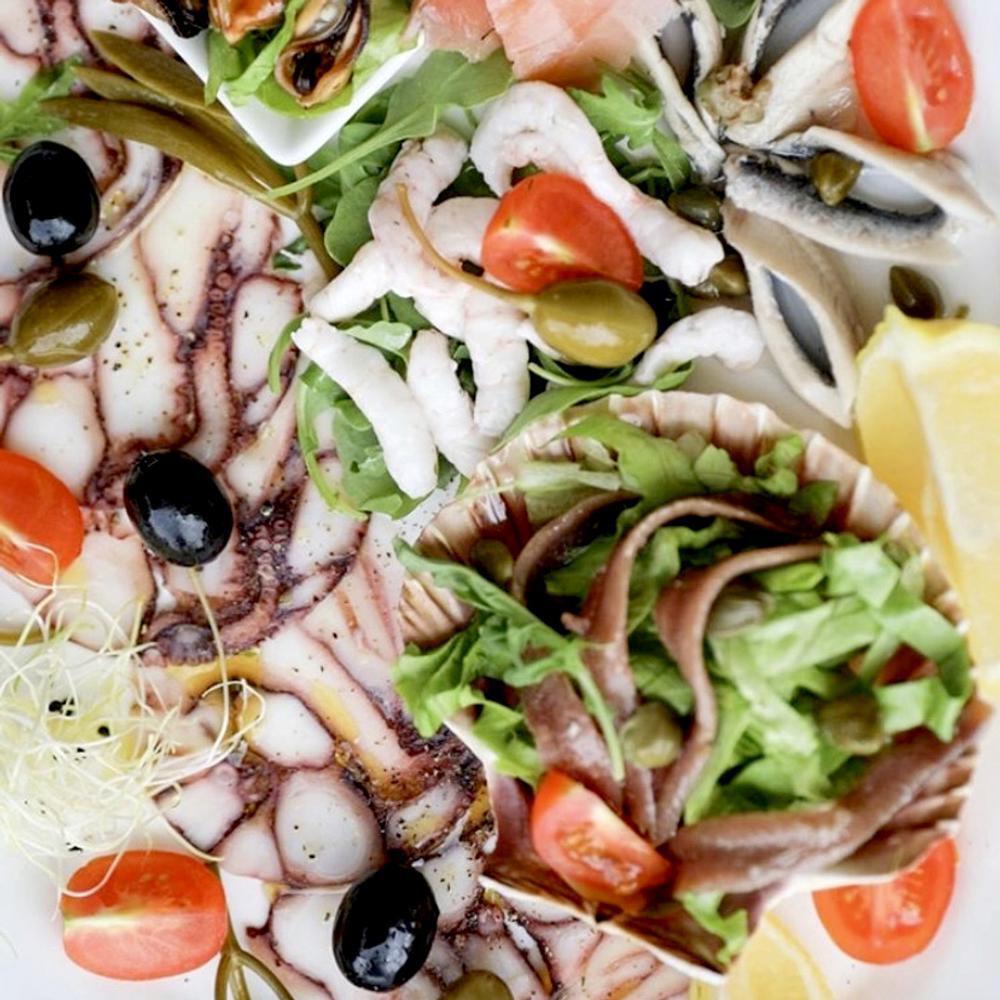 Konoba Škoj