This might be the reason why - holding a definitive place in their menu - lamb keeps shining with newer adaptations on the plates of Mikla; a restaurant having established its own culinary school, created "New Anatolian Cuisine". In this style, chefs elevate local ingredients and techniques to contemporary gastronomical needs as a way to honor the Anatolian culinary traditions.
However, finding the best version of this beloved meat comes with effort. Besides, not all lamb dishes are to everyone's taste; and they not only require superior quality meat from the right breeds, but also advanced cutting and cooking techniques. For this very reason, it is essential to pick the right place to eat good lamb. Having perfected its lamb recipes over the course of years, Mikla is quite ambitious in this regard. Wondering why? For a better understanding, let's delve into Mikla's story.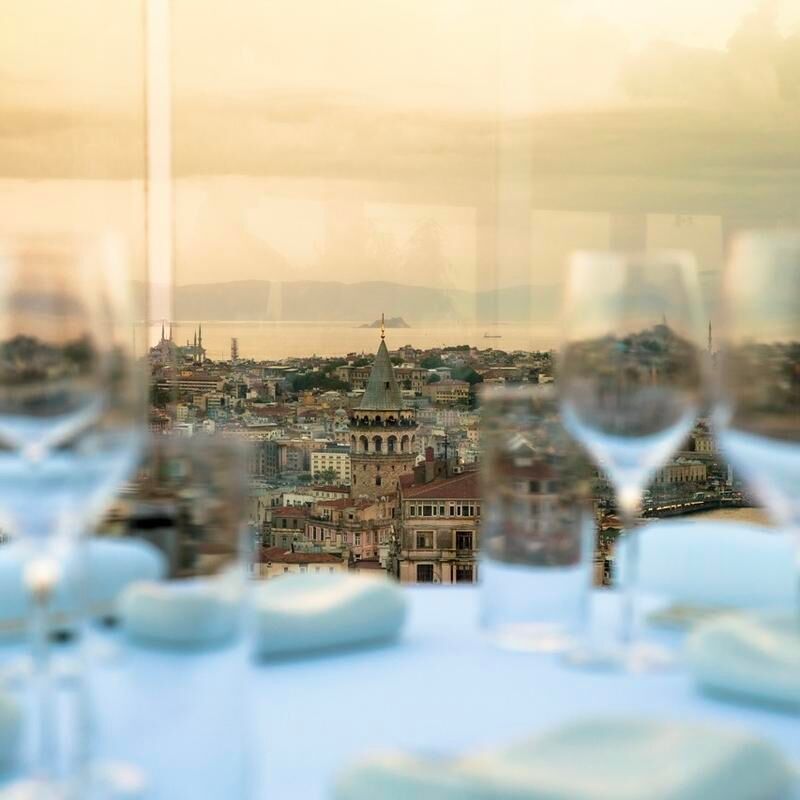 Image // Mikla // Mikla offers to enjoy the unique silhouette of Istanbul
---
Following the fresh touch it had added to Istanbul cuisine since its opening in 2005, Mikla essentially pioneered in the great transformation in Turkish gastronomy in 2012. Initiated by Mehmet Gürs; the founder and Cihan Çetinkaya, the ongoing chef of Mikla since 2009, "New Anatolian Cuisine" movement invited cuisine lovers to look at the tradition with brand new viewpoints. Mikla's team created a unique concept by interpreting local ingredients and local techniques with an innovative approach in line with international standards. Researching the dishes that are unknown to metropolitan society, they explored the ingredients produced with non-industrial, traditional methods, and changed their entire menu accordingly. "What we did was insane; but it was a clever insanity based on a long period of contemplation," says Cihan Çetinkaya referring to this bold move of theirs against a well-known restaurant with a long-established customer profile and continues: "Instead of chasing imported products, we contemplated on how we can turn good Anatolian products into good dishes. And we immediately realized we had to learn a lot from the scratch. Not only the dishes, but ingredients as well. For instance, take lamb stew with fruit, which lamb or apricot should be used, which technique should be employed, we just went and worked on them one by one. I, myself have worked on crispy pumpkin dessert for six months. In today's restaurant business, we wanted to make sure we were offering all these local ingredients at their best version. Eventually, no imported products were left on the menu, except for vanilla and cocoa, which are not grown in Türkiye. And we've turned these local products into plates in a way woven into tradition while presenting them in a manner that has never been tried before."
Image // Mikla // Lamb, charred Eggplant, Kars gruyere, mushroom, İsot pepper
---
Chef Çetinkaya's emphasis on "woven into tradition" is not without reason. Starting from their first day, lamb has always been a special ingredient for them - just like it has always been a special food in this land, be it Eastern Roman Empire (Byzantine Empire), Ottoman or Republican era. It always steals the show at the ceremonies; showing up as tandoori lamb at a wedding ceremony, or stewed lamb in the coming of spring celebrations. Dishes or recipes may vary, but the lamb always keeps its central place. Smoked lamb used to be quite a popular dish in Mikla's early period, but later on it was removed from the menu as smoking is a technique not peculiar to the Anatolian tradition. Roasted or grilled lamb shank, neck, entrecote came as the replacement.

---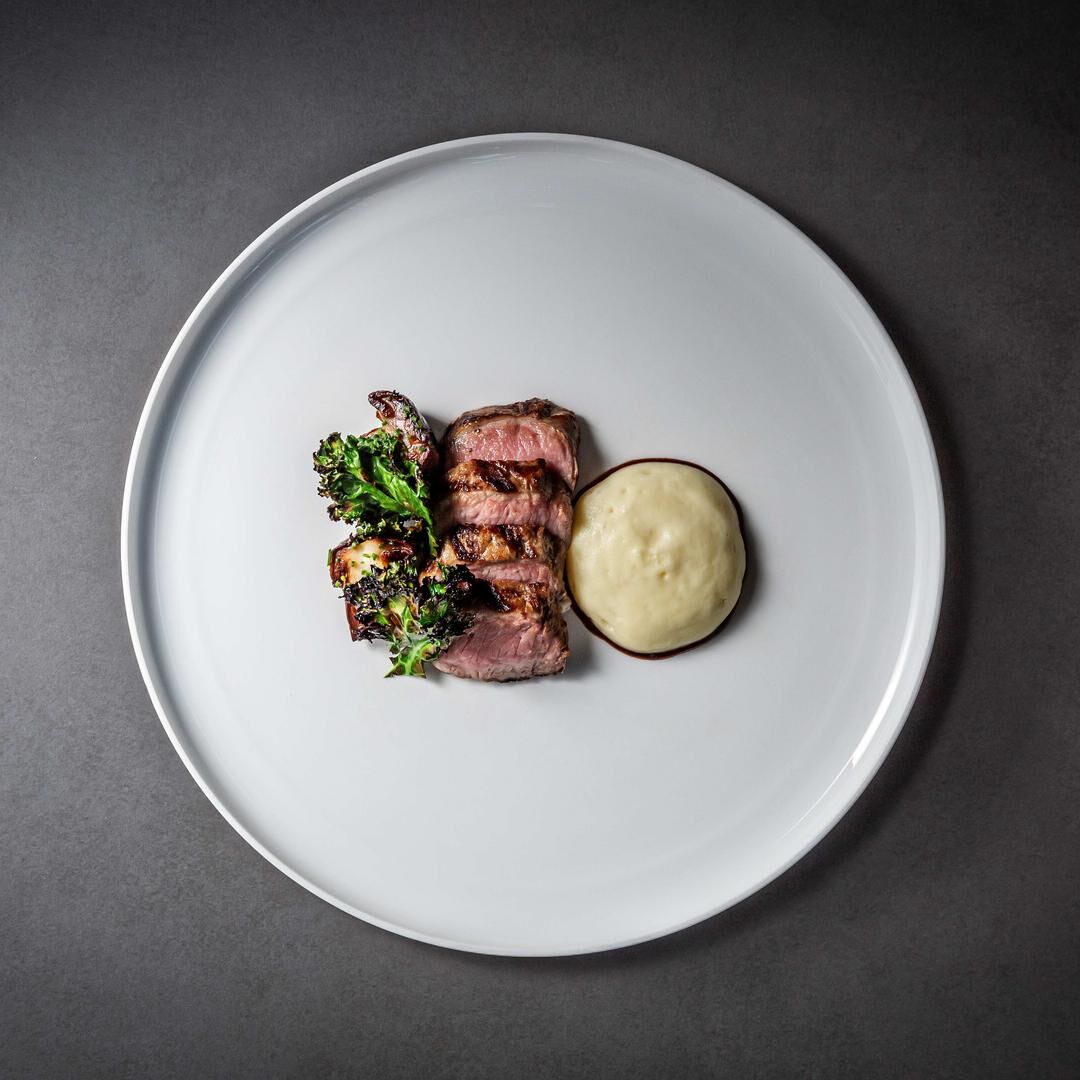 Image // Can Mete / Mikla // Lamb, creamy mashed potatoes, kale
Naturally, the contents of the dishes change in time due in part to the inclusion of seasonal ingredients. That being said, lamb shank or "lamb from the pot" has kept its place as one of Mikla's iconic dishes since 2012. In addition to holding a fundamental place in the tasting menus, lamb dishes are among the highest demands in invitation and celebration ceremonies as well. One of the leading wine experts in Türkiye who also has created Mikla's wine cellar that brings together around 400 different wines - one quarter of which consists of wines produced from local grapes - Sabiha Apaydın Gönenli draws attention to the excellent harmony the lamb has with local wines: "I always pair lamb shank with Boğazkere - Öküzgözü, a unique blend of Türkiye's native grapes. There is a particularly wild taste followed by softness in this coupage. Add the strong aroma and the slightly sour taste of the lamb dish, and you get harmony and mutual elevation."
Pointing to the significant place the lamb dishes have in Istanbul's culinary tradition, Apaydın underlines that this meal, requiring a tedious effort with an extended cooking time, is also a greeting to the city. Standing out with their taste rather than appearance, these are "straight dishes" according to Chef Cihan, as the meat's aroma gets emphasized and enriched without the taste changed. And special Turkish ingredients such as local greens called cibes, mulberry sour or apple molasses accompany the meat. All this combined, it makes sense why lamb is among Mikla's signature dishes, despite having so many other specialties, right?
By all means, the team keeps their searches with a keen, organic approach to the ingredients. No coincidence that lamb heart is among their source of pride dishes as they are inspired by the culinary tradition that creates magnificent dishes not only from the meat, but also from offal. Despite the fact that they don't offer lunch service, both Apaydın and Çetinkaya attribute Mikla's survival ability to their uncompromising attitude towards new Anatolian cuisine principles while at the same time holding an innovative approach: "We are a restaurant in the purest sense of the word. What we promise is good dishes, good wine and good service. Realizing the satisfaction our customers have with our service as well as with our dishes and cellar makes us extremely happy. Because they all constitute a whole. And we intend to continue without breaking this wholeness."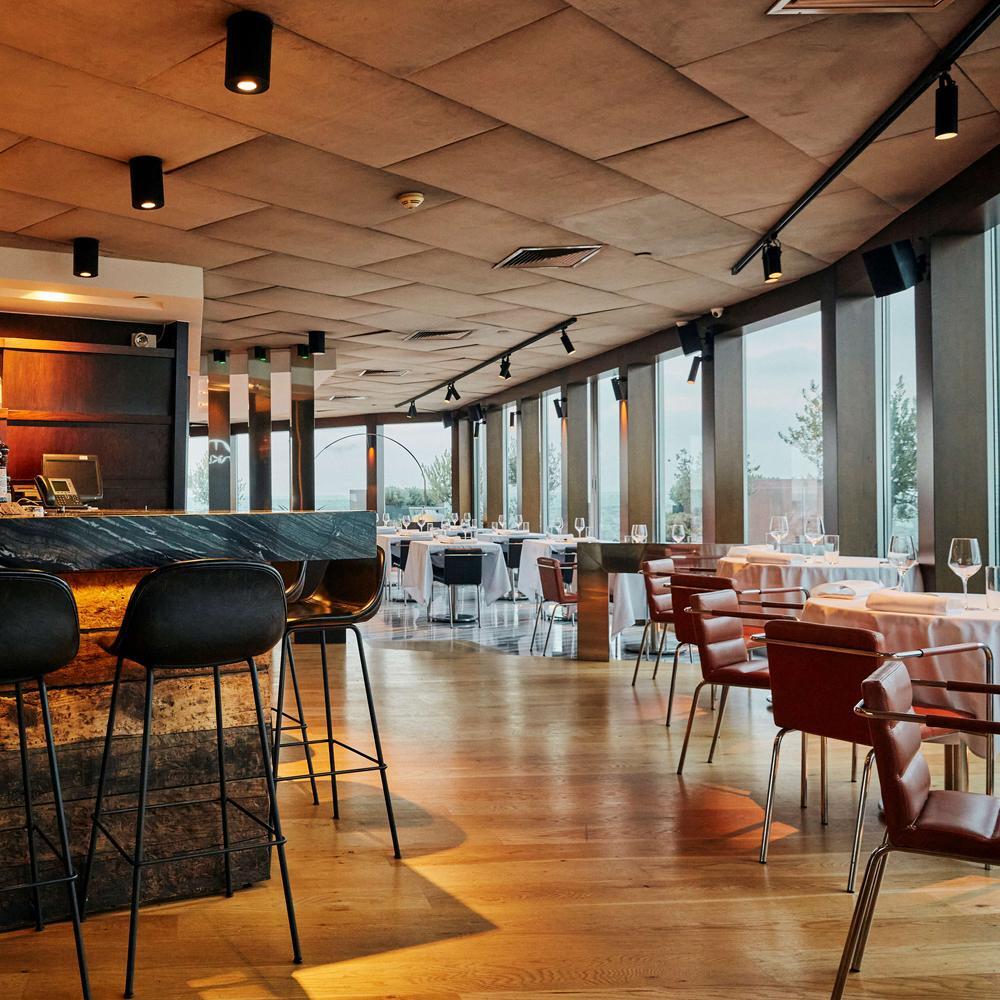 Image // Can Mete / Mikla // Clean lines, elegant colors... The interior design of Mikla emphasizes its gastronomic view
Perhaps this comes as the most fascinating aspect about Mikla's dishes: the opportunity to find Anatolia's culinary culture and ancient ingredients in a plate and a glass across the magnificent view of Istanbul...

Our Istanbul selection comprises over 50 restaurants. Take the opportunity to peruse the MICHELIN Guide app and find out more.

Illustration image // Mikla // A signature lamb dish of Mikla, "Lamb from the Pot": Lamb, cibes greens, mulberry sour, salted yoghurt, cumin

This post is brought to you in partnership with GoTürkiye