Summer is peak growing season, and the bounty of the region takes many shapes and forms. Each box in The MICHELIN Guide and Norwich Meadows Farm CSA-inspired program will contain a wealth of locally grown, vibrantly colored seasonal produce packed with nutrients.

Generally speaking, produce lasts longer in the fridge with limited oxygen exposure (i.e. air-tight environments) which works to slow the process of oxidation. Wrapping most kinds of leafy vegetables in plastic wrap or damp paper towels before storing can help to prolong their shelf life. Storing alliums and herbs upright in water can as well.

For more tips on storing, preparing, and getting the most out of your CSA box, Chef Michael Anthony of One MICHELIN Star Gramercy Tavern has some ideas. Post your farm-fresh creations to your social feed with the tag #MichelinAtHomeCSA.


Asparagus
The young shoots of this perennial flowering plant are what we know as the vegetable asparagus. It is best eaten right away, but will keep for 3 to 4 days when stored upright in a container with a little water. Be sure to wash thoroughly before cooking. [Photo by Stephanie Studer on Unsplash]

Baby beet greens
The "thinnings" from over-germinated beet seed plantings, these tender-leafed baby greens are similar to a baby spinach or baby chard and can be cooked and eaten in the same way. [Photo courtesy of Norwich Meadows Farm]

Beets
This round, firm root vegetable comes in a variety of colors from garnet red to cheery yellow. Forono beets are elongated for easy slicing. Beets will keep for up to three weeks in the fridge. Wash gently before cooking, but peel after to retain color and nutrients. Common preparations include roasted, boiled, or shaved raw. Great for pickling. [Photo courtesy of Norwich Meadows Farm]

Bok choy / Pac choi
Also called Chinese white cabbage, bok choy or pak choi are a popular vegetable in Southeast and East Asian cuisines. The vegetables have bulbous, juicy stems and dark, leafy greens. Bok choy will keep for three to four days in the crisper drawer of a fridge. They are best blanched, but can also be eaten raw. [Photo by Monika Grabkowska on Unsplash]

Broccoli
This relative of the cabbage has been cultivated since the days of the Roman Empire. It is native to the Mediterranean and was popularized in the US by Southern Italian immigrants in the 1920s. The tough, outer layer of the stem can be shaved away, revealing a tender, juicy stalk perfect for slicing into a stir-fry. [Photo by Leilani Angel on Unsplash]

Cabbage
This head-shaped vegetable comes in many varieties, but is characteristically made up of a tight, dense layering of leaves. Cabbage will last for up to a week in the fridge, but even a wilting head cabbage can be repurposed into a stew or pot of beans. [Photo courtesy of Norwich Meadows Farm]

Cauliflower
Most commonly white, but cauliflower can also be green and purple. The tight florets and mild flavor are well-suited for a variety of cooking methods from whole-roasted to shaved raw cauliflower "rice." [Photo courtesy of Norwich Meadows Farm]

Cucumbers
A fruit of the gourd family, cucumber has dark green skin and a delightfully crisp texture. Cucumbers will last, uncut, in the fridge for over a week. It is most commonly eaten raw, and works especially well shaved into yogurt or lightly marinated in garlic, soy and rice wine. [Photo courtesy of Norwich Meadows Farm]

Fennel
A plant with many parts and many uses (and a relative of the carrot). The bulbous base and stalks can be shaved raw into salads or roasted, the frilly dill-like fronds (leaves) can be used like herbs, and its seeds are used for their sweet-anise flavor. Cooking will increase the inherent sweetness of the plant, and transform the texture from crisp to custard-y. [Photo courtesy of Norwich Meadows Farm]

Lettuces
This catchall name covers hundreds of leafy varieties that fall into four categories: cabbage-like iceberg, smooth butterhead, crisp romaine, and frilly loose-leaf lettuces. Dark green leaves are generally the most nutritious but also the most bitter. Though commonly eaten raw, many lettuces are well-suited for slow-cooked dishes and braises, too. Wash thoroughly and dry before using. [Photo courtesy of Norwich Meadows Farm]

Mizuna
A feathery, Japanese mustard green with a mildly peppery flavor. Smaller leaves will be good for eating raw while longer, more hardy stems are great to cook with. [Photo courtesy of Norwich Meadows Farm]

Mustards
Leaves of the mustard plant (whose seeds are used to make prepared mustards) are hardy, deep green (and packed with nutrients), and often potently spicy. Along with collard greens, mustard leaves are an integral part of African American cuisine. The vegetable is best cooked and can stand up to big flavors. [Photo courtesy of Norwich Meadows Farm]

New potatoes
These are quite simply regular potatoes that are harvested early. They usually have thin skins and a crisp, waxy texture, which makes them perfect for boiling and roasting. The sweeter flavor makes it great for boiling and slicing into a salad. [Photo courtesy of Norwich Meadows Farm]

Pea shoots
This darling vegetable in East Asian cuisines is prized for its silky tender texture and sweet flavor when lightly cooked. Pea shoots are the tendrils and leaves of the pea plant (such as snow peas or English peas). They will only keep for a few days and should be among the first things you eat from your box. [Photo courtesy of Norwich Meadows Farm]

Radishes
The root of a plant in the mustard family, radishes are another vegetable with myriad varieties. Radishes range in color (from white to pink ombre), shape (round to egg-shaped), and flavor (sweet to spicy). Common farmer's market varieties include Easter egg (round, multi-colored, and crisp) and French breakfast (elongated and mild). If eating raw, soak in an ice bath to enhance crispness. Also great for pickling. [Photo courtesy of Norwich Meadows Farm]

Red kale
This cold-climate vegetable is a member of the cabbage family. Red kale is slightly sweeter than curly and Lacinato kales. The stems of the vegetable are often tough and bitter, and can be removed before eating. A super food that can be eaten raw (massaged with oil) or cooked. [Photo courtesy of Norwich Meadows Farm]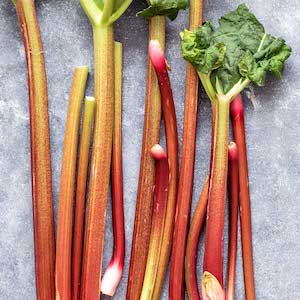 Rhubarb
This celery-like vegetable (yes, it's a vegetable) can grow up to two feet long. It is incredibly tart so is often prepared with plenty of sugar and alongside fruits in a variety of desserts. The crisp, reddish-pinkish and sometimes green-ish stalks are also a good match for pickling. [Photo by Monika Grabkowska on Unsplash]

Spring garlic
Also called green garlic, spring garlic is harvested before developing into mature garlic cloves. Depending on its stage of harvest, it can look a lot like spring onions or even baby leeks. The best way to spot the difference? Spring garlic has a distinctly garlicky aroma and flat leaves. The flavor is less pungent than fully matured garlic. [Photo courtesy of Norwich Meadows Farm]

Spring onions
This spring-time allium is related to but not the same as the green onion (also known as scallion). Spring onions will develop a small bulb while green onions do not. Spring onions are more pungent than green onions, but less so than regular onions. In cooked dishes, however, spring onions and green onions are interchangeable. These will last longer when stored upright in a container with fresh water. [Photo courtesy of Norwich Meadows Farm]

Summer squash
As they say, if it has seeds, it's a fruit (botanically speaking). According to this rule of thumb, squash is indeed a fruit. Native to North and South America, there are many varieties of squash but the kinds available in the late spring and summer include zucchini, calabacita (pale green Mexican heirloom squash), and squat, yellow pattypan. Shave raw into salads, sauté until soft, or roast for earthy sweetness. [Photo courtesy of Norwich Meadows Farm]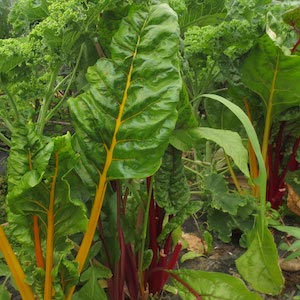 Swiss chard
A leafy green vegetable that is related to beets. Thus, the taste is similar to beet greens and even spinach. The stems of Swiss chard come in a multitude of colors and have a crisp and juicy texture, and are often prepared separately from the leaves. As with most leafy greens, chards only last a handful of days in the fridge. [Photo courtesy of Norwich Meadows Farm]

Tokyo Bekana
This ripple-leaved cabbage is from Japan, but is genetically linked to leafy, juicy Chinese cabbages. Baby leaf Tokyo Bekana is often used in microgreen salad mixes. The fully mature plant is similar to loose leaf lettuce and can be prepared and eaten as such. [Photo courtesy of Norwich Meadows Farm]

For details on the program, including how to order, visit the hub at Tock.
For more information, recipes, and tips visit The MICHELIN Guide CSA hub.
Hero Image: Alexander Schimmeck on Unsplash