Miami has always been a big hotel town, bursting with accommodations that have historically catered to families and, on the far other end of the spectrum, a bustling crowd bent toward decadence. Like all great cities in recent years, though, Miami has morphed into a place with a stacked roster of hotels that cater to just about anyone who wants a little more style and personality than the major resort chains and last-call crash pads have typically made available.

These days, families—and visitors without 'unabashed hedonism' on their bingo card—have hotel options that won't bore their beach towels off. It's the ideal scenario for a city that's grown beyond its reputation as an oceanside party palace and into a bona fide hub of arts and culture.
Eat your way around Miami at one of 59 MICHELIN Guide restaurants, then stay the night at one of our hotel picks.
The Faena District occupies an eight-block stretch of prime oceanfront real estate. There are condominium towers, a high-end design bazaar, and a cultural center, but for the moment, the knock-out highlight is the hotel. Alan Faena enlisted a dream team of designers, including architect Rem Koolhaas, to bring his fantasies to life, and the result is fanciful indeed.
What's old is new again, especially in boutique hotels. Miami Beach, more than many American cities, has some fertile history to work with, thanks to its strong Art Deco visual identity. A decade or two ago, the proprietors of a place like the Plymouth Hotel might have filled it up with surreal futuristic whimsy. Today, however, designer Fernando Santangelo, best known for his equally thorough renovations of the Raleigh and L.A.'s Chateau Marmont, turns to vintage furniture and Restoration Hardware.
The Standard is located off the main drag, on the quiet and mostly residential Belle Isle, along the Venetian Causeway just short of Miami Beach proper. You can find yourself very much in the thick of it within minutes, but The Standard makes the most of its slight remove, such that it may furnish the kind of peace and tranquility that's long since departed Collins Avenue. Well, relative peace and tranquility, anyway — The Standard's typical guests are not exactly wallflowers, and there's always something going on in the bar.
The historic 1930s Art Deco façade of the Hotel Greystone looks brand new — and after a vast renovation, what's inside looks more or less like the last word in contemporary South Beach boutique luxury. The location, right on Collins Avenue, is just about as central as it gets, but the Greystone's interiors offer immediate relief from the bustle outside; in the lobby, soothing cream tones dominate, accented by living greenery and subtle Deco reverberations.
In Miami the flash hotels arms race has escalated to a point where a hotel like the Betsy — South Beach is almost shocking in its restraint. We're almost tempted to call it conservative, but with a disclaimer: the Betsy's pre-deco style means it's got a personality all its own, and can't help but stand out from the poolside fashion shoots and celebrity-thronged nightclubs of its more attention-starved neighbors.
The EDITION is located on the largest piece of beachfront property in town, with an enviable address on Collins Avenue. In keeping with the EDITION ethos, the architecture reflects the destination. Instead of tearing down the location's original hotel, the vintage Seville Beach Hotel, the architects retained the striking sixties-style porte cochère, bringing in the design firm Yabu Pushelberg, high-end hotel specialists, to reimagine the interiors.
There was a time when the eco-friendly ethos and recycled/reclaimed décor on display at 1 Hotels South Beach would have been a tough sell in ultra-decadent Miami. But as jetsetters increasingly trade conspicuous consumption for conscious consumption, hedonism has taken a wholesome, almost virtuous turn. All of which is to say: the 1 Hotels approach suits modern Miami Beach just fine.
The long-awaited opening of the Setai was some of the biggest news to hit the South Beach hotel scene in a while. This is a town that's not exactly hurting for over-the-top luxury accommodations, but the Setai manages to set itself apart by being even more over-the-top than the competition. Art Deco the exterior may be, but the Setai's interiors are anything but classic Miami. Forget about white, let alone coral-pink; think dark, as in black brick, black granite, lightened only by rich expanses of polished teak, more a sort of Indonesian volcanic look than anything you'd associate with South Beach.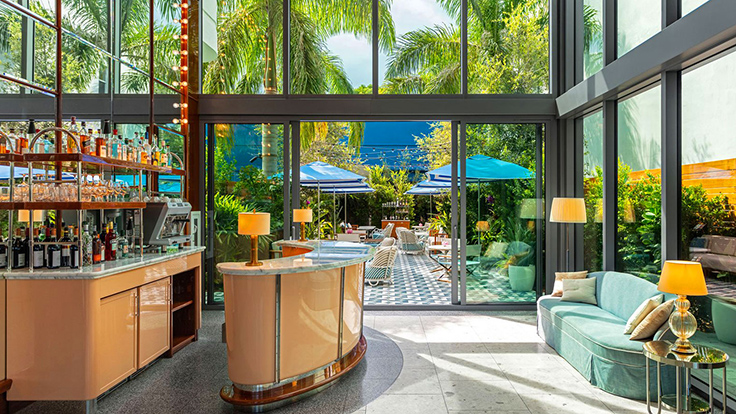 When Kimpton first took over the historic Angler's, it was still a slightly unfocused Mediterranean Revival curiosity, out of scale and slightly out of step with the current South Beach hotel scene. The new Angler's, however, is totally transformed, with a brand-new five-story tower building that features 85 contemporary-style studio rooms, all of which are sleeker, sunnier, and more modern than the Angler's that came before.
The C in Mr. C, as you may know from outposts in New York and Beverly Hills, stands for Cipriani, the famous family of restaurateurs. To their restaurant in Downtown Miami you can add the brand-new Mr. C Miami – Coconut Grove, on Biscayne Bay just to the south of the city proper. Here, a bridge or two from the painstakingly preserved history of Miami Beach, there's room for something entirely new, and Mr. C Miami – Coconut Grove is certainly that.
The old Versace mansion is back, this time as a luxury boutique hotel, under a new name: The Villa. This patchwork Italian-style palace is still every inch a monument to excess; the difference being that these days it's open to the public — or at least ten suites' worth of the public. A monument to minimalism the Villa most certainly isn't. The accommodations don't play it any safer than the hyper-ornate common areas.
Ah, the Vagabond Hotel. Despite what the (historic) sign out front says, it's not a "motel" anymore, and it's nowhere near South Beach, but on Biscayne Boulevard, in the city's slowly awakening Upper East Side. It's got '50s roots, but like many vintage landmarks, the motel fell into disrepair. Fast forward to the future: after sitting empty for years, the MiMO icon got the star treatment, and it reopened in 2014.
Out-of-town guests could be forgiven for believing that Miami Beach and Miami are one and the same. But if you never set foot on the mainland, you'll miss out on Little Havana, one of Miami's most unique neighborhoods. And that means missing out on Life House Little Havana, the first hotel from a hospitality startup that aims to deliver a luxury-boutique experience at a price that its competitors can't match.
Hero image: 1 Hotel South Beach.