In case you need a refresh, the Bib Gourmand distinction is awarded to restaurants that offer multi-course meals at reasonable prices. And while all are unique and the "price" varies from country to country, the standard for quality remains the same.
That's why every Friday, we're highlighting our Bib of the Week; where to go, what dish to order, the best time to stop by, and everything in between. So whether it's soul food in the Big Apple or modern, refined, and authentic Japanese bites in the City of Lights, our selection of Bib Gourmand spots will leave both you and your wallet satisfied.

---
An old-school, neon yellow sign marks the spot at Queen's English in Washington, D.C. While the interiors are decidedly low-key (but stylish), the menu is anything but. Featuring modern takes on Hong Kong plates, chef Henji Cheung's cuisine brings balance and flavor to fresh ingredients making this Columbia Heights spot hotter than the high-heat wok dishes.
But don't take our word for it though, check out what our Inspector had to say here, and below, learn from the team on what you need to know before you go.

Albert Ting/Queen's English
What was the idea behind Queen's English?
Queen's English is a Hong Kong-style Chinese restaurant rooted in Cantonese cuisine combined with Chef Henji's experiences in various NYC kitchens. It's also an ode to Hong Kong when it was a British territory.
We want to have a stage for us to showcase that Cantonese/Asian cuisine has a lot more to offer than what most people imagine of when they think of "American Chinese food". Chinese food can be refined, paired with spectacular wine, and served with genuine hospitality by a well educated and trained staff. Refined Asian restaurants are more common in Asian and other parts of the world, but it's still not as well recognized here in the States. Of course there are Asian chefs doing some amazing things in their restaurants here in the States, but we believe there can, and should be, more. Our belief is: what better place to showcase exciting Cantonese Cuisine then in the Capital itself.
How would you describe your approach to food and cooking?
We always try to accomplish the flavor profile we want by thinking outside of the box without losing the integrity of the dish itself. In Cantonese cuisine, texture is just as important as the overall flavor of the dish, so we make sure that the element of texture is an incorporated component of the final dish.
We focus on the main concept of the dish and accompany it with balance, flavor and texture. A perfect example is our Cumin Lamb Tartare. Cumin lamb is a classic Asian dish and the flavor profile is well recognized. However, we are serving it as a tartare. We make a flavor oil that tastes exactly it would if the dish was wok roasted. We add charred bell pepper to the tartare to give more roasted flavor. Then the dish is garnished with cheddar popcorn for crunch and saltiness. The dish only consists of 5 ingredients, yet it packs tons of flavor and it's different enough without losing the origin and integrity of the classic cumin lamb dish.
What is the dish to order at Queen's English?
Crispy Red Snapper! It's a perfectly seasoned and spiced whole snapper, completely deboned except for the dorsal fin to keep the two fillet together, with a Hong Kong chili sauce and crab butter.
What price range can customers expect at Queen's English?
$50 to $65 per guest ordering 2 to 3 dishes plus a drink! The price of the fresh whole snapper varies from $36 to $72, depending on the size we get in.
When is the best time to stop by?
Tuesday to Thursday, it's the best time to meet our locals and regulars!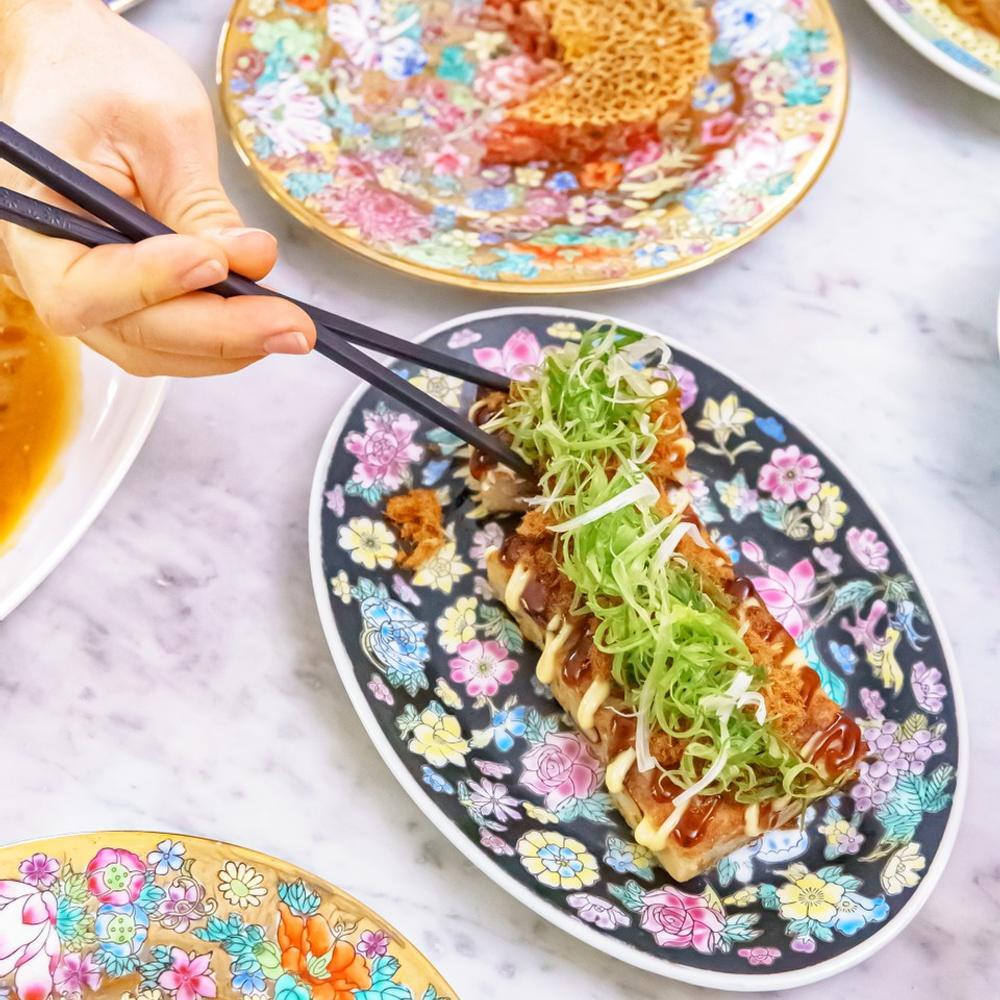 Albert Ting/Queen's English
---
Hero image: Albert Ting/Queen's English
---