A day at
Mao Yuan
starts at three to four o'clock in the morning.
At this hour, free range female chickens were killed and cooked immediately to 80% done, then soaked in a stock until they release the sumptuous meat juice, preserved beneath the shiny yellow skin. These fowls are finally hanged up to cool at 7am, ready to amaze expectant customers as the restaurant opens at 11:30. Almost every customer going to Mao Yuan asks for the white sliced chicken.
And upon order, the cook adeptly chops up a chicken into pieces. The meat juice gelatinises into a semi-transparent jelly, wiggling between the skin and smooth flesh which oozes natural saltiness and sweetness. Red earth-like bone marrow makes up the final element of this beauty.
"White sliced chicken has to be made with freshly killed chickens. Frozen meat is a big
no-no because it's too soft, and the best flavour of the chicken is lost," explained Yi-feng Biau, Mao Yuan's third generation owner (above) who took over the 40-year-old joint from his mother.
The Importance of Time in Everyday Taiwanese Food

"Taiwanese food" has been frequently spoken of in recent time. But according to Biau, what defines a Taiwanese restaurant is not as cut and dry as it seems.

"There aren't that many Taiwanese restaurants really. The household names everyone knows about are mostly successors of the fine cuisine in the past served at a luxurious setting. The dishes there feature cooking techniques and knife work. But when it comes to homely Taiwanese food, options are limited if you take off seafood stalls."
Fresh seafood is delivered daily to the restaurant. (Credit: Drew Zheng)
Biau's grandfather was a social butterfly coming from a wealthy background. He opened Mao Yuan initially to serve guests affluent delicacies rarely found elsewhere, and he appointed his daughter (Biau's mother) as the chef of the kitchen. This was where Biau grew up alongside his brother. When Mao Yuan was passed onto them, the brothers felt rich man's food is abundant out there, but restaurants representing the cooking of average Taiwanese people were on a downturn, so they decided to change the style of their family establishment.

"Taiwanese food in my eyes is good tastes from home. It's unlike dishes you'd prepare occasionally to serve guests," Biau said. However, he also admitted everyone holds a different definition, and some diners compared his cooking to the secret recipes of his mum. How does he react to all that?

"For people of our time, everyday Taiwanese food is a combination of good ingredients and the handling of time."
Dried flounder and cabbage stew. (Credit: Mao Yuan)
The Beauty of the Ordinary

Regular patrons of Mao Yuan return for several dishes. Among those, fried squid and poached oyster with garlic are prized for the ingredients' freshness. But the majority of the bestsellers exemplify the wonder time does on food. Steamed salted winter melon and fresh fish appears to be a simple recipe. The fish bought fresh from the market is first blanched to clear up impurities, then steamed on high heat with salted winter melon paste. The key element of the dish is the salted winter melon paste. Handmade by Biau's aunts, its nuanced sweet notes emerging at the end of the sodium kick is something precious coming out of the preservation process.
Stir-fried dried cauliflower and wood ear fungus. (Credit: Mao Yuan)
Another favourite stir-fried dried cauliflower and wood ear fungus selects dried cauliflower made by a farmer in the Changhua province in small quantities (300kg every year). Thanks to the sun and enough time to slowly dry the vegetable, it has a nice chew and meaty quality. Pork rib and dried turnip soup employs turnips dried for five to ten years. The combined sweetness of vegetable and meat is overflowing.

Slow cooking is another area in which time asserts its presence. Take dried flounder and cabbage stew as an example: egg, fish skin, enokitake, sliced meat and dried shrimp need to be stir-fried separately until aromatic, then simmered to parboiled cabbage for more than an hour. The dried flounder is deep-fried gently and ground into powder before it's added to the stew. This is the second dish the Biau prepares right after the white sliced chicken. The longer the cooking time, the deeper the stew's flavour is.

"The average households' Taiwanese food isn't as grandiose. It spends a long time on food preparation." To Biau, this attitude of patience is a poetry of the country life, something contemporary urban dwellers can no longer afford.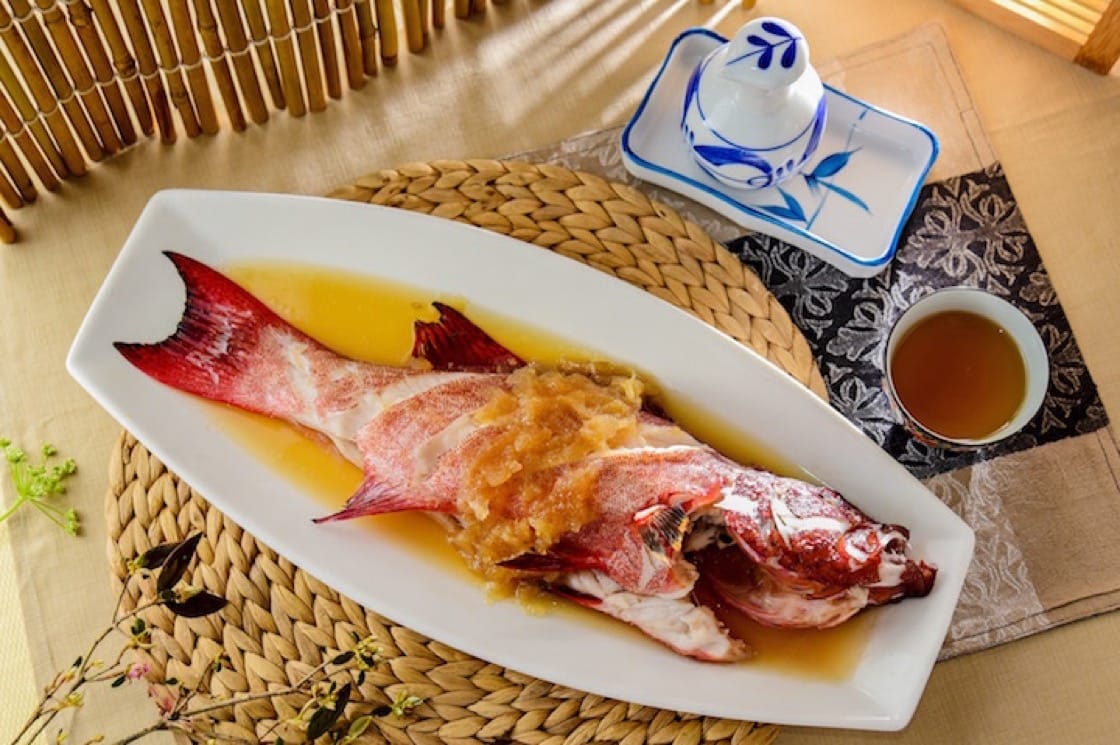 Steamed salted winter melon and fresh fish. (Credit: Mao Yuan)
The Rejuvenation of Taiwanese Food

Being a third generation restaurant owner, Biau wants to see Mao Yuan last beyond his years. From where things stand now, he takes care of a fully occupied dining room every night with his brother, 11 cooks and about a dozen servers. The workload isn't small, and fatigue is beginning to set in. Luckily, his loyal customers are a sympathetic bunch.

"There are even customers who gave me opinions on conceptualising the menu. The mud crab and pumpkin rice vermicelli we're serving now is a dish coming out from that, a reinvention with Penghu mud crab added on top of our signature item pumpkin rice vermicelli," Bian said, not forgetting pointing out the impact of the Bib Gourmand recommendation. "We've got more young customers!"

What's everyday to the folks of the last generation has revived as old classics for the young blood nowadays. Such is how a time-honoured restaurant's progression to a new era.
---
This article was written by Drew Zheng and translated by Vincent Leung. Click here to read the original version of this story.