Considered the world's oldest continuous civilisation with a history of over 3,500 years, Chinese culinary tradition is complex and littered with cross-pollination between China's ethnic minorities and influences from the Silk Road.
To make life easier when visiting China, we've broken down the Chinese cuisine into eight main philosophies of cooking and recommended must-try dishes.
Don't leave China without trying…
Yue Cuisine (Cantonese/Guangdong Province Cuisine) – Capital City: Guangzhou
The Cantonese kitchen is China's most famous cuisine export and the best known around the world. Not only enjoyed in Chinatowns globally, Cantonese cooking techniques and ingredients have influenced many regional dishes throughout Southeast Asia. Highlights of Cantonese food include dim sum, roast meats, congee, noodles, wontons, chicken rice and steamed chicken feet, just to name a few.
Dim sum is an essential part of Cantonese culture and cuisine.
Chuan Cuisine (Sichuan Province Cuisine) – Capital City: Chengdu
Considered as China's second most exported cuisine, Chuan cuisine is known for being hot, spicy and mouth-numbing (a flavour known as ma la). Hotpot made from soup containing the mouth-numbing Sichuan pepper, herbs and spices is the region's most famous dish followed by other local favourites such as: mapo tofu (bean curd with a chilli and bean-based sauce topped with minced meat), gongbao jiding (spicy stir-fried chicken with peanuts, vegetables and chilli) and dandan mian (wheat noodles with pork, chilli, garlic and vinegar).
Authentic mapo tofu is spicy in both the conventional heat and numbing spiciness.
Lu Cuisine (Shandong Province Cuisine) – Capital City: Jinan
Shandong Province has a long history and was one of the first agricultural and cultural centres of China. Considered one of China's most influential schools of cooking, Shandong cuisine focuses on dumplings, corn breads, noodles and seafood. Some famous local dishes to try include steamed buns, braised prawns and beef noodle soup.

Steamed dumplings are enjoyed all over China.
Ze Cuisine (Zhejiang Province Cuisine) – Capital City: Hangzhou
Surrounded by water and home to China's picturesque West Lake, it's no surprise that Zhejiang cuisine is largely seafood-based. Unlike its cousins to the west, Zhejiangnese food is not spicy and focuses mainly on fresh ingredients, which sometimes is eaten raw like sushi. Notable dishes to try include fish with vinegar gravy, dongpo pork, beggar's chicken (clay-cooked chicken), bamboo shoots and fried shrimps.

A contemporary version of donpo pork from the Four Seasons Hotel, Hangzhou.
Min Cuisine (Fujian Province Cuisine) – Capital City: Fuzhou
Due to a long history of immigration, the Fujianese (also known as Hokkien) kitchen has had a profound influence on ethnic Chinese dishes throughout Southeast Asia. Notable Fujian dishes include spring rolls, oyster omelette, stuffed fish ball soup, hot and sour soup, steamed abalone, and shark fin with fish maw soup.

Such is the influence of Min cuisine, that spring rolls can be found throughout the world.
Su Cuisine (Jiangsu Province Cuisine) – Capital City: Nanjing
Jiangsu cuisine has the moniker of 'heavenly kitchen' due to the region being the capital of several Chinese imperial dynasties. Many royal banquets were prepared here using elaborate and precise cooking methods such as stewing, braising, simmering and poaching to preserve original flavours. As a result of its imperial heritage, Jiangsu cuisine also focuses on presentation using intricate garnishes and hand-carving of foods. Even today, government banquets for local and foreign dignitaries are still largely based off Jiangsu cuisine.
The notable dishes to try in Jiangsu Province include salted duck, pan-fried dumplings, hairy crab and tang bao (soup dumplings).

The traditional way to eat tang bao is to bite the bun open, release the filling and drink the soup with the spoon.
Xiang Cuisine (Hunan Province Cuisine) – Capital City: Changsha
Home to the late Chinese revolutionary leader Mao Zedong, Hunan food packs a red punch with chillies and peppers used liberally in many dishes. Dishes to try in the Xiang kitchen include red braised pork (also known as Chairman Mao's Red Braised Pork Belly), fish head with chilli, pork with green peppers, steamed ribs with black beans and peppers and preserved eggs with chilli peppers.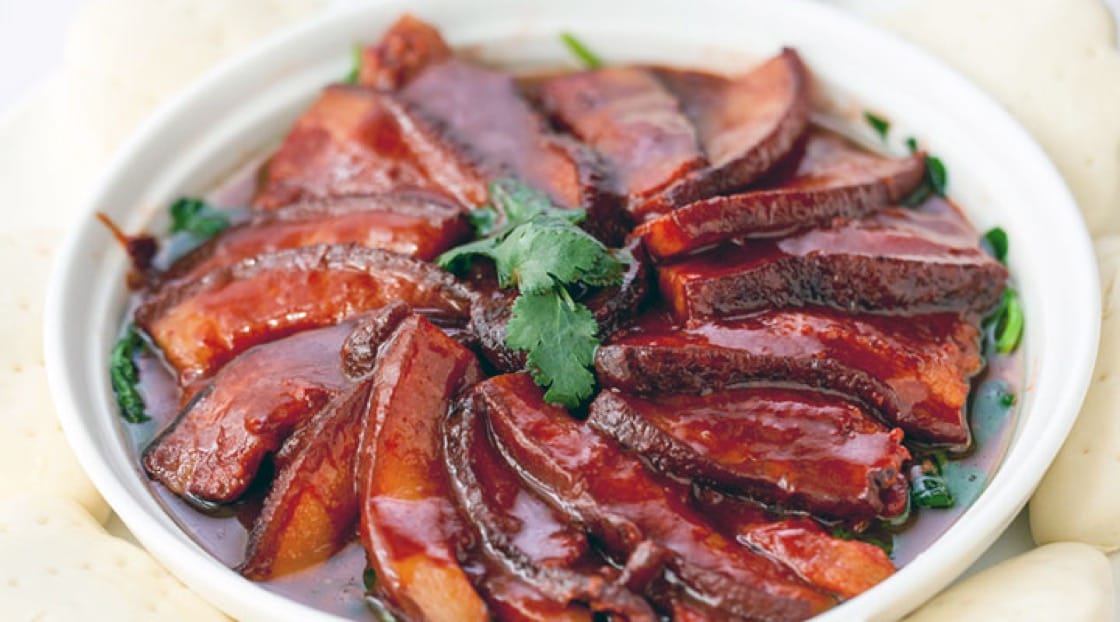 Red braised pork was the late revolutionary leader Mao Zedong's go-to dish.
Hui Cuisine (Anhui Province Cuisine) – Capital City: Hefei
Known for its use of wild herbs, braising and stewing, Hui food is hearty mountain food that's predominantly plant-based topped with delicacies such wild frogs, shrimps and fermented seafood. Notable dishes in Anhui cuisine include egg dumplings, stinky tofu, za sui (chop suey) and herbal soups.

Egg dumplings are commonly eaten during Chinese New Year due to its resemblance to gold nuggets.