The current renaissance in fine dining has encouraged a raft of boundary-pushing culinary innovations. The result has been the evolution of fine dining into spectacle: think spherified appetisers, entrees accompanied by their own soundtracks, or Willy Wonka-like dessert confections meant to be smashed onto the table. These technological developments have changed the face of haute cuisine forever, in many ways for the better.
But Chef Vincent Thierry of Chef's Table at lebua envisions an alternate future for fine dining. Born in the Loire Valley — considered "the garden of France" — and schooled in the art of cuisine through stints at the likes of Taillevent, La Cote Saint Jacques and the George V Hotel in Paris, Chef Vincent Thierry champions classical French cooking without pretension or over complication.

Homemade butter from Chef Vincent's secret family recipe.
His confidence in a straightforward showcasing of French food has already won him many fans from his days helming Caprice in Hong Kong, where he was awarded 3 MICHELIN Stars. After being inspired to become a chef as a child at his grandmother's table, Chef Vincent believes he is a cook first and an artist second, suggesting that an emotional connection with the food is what diners ultimately seek over culinary gimmickry or artifice.
That is part of what lured Chef Vincent to Bangkok, where he has become the first chef of a 3 MICHELIN Star restaurant chef to set up shop. The restaurant, set up with the kitchen in the middle of the dining room, is the fruit of months of brainstorming over the concept of a chef's table. The result, in chef Vincent's own words, is "a fine dining theater with a fully open kitchen": a dining space that suggests the intimacy of a Japanese kappo (chef's bar), while preserving the privacy of the diners. Gone are the huge kitchen brigades and imposing "temple of gastronomy" attitudes of the traditional great restaurants. Instead, informality and conviviality are encouraged.

Panomaric views of Bangkok aside, guests walking into Chef's Table are greeted with an oversized exhaust system that looks like it belongs in a museum and a Molteni stove glowing behind Carrara marble. Photo source: Chef's Table Facebook.
That is not to say that all the conventions of the great restaurants have been abandoned. The THB 7,900 menu, with two types of wine pairings (THB 4,500 standard and THB 6,900 premium), provides enough food to feed an army and enough wine to fell Thanos, in the grand tradition of the 3 MICHELIN Star restaurants in France.
Meanwhile, the cooking itself, after 14 years spent in Asia, is approached the same way as it is in France: "Even if people still tell me that Asian palates take less salt … on a regular basis I'm cooking the same as if I was in Europe," Chef Vincent says. The kitchen also attempts to adhere to an "80/20" philosophy, in which 80 percent of the ingredients are sourced from local producers and only 20 percent are imported.
This local philosophy is perhaps most clearly on display when chef Vincent himself comes to the table to fill each diner's butter dish with generously-sized pale yellow quenelles of butter, churned by the kitchen daily from fresh Khao Yai cream. What ingredients are not taken from Thailand are provided from the best producers from the rest of the world: 100 percent French caviar dotting the surface of a flat oyster with green apple jelly; Scottish langoustines paired with sweetbreads and topped with a thin disc of dough to form a "lasagne".
Duo of Challans Duck, Roasted Breast and Leg Parmentier. Photo source: Chef's Table Facebook page.
Unexpected touches dot the menu. As a seared pillow of foie gras arrives in a pool of fondant carrots instead of the expected gastrique, buried under a bright citrus mosaic. A perfectly cooked rectangle of line-caught sea bass bears a crust of chorizo dust, recalling a dish of Cantonese roast pork belly at first glance. A round of mascarpone cream hides succulent chunks of king crab atop a base of tandoori fruits, forming a savoury "tiramisu". Sommelier Richard King pairs the menu with unexpected choices of his own, such as a 2015 Pinot Gris or 2013 Gewurztraminer with the seared foie gras; and a 2015 Marsannay or 2016 Nuit Saint Georges to accompany a fillet of Normandy sole with artichokes.

When it comes time for the cheese tray, the diner may be forgiven for wanting to go to sleep. But then they would miss out on one of Chef Vincent's favourite foods. Every week, the restaurant receives seven perfectly-aged cheeses from Antony Bernard and Jean-Francois Anthony in France, picked to ensure that each will be at its peak once it reaches the diner's plate in Thailand. The type of care taken with the cheese, just as with everything else in the meal, amply reinforces that feeling of dining in a friend's home, albeit one with unlimited resources — an alternate vision for the future for fine dining.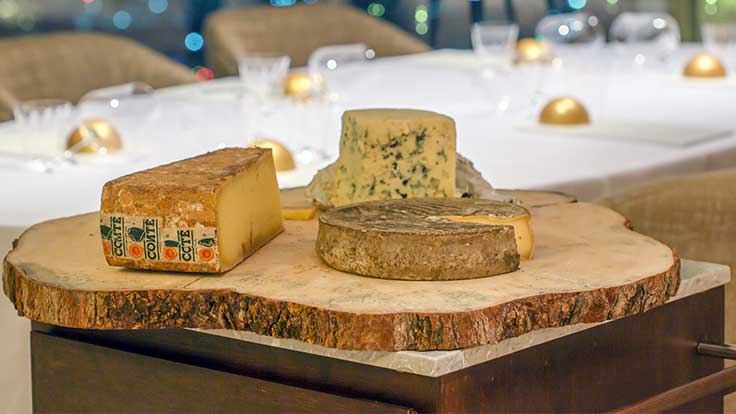 Every week, the restaurant receives cheeses from Antony Bernard and Jean-Francois Anthony in France, picked to ensure that each will be at its peak once it reaches the diner's plate in Bangkok.