Before arriving in Taipei and becoming the chef of two-MICHELIN-starred restaurant
Taïrroir
, chef Kai Ho spent his formative years in the Nantun district of Taichung.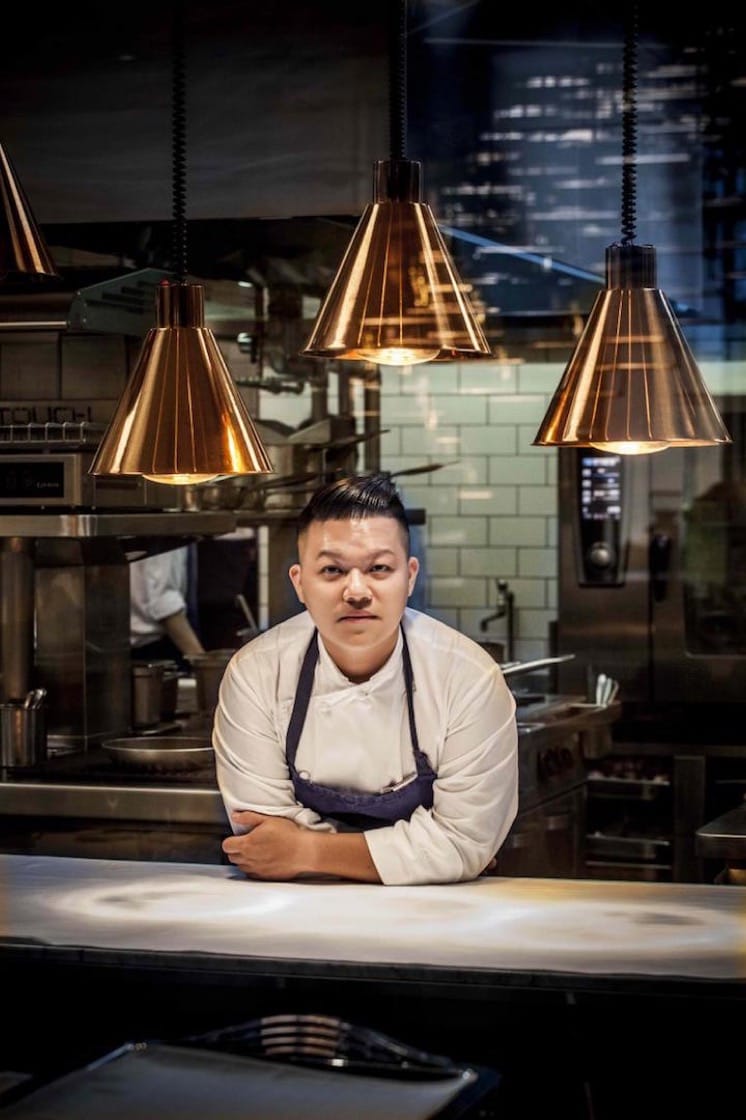 In Nantun, where jute leaves are a local delicacy, Taichung families make a soup out of this native plant during summer. This bitter and thick soup cools down the body and it tastes even better when served chilled rather than hot. There is even a museum dedicated to jute near the Taichung Wan He Temple in Nantun.
"We tear off the tougher parts of the jute leaves, saving only the tender ones for cooking. Water, dried fish and sweet potato are added to make the cold soup," Ho says. Given the bitterness of jute, sweet potato works as a balancing element, providing sweetness and body to the dish. Dried fish adds umami to the otherwise plant-based dish.

The chef recalls that his mother prepared jute soup regularly in his childhood. As a child, he found the gooey texture unappealing. Despite that, he used the plant in an appetiser last summer as part of a four-hands dinner, when he invited chef Tam Kwok Fung, then the chef of two-MICHELIN-starred Jade Dragon in Macau, to Taiwan. Ho's dish turned seasonal jute into a bitter sauce to complement sweet sea urchin and bamboo shoot. This summer, he plans to cook with jute again.
Ho carries a deep love towards the quick bites from his home turf. When he has a few days off to be back home every month, most of his family and friends would be at work. He would head to the wet market and square in front of the temple by himself, tasting everything the streets have to offer. We asked the chef to share with us which shops in Taichung are must-visits.
Ho's favourite street food at Tey Feng are dry noodles and meatball soup. (Pic: Kai Ho)
Tey Feng (资丰美食)
Address: No. 593, Section 2, Nantun Road, Nantun District, Taichung City

Tey Feng is an old joint situated next to Wan He Gong. The bestsellers there include fragrant sesame oil rice, rice cooked in bamboo tubes and fried noodles. Ho likes to get there early and order dry yi mein and marinated tofu, with a bowl of mushroom and pork meatball soup on the side.
The crispy ba-wan at Wu Ji. (Pic: Kai Ho)
Yuan He Rou Wan (圆和肉圆)
Address: No. 72, Section 1, Nantun Road, Nantun District, Taichung City

Ho remembers Yuan He Rou Wan as the place he would go after a dental checkup, since it is located on the same street as the clinic. "The thing I looked forward to the most was having their ba wan after seeing the dentist," Ho laughs. He recommends the stall's fried ba wan meatballs and dish of taro and rice vermicelli noodle soup. His favourite way of eating? Dipping the pork meatballs from the meatball soup into the leftover sauce from the ba wan, which is home-made chilli sauce with a flavour typical of the central region of Taiwan. The chef also frequents Wu Ji (吴记肉圆) on Taiyuan Road, whose crispy fried ba wan offers a different texture.
The noodle cart of Mian Ge Mian Sao. (Pic: Kai Ho)
Mian Ge Mian Sao (面哥面嫂面担)
Address: No. 218, Section 1, Xiangshang South Road, West District, Taichung City

This is another place Ho visits every time he comes home. The shop owner and his son like to knock the noodle strainer against a bowl while cooking, drumming a special rhythm. Ho always orders the dry noodles with fried minced meat roll and meatballs. He also recommends their pig's tail for its chewy texture.
Arashi is famous for its meatballs and soup. (Pic: Kai Ho)
Arashi (岚肉燥饭)
Address: No. 36-37, Section 2, Sanmin Road, Central District, Taichung City

Arashi is located in Taichung Second Market. According to Ho, the stall's rou zao (braised minced pork) is cooked with soya sauce, rock sugar and wine with just a touch of spices and shallots. Other popular dishes include mini meatballs with lots of spring onion as well as sliced pork shoulder and pork bone soup enriched with dried kelp and dried skipjack tuna.
Shanghai Dian Xin's steamed buns taste their best fresh from the steamer. (Pic: Kai Ho)
Shanghai Dian Xin (上海点心)
Address: No. 85, Section 3, Ziyou Road, East District, Taichung City

Ho never leaves empty handed whenever he goes by Shanghai Dian Xin. "The steamed buns and steamed Mandarin rolls are both very good," he says. When the freshly steamed bun is bitten into, meat juice comes squirting out. The Mandarin roll is made with sourdough which boasts a rich yeasty aroma. The chef also likes Tianjin Goubuli Bun (天津苟不理) on Xinyi Street. Its broth-filled buns are big and generously filled — wallet-friendly and very satisfying.
---
This article is written by Hsieh Ming Ling and translated by Vincent Leung. Click here to read the original story.